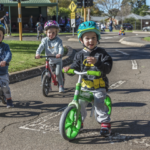 [ May 26, 2021; May 28, 2021; June 23, 2021; June 25, 2021; ]
Little Tikes on Bikes
Go along with your little ones for this fun-filled program.
Make sure to take your child's bike and helmet. They'll be able to navigate the mini-road network – with workable traffic lights, pedestrian crossings, a train crossing and roundabout.
Minimal safety information will be delivered as this session is more about children gaining confidence […]