Cinderella | Play & Go Movie Review
The story has been told many times in different ways over the years. This live action re-telling of Disney's animated movie really brings the story to life and makes you realise just how sad and tragic this fairytale is, in reality. As you know the gist of the story, this is not a spoiler, but it's heartbreaking for anyone to lose both parents and then be treated so horribly by a Stepmother. Be prepared to maybe shed a tear if you are inclined that way (like me).
The movie emphasises the contrast from Ella having the most happiest of childhoods with a loving family, to being treated so poorly that you can't help wishing that Fairy Godmother would hurry up and appear. Just as you wonder if things could get any worse for our poor tragic hero in this film, Disney waves its magic wand. In glittering glory across the screen, the magic transforms the mood and we are relieved to see this good fortune finally bestowed upon Ella. It is worth going to the movie just to see the wonderful transformation of all the elements that send her to the ball. The pumpkin turning into a golden carriage, the footmen, the carriage driver, THAT blue dress and THOSE glass slippers – visually it's utterly spectacular, just as you'd expect… and more. The magnificent castle, the brilliant ballroom and the beautiful dance between Ella and the Prince are pretty magical. The Fairy Godmother played by Helena Bonham Carter, (who plays these type of characters so well), is a fun comical character while in contrast, Cate Blanchett portrays the evil Stepmother with finesse.
Throughout the movie the running theme is the phrase from Ella's dear mother, "Have courage and be kind". It's repeated constantly and helps get Ella through the worst days. It's a great sentiment for anyone to aspire to, especially for young audiences. It's interesting to note that although Ella is downtrodden she still has self-respect and self-worth – she has the courage to say that although she is treated as a housemaid she still deserves to go to the royal ball too. Time and time again Ella is faced with despair but she continues to show kindness to others (eg even in her sorrow she thanks the man who has to be the bearer of bad news when her father passes, and acknowledges that it must have been a difficult thing for him to do).
There are positive relationships throughout the movie which give another dimension to the movie and characters. There is the strong bond between Ella and her mother and father; the loving father and son relationship between the Prince and the King which is heartwarming. Even the brief encounter Ella has with the King has meaning. The interactions between Ella and the Prince are short, yes, but there seems to be a connection of familiarity, conversation and respect, not just of love at first sight.
A few things to note that had me a little surprised:
– it's not in 3D. Having said that, the magical parts of the film still looked pretty spectacular without 3D effects and much of the movie doesn't really rely heavily on special effects at all, so perhaps they felt it wasn't worth it.
– it's not musical at all. I expected there to be at least one big musical number but this was totally absent.
– yes her waist is ridiculously thin, but she is a Disney Princess after all!
Scary Factor: while there are no scary beasts or violence, the cruelty and taunts of the Stepmother and Stepsisters plus the death (3 of them in total) of parents, may be upsetting for little children. Much of the movie is very sad and young children may find this difficult to sit through.
Cinderella is certainly going to be a hit and will be enjoyed by many families. We took along our 10 year old and 12 year old daughters to this one and we all enjoyed it.
Finally a note about Frozen Fever, the 7 minute short which you will only see screened in front of the Cinderella movie. Well, as it is suggested, it is definitely 'short'. Don't get there late for the movie… or blink, or you'll miss it. It is lovely to see our favourite characters again though, even if for a short time. You'll see that the relationship between the sisters has strengthened and you'll be introduced to some very cute little characters, plus of course, there's a new song. It will leave Frozen fans wanting more though.
Read more about the movie below. Enter our Giveaway here to win Movie Passes to see Cinderella.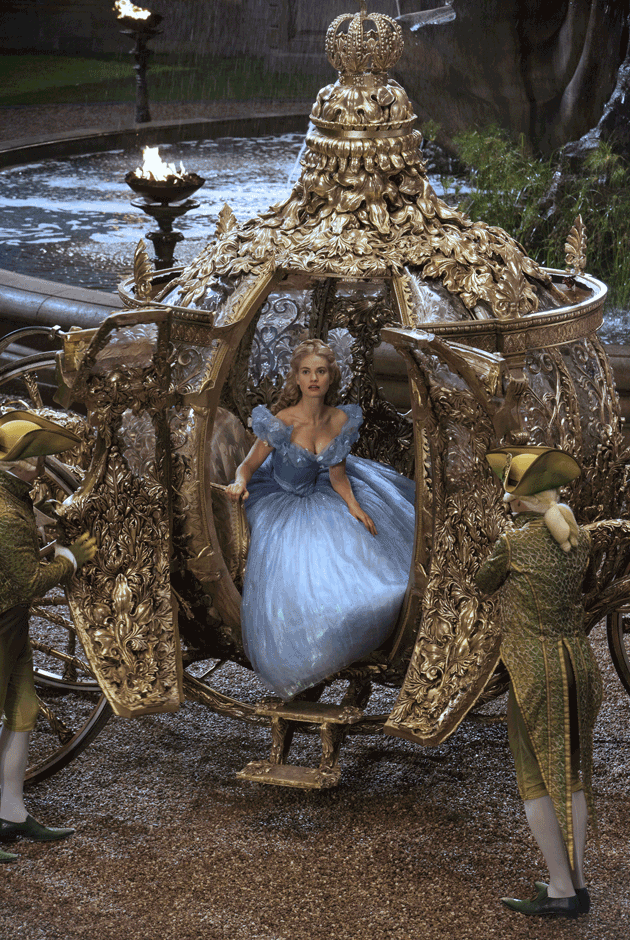 Embrace the magic of courage, kindness and Cinderella…
The story of Cinderella follows the fortunes of young Ella (Lily James) whose merchant father remarries following the death of her mother. Eager to support her loving father, Ella welcomes her new stepmother (Cate Blanchett) and her daughters Anastasia (Holliday Grainger) and Drisella (Sophie McShera) into the family home.
But, when Ella's father unexpectedly passes away, she finds herself at the mercy of a jealous and cruel new family. Finally relegated to nothing more than a servant girl covered in ashes, and spitefully renamed Cinderella, Ella could easily begin to lose hope. Yet, despite the cruelty inflicted upon her, Ella is determined to honour her mother's dying words and to "have courage and be kind." She will not give in to despair nor despise those who mistreat her.
And then there is the dashing stranger she meets in the woods. Unaware that he is really a prince, not merely an apprentice at the Palace, Ella finally feels she has met a kindred soul. It appears her fortunes may be about to change when the Palace sends out an open invitation for all maidens to attend a ball, raising Ella's hopes of once again encountering the charming Kit (Richard Madden).
Alas, her stepmother forbids her to attend and callously rips apart her dress. But, as in all good fairy tales, help is at hand, and a kindly beggar woman (Helena Bonham Carter) steps forward and – armed with a pumpkin and a few mice – changes Cinderella's life forever.
A live-action feature inspired by the classic fairy tale, Cinderella brings to life the timeless images from Disney's 1950 animated masterpiece as fully-realized characters in a visually-dazzling spectacle for a whole new generation.
To watch the official trailer, click here.
Starring: Cate Blanchett, Lily James, Richard Madden, Stellan Skarsgård, Holliday Grainger, Sophie McShera, Derek Jacobi and Helena Bonham-Carter.
---
For more information about this film visit the official Cinderella website.
What:  Disney's Cinderella
When:  Opens 26 March 2015
Where:  Selected Cinemas
Who:  Rated G (very mild themes)
At Play & Go Adelaide we make every effort to provide accurate information to the best of our knowledge at the time of publication. We recommend confirming times, dates and details directly before making any plans as details may be subject to change.