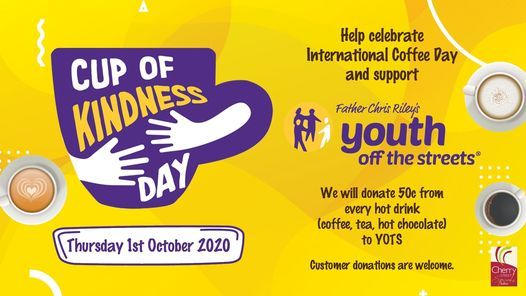 Cup of Kindness Day
Cup of Kindness Day is a day to celebrate good coffee and a good cause with 50c per cup sold (or a percentage of sales) donated to Youth Off The Streets.
Contribute to making every coffee sold on 1 October (International Coffee Day) count towards changing a young Australian's life for the better. If you can't make it to a Kind Cafe on 1 October, you can donate the price of a coffee via the virtual cafe.
Youth Off The Streets are asking participating outlets to donate 50c from every hot drink sold (or a percentage of their sales) on Thursday 1 October 2020.
Find a participating cafe HERE.
About Youth Off The Streets:
Youth Off The Streets is a non-denominational community organisation working for disadvantaged young people who may be homeless, drug dependent and/or recovering from abuse.
They support these young people as they work to turn their lives around and overcome immense personal trauma such as neglect, physical, psychological and/or emotional abuse.