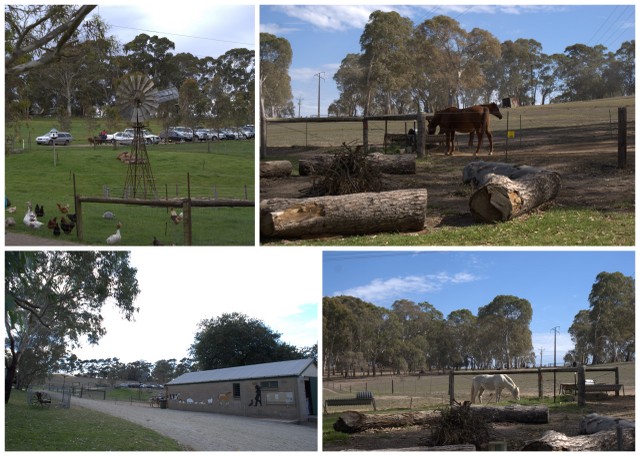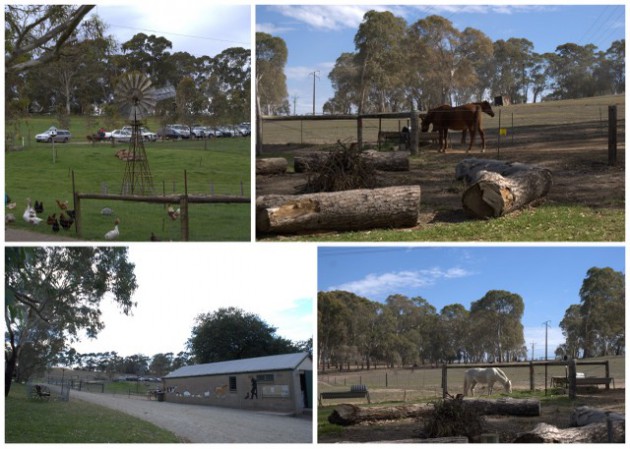 Four Oaks Farm Review
Four Oaks Farm is just out of Littlehampton in the Adelaide Hills, about 20 minutes drive from the start of the South Eastern Freeway. It incorporates 5 aspects of horse related activities, including Ponies Love Parties, a horse riding school, trail rides for those people with any level of riding skill, 'Time for Tots' and Farm Visits.
We have enjoyed the wonderful farm visits here the past few school holidays with my daughter's school classmates and siblings, as well as attended a birthday party. We have had a fabulous time there every time and our children are right at home when we visit.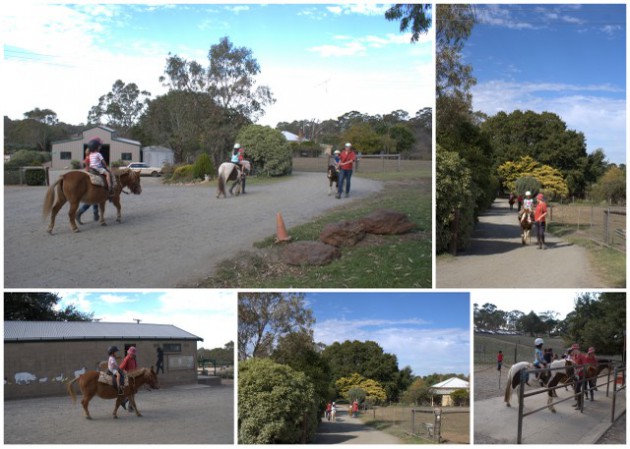 Ponies Love Parties
Ponies Love Parties hosts childrens' birthday parties and farm visits in a secure fully supervised country environment.
The scenery is just beautiful. My photos never seem to do it justice.
Children get to enjoy riding the gorgeous placid ponies around scenic trails. Even the very young 2 to 3 year olds are able to ride on them.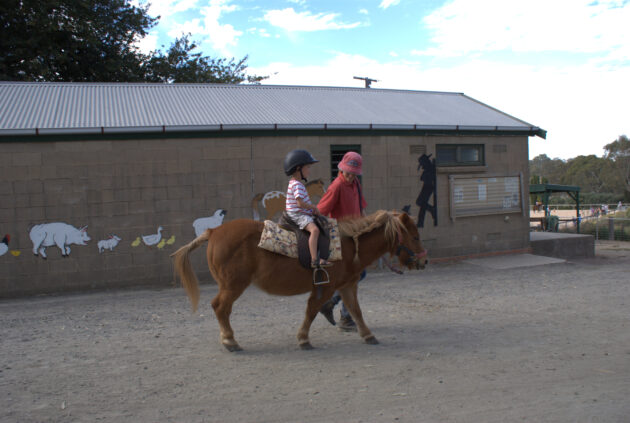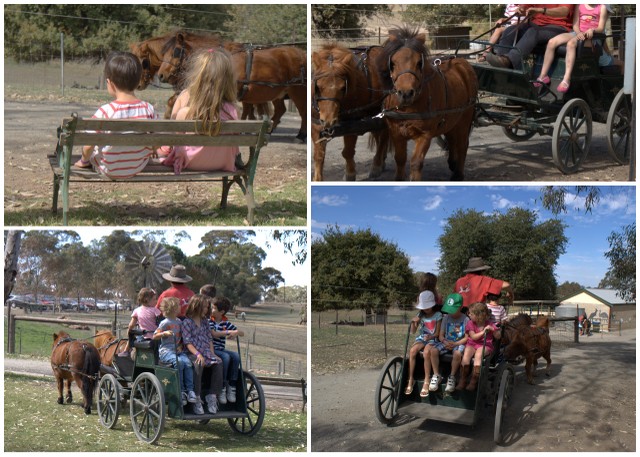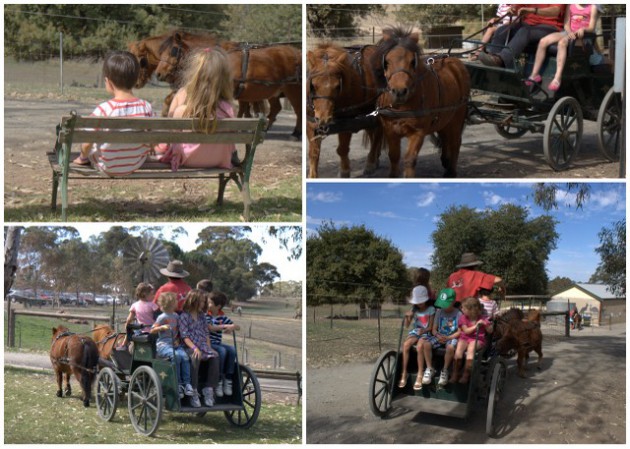 You get to step back in time and travel the farm in an antique pony carriage and learn how it was to travel to school in a horse drawn buggy.
If you want something a little faster, catch a ride on their fire engine No.9, and enjoy rides around the paddocks.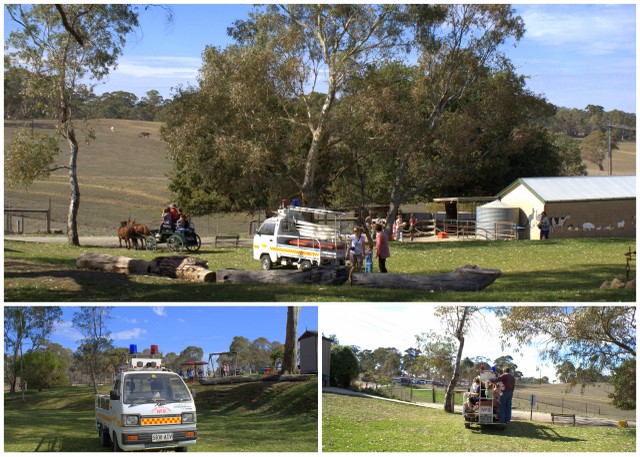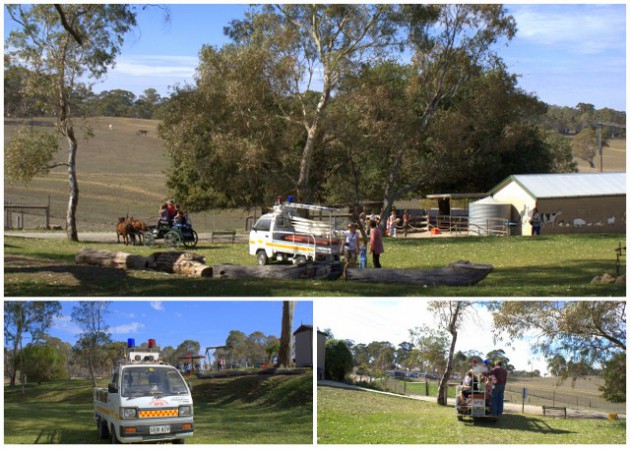 Fire engine No.9 takes you around the dam where you can see the baby ducks and other water birds, and pass the kangaroo enclosure where Philly and her friends live.
Stop at the stables to visit the other farm friends. Feed Trigger and Banjo the goats, feel the fleece on Chequers their alpaca. Feed carrots to Lady and Lucas the pet sheep. Meet Eddy the Emu and hear him boom. Feed for the animals is provided.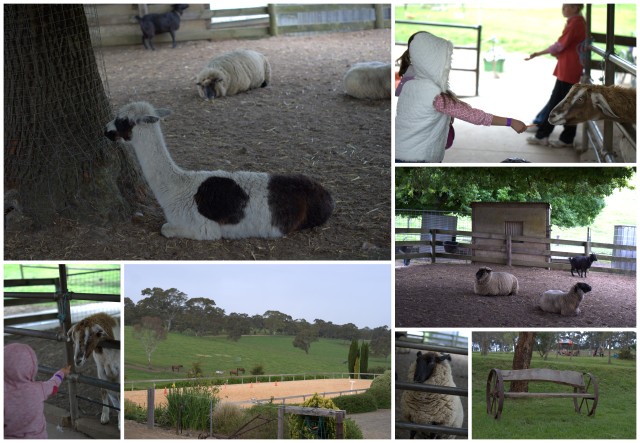 Add Chooks, Ducks, Peacocks, Geese, Rabbits and Guinea Pigs and you have the picture…almost…
Behind the party barn you'll find another two rides! Two merry go-rounds, one with horses for those over five and the other with tractor seats and safety chains for the little ones. These are self operated, which I must warn you, can mean that the children never want to stop. Allowing them to stay on too long though, can mean some slightly dizzy pale faces with a slight green tinge to them!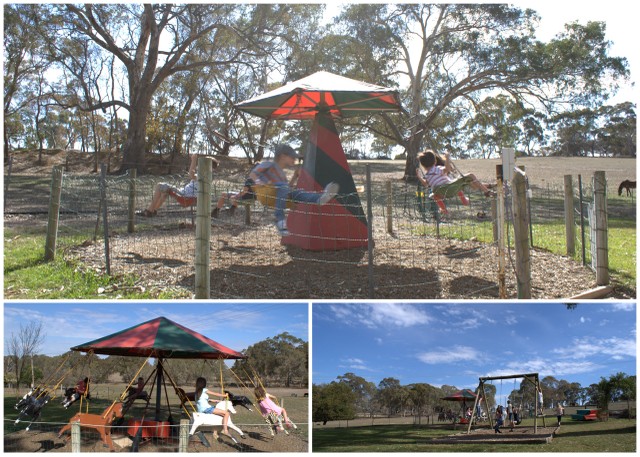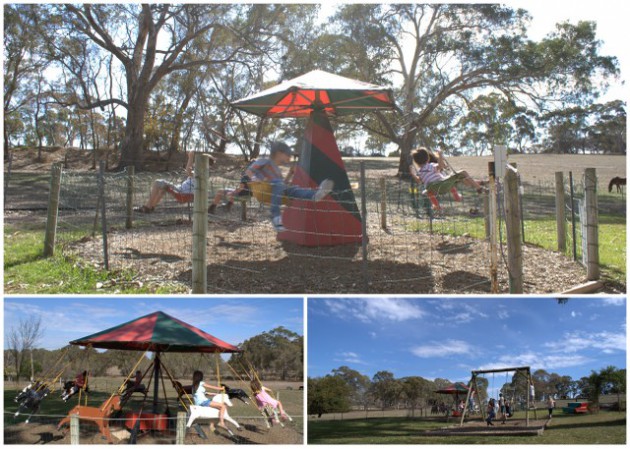 Facilities at Four Oaks Farm
The large, beautifully maintained property allows visitors to enjoy the wide open spaces and breathe fresh country air. Our children love running around the spacious grassy areas and rolling down the little hill. Even the kids who are not so keen on the ponies or rides seem to have a great time being there, just running around.
The large Country Function Barn is heated and air-conditioned, has plenty of tables and chairs for large groups, with a well equipped kitchen. We usually take mini sausage rolls, pies and nuggets to cook in the oven to share for lunch.
There are plenty of oven trays, platters, bowls and plates that can be used. You just need to clean up after yourselves. There is also a fridge, microwave, the all important coffee machine (coin operated) and plenty of bench space.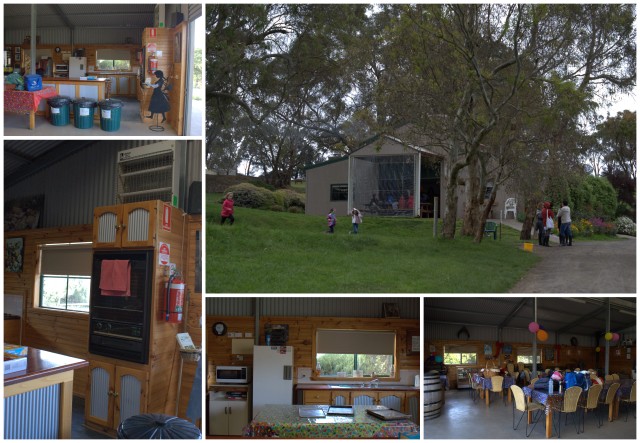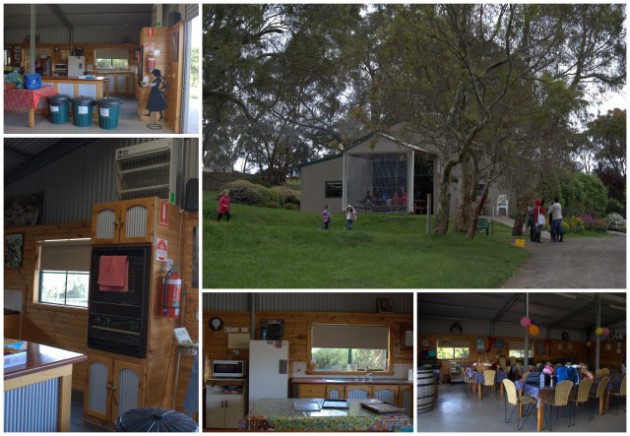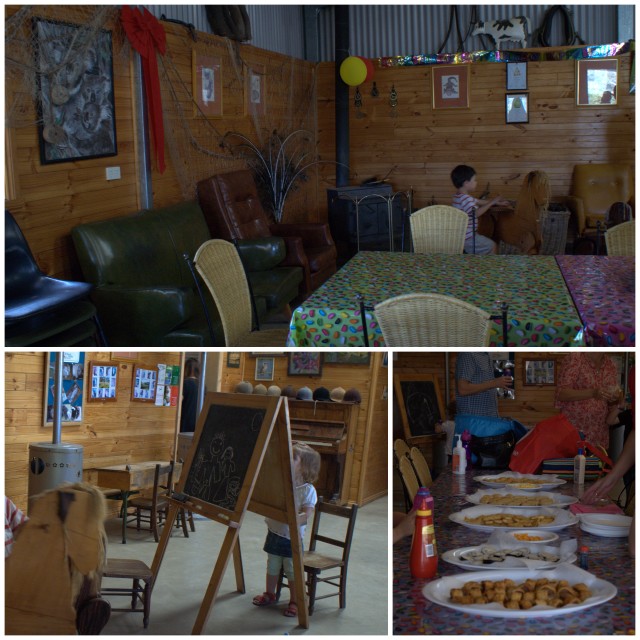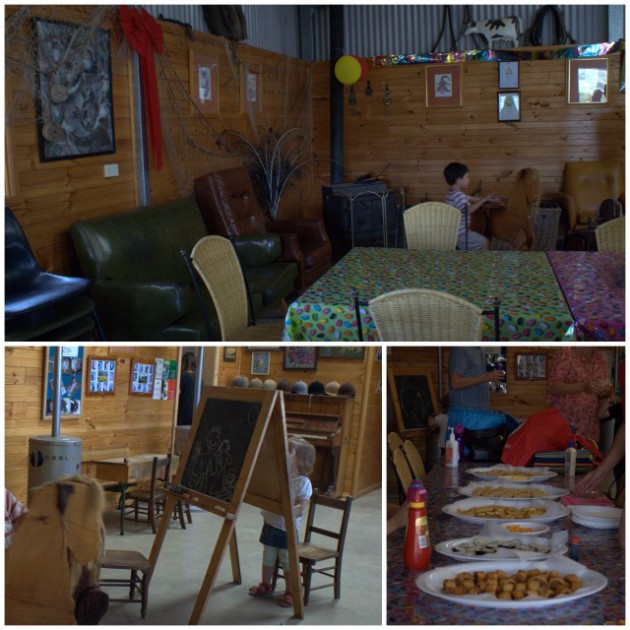 The barn is fully decorated and table clothed. You can self-cater or catering can be arranged. There are bbq facilities available for hire and you could also have a picnic on the grass.
Also when it is not fire season, there is a fire ring that they can arrange for parties, so you can sit around the fire and toast marshmallows.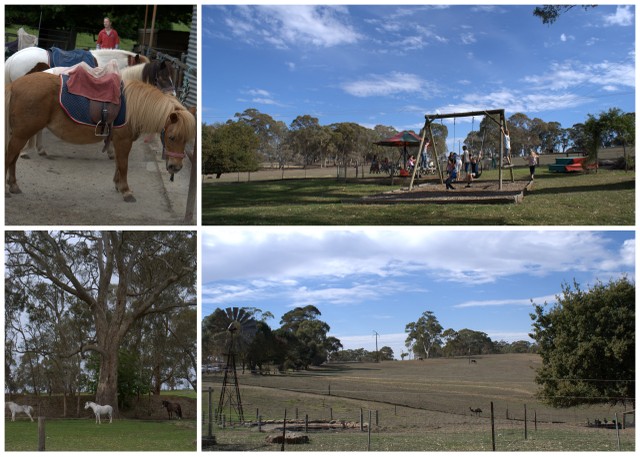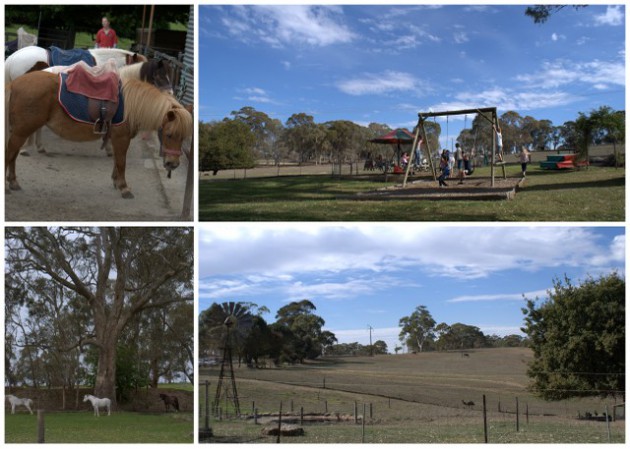 One of the unique features of Ponies Love Parties is that the business is mobile. This provides the opportunity to host your child's birthday party in your own home, or another location.
For pre-school children, read about their special 'Time for Tots' sessions here.
I thoroughly recommend a visit to Four Oaks Farm for a great unique outdoors experience, especially for city kids. It's really a terrific family outing.
What: Four Oaks Farm  ♥   Ponies Love Parties
When: School Holidays, during the week, Birthday parties  ♥  bookings are essential  ♥  Phone: (08) 8388 6361
Where: Downing Road, Littlehampton, see map here
Who: Families