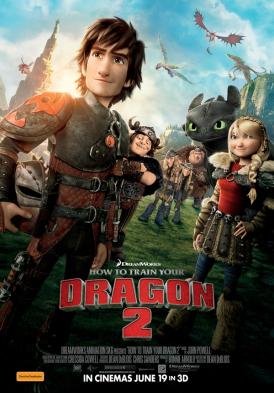 How to Train Your Dragon 2 | Play & Go Review
If you are a fan of the first movie How to Train a Dragon and also the tv series on ABC3 Dragons: Riders of Berk, you are sure to love this new movie.
This is an epic adventure for Hiccup and his dragon Toothless. There is a huge revelation about Hiccup's past and this is very much a coming of age adventure for this hero master dragon trainer. The story looks at relationships within families and especially between a parent and child, and of course friendships. The heroes are often of the unlikely kind but they shine in different ways, often not obviously at first. They have insecurities and challenges too – Hiccup has developed as a heroic character after losing his left foot in the first movie. This time he faces more life changing events. There are some beautiful and emotional scenes which will be a bit teary for some (I needed tissues myself). Look out for a gorgeous and touching song during the movie, where love is shown to be all-forgiving and endless. I won't give you any spoilers.
The movie is animated well and visually spectacular. You get a great view of flying with the dragons when seeing it in 3D.
Scare factor: there are some scary looking dragons (on the same level as the big monster snowman in Frozen) and there is fighting and death (in the similar vein to Disney movies where a character often dies). Remember, they are Vikings after all.
Not all sequels manage to keep you as entertained as the first movie but this one does a brilliant job of keeping fans satisfied and longing for more. Our only issue is that there is a death in the movie which we feel was unnecessary to the story apart from adding the tragedy factor. They could have spared this character we feel and most people I've spoken with agree. Let's see what you think after you see the movie.
SCOOPON DEAL AT CAPRI THEATRE
Currently there is a Scoopon Deal available to see either How to Train Your Dragon 2 or Rio 2 during these July 2014 school holidays at the Capri Cinema in Gooodwood.
Just $5 for a Kid's Movie Ticket OR $24 to Take the Whole Family!
You can buy multiple Scoopons and see both movies. See the Scoopon deal here. The session times for these Scoopons can be seen here. Please be aware that the screenings at the Capri are in 2D only (not 3D, which is an option at some other cinemas). This may be a good option for younger kids as 3D can often be a bit scarier and overwhelming for some.
PLEASE NOTE: You should always read the Terms & Conditions and fine print with any Scoopon deal so you are aware of all the conditions. Play & Go is not affiliated with this Scoopon offer at all and all purchases are made at your own risk through Scoopon.
For more information about the movie see our post here.
At Play & Go Adelaide we make every effort to provide accurate information to the best of our knowledge at the time of publication. We recommend confirming times, dates and details directly before making any plans as details may be subject to change.