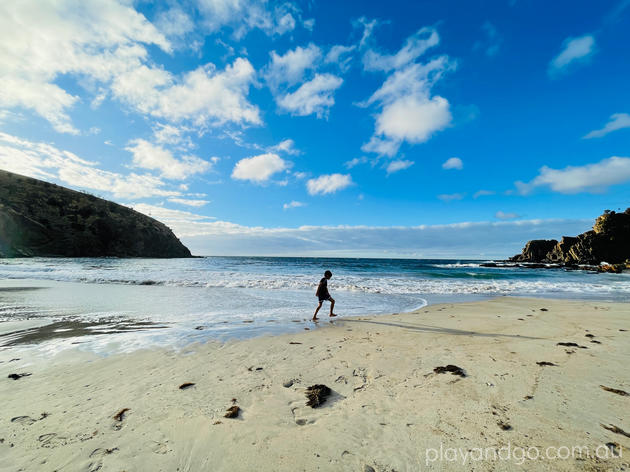 Kangaroo Island – A fantastic family holiday destination
Kangaroo Island is the perfect destination for a family holiday. It's a great place to relax and unwind on one of its stunning beaches or enjoy quality family time exploring the island's scenic wonders. You can also get up close to native wildlife, experience a range of adventure activities and sample fabulous food, wine and spirits.
With a population of just under 4,500 people, it remains a wilderness and haven for native animals like the Tammar Wallaby, Glossy Black Cockatoo, Kangaroos, Koalas and many varieties of birds. The landscape is simply stunning with a mix of perfect sandy beaches surrounded by calm turquoise waters and treacherous coastline harbouring fascinating rock formations, soaring cliffs and thrashing waves.
The scenery is ever-changing and the island is quite large – to give you an idea of its size, driving from one end to the other is similar to driving from Mount Barker to Cape Jervis.
Once you've visited Kangaroo Island, it's hard not to want to return. Thankfully, getting there is quite an easy drive – approximately 1.5 hrs drive from the City of Adelaide. Then it's a comfortable 45-minute journey across Backstairs Passage on the SeaLink Ferry from Cape Jervis to Penneshaw.
You could really never be bored on the island – there really is so much to see, so many hidden beaches, national parks to explore, wildlife to see plus wineries, eateries and other attractions. We travelled for 9 days and there were still so many places we didn't get to explore.
The island is comprised of 7 regions:
Penneshaw & Dudley Peninsula
South Coast
American River
Parndarna & Districts
West End
North Coast
Kingscote & Districts
Beaches
There's a saying on the island that if you are visiting a beach and there are already people there, just move on to the next one and enjoy a whole beach to yourself! This is largely true. You may find a couple of campers about, or one or two other families and several fishing boats, but it is quite easy to have an entire stretch of beach to yourself on the island. These are our favourite K.I. beaches (the ones we found, not the ones that are still waiting to be found!).
Stokes Bay
Stokes Beach has the most unique and exciting entrance – follow the path which twists and turns through a series of massive boulders, small "caves" and precariously overhanging balancing rocks to reach this exquisite beach. Part of the beach is prone to rips and more suited to surfing, but near the "entrance" to the beach is a small, shallow area of sea, bordered by rocks which is calm and clear and perfect for safe swimming.
Make sure you stop for lunch at the Rockpool Cafe at Stokes Bay (open during the warmer seasons).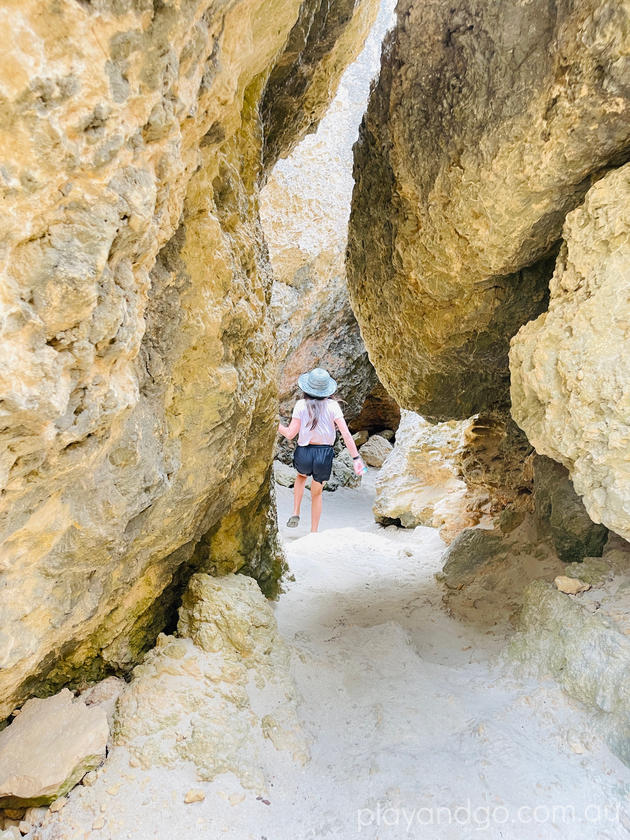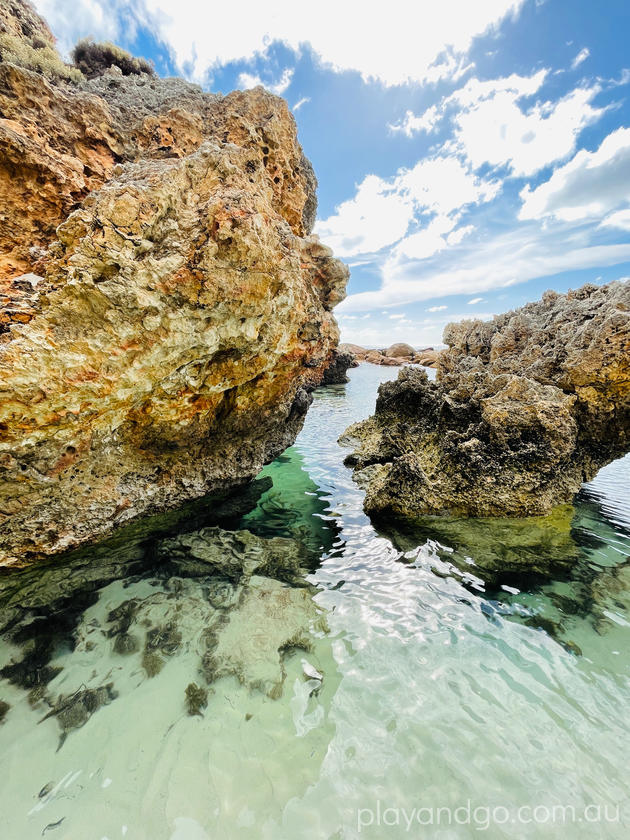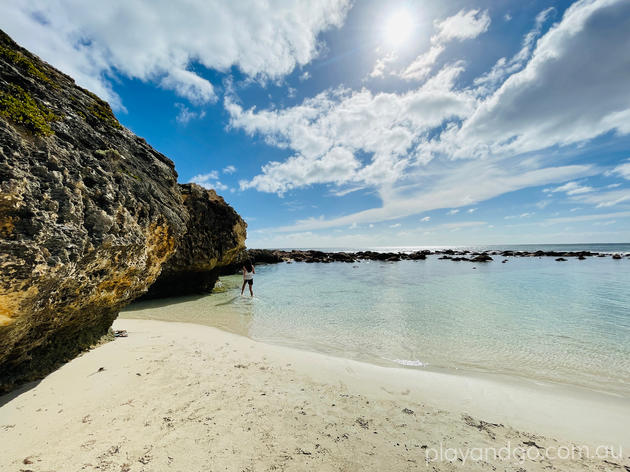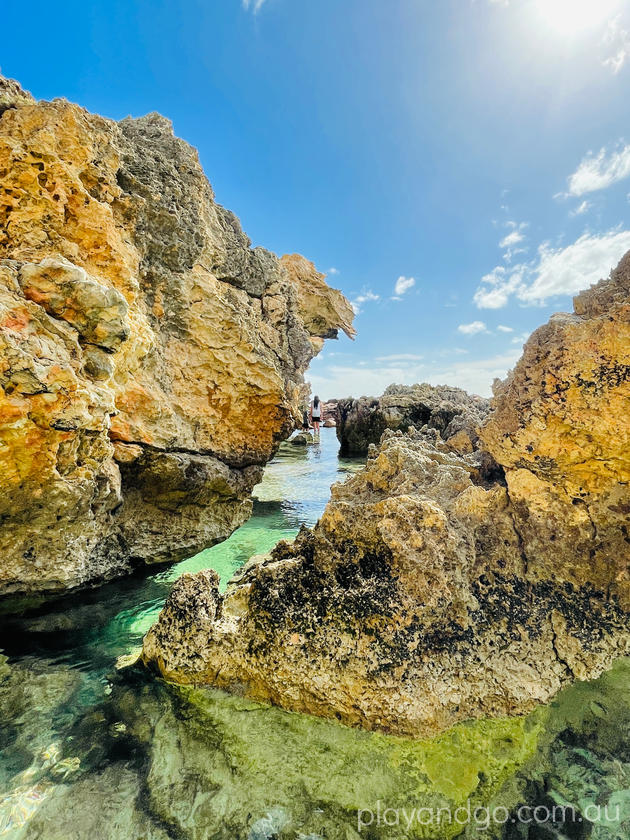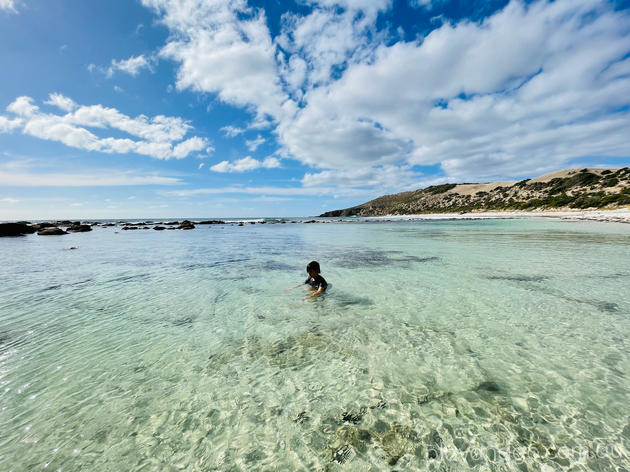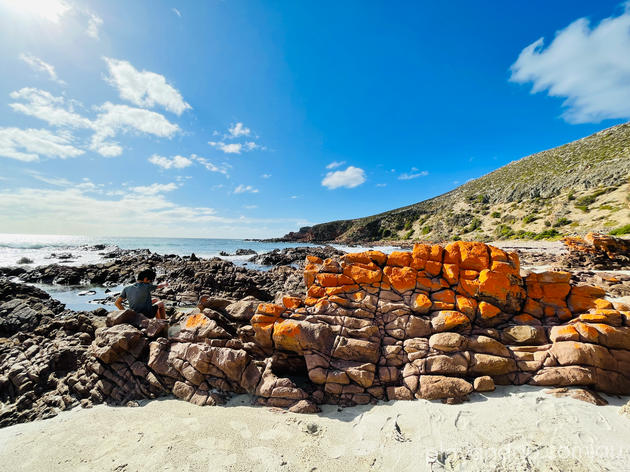 Western River Cove
Take the windy dirt roads to this amazing hidden beach where you will find complete serenity. There is a small campground, bbq facility, shelter and toilets here.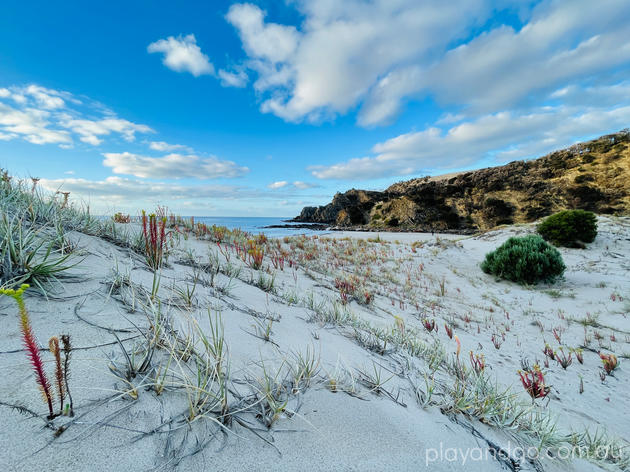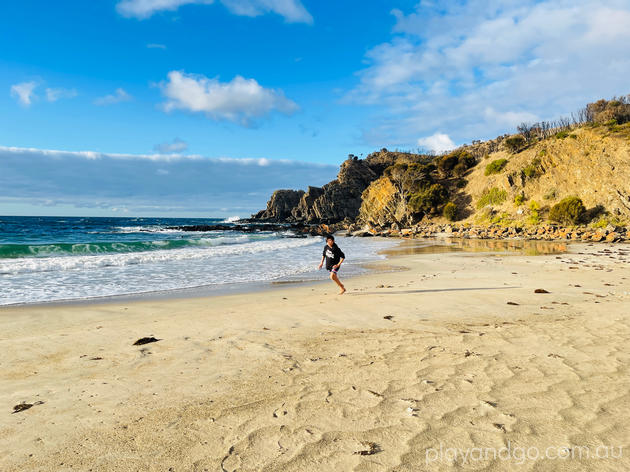 Snellings Beach
Another beautiful beach with plenty of fascinating rocks, lined with orange lichen plus rock pools to explore. You will find toilets and a picnic shelter near the carpark.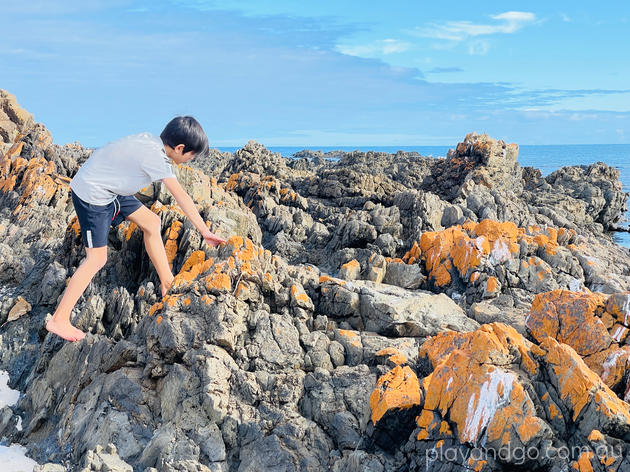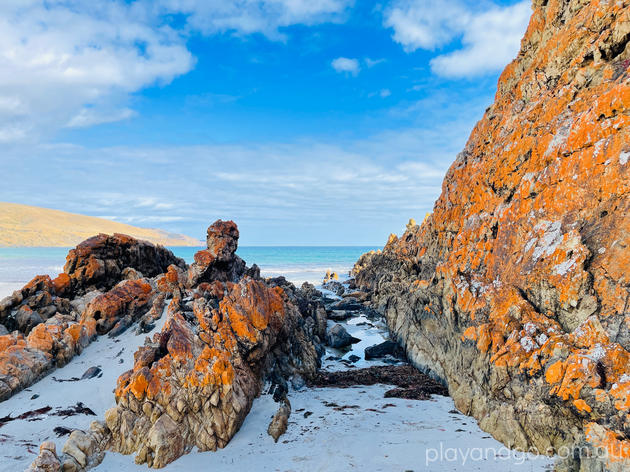 Island Beach
Situated near American River, this beach stretches on for what seems like miles. The day that we visited, the water was perfectly calm and also very shallow making it the perfect swimming beach with kids. Delightfully serene.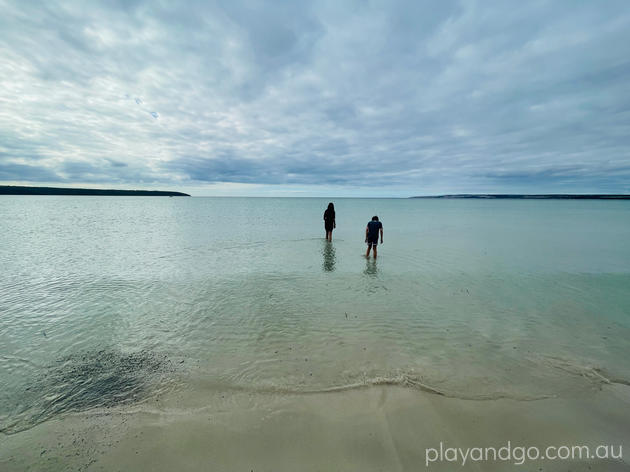 Emu Bay
A great place to spot pelicans and other birds. This beach is also popular with fishers. There is a toilet located nearby plus a small playground and picnic area.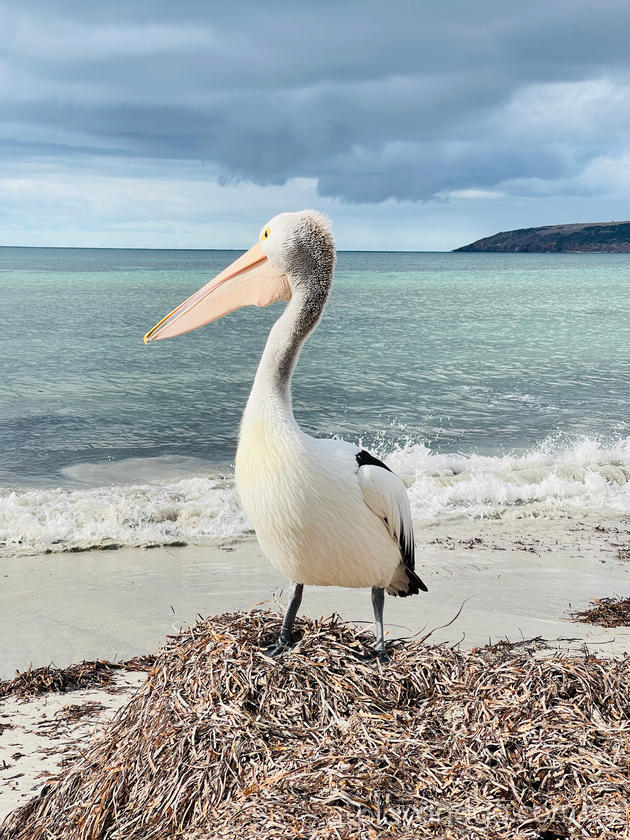 Vivonne Bay
This has been voted Australia's top beach in recent times. It is stunning and stretches for miles but also has a rocky outcrop and jetty at one end. The day we visited, there were high waves but on a calmer day, I can imagine this being a beautiful beach to stretch out on.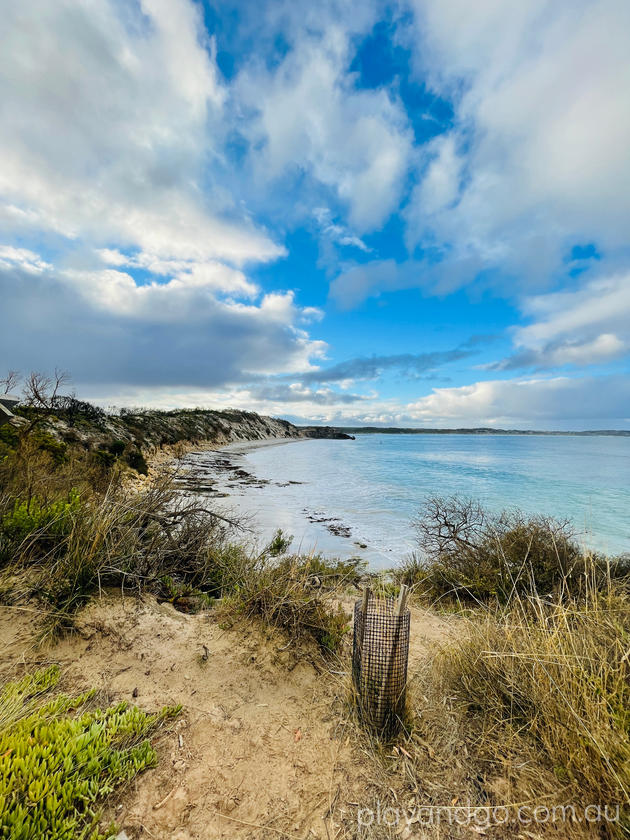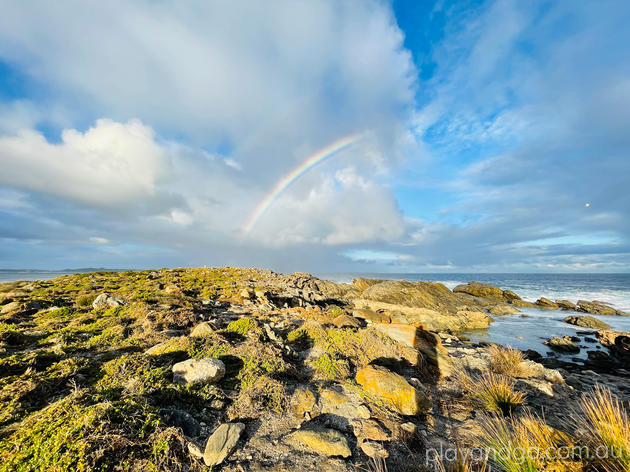 Note: although driving on some of K.I.s beaches is permitted, it is generally only for boat launching. Every beach we visited a beach on K.I., there was car parking only metres away. Sadly, rare species of birds have been killed on the island by people driving on the beach, so please always opt to park and walk, if you are physically able to.
Highlights
Flinders Chase National Park
In my opinion, Flinders Chase National Park is a must-see destination when visiting K.I. Allow 3-4 hours at least to see the iconic natural wonders here.
Bushfires of 2020
In January 2020, lightning strikes in Flinders Chase ignited a ferocious bushfire that burned half of the island, destroying homes, infrastructure, native vegetation, wildlife and sadly, killed 2 people. The island and its inhabitants still bear the scars of the bushfire but much work has been done to repair damaged tourism infrastructure for visitors.
The koalas, birds, and other wildlife that survived in these parts of the island are very precious and it's fantastic to see see the incredible regrowth in the area. It's such a plus to visiting the area at the moment with so many new shoots coming through.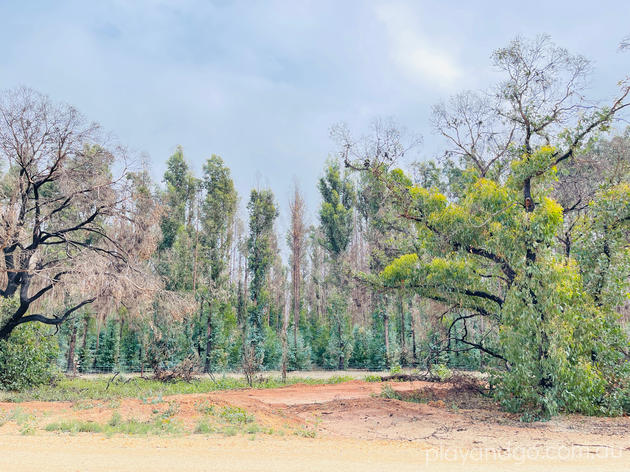 A temporary visitor information office is now open, located at Rocky River, approximately 5km into the park. You can pay park fees here, or book and pay for your National Park entry online the day before visiting. When you arrive at the station, the helpful National Parks and Wildlife staff will provide you with a map and directions to set you off to see arguably some of Australia's most amazing natural rock formations and coastline.
The closest eatery is the Vivonne Bay General Store, approximately 30 minutes drive away, so it is advisable to pack a picnic lunch and something to drink and settle under the shelters at the temporary visitor information office. There are portable toilets located here.
Remarkable Rocks
The name says it all really – these amazing rock formations, created over millions of years are simply spectacular. You can walk around them, sit on them, climb on them and admire them. You won't be disappointed.
Make sure you wear grippy footwear and be careful, particularly with young kids as there are no barriers around the cliff edges (it's long way down). Plus, it can get very windy and the weather can change suddenly, making conditions potentially dangerous.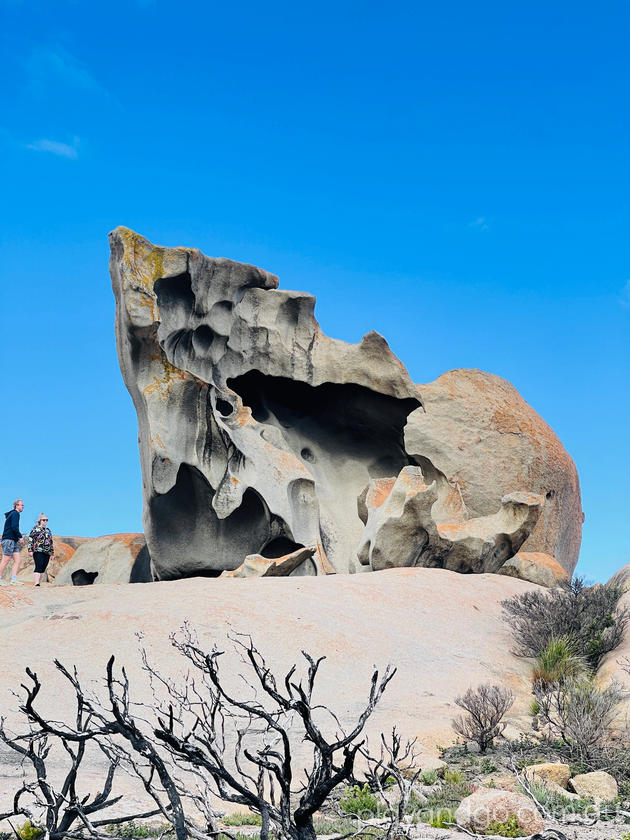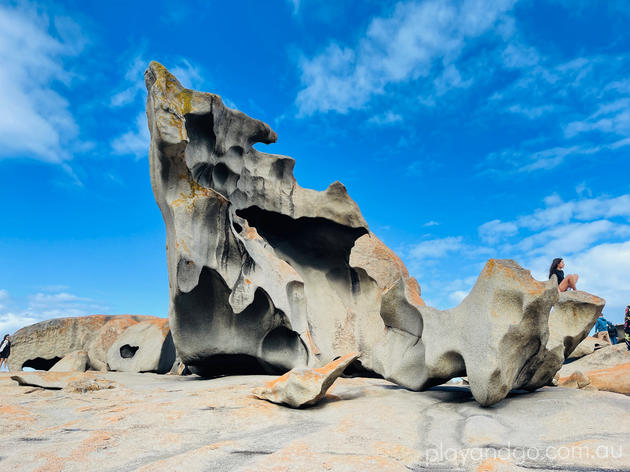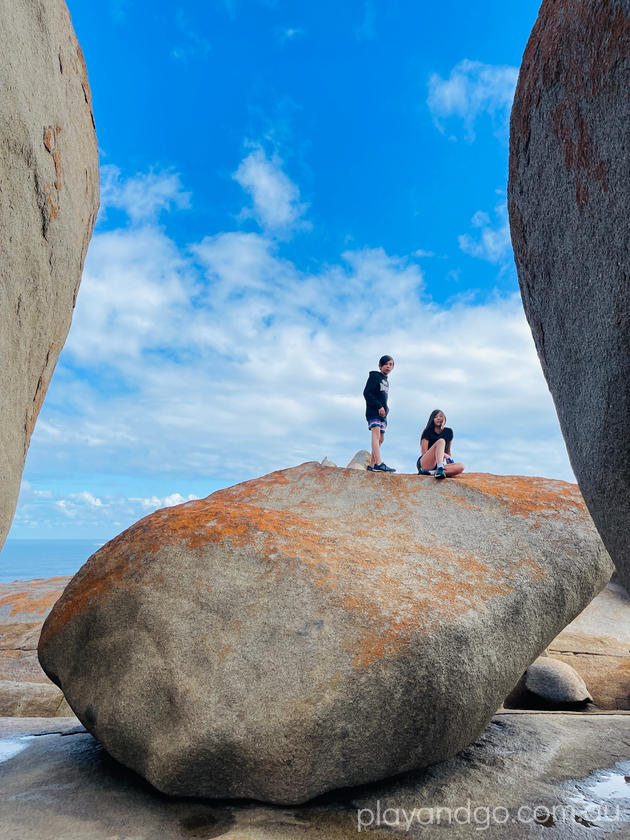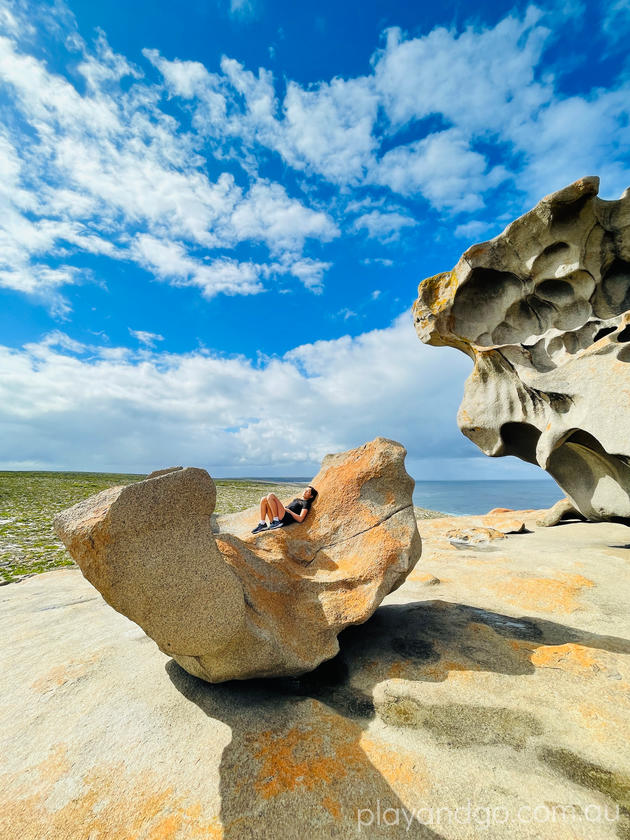 Weirs Cove
All that remains of this historic building are stone walls overlooking one of the most amazing views of the sea and cliffs. The building was inhabited by several families who would hoist goods up the vertical cliff face. It's hard to imagine that from 1907 to the early 1930's that all materials coming to this point of the island (even humans) were transported by steamship, transferred to small boats and then winched up this 90m cliff!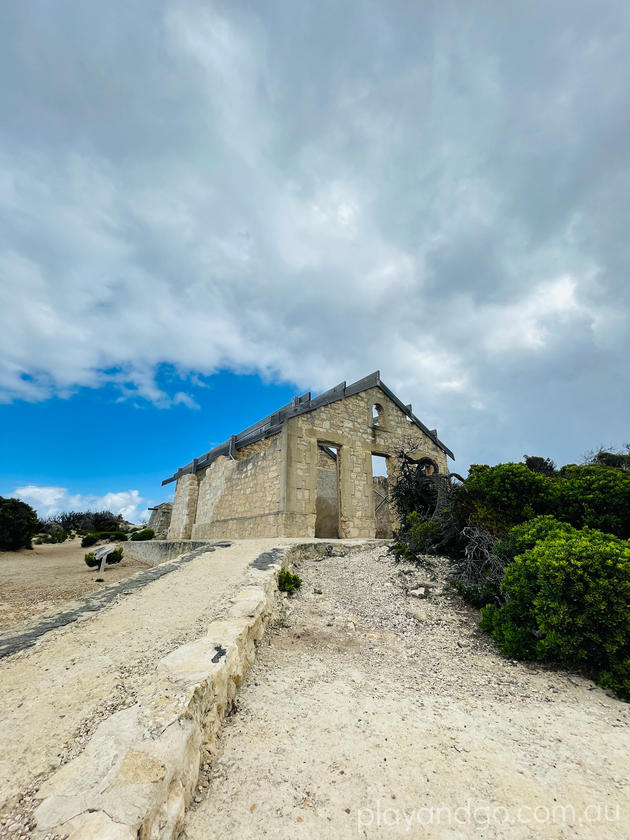 Cape de Couedic Lighthouse
One of three lighthouses on the island that can be visited. You can't go inside Cape de Couedic Lighthouse, but it is a gorgeous lighthouse with stunning views over the coastline. There is also a short walking trail nearby and Admirals Arch is a few minutes drive away.
There are public toilets located here.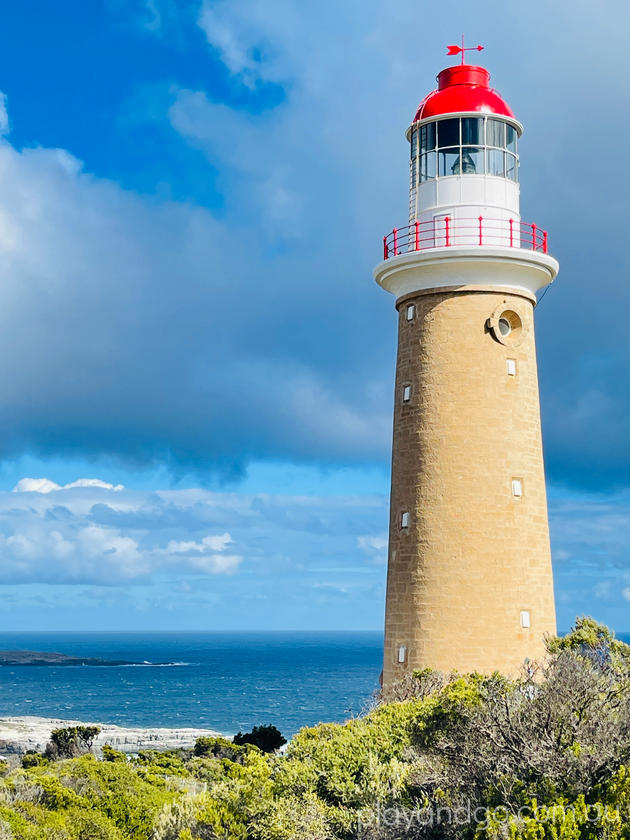 Admirals Arch
Take the staircase and walkway all the way to Admirals Arch, an imposing natural arch formation that separates you from the thrashing waves beyond.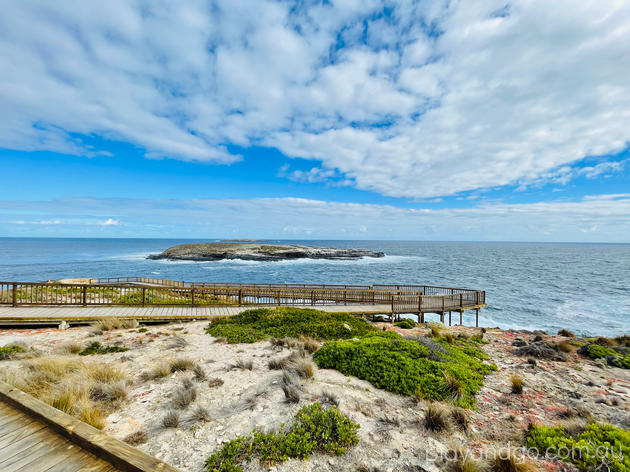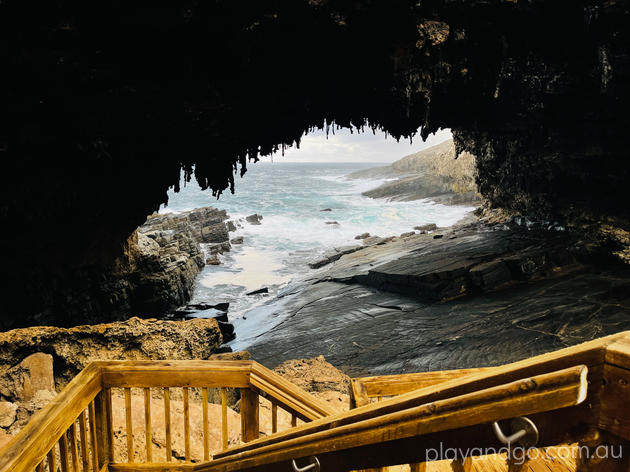 Watch while the Sea Lions relax on the rocks while the waves wash over them. The Sea Lions come here for a holiday with their young ones. If you are lucky, you will see them swimming in a little "pool" by the rocks.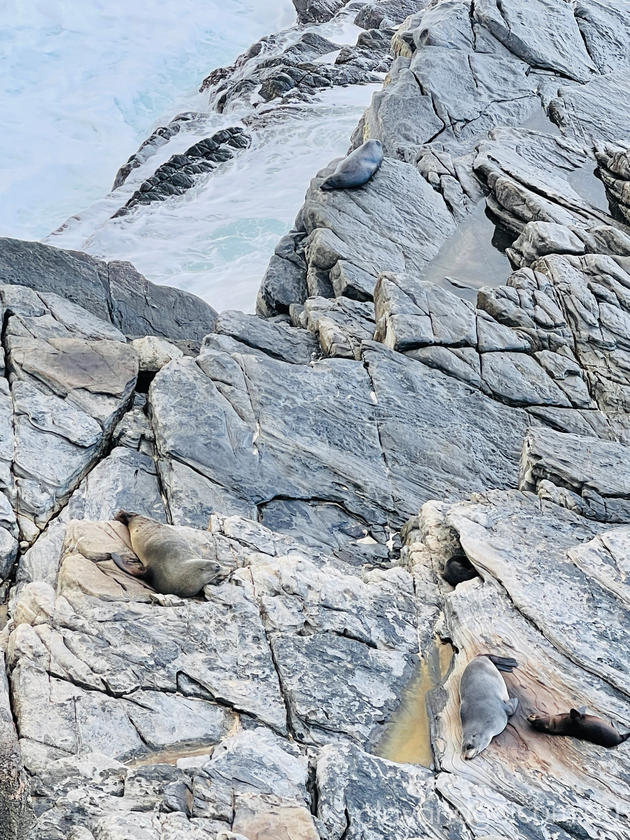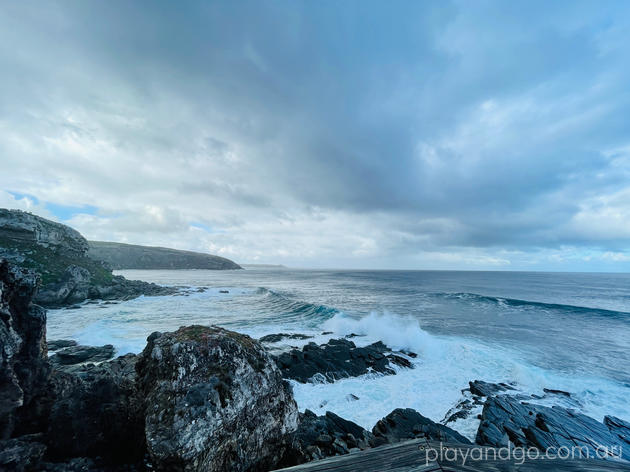 The crashing waves here will also have you mesmerised.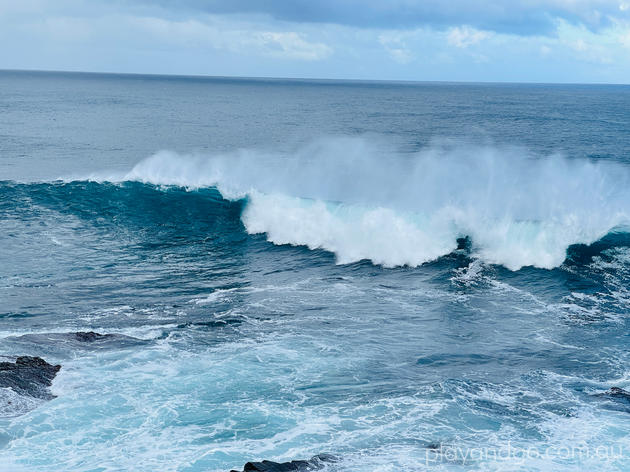 Wildlife
Seal Bay
Take a paid tour right into the heart of Seal territory and learn about these lovely creatures.
The tour allows visitors to get extremely close to the seals, however, it is important to stay close to the tour guide and follow their instructions to ensure your safety. There is also a boardwalk that takes you near the colony so you can view the seals from a distance.
There are toilets here and snack foods available, plus a small gift shop.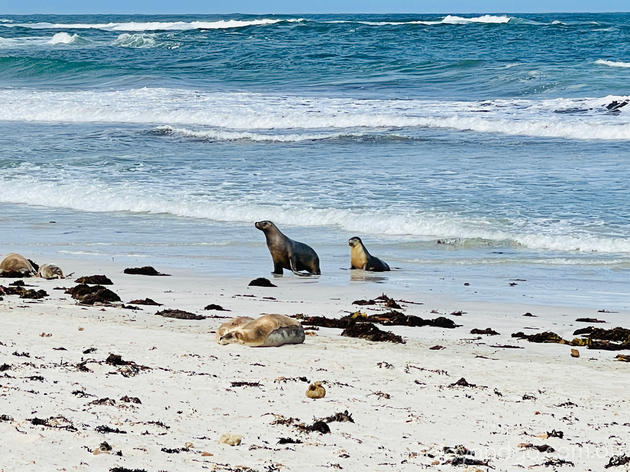 We were fortunate enough to watch two mums reunite with their pups after spending three days away fishing and eating. This was a very special experience because sadly, not all mums and pups are reunited.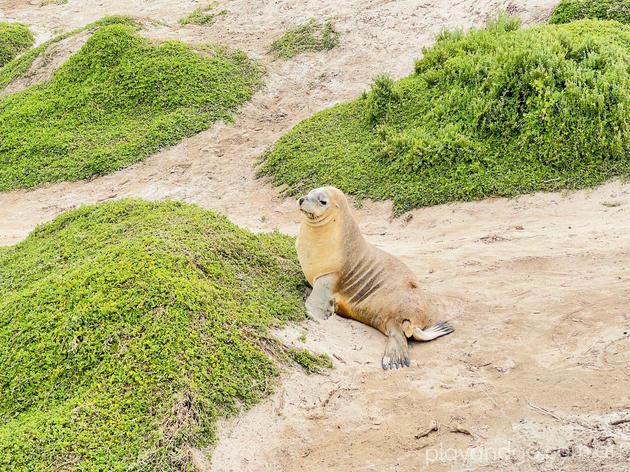 Little Sahara
Little Sahara is very aptly named due to the uniquely sprawling sand dunes that cover a surprisingly vast area. It is located not far from Vivonne Bay and these large dunes are perfect for sandy fun!
This unusual privately-owned site was classed as a Significant Australian Heritage Geological Monument in 1979. It is open daily from 9am-5pm (Oct-Apr) and 10am-40m (May – Sep). Little Sahara runs a range of activities including Buggy Tours, Fat Bike Tours, Koala Walking Tours and Sandboarding and Tobogganing.
We hired sandboards for the kids and watched them glide down the hills. Some of the hills are pretty steep which is where the bigger kids will head to but there are gentler slopes for smaller kids as well.
There are toilets located onsite at the Little Sahara station.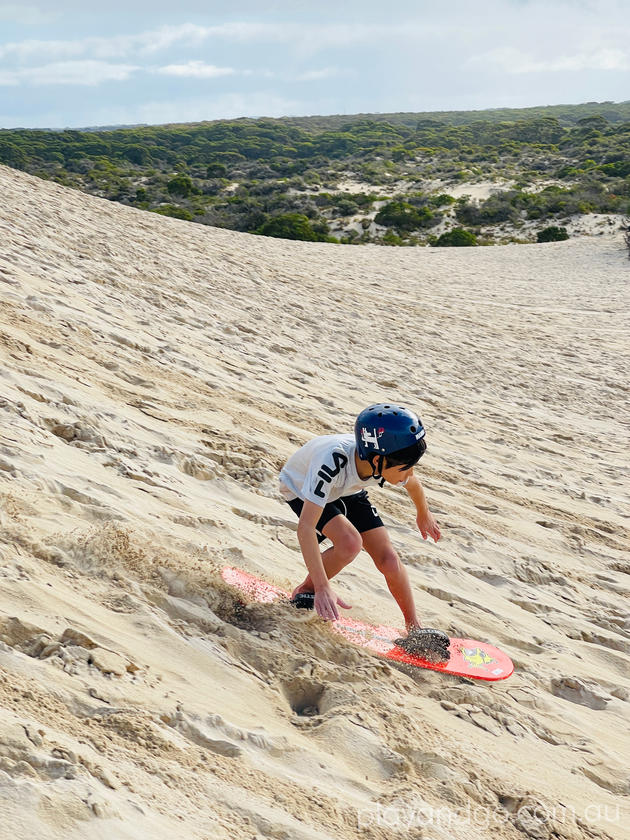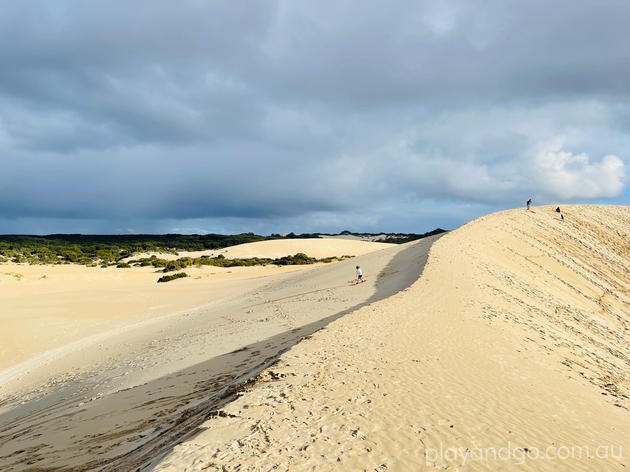 Raptor Domain
Trained wildlife personnel deliver an informative and very up-close encounter with a range of raptors and birds who have been rescued from danger, injury and death.
The birds have been trained to respond to their handlers with positive reinforcement and there is a strong emphasis on the protection and preservation of these amazing birds.
Everyone who wants to participate can either touch, hold or get up close to one of the birds during the presentation. While at the end of the show, guests (aged 12 and over) can pay an additional $10 to hold a bird, including a Wedge-tailed Eagle.
We held a Wedge-tailed Eagle; it's hard not to have an amazing amount of respect for these powerful creatures.
There are toilets, a few light snack options and drinks available for purchase onsite.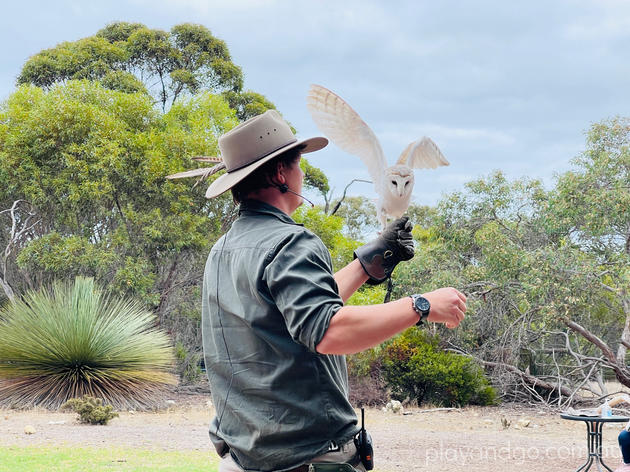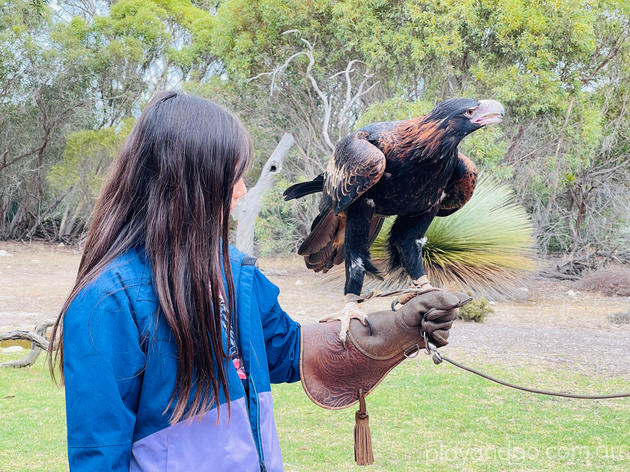 Other Wildlife Parks
Although we didn't get to visit other wildlife parks, there are two others that are highly recommended and that have also played and continue to play a vital role in protecting Kangaroo Island's native animals:
Kangaroo Island Wildlife Park | Duncan
Hanson Bay Wildlife Sanctuary – reopened October 2020. Open for guided tours – bookings essential. There are also 2 cabins available for holiday accommodation.
American River
This is a lovely quiet location situated halfway between both Penneshaw and Kingscote, making it a great base for travelling. It has a jetty, lovely walks, a cafe, a small general store and post office plus bushwalks and 2 restaurants.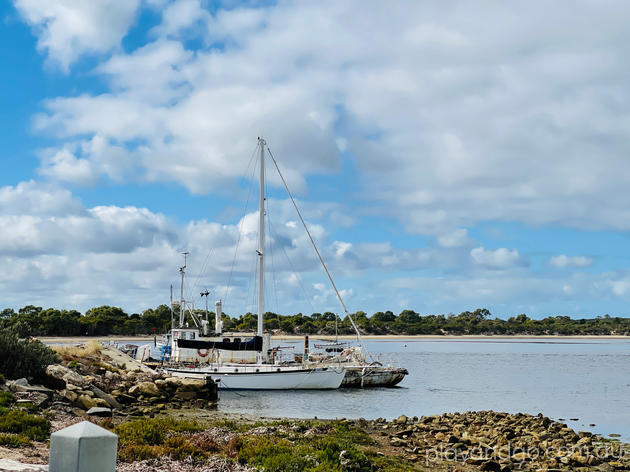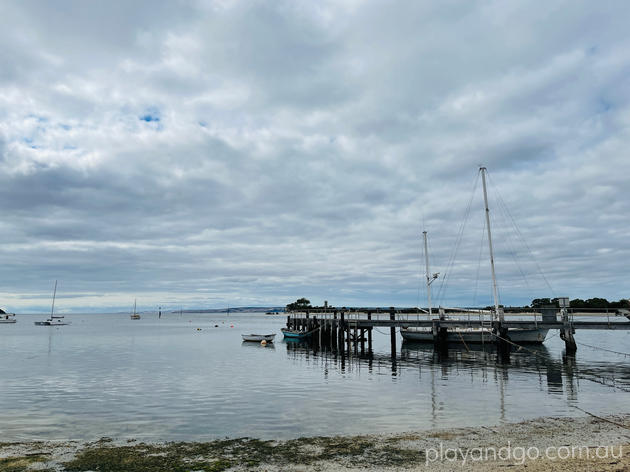 Make sure you visit the replica of the schooner, the Independence which was the first vessel constructed in South Australian waters. The replica is being built by volunteers and you can drop in, have a chat, observe the vessel under construction and buy a plank for $20 with your name written on it to help carry on the building work.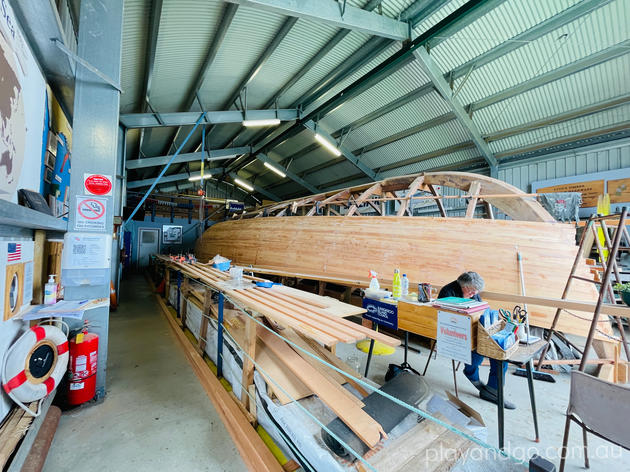 Fish Cannery Trail at American River
There are so many walks all around the island but the Fish Cannery Trail is an easy walk which you can follow through the scrub overlooking the river then follow back along the river's edge. Start the trail at the carpark at the end of Scenic Drive, opposite Wattle Ave. It is an easy 1.5 hour walk both ways and a great one to do with kids. Keep a lookout for Glossy Black Cockatoos that inhabit this area.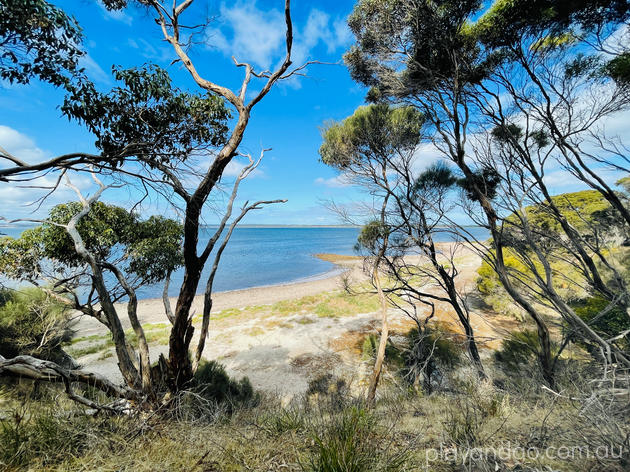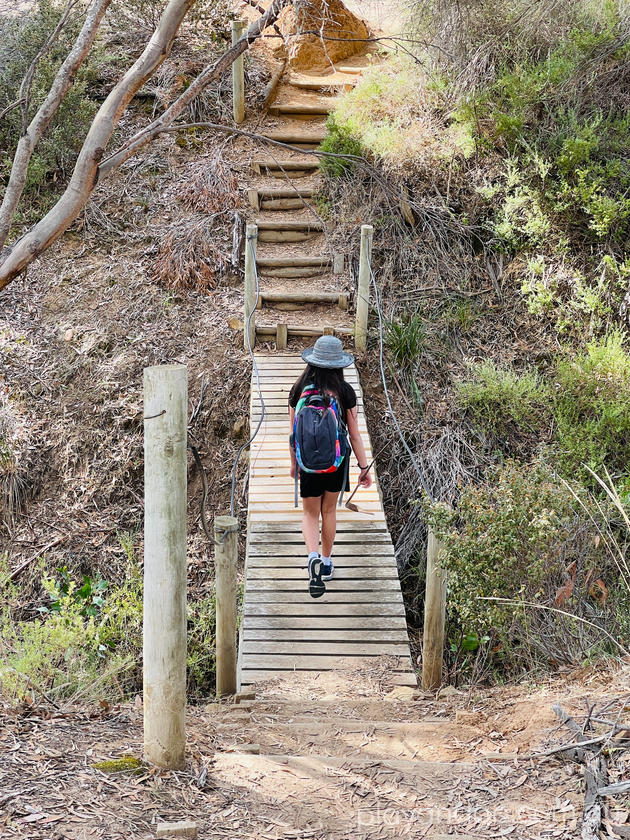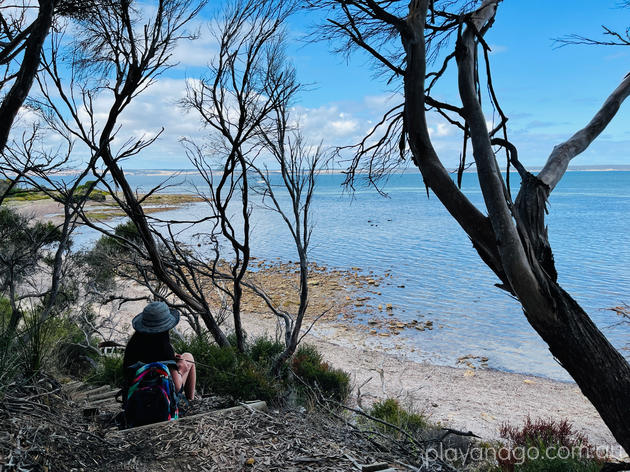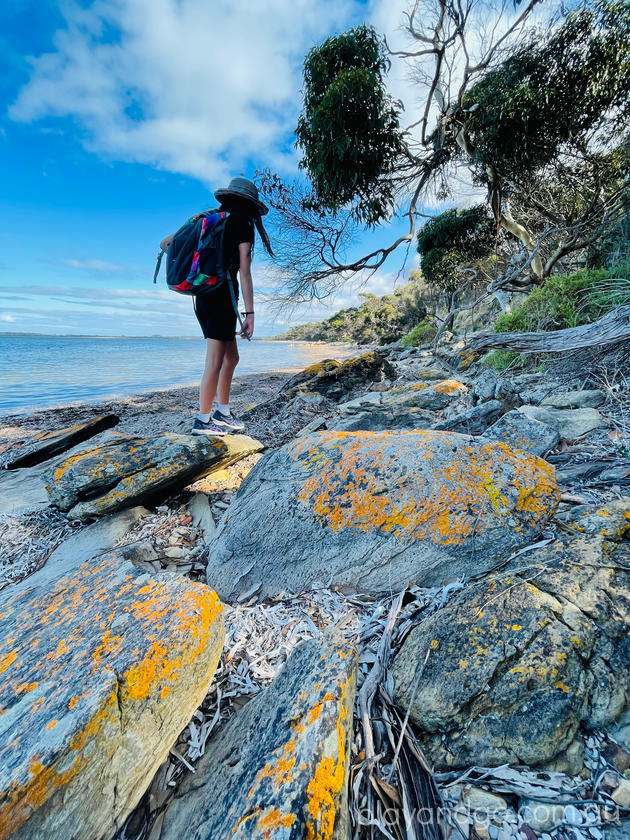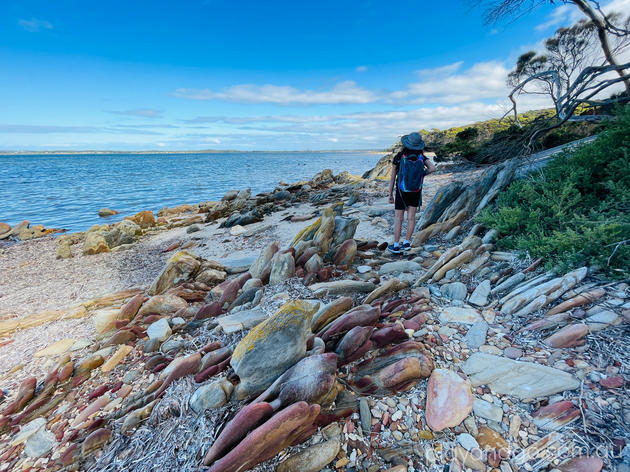 Pelican Lagoon Sanctuary Zone
Located about 10 minutes drive from American River is the Pelican Lagoon Sanctuary Zone, a conservation area which is home to many native birds and other wildlife.
We were lucky enough to spot 20 Kangaroo Island Glossy Black Cockatoos flying overhead. They can be identified by their distinctive call. There are only 454 Glossies in the wild in K.I. (as of 2020 post 2019/2020 bushfire), so this was a real privilege.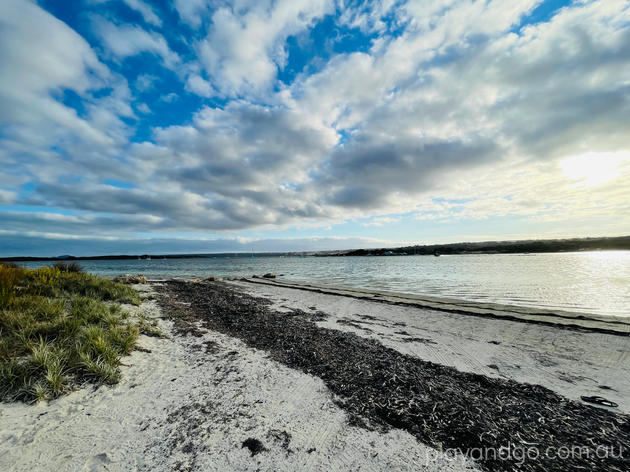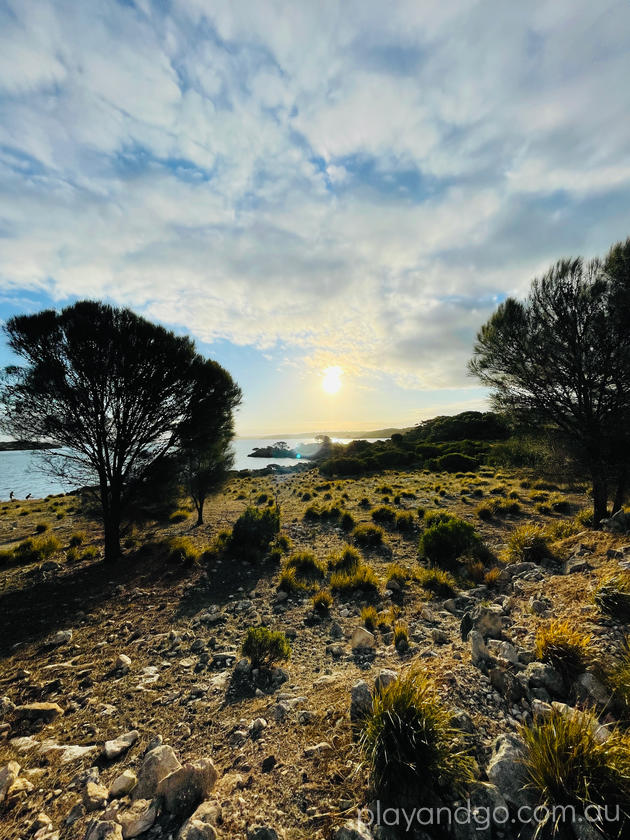 Prospect Hill
A short 10 minute drive from American River, this lookout has been recently reconstructed (reopened 2021).
Walk the 500 steps to the top of this large Sand Dune for amazing views of much of the island.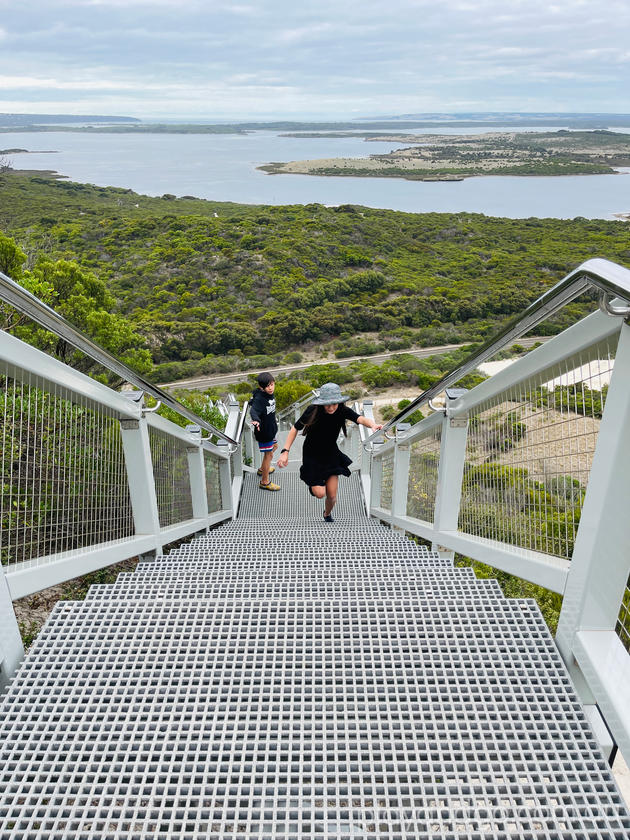 Pennington Bay
Located only 10 minutes drive from Prospect Hill, this stunning section of coastline has a mix of stunning turquoise waters, and rough waves that crash against the rugged cliffs. This is a particularly treacherous section of coastline, known to be popular with surfers.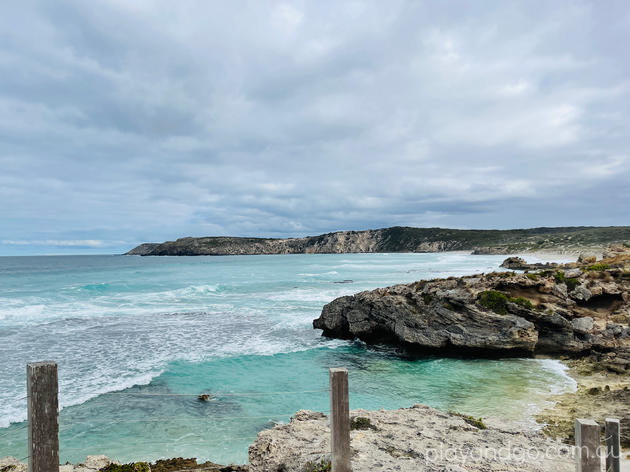 Penneshaw
Penneshaw is where you will disembark from SeaLink and there is a small supermarket and petrol station in town so that you can stock up on supplies.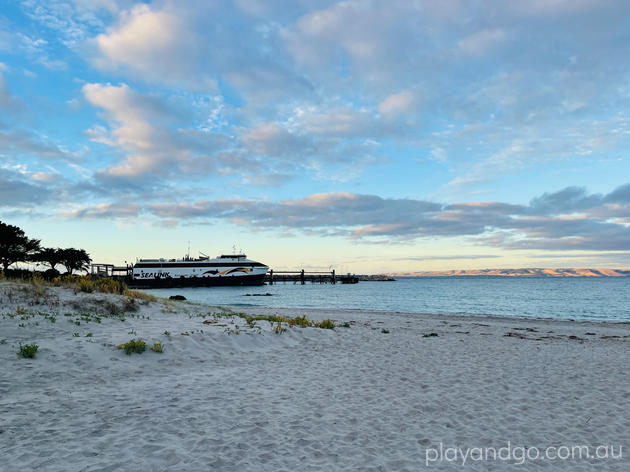 Penneshaw is a lovely town with some great eateries and coffee. There's also a fabulous sculpture trail in the town where you may run into some wallabies. Take in fabulous views over the coast and enjoy this gentle walk which also features a swing bridge and lovely sculptures.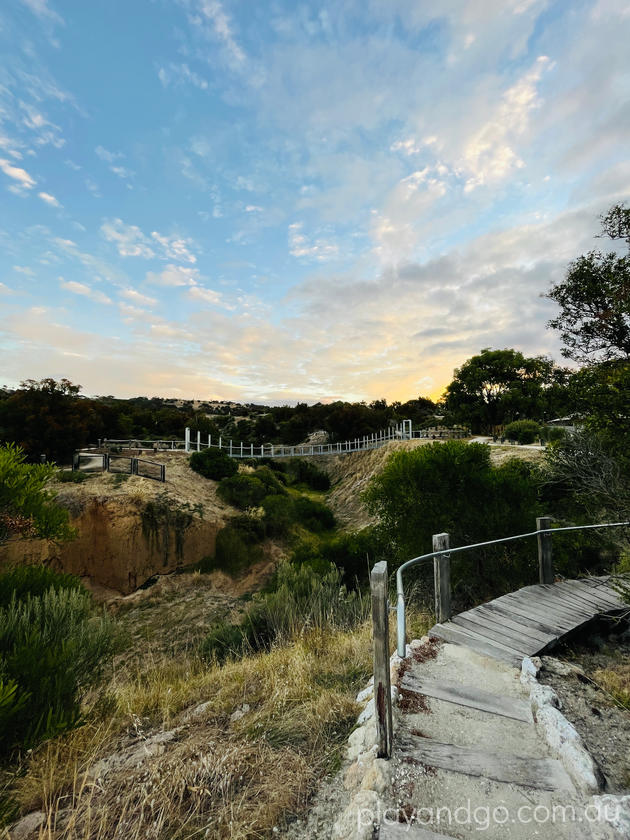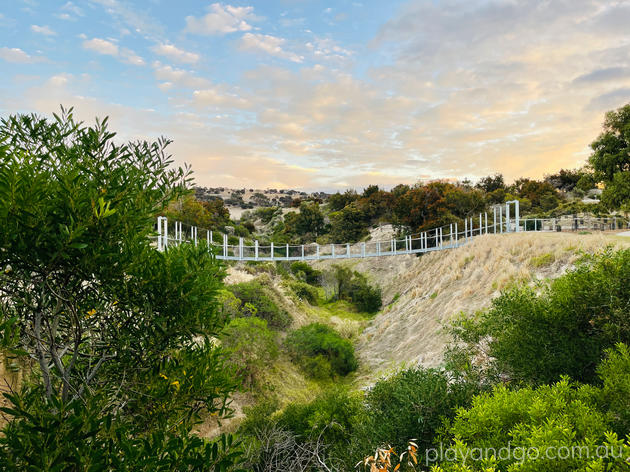 Nearby is Frenchmans Rock, inscribed by Nicolas Baudin and his crew while they stopped at the bay during their expedition to map the coast of Australia (then New Holland), onboard the ship Le Geographe in 1803.
If a good sunset is on the way, stop at Christmas Cove, where you will be able to see the sunset in spectacular fashion.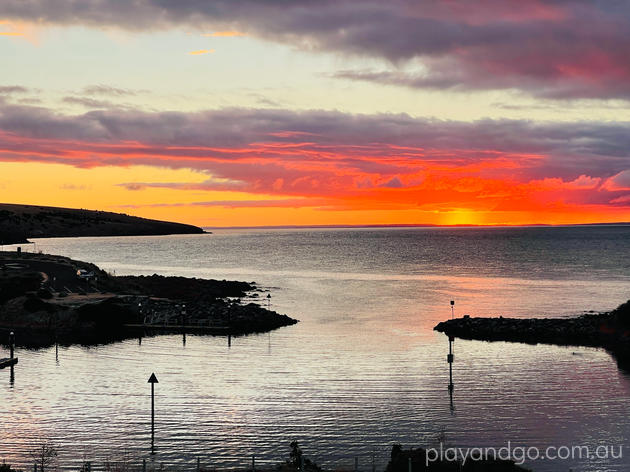 There is also a lovely sandy beach with a shelter and buckets and spades for the kids.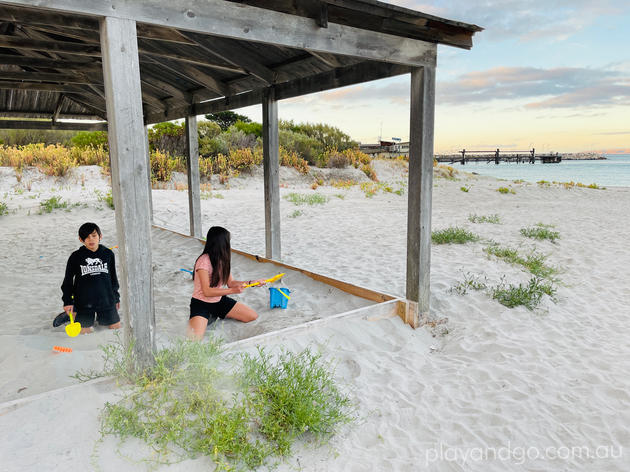 Kingscote
This is the biggest town on Kangaroo Island where you will find some great eateries, plus two art galleries with stunning artworks, sculpture and jewellery.
Stock up on petrol and groceries at Kingscote and pick up a Kangaroo Island souvenir tourist map and guide from the fantastic souvenir/tourist info shop. The Drakes Supermarket here is the biggest on the island where you will find a wide range of groceries.
There is also a Tidal Pool, located near the wharf which offers a safe swimming spot for families.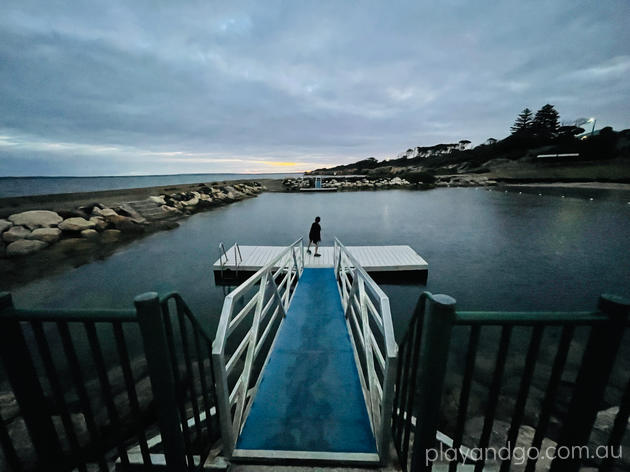 Kelly Hill Caves
The Kelly Hill Conservation Park is currently closed to visitors after sustaining significant damage during the 2020 bushfire. However, Conservation Park staff have undertaken further exploration of the area and discovered at least 20 more caves on the island. Keep an eye out on the National Parks & Wildlife Service website for updates.
Lashmar Conservation Park
If you love camping, there is a lovely spot for campers here on the banks of the Chapman River, an ideal spot for kayaking and only a few minutes walk from the beach. The beach has distant views of Cape Jervis and is not far from Cape Willoughby Lightstation.
If you're passing through, it's a lovely spot to explore with kids. There are red robins, blue wrens and swans and ducks to see and mysterious paths to wander.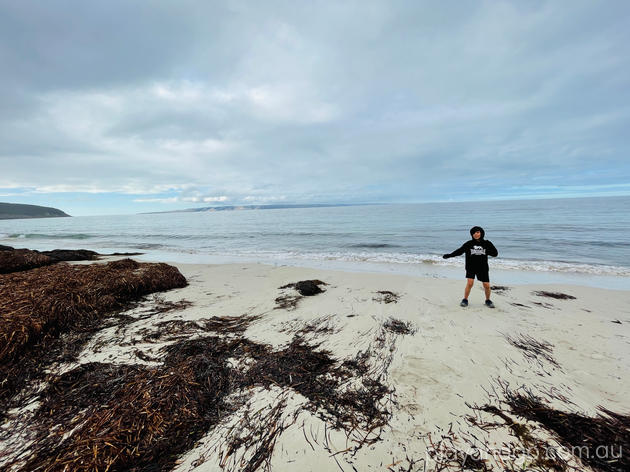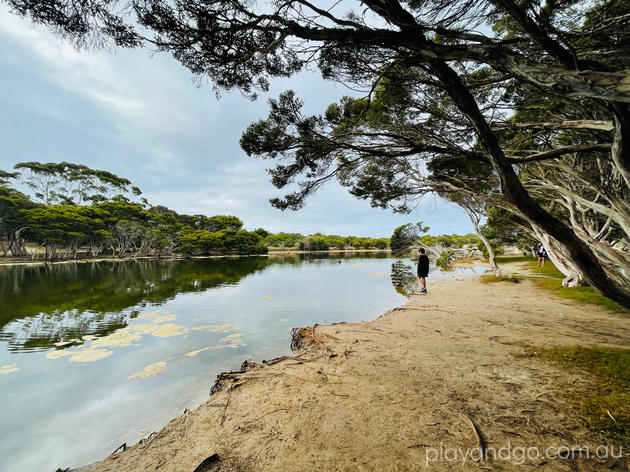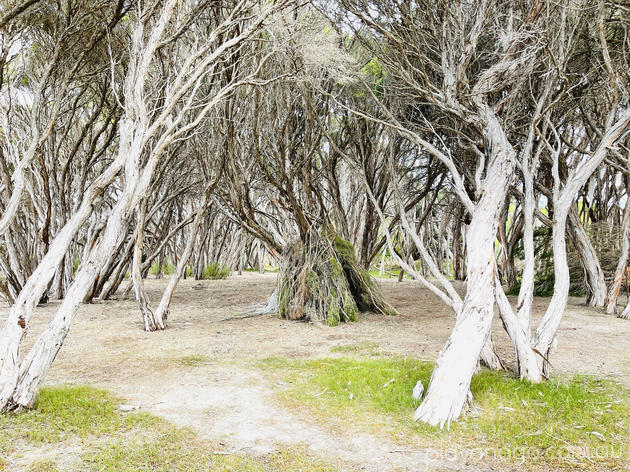 Other Places of Interest to Visit
Obviously, we couldn't cover the whole island in 9 days but there are plenty of other interesting sights to see with kids, particularly if you're already visiting one area of the island.
Cape Borda Lightstation
Cape Willoughby Conservation Park and Cape Willoughby Lighthouse
George's Turner's Castle Lights – look for the castle filled with an array of lights including vikings, a Christmas display, and boomerangs. George welcomes visitors and will turn on the lights if you ask. It is located at 1593 N Coast Rd, Wisanger. You can phone George on 8553 5213.
Parndarna – A fantastic central spot to stay if you are keen to see most parts of the island. There is a great bakery and small supermarket here, plus a laundromat.
Accommodation
The world is your oyster when it comes to accommodation on K.I. with numerous off the beaten track camping spots, small lodgings, houses and apartments. You can opt to stay in the middle of nowhere, or closer to one of the main towns – Kingscote, American River or Penneshaw.
For a real taste of island life on a working property in the heart of the island at Parndarna, Eleanor Downs offers clean, well-appointed farmhouse accommodation, perfect for family stays.
Tips for travelling around the island and things to be aware of:
Allow yourself plenty of time to drive from destination to destination. The island is huge and many of the roads are either compacted dirt roads or simply dirt roads. The sealed roads are 110km/hr but we recommend driving more slowly, simply to avoid hitting wildlife on the road. We observed many wallabies, kangaroos and possums that had been struck and they are everywhere!! Please take care and slow down.
Please respect the island. It is still very untouched in many ways and undeveloped and that's what makes the island so special. Take your rubbish with you, try and keep off sand dunes to protect the plants growing on them and avoid driving on the beach which puts rare breeding birds in danger.
**TOILETS** There not many public toilets on the island. Find a link to the national public toilet map here.
**FUEL** The island is big and I'd advise filling up rather than risk running out of fuel! You can find petrol stations at Parndarna, Kingscote and Penneshaw. It will be expensive – it is an island, after all!
Kangaroo Island is incredibly beautiful and definitely worth visiting. When you visit, you will be supporting Kangaroo Island's businesses. The island offers so much opportunity to simply get away from it all, to enjoy quiet and precious time with family and to explore at your leisure.
SPECIAL OFFERS FOR TRAVEL TO KANGAROO ISLAND WITH SEALINK
SeaLink has special offers throughout the year for families travelling to Kangaroo Island including accommodation and ferry fares.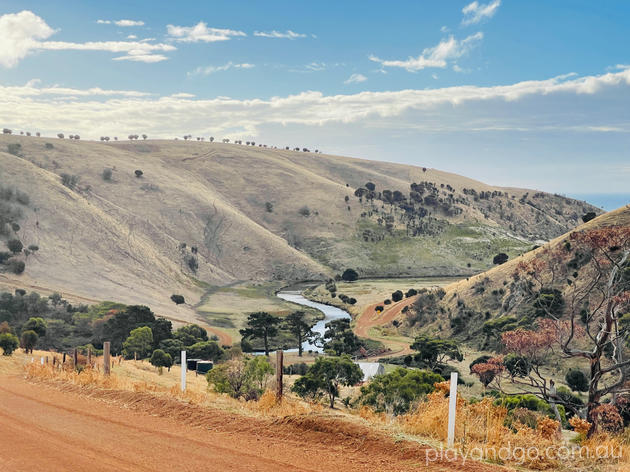 ---
At Play & Go Adelaide we make every effort to provide accurate information to the best of our knowledge at the time of publication. We recommend confirming times, dates and details directly before making any plans as details may be subject to change.
Image Source: All photos by Melissa Louey for Play & Go
SUBSCRIBE
Want to get all the latest events and activities straight to your inbox?
Subscribe to our weekly email newsletter below to keep up to date with our latest posts and find out all the best events & activities for Adelaide families. Newsletters are only sent once a week, and you may sometimes get a special offer exclusively for our subscribers only!