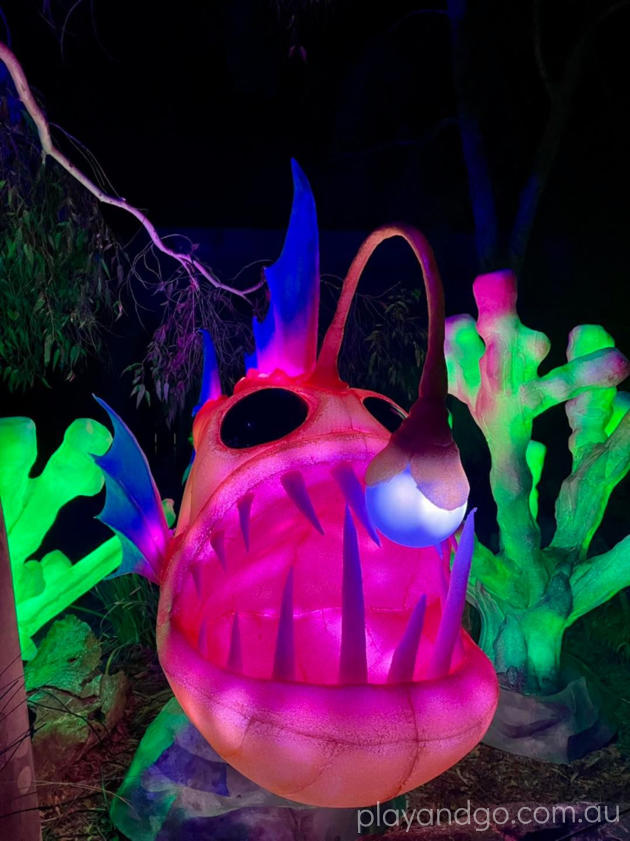 Light Creatures at Adelaide Zoo – Review
Light Creatures is a spectacular display of giant illuminated lanterns and creatures including jellyfish, pandas, and giraffes at the Adelaide Zoo. It's such a dazzling adventure to wander the Zoo at night to discover these magnificent creative works as part of Illuminate Adelaide.
Take a look at our pics below for our first look at this wonderful event ahead of its opening on Thursday 8 July 2021.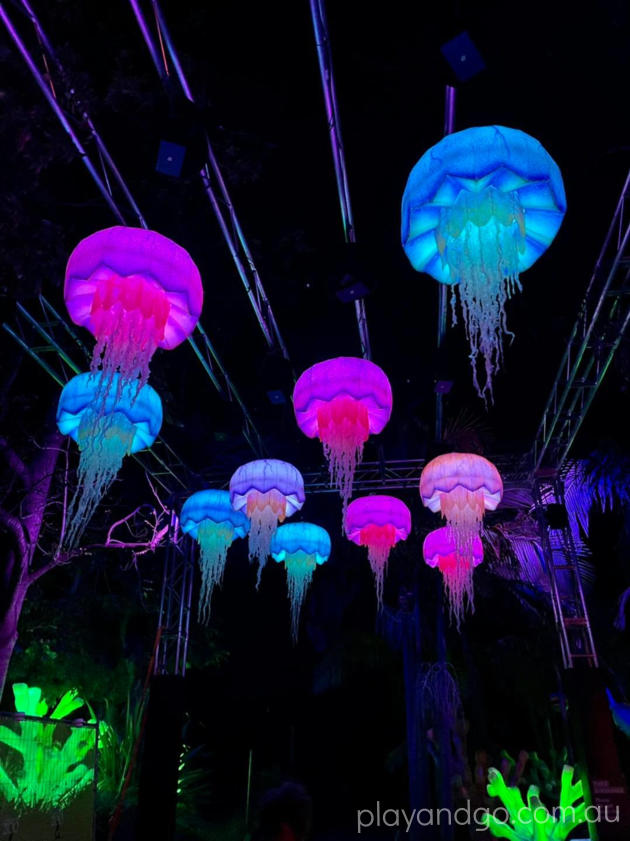 See the Giant Pandas rolling across the lawns; a gigantic 27m Dreamtime Skink sitting on the hill; the tallest 7m Giraffes; an interactive creature wall; an Underwater Wonderland with wriggling vivid jellyfish which sway and change colour above you, and more.
Soundscapes, music or stories accompany the installations. For example, at Skink Park by artist Elizabeth Close, while you watch the huge slithering creature move and change colours, it is accompanied by music and then storytelling by Jack Buckskin.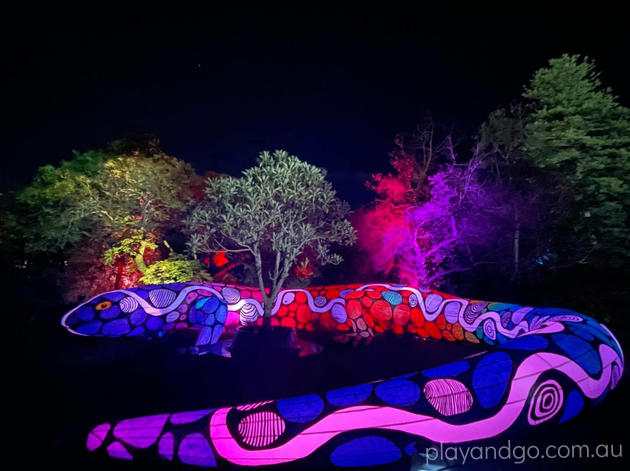 At each installation look for the information board and if you scan the QR code with the camera on your phone it will take you to information about the work.
During this event at night you will not see the real animals who live at the Zoo. The light installations have been strategically placed in areas that will cause the least amount of disturbance to the animals.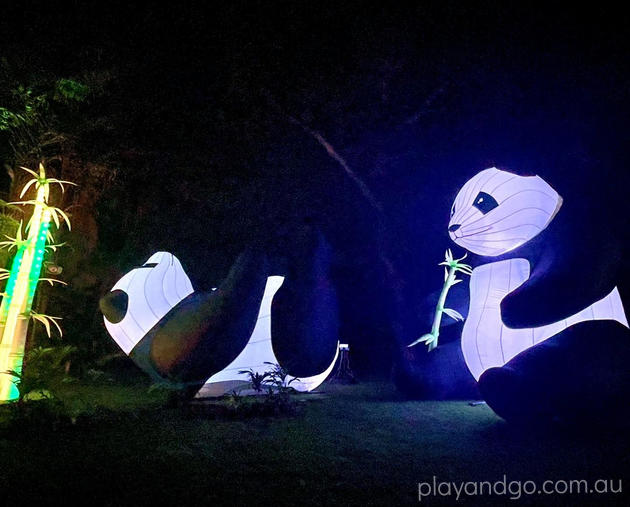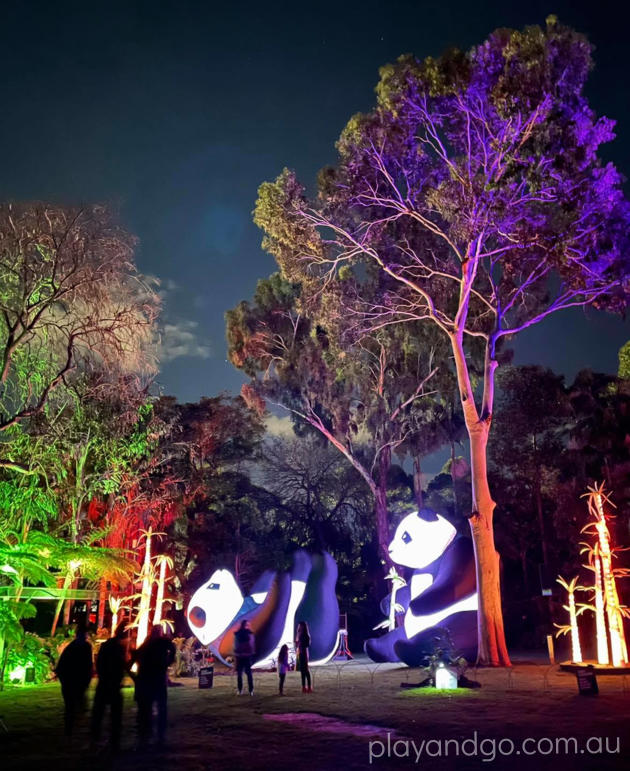 There will be winter warming mulled wine, a gin bar, curry, loaded fries, hot donuts, snacks, coffee, hot chocolate and other food. Plus the kids can play at the Nature Playground.
The artists and creative producers who have brought these light creatures to life are A Blanck Canvas, Elizabeth Close, Jack Buckskin, Jimy McGilchrist and Monkeystack. Read more about the creators and artists here.
For video peeks of the installations, see our Instagram post below:
View this post on Instagram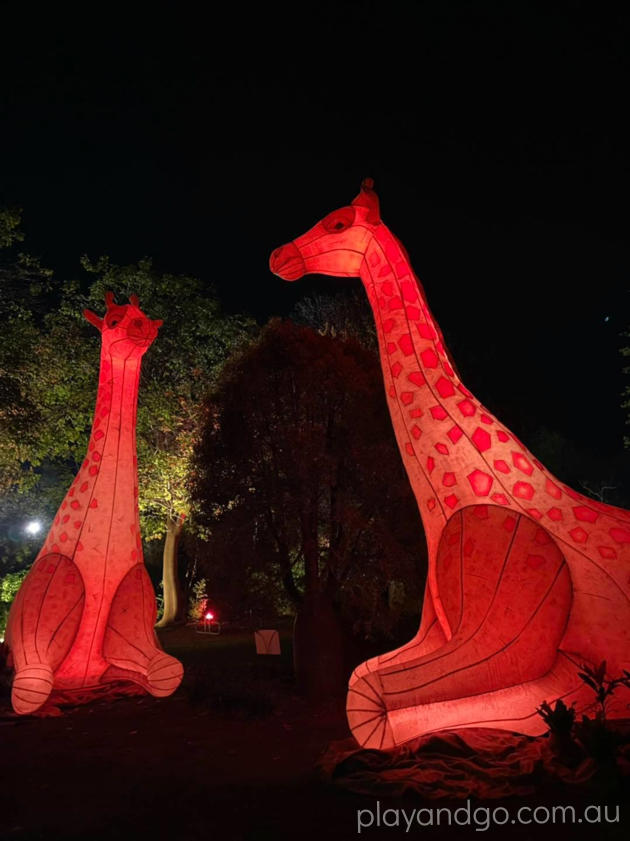 Tips for Visiting Light Creatures
See all the light installations first and check out the Dreamtime Skink last as it's right by the playground – it may be hard to drag the kids away from the playground once they see it.
Don't forget it's very dark at the Zoo at night – watch your step on pathways and keep a close eye on little ones.
The installations are rain-proofed so they will still operate if it's raining. This is all outdoors so take an umbrella if it looks like it might be rainy.
As mentioned earlier, you will not see the usual real animals during this night time visit – maybe prepare your children if they have favourite animals they usually like to see.
COVID INFORMATION
Masks will be mandatory at all Illuminate Adelaide events and will need to be worn for the duration. Please consider our environment and come prepared with your own mask.
Stay home if you are unwell.
All patrons are required to scan in using the COVID SAfe Check-In QR code or provide their details on paper records upon entry.
Social distancing is essential at all events. Please adhere to the 1 person per 4 square metre density rule, be aware of your surroundings, and follow the directions given by COVID Marshals.