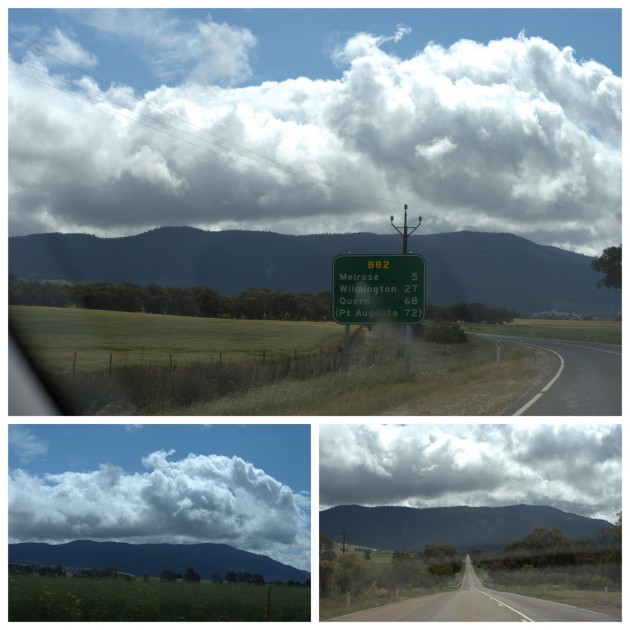 Melrose is the oldest town in the Southern Flinders Ranges, approximately 270km or just over 3 hours drive north of Adelaide, at the foot of Mt Remarkable.   
Our inaugural camping trip to this beautiful SA destination, was to be honest, fraught with a little anxiety. Actually, make that quite a bit of anxiety.
We had never done a car trip with both kids that far away. The memories of our 7 year old, years ago, screaming if she was strapped in her car seat for more than about 10km, was still etched in our minds! Plus it had been a very long time since I had slept in a tent. Friends and family were gobsmacked. What? You? You're going camping? In. A. Tent? Yes, fair call, admittedly a holiday involving a resort where there are lounges on the beach and by the pool, with food and drinks served, is usually my idea of fun.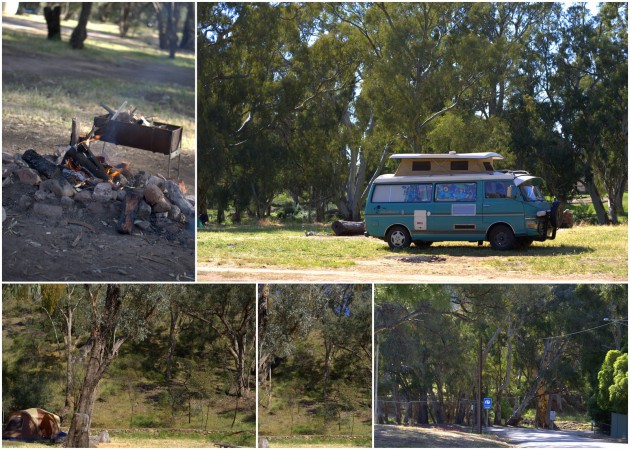 Anyway, after packing… and more packing…off we drove on our adventure. Into grey skies and intermittent rain, all the way there!
But as we saw Mt Remarkable beckoning closer, the skies magically cleared (I kid you not) and we arrived in Melrose to a perfect, sunny, blue sky afternoon.
The excitement of camping (and possibly the DVD player) kept the kids from whining during the trip.
Melrose Caravan Park has powered sites on one side of a creek bed and the unpowered sites on the other. We have only stayed in the unpowered site area, which is basically natural bush land with cleared areas as sites, with fire pits set up by previous campers. You can purchase fire wood from the reception office.
The sites run along a big hill, which the children scaled over and over again, all weekend, with much delight. The kids in our group of three families, ranged from 3 to 7 years of age and even our 3 year old at the time managed to scale that hill on his own after about 5 minutes.
The best thing about Melrose is if you are not a hard core camper there are plenty of ways to do things easy. For example across the road from the caravan park there is the Mt Remarkable Hotel and the North Star Hotel just a short walk down the road. Both serve pub meals so you don't even have to cook if you don't want! We usually eat out one night so there is less food to pack. And don't worry there's coffee as well! The Over the Edge bike store do a great coffee.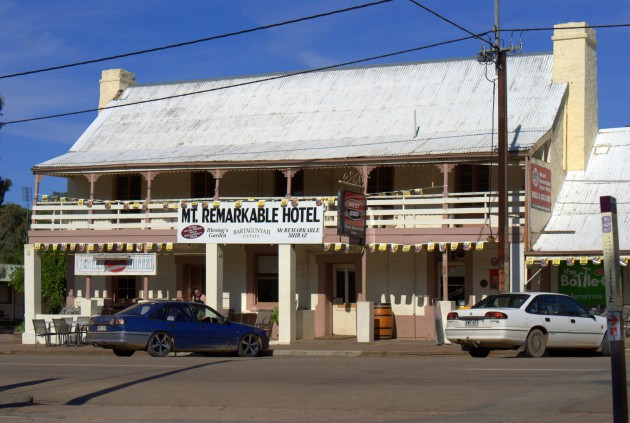 Thankfully, right amongst the bushland setting there are toilets which are cleaned daily. Plus the camp kitchen just nearby is very well set up with stoves, cooking equipment, a microwave, toaster, kettle, tables and chairs, and even a pot belly heater. So if it is rainy and cold you can seek shelter there and there is enough space for the kids to play some games or do some colouring in. Shower facilities are over in the powered sites area, just a short walk on the other side of the creek bed. These bathrooms are kept clean daily. BBQ facilities are also available.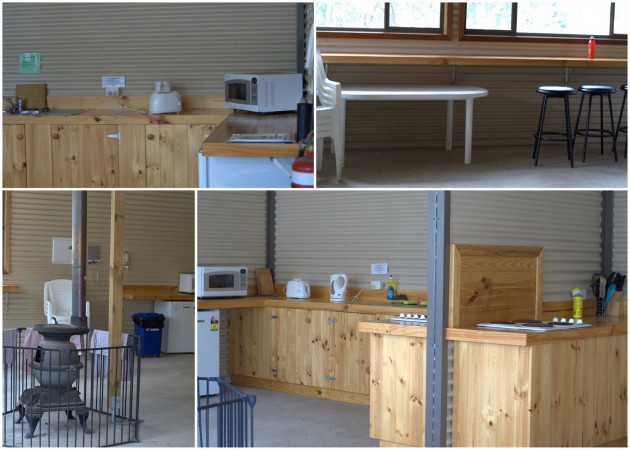 From the campsite you can follow walking trails from the top of the hill, which is a great lookout to see the surrounding areas. In the creek nearby there are many flat pebbles for skimming across the water and other rocks for collecting.
The rope suspension bridge across the creek is actually part of the Heysen Trail. The kids love the wobble factor walking across.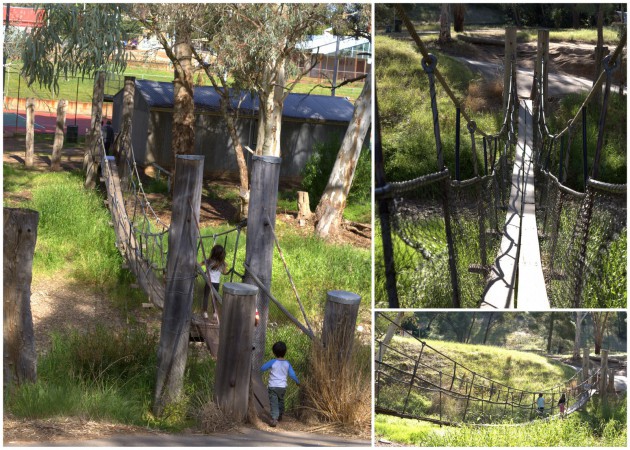 The walking trails from the caravan park were not difficult for the kids to do. Yes, it was slow going with 3 and 4 year olds but hey, we don't need to be anywhere in a hurry.  On our second trip to Melrose, the Dads took the three older kids (7 & 8 year olds) on the trek to the Summit of Mt Remarkable (960m altitude) which leads directly from the caravan park. Five hours later and 12.2 km return, the group came back victorious. Such is their endless energy, these kids came back, had some celebration chocolate and then went and played in the playground for another couple of hours before dinner time!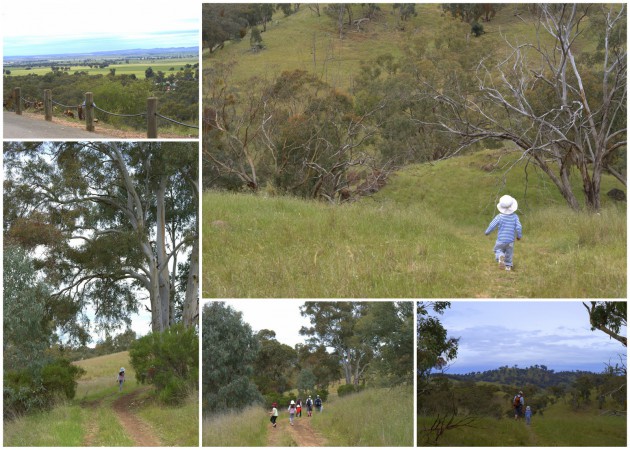 Just at the entrance to the caravan park there is a public playground below. The Mt Remarkable Hotel is just across the road from this so it's also handy for keeping the kids occupied while waiting for meals at the pub.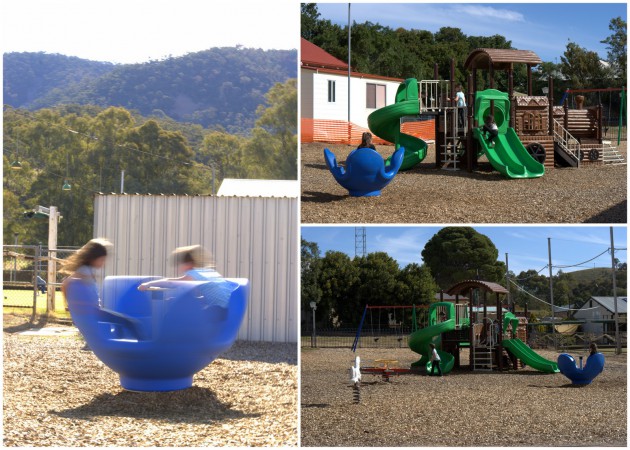 Melrose is very popular for bike riding with sought after bike trails leading from the park. The creek bed that runs through the caravan park is the Melrose Pump Track and is very popular with bike riders. The kids love watching the more experienced riders manoeuvre, jumping the mounds and enjoy having a go too.
The powered site area of the caravan park neighbours the local Melrose Primary School and in the school holidays when we visited, we could access this beautiful play space.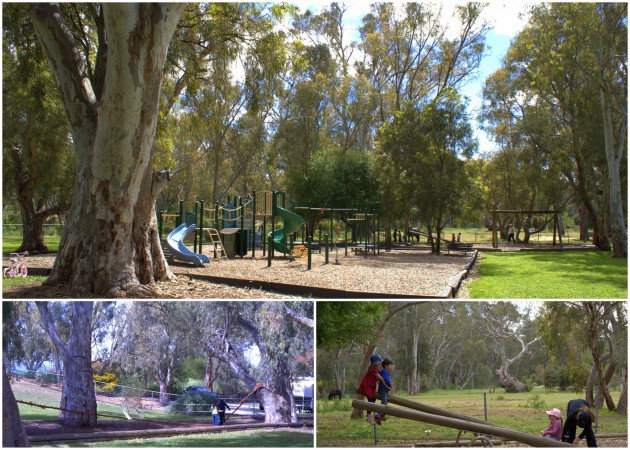 The property on the other side of the school happens to have beautiful horses residing. They often come right up close to the fence where kids can feed them some long grass.
How gorgeous is the backdrop of this playground? My photos don't do it justice. It really is a beautiful place to be.
There is plenty of equipment here to keep the kids amused for ages.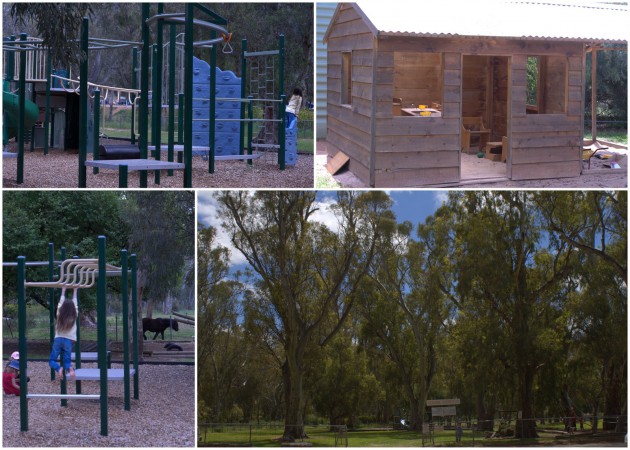 There is just something about camping, being away from electronic equipment and toys, breathing in fresh air, keeping things simple, which is totally relaxing. You have no choice but to surrender to it once you are there. It's time spent together as a family, without the busy routines or rushing around from one thing to another. Sure, I won't lie to you, it does take a bit of organising and a whole lot of packing (as do most family holidays away). Some nights you may not get a lot of sleep on your air mattress, with the thin walls flapping about your head in the wind, but with the amount of joy the kids get from exploring nature, it is absolutely worth it. Life is happy at camp. You can see it on their faces. They will have great memories of climbing those hills when they are older. And so will you.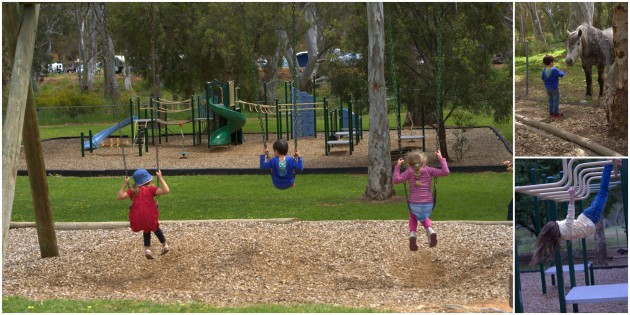 So, if you have been thinking about camping but haven't been sure about the whole idea, or you haven't considered it, it's worth putting on that 'to do list' before the kids are all grown up.
Camping Tips for Families
I'm certainly no expert, but here are a few tips I've learnt along the way and from observing people in the know:
Get a couple of plastic storage boxes with lids from a $2 shop and fill it with cheap cooking and kitchen supplies from there or places like IKEA (our $12 frying pan from there works a treat).  Keep everything stored in these so it's ready to go next time.
I'm a bit of a list kind of person so having a packing list on Excel means that you can update it and use it again and again. Sounds full-on but is very handy.
If you are not sure if it's your thing, do what we did and borrow a tent from friends to try it out first.
An esky with ice will keep food cold in the back of the car if you are only going for 2 to 3 days. There are no supermarkets in Melrose or anywhere nearby, only a general store, so pack enough food and snacks (unless you plan to just eat at the pubs).
Go camping with more experienced camping friends – they will be more likely to have all the equipment that you might need, that non-camping people are clueless about and if they are kind enough to share with you, you can learn a lot of camping tricks.
Of course, if you are not quite ready to tackle a tent, you can always book a cabin at the Caravan Park instead.
Camp outside of fire ban season so you can have a campfire. Camping and campfires just go hand in hand. We have gone early October when the weather is a bit warmer but it's not quite fire ban season yet.
If you can suggest other camping tips please feel free to comment below.
A must visit place in this area is Alligator Gorge – it's a fantastic spot for a family friend hike. Read our Review here
See more information about Mt Remarkable National Park on the Parks SA website here (scroll down to the bottom of article, under 'Further Information', to download a brochure on the Summit Hike).
---
What:  Camping at Melrose
When:  Anytime but probably best when it's not too cold or too hot.
Where:  Melrose Caravan Park | Approximately 270km or just over 3 hours drive north of Adelaide, at the foot of Mt Remarkable |  Map  |   Directions by the North Star Hotel
Who:  Happy Campers
Save