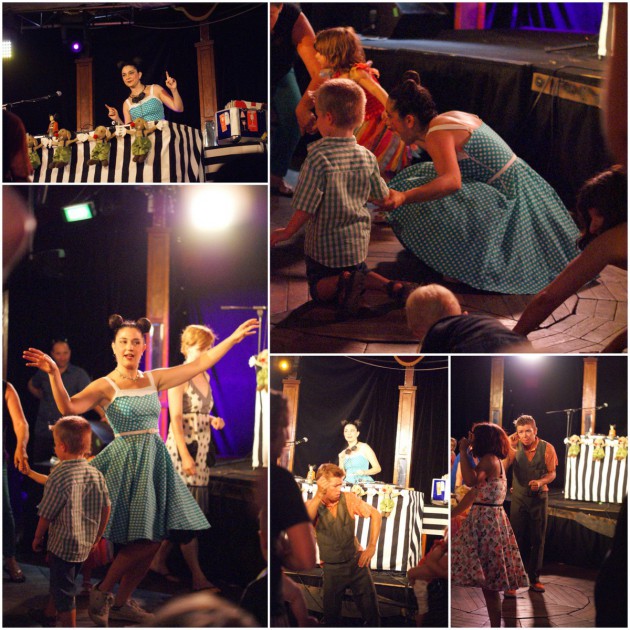 Following a sell out debut season at the 2012 Adelaide Fringe, a season at Edinburgh Fringe and an appearance in 'Best of Edinburgh Fringe', Freedom Festival, DJ Monski Mouse is back this year with her hugely popular early childhood dance event, Monski Mouse's Baby Disco Dance Hall.
Held in the beautiful Romantiek tent of The Garden of Unearthly Delights, with its ornate booths surrounding the central dance floor, this disco is designed for children up to 5 years old and their parents and carers, to dance and have fun together. There is also a soft cushion area for babies to sit and move around on. This is not a show where the adults sit back and watch the entertainment. This is a disco for caregivers to interact and dance with their children. It was great to see plenty of grandparents also there to join in the action. Please note that there must be no more than 2 children per adult and parents are encouraged not to bring children over 5 years of age.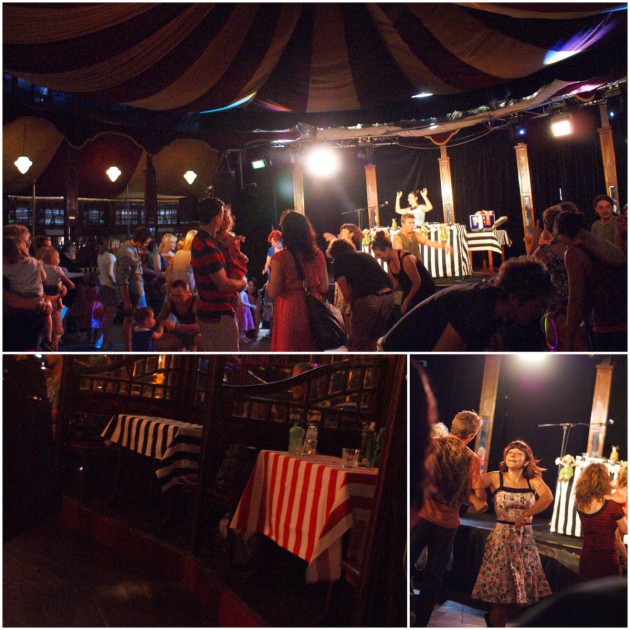 Monski Mouse spends most of the time on the stage in charge of the music and introducing the songs, but gets down onto the dance floor to join the fun at the end. Two enthusiastic dancers work the floor to encourage and facilitate dancing and movement amongst the audience.
There's an eclectic mix of music to keep everyone happy, some which parents will remember burning the dance floor with during those nightclubbing years (like 99 Luft Balloons and the finale, Holiday by Madonna). Other songs are by children's artists like Justine Clarke's Dinosaur Roar, Play School's Wiggerly Woo and Spiderbait's fabulous rock version of the Wiggle's Rock-a-Bye Your Bear.
Kids are encouraged to do the movements which go along with the songs, for example during The Cure's Love Cat the Monski dancers encourage them to be cats on the floor. Everyone enjoyed getting into a conga line too.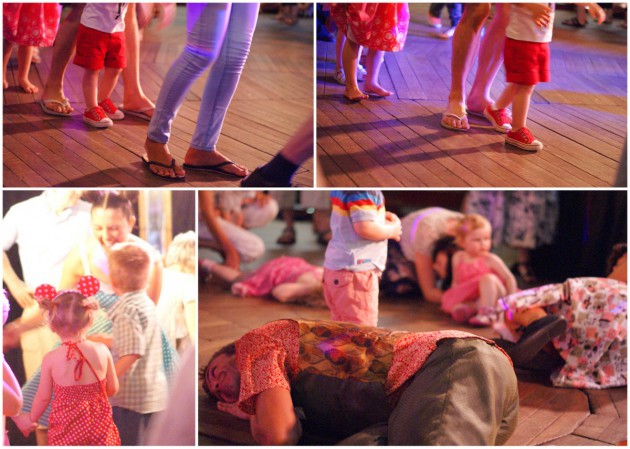 It was a hot day when we attended but the venue was air-conditioned quite well and there is free spring water available.
This is a fun, high energy dance party for music loving little ones who love to dance – and their disco loving carers. It is in the morning and there's no alcohol, but there IS a whole lot of infectious fun for those keen to join in.
What:  Monski Mouse's Baby Disco Dance Hall
When:  16 Feb – 17 Mar 2013   (Sat & Sun Only & Mon 11 Mar) at 11 am (40 Mins)
Where:  Romantiek, The Garden of Unearthly Delights | Rundle Park, East Terrace, Adelaide
Who:  0-5 year olds and their carers, Disco Fans
Click here for more information & ticket details. Tickets $15 (Family $55 / Children under 6 months free)
Images by Play & Go