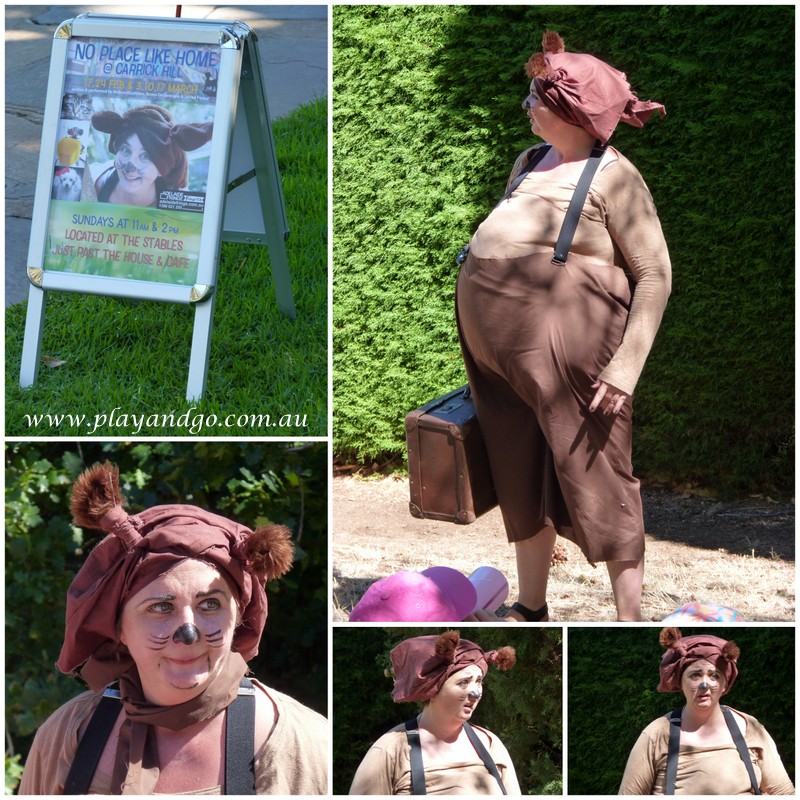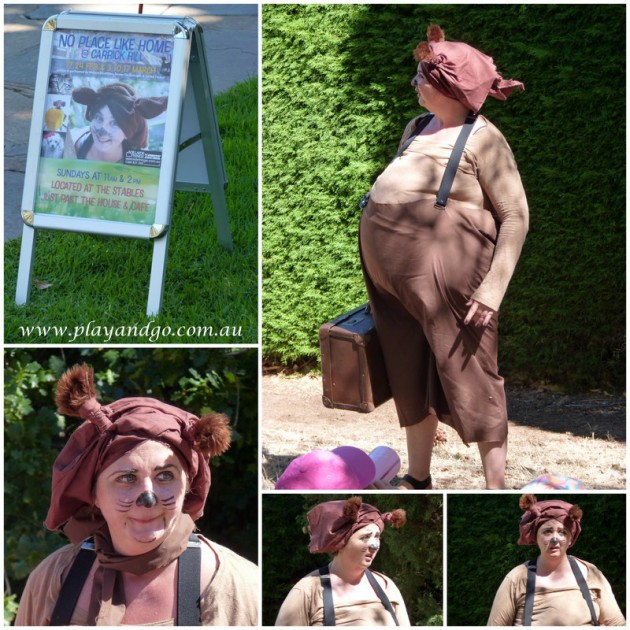 While some of this year's Fringe venues are inside fabulous, unique and quirky buildings and temporary structures, No Place Like Home @ Carrick Hill is located of course at Carrick Hill – held outside in the gardens (which is also home to one of our favourite activities the Story Book Trail).  There are two scene locations set up for the play – a 'forest' and the 'city', both with chairs for the adults and a tarp on the ground so the little ones can get up nice and close.  A few people brought picnic blankets and cushions too.  With the weather on our side it was a beautiful morning for a quick play in the gardens before sitting down to watch the show.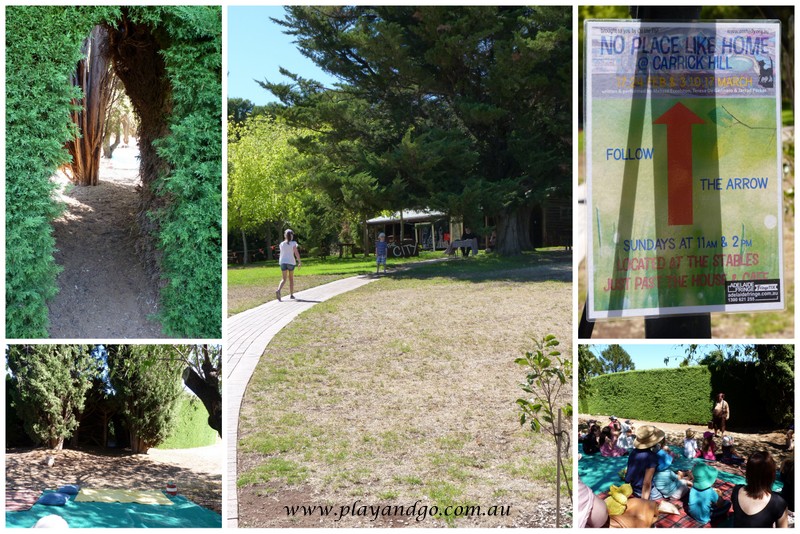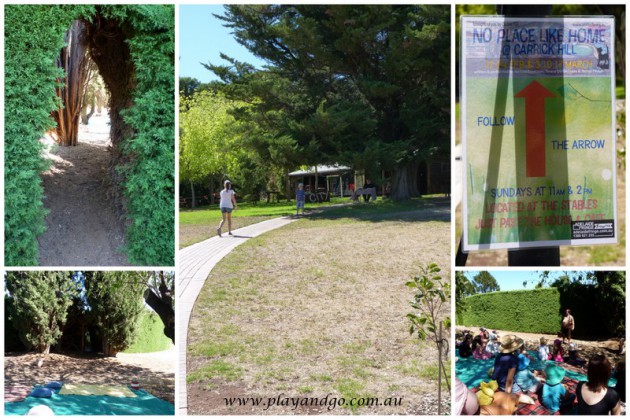 Windy the Wombat is the star of the story, a lovable character who is just sooooo bored he wants to leave his family and explore the unknown far away from home.  He just so happens to meet a cockatoo who tells him about the 'city' and although his sister, best friend, Grandfather and parents all say he can't go, he sets off anyway.  The audience too leave the 'forest', following Windy on his walk as he travels down to the city (just a few metres away).  The children are all captivated by the characters in this wonderful play and only too happy to trail along.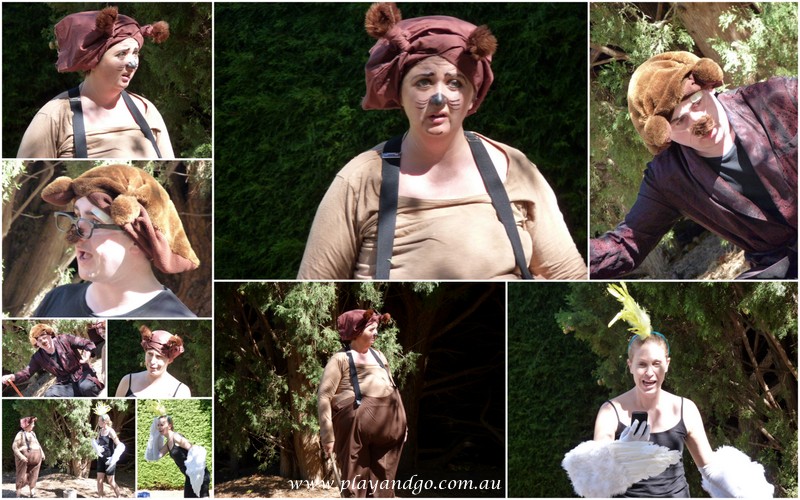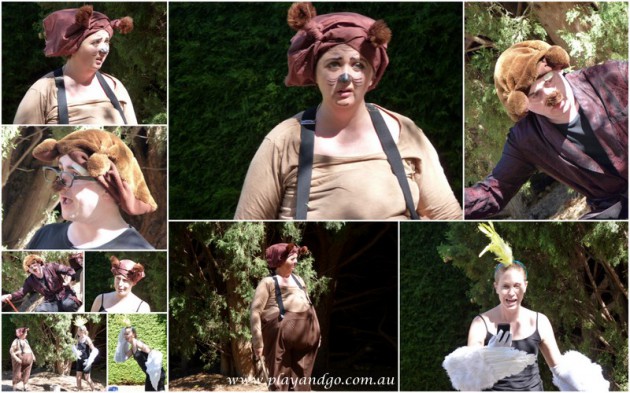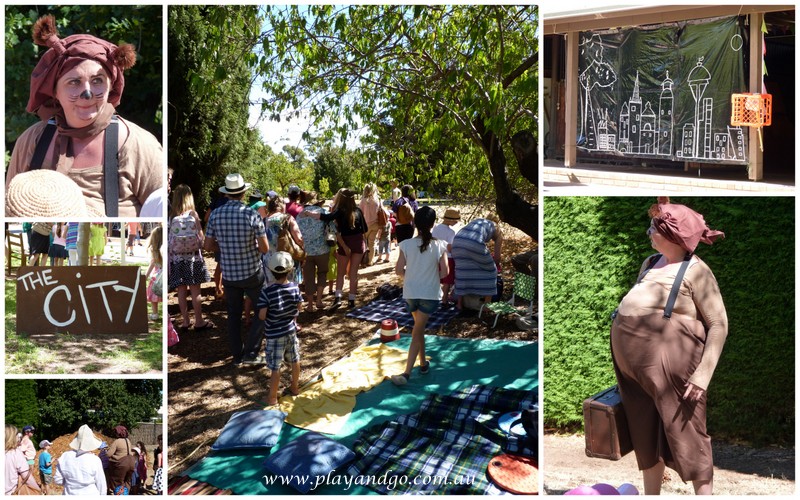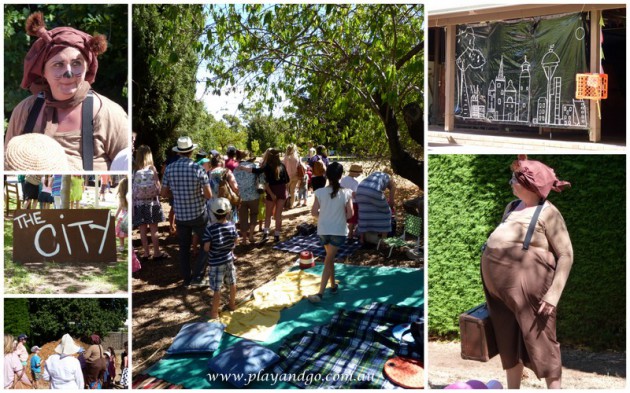 Once in the 'city' Windy meets some new 'friends' – a couple of cats in a car who ask Windy to do something he really knows he shouldn't. The children can follow along with this simple storyline of knowing right from wrong, and the intimate interaction between Windy and the children in the audience is lovely.  There are more characters in the city to meet – including a rat, a poodle and her owner, plus more lessons to learn.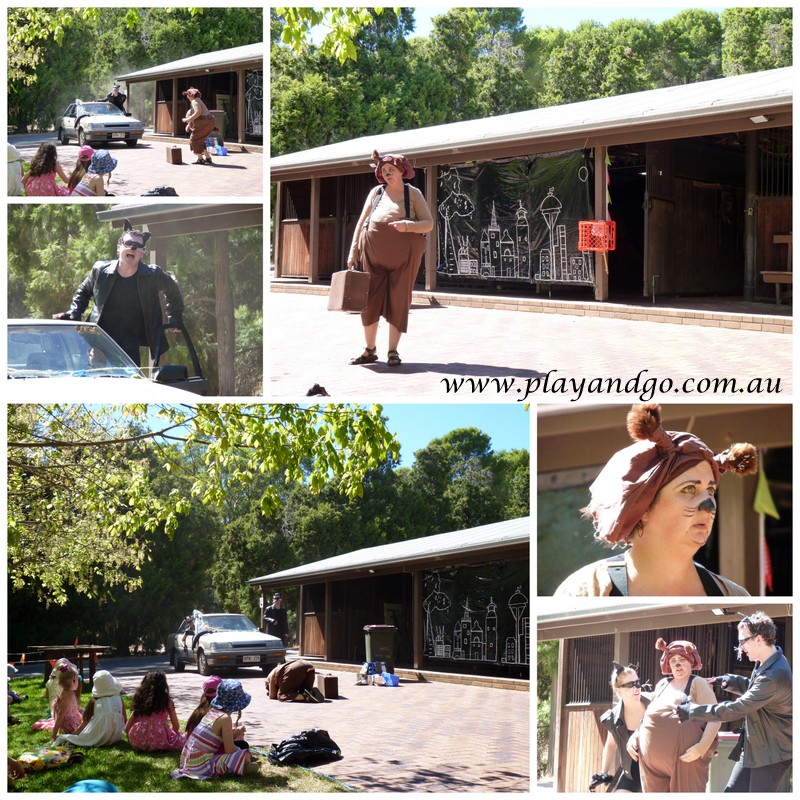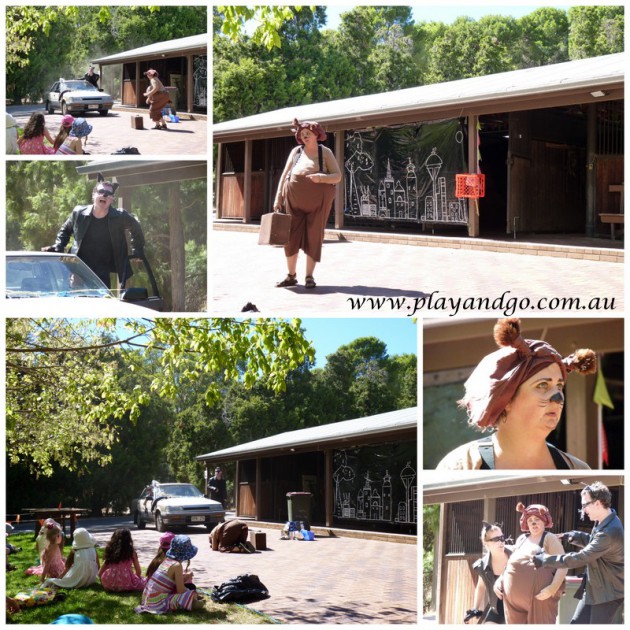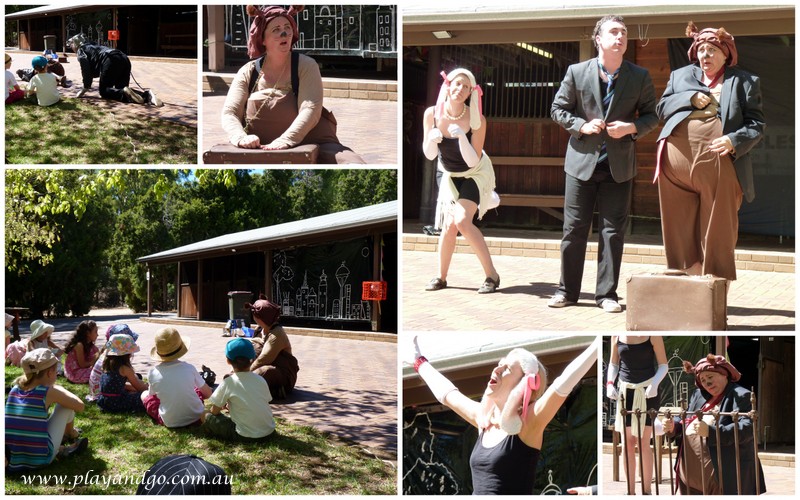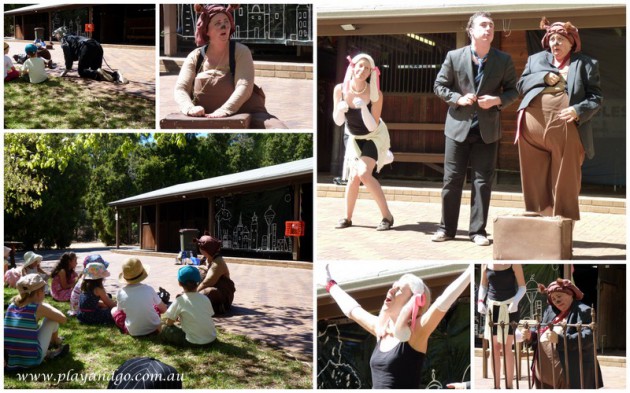 It's not long before Windy the Wombat misses his friends and family and all he wants is to go home.  He's hungry, and it's not much fun being a country wombat in the city.  Luckily his friend the cockatoo comes to the rescue and soon we are all making our way back to the forest for a family reunion and a sing-a-long.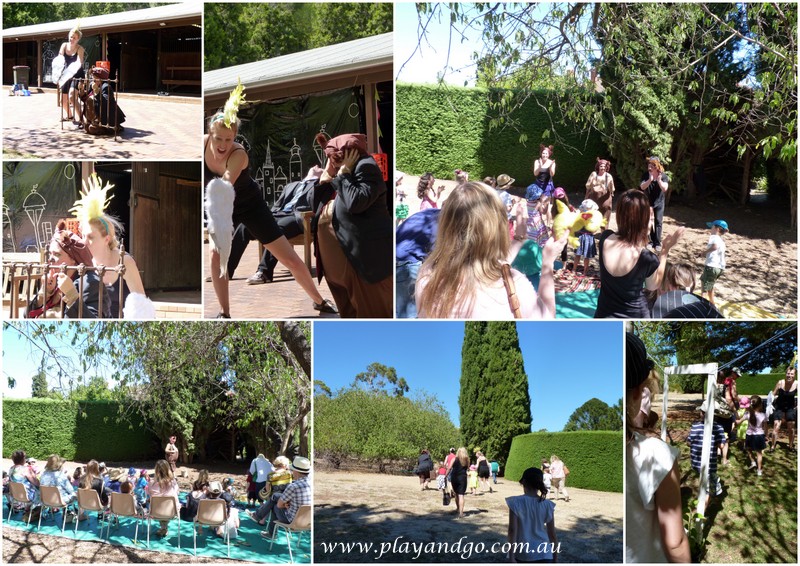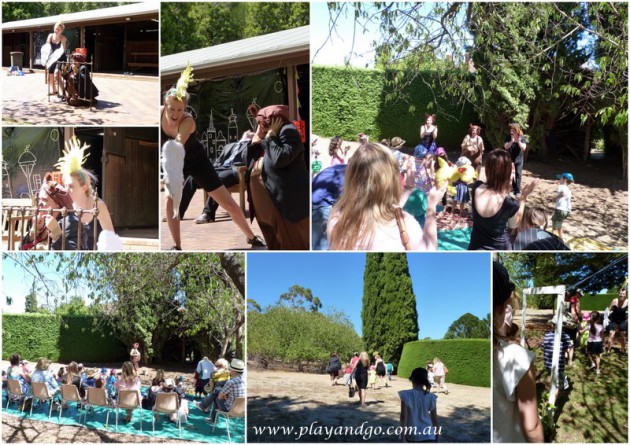 No Place Like Home @ Carrick Hill is presented by On the Fly and is written and performed by Melissa Eccleston, Teresa De Gennaro and Jarrad Parker.  This trio put on a wonderful show with high energy, humour, fun costumes and some great singing!  Children will agree that it's not easy knowing who to trust, but there is a simple message here that not everything is greener on the other side, and children are shown the importance of family.  A lovely way to spend a Sunday morning (or afternoon!)
What:    No Place Like Home @ Carrick Hill
When:   Sundays at 11am and 2pm  |  17 Feb – 17 Mar 2013
Where:   Carrick Hill  |  46 Carrick Hill Drive, Springfield
Who:   5-12 years
Click here for more information & ticket details. Visit On the Fly's website for up to date information on upcoming shows.
Play & Go Adelaide have been given media access to the Adelaide Fringe 2013 and granted 2 complimentary tickets to the shows we select to attend.  All reviews are our own opinion from personal experience, unpaid and not influenced by the artist/s and/or promoter/s in any way.