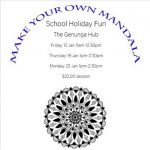 [ January 13, 2017; January 19, 2017; January 21, 2017; ]
For some school holiday fun, try Cathy Gray's children's art classes.
Cathy Gray is an Adelaide artist whose work is all hand drawn in archival ink. The delicacy is reminiscent of an embroiderer's needlework and in particular, lace. Her intricate and finely detailed works demonstrate a radial balance, drawing our gaze from the centre point.
Cathy is offering some […]