Road trip from Adelaide to Melbourne via the Great Ocean Road
The trip from Adelaide to Melbourne takes around 8 hours if you go the inland route. Or you can take the scenic route via the Great Ocean Road – it'll take you a lot longer and you'll probably want to break the trip up by staying a night or two or three along the way – but the scenery is worth it and there's so much to do along the way.
PART 1: Adelaide to Warrnambool (click here for part 2: Warrnambool to Melbourne)
Friends had been raving about their experiences doing the road trip from Adelaide to Melbourne. I'd previously written this off as something that would be in the too-hard category for us and I wasn't sure whether to believe people when they said that their kids actually loved the road trip.
There was a period of time there for us when even the shortest of car journeys with our kids was super stressful and punctuated with emergency toddler toilet stops in inconvenient locations, over-tired toddlers screaming so loudly you couldn't hear yourself think, and the brain fog that comes from getting up multiple times in the night to a wakeful baby. But those new baby days now behind us we ventured off into the horizon on our first real family-of-six road trip.
Our itinerary
Day One: Adelaide to Robe
Day Two: Robe to Port Fairy
Day Three: Port Fairy to Warrnambool
Day Four: Warrnambool to Lorne
Day Five: Lorne

Day Six: Lorne to Melbourne
Road trip from Adelaide to Melbourne: Day 1 Adelaide to Robe
The trip from Adelaide to Robe is a pretty straightforward drive. A good place to break the trip is at the fabulous Keith playground (see full review here). It's around a two and a half hour drive from Adelaide.
The highlight of the Keith Playground is probably the classic monorail ride. We grabbed some bakery food and ate in the little rotunda at the playground before letting out some energy on the monorail. Even though it was a 38 degree morning the kids had a blast racing up and down on the monorail and taking turns pushing each other on it. And then it was time to get back in the car and continue on our journey to Robe.
Next time we do this trip we plan to add on a scenic detour via Coonawarra – apparently the scenery is worth the trip.
Keith playground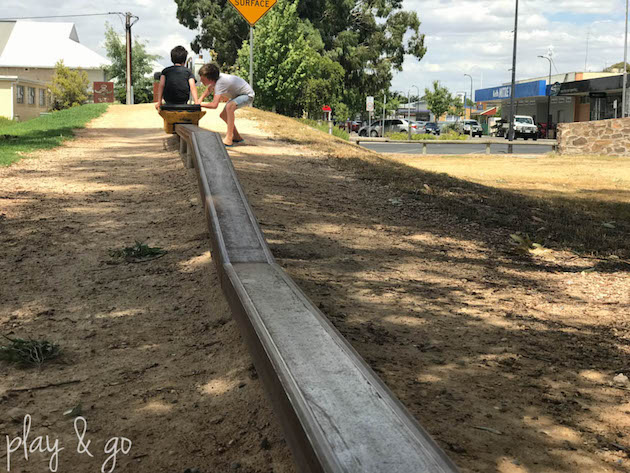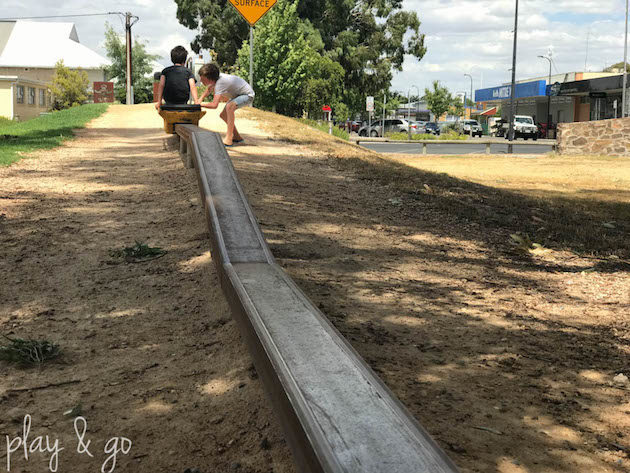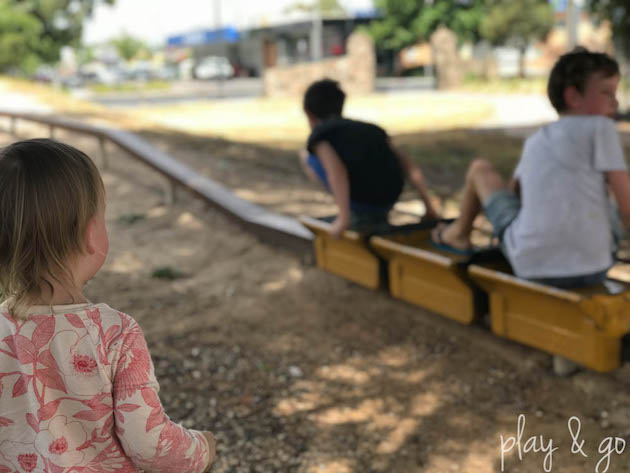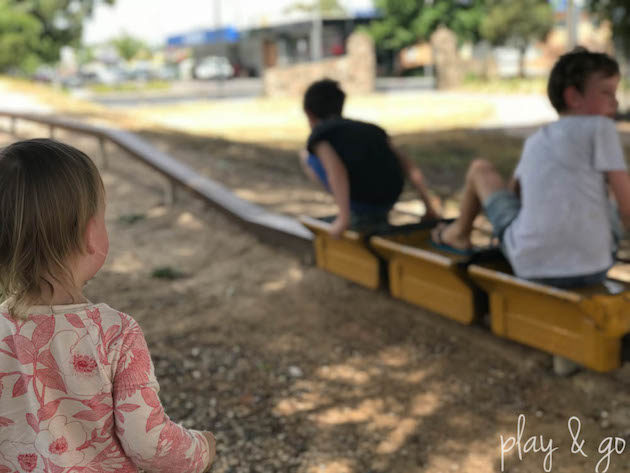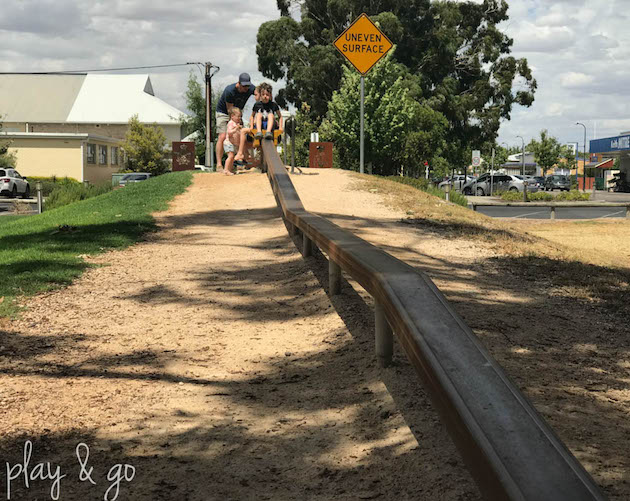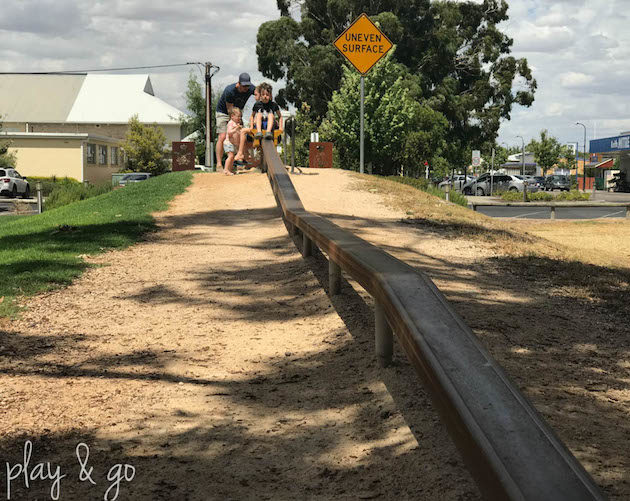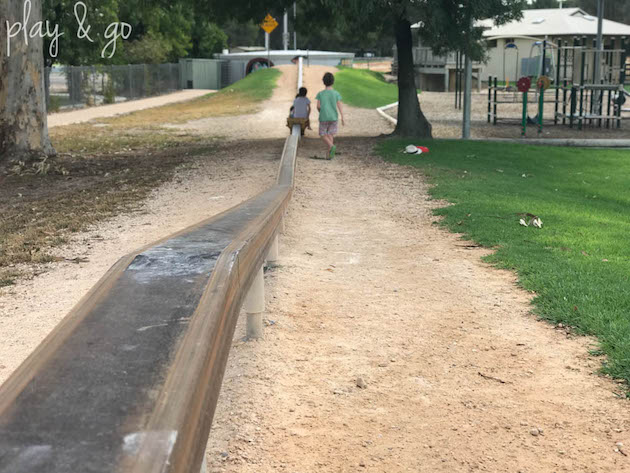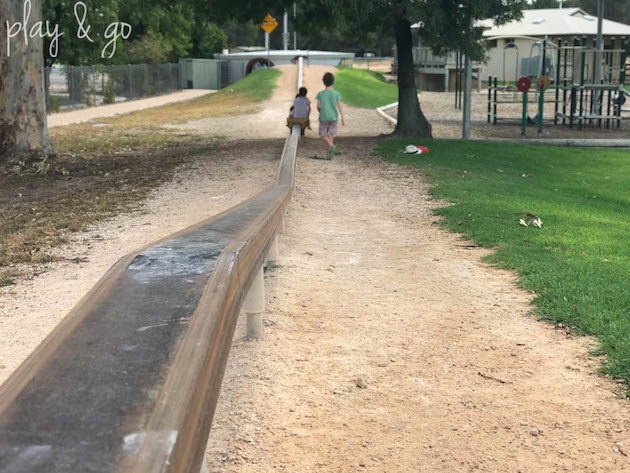 The drive from Keith to Robe will take you around 1 hr 44 min.
Robe
Robe is a favourite family holiday destination for many South Australian families. It's such a pretty seaside destination and it seemed a shame to be only staying the one night this time around when there is so much to enjoy. By the time we arrived and found our accommodation (we stayed in a AirBnB house) it was time for a quick trip to Robe town beach where the kids explored, enjoyed the pristine water, and swam out to the pontoon.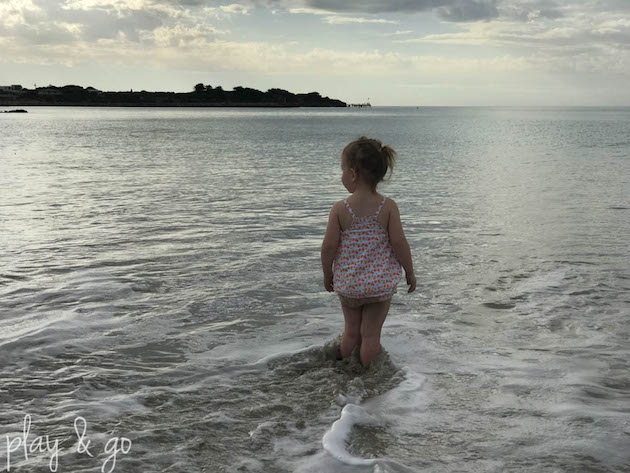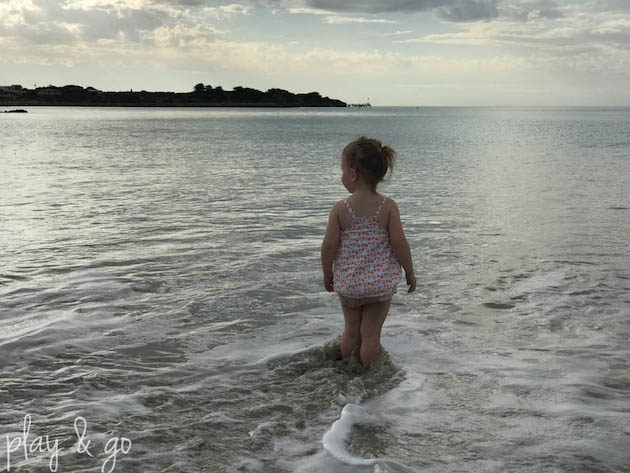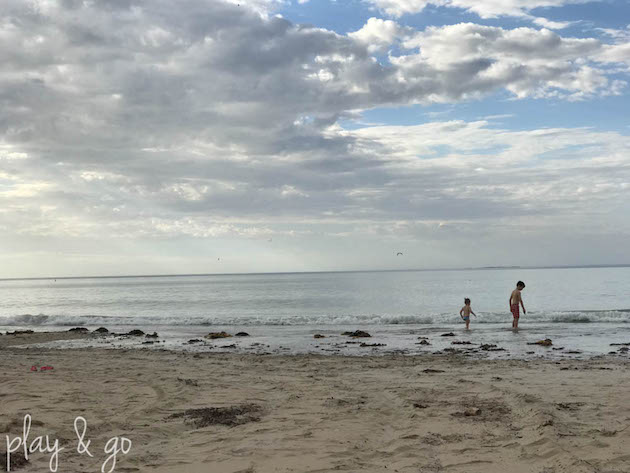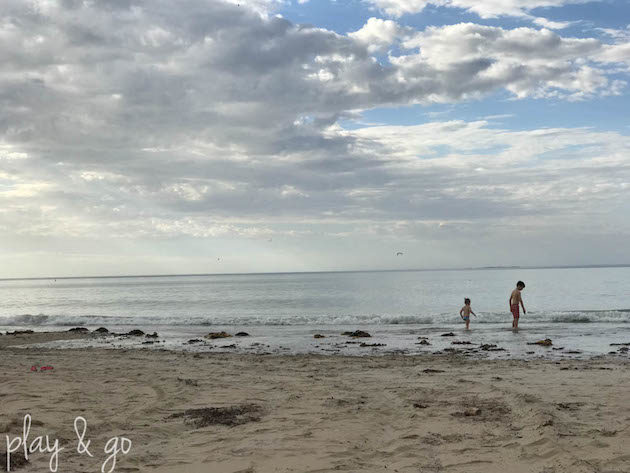 One of the things people love about this beach in Robe is that you can drive onto it. Or failing that, bring your ride-on motorbike.
There's a short walkway from the main street to Robe Town Beach. The walkway gets narrow at one point and probably isn't wide enough for a big pram.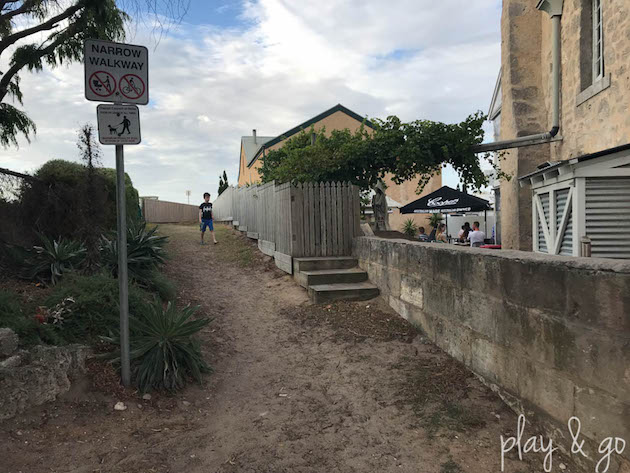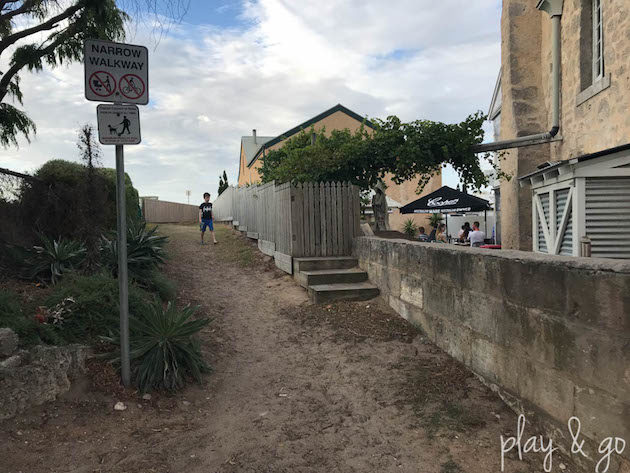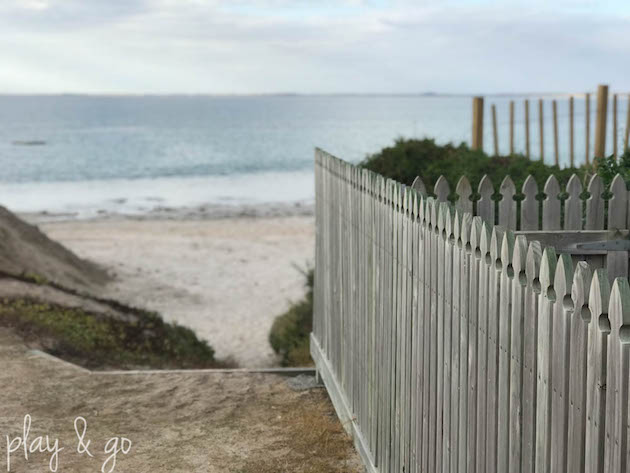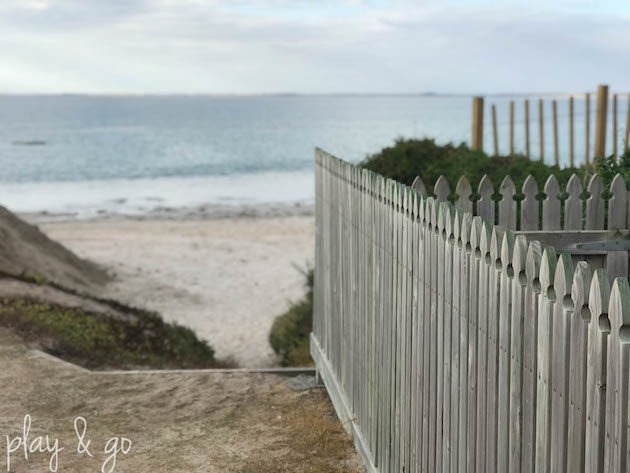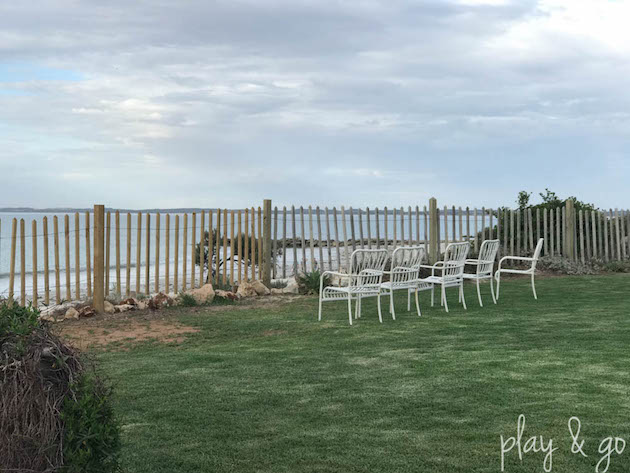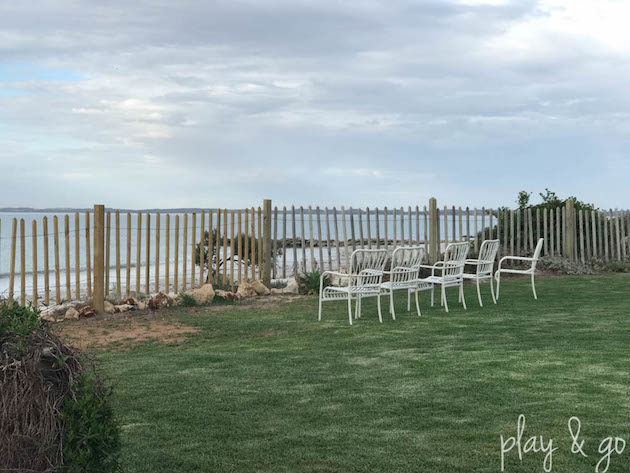 Dinner in Robe
We'd been recommended the Pizza Project as a dinner spot and the kids enjoyed pizza and popcorn prawn tacos.
Pizza Project | 6 Victoria St, Robe SA 5276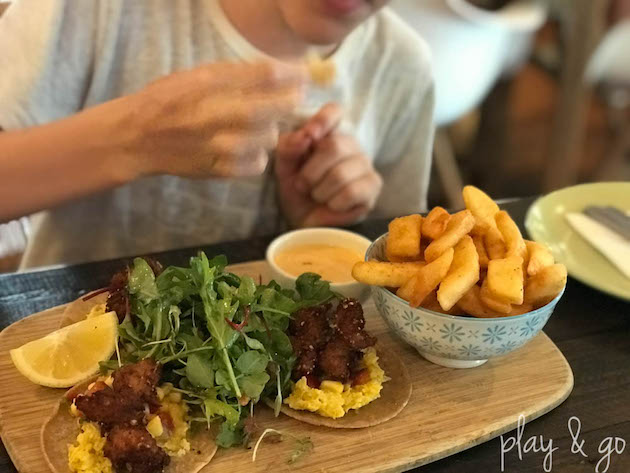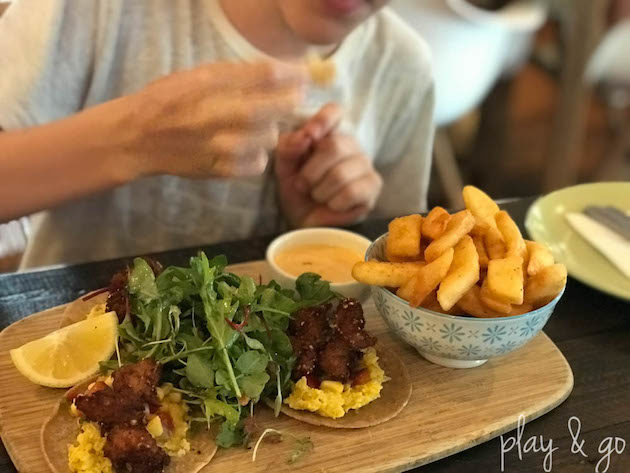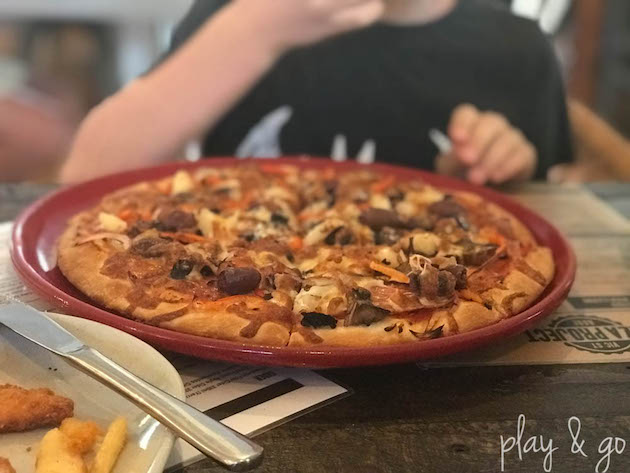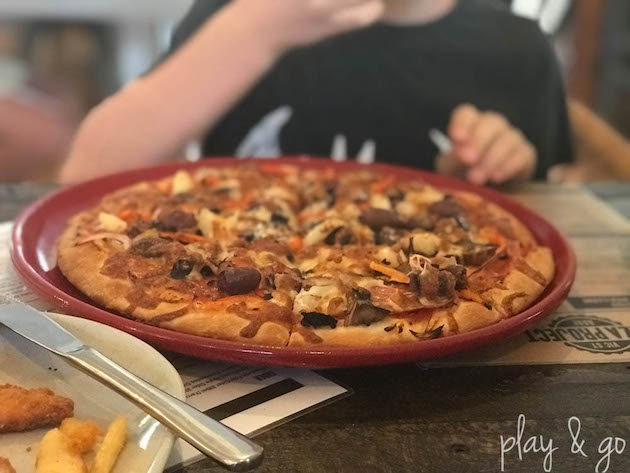 Road trip from Adelaide to Melbourne: Day 2 Robe to Port Fairy
Breakfast in Robe
We'd been told that No. 4 was a good breakfast hangout so with rumbly tummies and a need for caffeine that was our first port of call in the morning. Their brunch menu had some interesting options like chai panna cotta, lobster scrambled eggs, and a panko crumbed chicken Buddha Bowl. They also have a kids' menu. We enjoyed their farmhouse brekky and vietnamese salad and their coffee.
❤️ If you're holidaying with your four-legged friend then they even have a dog-friendly menu! Highlights include Pawleo Fix, Hot Digity Dog, an egg "Rover Easy", and doggychinos
No. 4 | 4 Victoria Street 5276 Robe | Facebook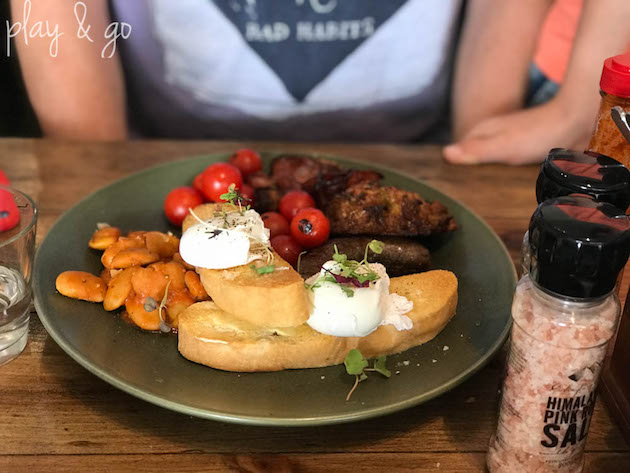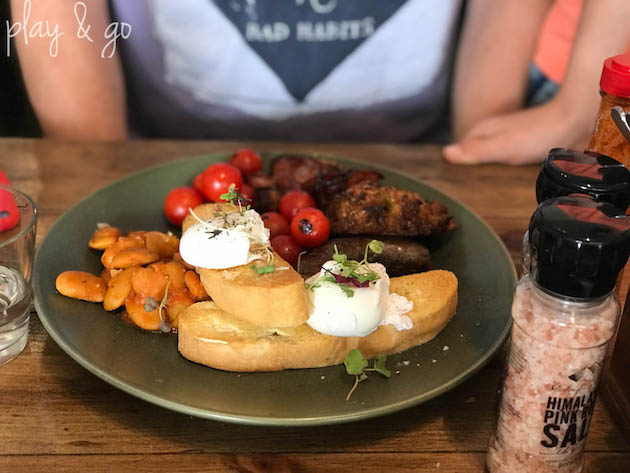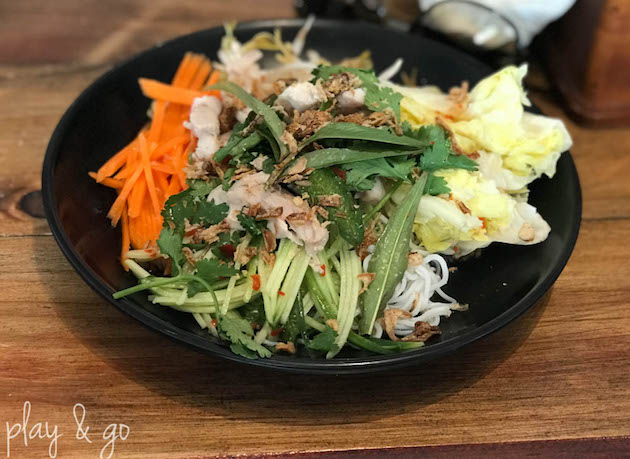 Al fresco dining at No. 4 is a great option when you've got kids in tow. Parents enjoy their coffees and kids check out the sandpit toys. Win win.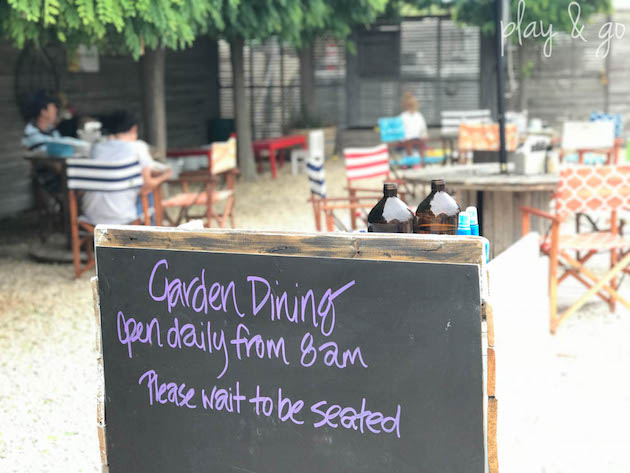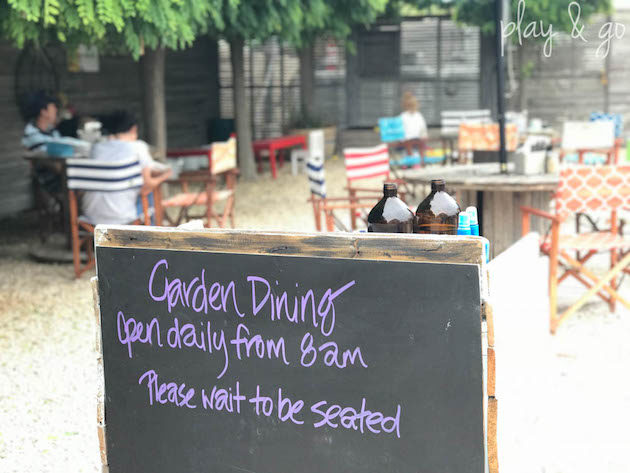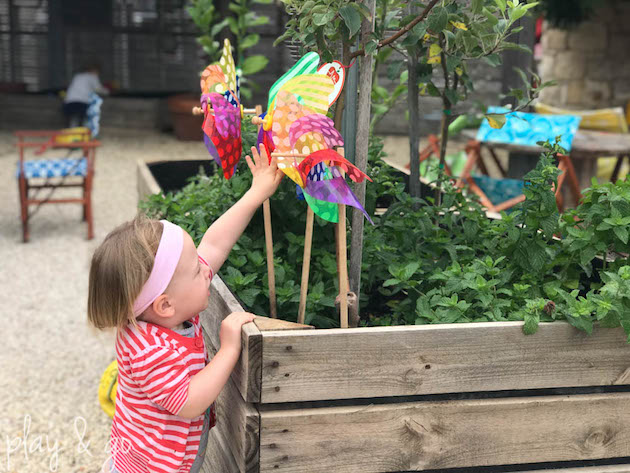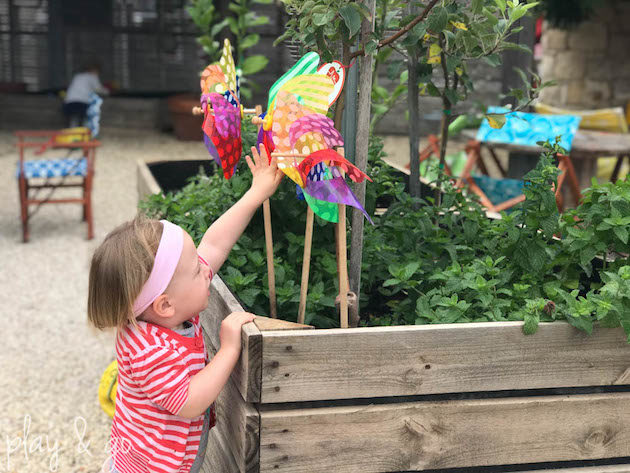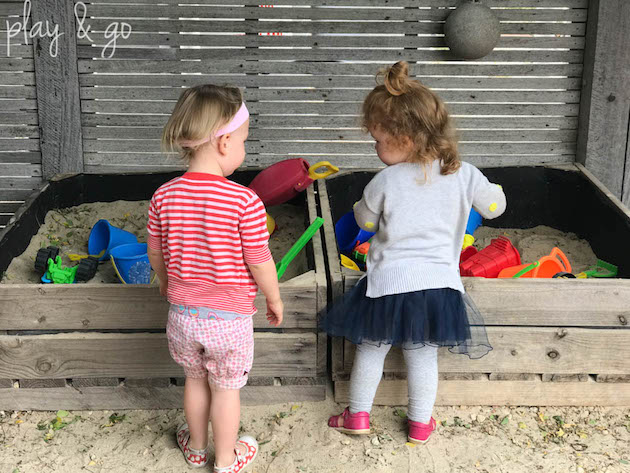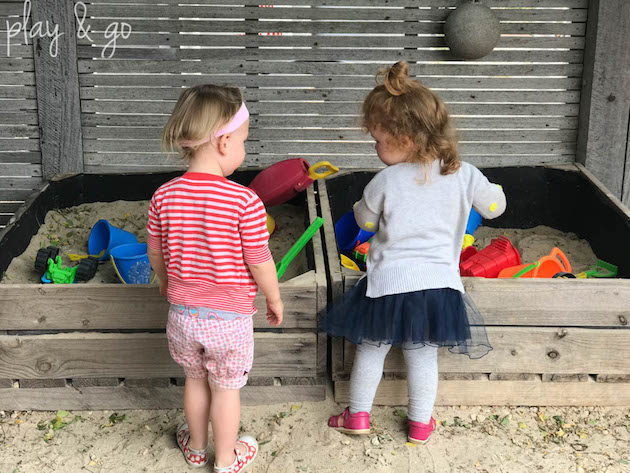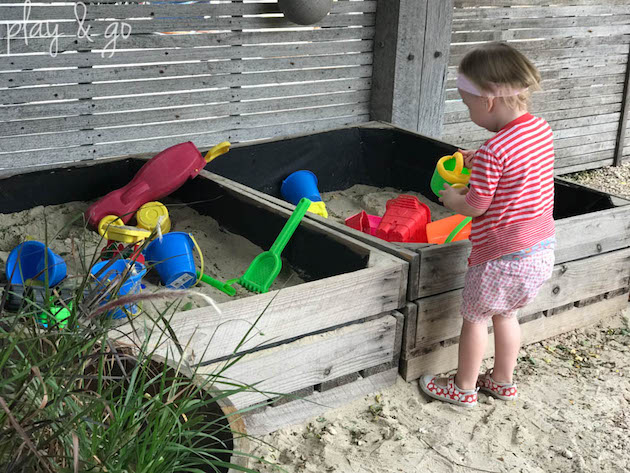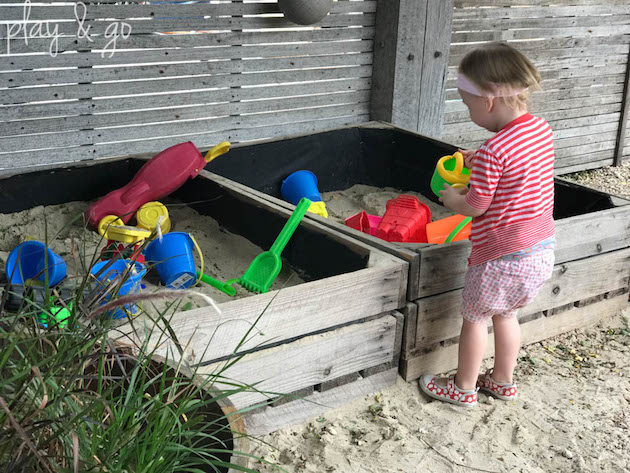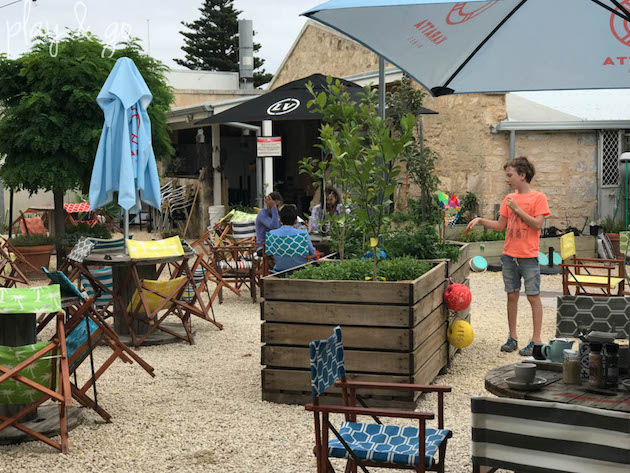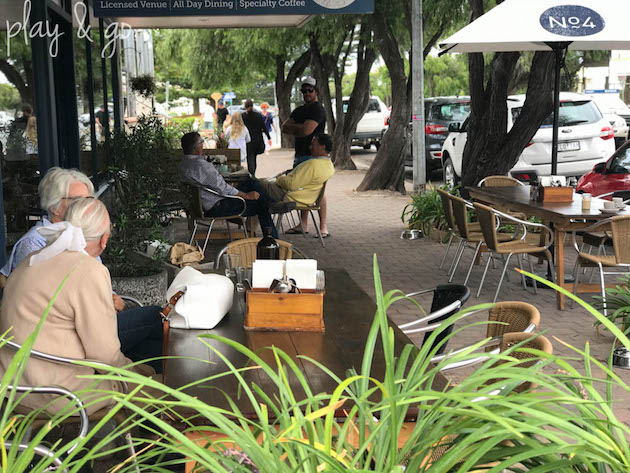 Then it was good-bye to beautiful Robe and off to Port Fairy.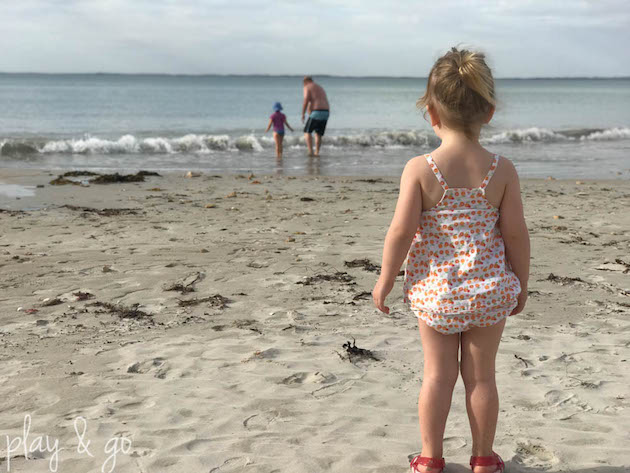 Port Fairy
We struggled to drag ourselves away from Robe so we didn't make many stops on the way from Robe to Port Fairy though you could break the trip in Mt Gambier. It's around a 3 hr 11 min drive (according to Google Maps) and as we crossed the border into Victoria the scenery seemed to suddenly change and we spotted more trees on the side of the road. We also noticed that the road changed and we regularly came across potholes. It was a bit of bumpy ride at times and we were glad not to be driving it at dark.
Road trip from Adelaide to Melbourne: Day 3 Port Fairy to Warrnambool
A morning in Port Fairy
Port Fairy is a pretty little fishing village on the coast of south-western Victoria and its main street has historic buildings dating back to its sealing and whaling roots. We enjoyed a wander along the edge of the Moyne River where there was plenty of fishing activity to observe. The kids took turns 'claiming' the boats along the moorings based on their favourite names, and which boats looked the fastest.
The kids were intrigued by the river activity and we engaged in conversation with various people mucking about in their boats.
Exploring over, we crossed the footbridge towards the main shopping strip.
Wishart Gallery
We stumbled upon a local gallery also serving food and drink (though not the day we were there) and decided to dart in for a quick peek for as long as the children's patience and good behaviour would stretch. Luckily for us our children loved the experience because the curator of the gallery took time explaining some of the art works to our children and even went to the effort of pulling out some artworks he thought they would find interesting.
The gallery garden looks like a great spot to relax in and enjoy some pizza or some local cheese so we will be back the next time we're back in Port Fairy.
Wishart Gallery | 19 Sackville Street, Port Fairy
The Red Hen
There are a number of cafes to choose from along Bank Street and Sackville Street and, in need of a quick meal for rumbly tummies, we refuelled at The Red Hen where you can enjoy a variety of different chicken & salad packs. The Red Hen | 41 Sackville Street, Port Fairy
The Farmers Wife
If you find yourself needing a good coffee in Port Fairy then keep an eye out for The Farmers Wife as you wander along Sackville Street. It's a worthwhile detour down the short laneway to this cute little oasis of a cafe for coffee and a fun ambience. They have a courtyard with umbrellas providing shade for the picnic tables and we also found a stash of plastic dinosaurs which kept the troops busy. The Farmers Wife | 47 Sackville Street, Port Fairy
The cafe seemed dog-friendly too.
Staying sane on a road trip with kids – some tips
We are not the experts on road travel with kids but hopefully some of these ideas will help make your next journey a more pleasant one!
Let us know at hello@playandgo.com.au if you have any tips for car travel that work well for your family and we will share them here.
Work out when your kids are at their best in the car
I find my kids are much more settled in the car in the mornings than the late afternoons so we try to get the bulk of our driving done earlier in the day before the behaviour deteriorates.
Plan some breaks
Sitting still for hours in the car isn't really fun for anybody. It's probably better to arrive at your destination an hour later having stopped for a few exercise breaks than it is to get there quickly but with kids that are losing the plot and parents who are tearing their hair out.
We planned toilet stops, and some playground breaks. We also packed a ball in the car in case we came across a park or basketball court.
Brush up on your car games
We seemed to manage to get through the first hour or so of driving each day with the kids in reasonably good spirits and without having to resort to screens. As the initial grizzles started to brew we'd try to head them off with some old-school car games. Just like we used to do in the 'olden days' before screens and tablets!
I Spy With My Little Eye – best for suburban areas where there's actually plenty to spot on the side of the road
What Am I? /  21 Questions
Alphabetical Categories – choose a category and name things from that category in alphabetical order eg animals/food
Packing Tips for Family Road Trips
Pack light
I feel like I've learnt the hard way that whenever possible it's best to pack light. That suitcase or bag that doesn't feel so heavy when you squeeze it into your car on Day One will feel heavier by the end of the day; and by the third or fourth time you've had to unpack and repack it at multiple destinations. It's also easier to keep kids' belongings a bit more organised if suitcases/bags aren't jammed full of stuff.
You may also find that you want to buy a few souvenirs on the trip so it's handy to have a spare bag just in case. We take one that squashes down to almost nothing.
Label your things
I get given a hard time by my husband for being a menace with the sticky name labels but I feel totally vindicated each time we get a phone call to let us know that a lost jumper or pair of sunglasses has been spotted at the park. I feel like we lose more things when we're on holiday than we do usually – and it's a bit of a hassle if you lose your child's one hat or pair of shoes you brought on holiday. And so you will spot in my suitcase some name labels and an extra-fine permanent marker.
Packing essentials for kids on a road trip
Activity books/colouring books
Audio books
Magnetic car games
Baby wipes/bottle of hand sanitiser – we keep this in the door of the car – great for public toilets with no hand washing facilities
A sturdy plastic bag or even a plastic bucket – just in case kids start feeling car sick
Depending on where you are staying it can be useful to bring some household staples like dishwashing tablets and laundry liquid
Zip lock plastic bags are great for keeping bits and pieces organised, or transporting wet or dirty clothes
About Susannah: I'm a mum to three boys and a little girl and I am learning to embrace the chaos. I love my morning coffee, exercise, cranking up some good tunes on the stereo, and heading away to new places on holiday. Originally from New Zealand, I now call Adelaide home and I love getting out and about and exploring all the fabulous things for families to do in Adelaide.
---
At Play & Go Adelaide we make every effort to provide accurate information to the best of our knowledge at the time of publication. We recommend confirming times, dates and details directly before making any plans as details may be subject to change.
As per all our Play & Go reviews, this is not a sponsored post and our review is done completely independently. All photos are by Play & Go.

Want to get all the latest events and activities straight to your inbox?



Subscribe to our weekly email newsletter below to keep up to date with our latest posts and find out what's on, where to go and what to do with the kids in and around Adelaide. Newsletters are only sent once a week, and you may even get the odd 'special offer' exclusively sent to our newsletter subscribers only!