Yankalilla & Normanville – Places to Eat for Families
One of the great things about Normanville & Yankalilla is that there are many great options for food.
If you want a night off (or three) from cooking (why not when you're on holidays?) you can check out these places we've tried over the years.
This restaurant, also known as 'the golf club', is a popular choice for bistro food. The kids' meals include ice-cream and a slushie drink.
They do aim to please here. Last time we dined here one of the kids was not that keen on her pasta dish. The restaurant manager noticed she was not eating so asked her what she might prefer instead. After a little consultation, very soon a new dish of plain pasta with butter came out especially for her at no extra charge.
You can see some of the other dishes we have tried below. My daughter, a bit of a chicken schnitzel lover, rates this place as having one of the best schnitzels around.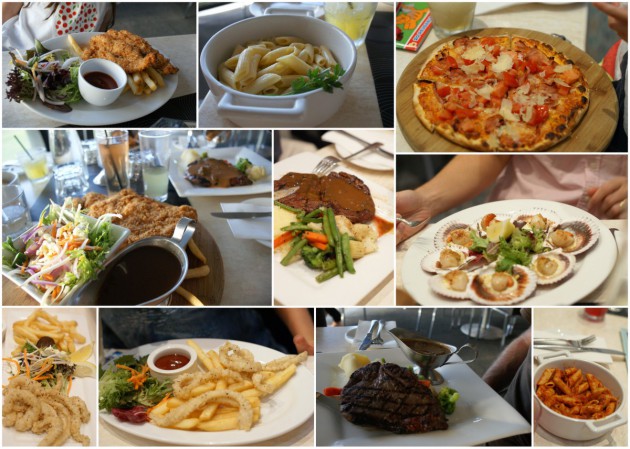 While you wait for your meals the kids love to run around on the grass golf course, which the balcony of the restaurant overlooks. If your kids are old enough to go down there on their own, get a table along the balcony and you can watch them from there. There is also an outdoor playground just around the side, by the pool, which can keep the kids entertained. They might also love rolling down the hill adjacent to the playground. (See pic at top). It's a popular eating spot so be sure to book ahead.
The Yankalilla Bakery moved a few doors down the street into brand new, much bigger premises in 2011. It has plenty of tables and chairs with some sofa areas too which makes it great for families or large groups. There is a huge assortment of bakery goods, savoury and sweet options and sandwich bar. Great for eating in or take-away.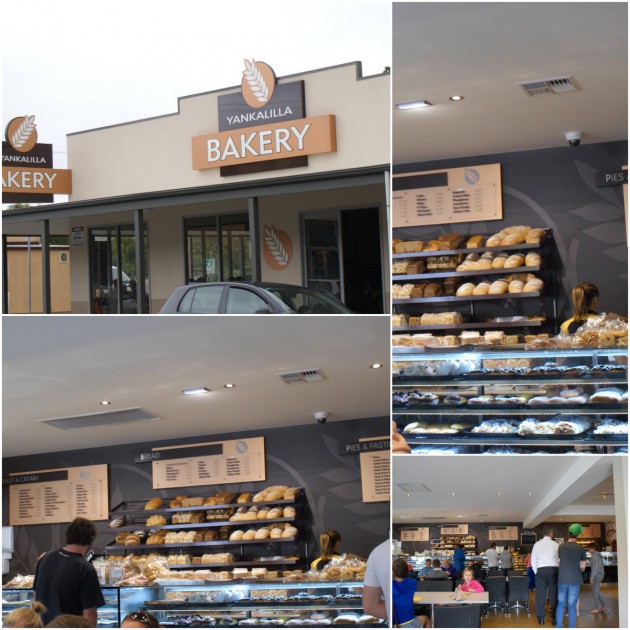 Lilla's Cafe
Lilla's is a cosy spot with indoor and outdoor dining. The donkey next door sometimes comes to the fence out the back to say hello and likes to be fed carrots.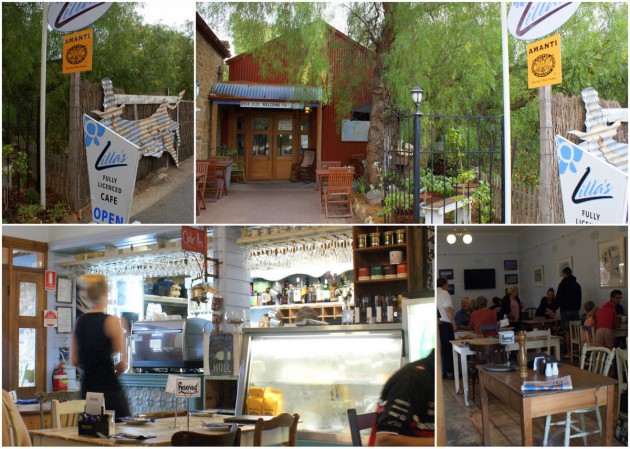 Wood oven pizzas
The wood oven pizzas, cooked in the outdoor wood oven (below) on Friday and Saturday nights are delicious for dine-in or take-away. We can recommend the Seafood one and the Chicken one. It's not a big cafe so book ahead.
Great for fish & chips (we recommend the crumbed fish, and chips with chicken salt). Their pizzas are also good.
Min's Palace is the local Chinese/Thai restaurant. It's a good asian option for take-away or dine-in. It's tucked in behind the Main Street by the hardware store.
Normanville Meat & Seafood
The Normanville Meat & Seafood is a quality butcher, where you can get all your bbq meats. They are on Main South Road as you head into Normanville.
   All images above are by Play & Go unless stated otherwise.