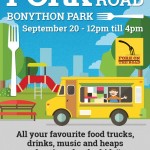 [ September 20, 2015; ]
It's been 18 months, but Fork on the Road are finally returning to Bonython Park…. loads of your favourite food trucks, local drink makers, kids entertainment, live music and amazing surrounds of Bonython Park.
Join in the food and fun for lunch between 12pm and 4pm on Sunday 20 September 2015.
Come along and enjoy the great local […]