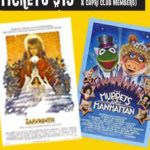 [ June 12, 2016; 2:00 pm; ]
What is Cult At The Capri Theatre?
What better way to spend a winter Sunday afternoon than watching some cult classics in the delightfully retro setting of the Capri Theatre.
The Capri Theatre has some themed doubles over the coming months that will satisfy everyone's film passion.
Plus you could win a wine tour for you and 10 friends, […]