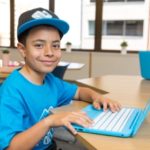 [ March 24, 2020 to April 24, 2020. ]
Kids can learn to code at home for free.
Code Camp teaches children to code during the holidays and after school clubs throughout Australia.
Code Camp are offering their online program for FREE to help get through the tough weeks and months ahead during the coronavirus pandemic.
Code Camp teach children from 5-13 years coding to build their […]