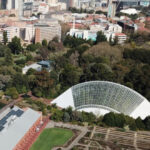 [ October 9, 2020 to November 19, 2020. ]
Community Feedback Invited on Adelaide Botanic Garden Upgrades
The Botanic Gardens and State Herbarium is inviting the community to share its views on the Adelaide Botanic Garden Masterplan 2020.
The Masterplan will guide future infrastructure investment to ensure that its wonderful city-Botanic Garden provides memorable, lasting and relevant experiences for local, national and international visitors.
Chair of the […]