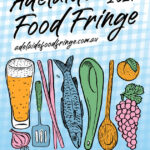 [ May 7, 2021 to May 16, 2021. ]
Adelaide Food Fringe – Open-Access Food Festival
With an expanded festival program of 9 days, the Adelaide Food Fringe returns in 2021.
This year also introduces a celebration of pubs called "International Pub Week" and a new poster featuring artwork by much-loved Adelaide artist, Billie Justice Thomson.
After cancelling the inaugural program in 2020 due to Covid-19 shutdowns, […]