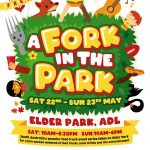 [ May 22, 2021 to May 23, 2021. ]
A Fork in the Park at Elder Park
In partnership with the Adelaide Festival Centre's DreamBig Children's Festival, Fork on the Road will be hosting a weekend long Fork In The Park event. There will be plenty on offer including delicious dumplings, sweet stroop-wafels, a mega-mixed grill, the perfect paella and everything in between.
Held over the […]