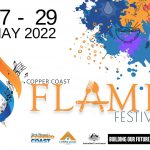 [ May 27, 2022 6:00 pm to May 29, 2022 6:00 pm. ]
Copper Coast Flame Festival 2022
A three-day festival showcasing local products and artisans throughout the Copper Coast.
The new and exciting Flame Festival, which stands for: food, light, art, music and entertainment, will be celebrated across Kadina, Moonta and Wallaroo.
The Copper Coast tourism team will be showcasing the talents of the Copper Coast local groups and artisans who […]