Bali for Families
HANDY TIPS & INFO
Some handy tips and information if you are going to Bali for the first time. Things that we wish we'd known before going which might help you out.
Money
$1 Australian Dollar (AUD) is roughly equivalent to 10,000 Rupiah (Rp). Yes, you can be a millionaire in Bali. For cash we just made withdrawals from the ATM at the resort. At the Grand Hyatt Nusa Dua there is a money changer right by the ATM where you can get your notes changed to smaller denominations if you need. All the resorts generally have money changing facilities. Our bank charged a percentage foreign exchange fee (a few dollars per $100 withdrawal) plus a $5 service fee for each withdrawal. Before going to Bali we advised our bank that we were going overseas – this was easily done online. Banks generally recommend you do this to prevent them from thinking there is fraudulent activity when there are suddenly lots of overseas transactions.
Mobile Phone – Global Roaming
To be able to use your mobile overseas you usually need to activate global roaming. Most phone providers allow you to do this through your online account or you can give them a call. It's best to do this before you leave Australia. Once you are in Bali it's important to remember to use free Wi-Fi as much as possible. The cost for data otherwise is very expensive and you may get hit with a huge phone bill (I learnt the hard way). Many resorts, shopping centres and restaurants provide free Wi-Fi – you may just need to ask for the password. We found the mobile coverage in Bali was excellent and it's because of this that I would sometimes forget to turn on Wi-Fi.
Tax & Service Charge
There is a 21% tax and service charge added on food and beverage at hotels and restaurants. Just keep this in mind as it will explain why the bill will often seem higher than you expected.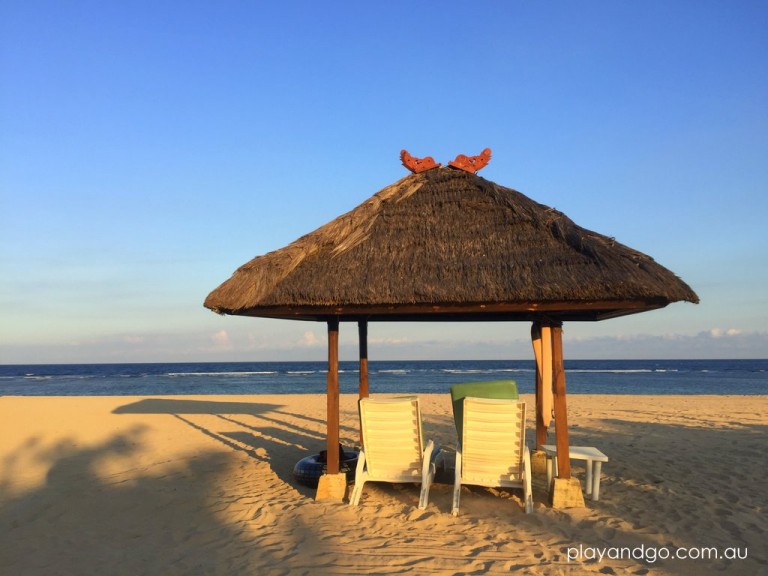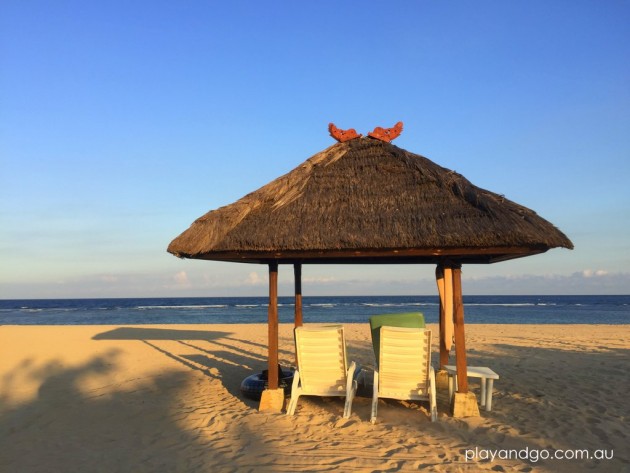 Flight & Travel Accessories
We travelled via Tiger Air which actually landed ahead of our scheduled arrival time in Denpasar. I'm not sure if this is with all airlines or only the budget ones, but we landed on the tarmac, not near the terminal, right in front of the fire station below (a thrill for any fire engine loving kids). We all departed the plane and had to wait a short time on the tarmac for a bus to take us to the terminal. During the flight it can get quite cold in the air so it's a good idea to wear layers to keep warm during the flight but can take off once you arrive. I brought shorts and thongs (they had t-shirts on underneath jackets) for the kids to change into on the plane, just before landing, as we knew it would be hot once we got off the plane.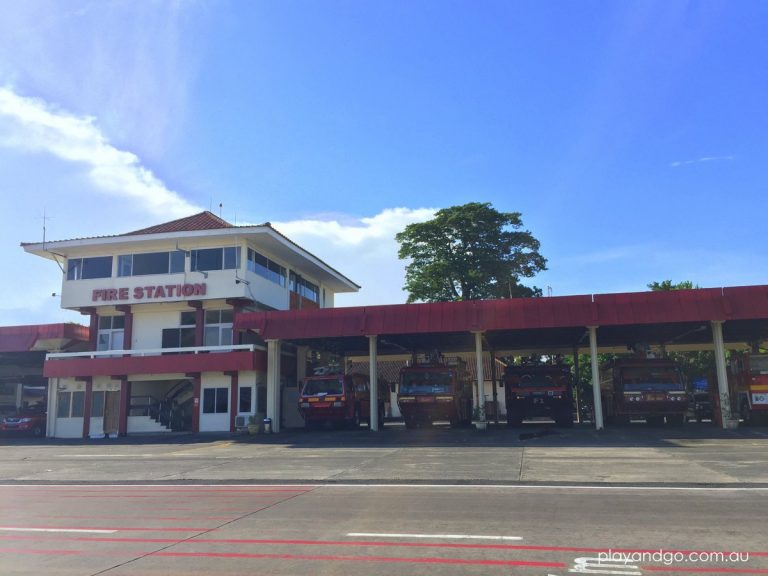 A large zippable tote bag or backpack is handy to put a change of clothes, toys/entertainment and snacks for the plane trip. A separate small crossover bag (which you can wear across your body, rather than a handbag that can fall off your shoulder) is really handy for passports, boarding passes and wallet. You need to access these things a million times at check points so it's good to be able to have them easily accessible. Make sure you have your own pen so you can fill out arrival forms too. Also a note about your wallet – if you're like me, your every day wallet might be packed full of a million receipts and cards and is busting at the seams. Leave that one at home. You won't need any more than a few cards and space to hold a bit of cash so just bring a small wallet which easily fits into your crossover bag along with your passports etc. It's easier to keep all your family's passports together in your bag.
Airport
If you can get airport transfers as part of your accommodation package it's an easy option, especially if you are a newbie to Bali. It means that someone holding up a sign with your hotel name will meet you when you arrive and escort you straight to an air-conditioned car to go to your resort. This saves you having lots of taxi drivers vying for your ride (which can be confronting when you first arrive) and it means you don't need to withdraw any money as soon as you get there to pay for a taxi. It's only about 20 minutes drive to Nusa Dua along the new toll road.
Currently there is no arrival tax when you get there or a departure tax when you leave (as of April 2016).
When you leave Bali the drop off zone at the airport can be a little crazy. There are porters (in uniform) who will swoop in with a trolley and help you with your bags and take you through the security checks to your airline counter (unloading and re-loading the bags on the trolley). The airport is bigger than we expected and it seems there are many flights leaving around midnight! Our porter expected to be paid a 50,000 Rp tip ($5) for this service. If you have loads of bags and a few kids to manage this can be quite handy. It's best to negotiate a price at the start so there are no hassles at the end.
Taxis
Taxi drivers are everywhere and you will constantly be asked if you need a ride. Many will try and negotiate a price with you. It's best to stick to a metered taxi (look out for the Bluebird ones). It cost us around AUD $14 going from Nusa Dua to Kuta/Seminyak, taking around 30 minutes. Always ask the taxi driver to take the new Toll road and offer to pay the toll fee of 11,000 Rp (AUD $1.10). It's a much quicker and faster route. We also always checked first that the taxi had all seat belts working. Around Nusa Dua the places we went to were close enough that we paid the minimum taxi hire fee of 30,000 Rp (AUD $3).
Security & Safety
The gated entrances to Nusa Dua are guarded by security officers. It's the same at the entrance to every resort and at the larger restaurant/beach clubs. Your car gets stopped and the officers usually open the rear passenger doors and look inside. They'll open and check the boot too. Sometimes they'll run an undercar camera as well as note the car registration plate.
You will have to make up your own mind about whether you feel safe to travel to Bali. There have been continued travel warnings issued by DFAT. We found Nusa Dua to be fairly quiet even though we were there during the school holidays. Occupancy rate at the resorts seemed to be less than 50%. We personally never felt there was any threat to our safety. I felt safe walking in the dark through the resort and across the road to Bali Collections where there is also a security officer at each entrance.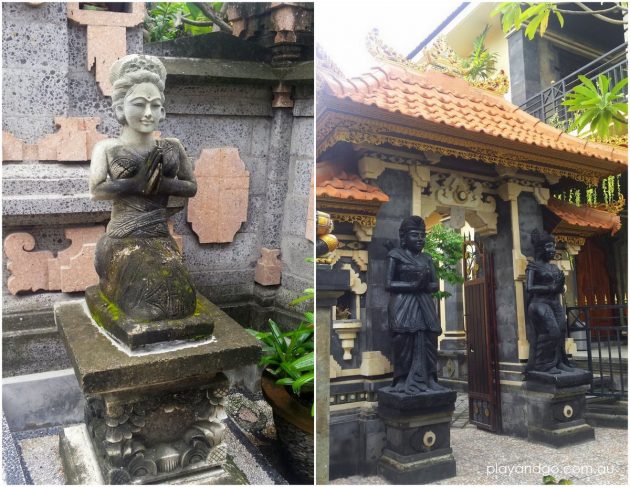 Water & Ice & Bali Belly
You may have heard in the past that you shouldn't have drinks with ice in South East Asian countries like Bali; that the ice could be made from tap water which will make you sick. These days all resorts and restaurants buy their ice from ice factories which use filtered water, so there's really no need to worry about this. It's still not safe to drink the tap water so always drink bottled water only and use it when brushing your teeth and rinsing out your toothbrush. Most resorts will give you plenty of bottles of water each day for free. If you accidentally forget and rinse your toothbrush with tap water or get some water in your mouth in the shower I wouldn't get too worried. I did it and I'm still alive! In fact none of us got sick at all. I have an iron stomach but my husband has always suffered in this department so I had Immodium and anti-bacterial wipes on hand just in case there was nasty business in the bathroom. Luckily he was fine.
Time Difference
We visited in April, just after daylight saving had ended. 1.5 hr time difference between Bali and Adelaide doesn't seem like a huge thing but with young kids especially, it can be the difference between having a nice happy family dinner or having a really grumpy dinner companion! If your kids normally eat dinner at 6pm back home and you go to a restaurant in Bali at 7pm don't forget that it's like dragging them out to dinner at 8.30pm, eating at 9pm – so don't be surprised if they completely lose the plot! We realised we needed to try and do dinner as early as possible. Most restaurants opened at 6pm so we made sure we got there earlier, looked at the menu prior so were ready to order as soon as 6pm hit. Much happier meals were had.
Medicines
We found the pharmacies to be poorly stocked with items we are familiar with back home. Most were very small with a very small range if they had anything at all. We took these things with us just in case:
Insect Repellant & stop itch cream
Anti-histamine
Panadol or Nurofen – Children's & Adult
Gastrolyte and Imodium type medication in case of Bali Belly
A small first aid kit
Motion sickness tablets if anyone is prone (the Blackmore's ginger one works well)
Cream or lotion for sunburn
Thankfully, we didn't need to use most of it so we could have saved a small fortune but it was good to have it. The resorts generally have a medical centre though with a nurse and doctor present if you need. Mr 7 had a little accident at Waterbom where he got a little gash under his chin, so it was handy to have them check it, and replace the bandage and waterproof protection when necessary. This was free of charge.
Laundry
Whilst we couldn't find a laundry shop we found a laundry agent who we were able to drop our clothes to. About a 5 minute walk up the road from the Grand Hyatt Nusa Dua where we stayed, just past Surf & Turf & Pirates Bay, there is a little clearing and grassy area where there is a row of traditional looking shops. At the one around the middle of this row which sold snacks and drinks and had tables and chairs, the owner offered to get our huge bag of 6 days worth of clothes cleaned for 200,000 Rp ($20). She asked for a deposit but we honestly didn't have any cash on us. She was fine with this. She found a rather dirty looking cardboard box for us to put the clothes in (so next time I made sure I kept them inside plastic bags). Miss 11 did worry a bit whether she'd see her clothes ever again. There was no signage about laundry and there was a bit of a language barrier so we just hoped for the best. Sure enough the clothes were all clean when we picked them up. We happened to see the invoice on the bag which showed the laundromat only charged about 50,000 Rp and I read on Trip Advisor others paid only about $10 for a similar amount of clothes, so we knew we had probably overpaid. The next time we paid 150,000 Rp ($15). You can hop in a taxi and go down the road a bit further where we later saw several shops with laundry signs that were probably laundry agents too.
Resort or Private Villa?
When researching accommodation for Bali we tossed up between a resort or private villa. There are amazing villas on offer with butlers, and cooks to make you breakfast with gorgeous pools and gardens. However some of them have an open air design where the living area is not completely enclosed and so you can only lock your bedrooms at night, not the whole house. This may not suit you having your children in bedrooms not near your room and they can lock themselves in or you may not feel secure having the rooms unlocked at night. One family I know had one parent and one child in each bedroom for this reason. When choosing a villa look out for ones that are completely enclosed and lockable like a house, especially if you have young children. Most don't have pool fencing either but these can be hired. My 7 year old is our early riser and very fond of pools. I didn't feel that we could quite trust him yet – that he wouldn't wake up before anyone else and decide to play in the pool. Even with a pool fence I knew I wouldn't feel completely relaxed about this. We decided to go for a resort so we didn't need to worry about this and we liked having the facilities of a complex with buffet breakfasts, lots of pools and restaurants right there.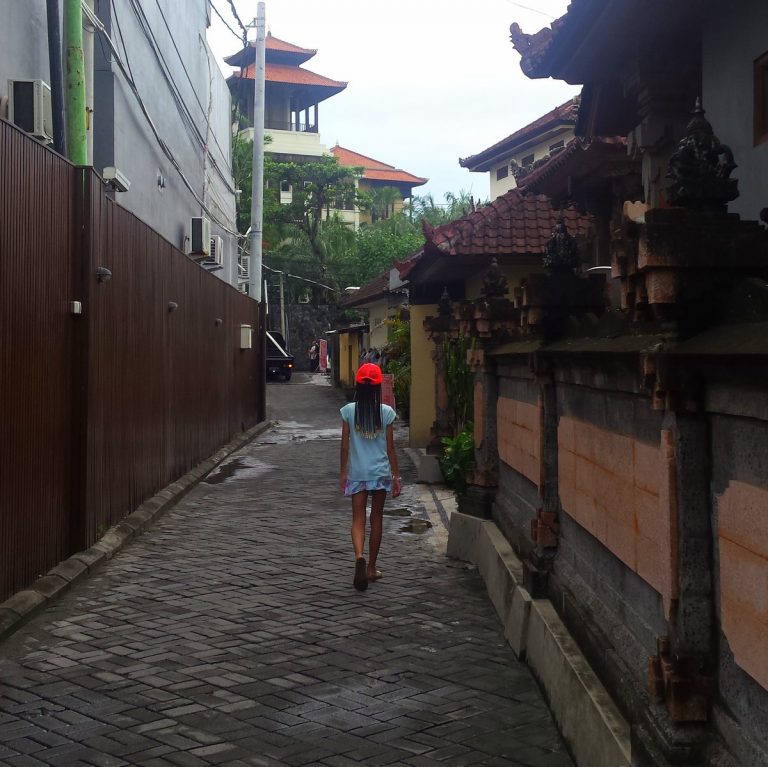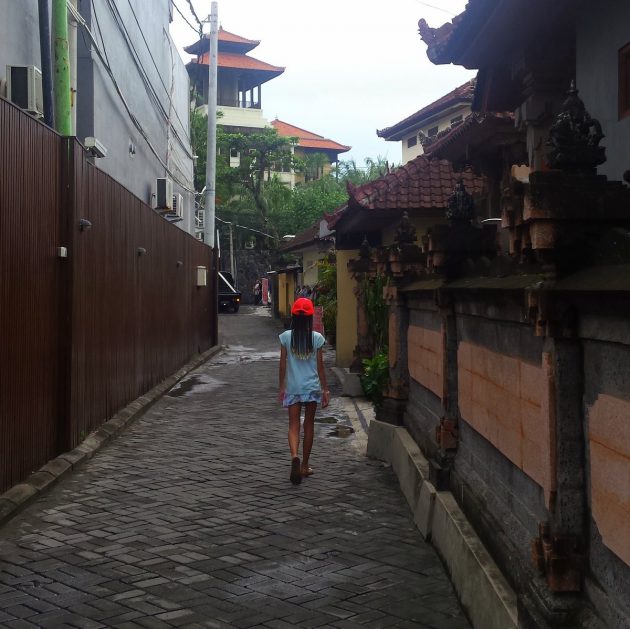 Handy Links
Styling You – 13 tips for travelling to Bali if you are a newbie
Luxury Escapes & Scoopon always have some amazing deals. They involve you buying a coupon upfront, then booking directly with the resort using your coupon number. If you are concerned about availability for the dates you require, you could always ring the resort before buying the coupon to check if they have plenty of rooms available, like I did. I confirmed this with the resort before booking flights.
Places we visited in Bali:
We stayed at the Grand Hyatt Bali Nusa Dua – Read the Review here.
Places that were recommended to us:
Here are some suggested places to visit and things to do that have been recommended by friends.
Finns Beach Club makes a fun day out.
Pandawa Beach is beautiful.
Uluwatu temple is beautiful on a cliff top and has some cheeky monkeys, (great for the experience if you don't want to go all the way to Ubud).
Jimbaran Beach for sunset dinner on the sand.
Bali Safari & Marine Park
---
Click here for all our posts about places to visit, and things to do in Bali.
At Play & Go Adelaide we make every effort to provide accurate information to the best of our knowledge at the time of publication. We recommend confirming times, dates and details directly before making any plans as details may be subject to change.
As per all our Play & Go reviews, this is not a sponsored post and our review is done completely independently. All photos are by Play & Go.
Want to get all the latest events and activities straight to your inbox?



Subscribe to our weekly email newsletter below to keep up to date with our latest posts and find out all the best events & activities for Adelaide families. Newsletters are only sent once a week, and you may sometimes get a special offer exclusively for our subscribers only!
Save
Save
Save
Save
Save
Save
Save
Save