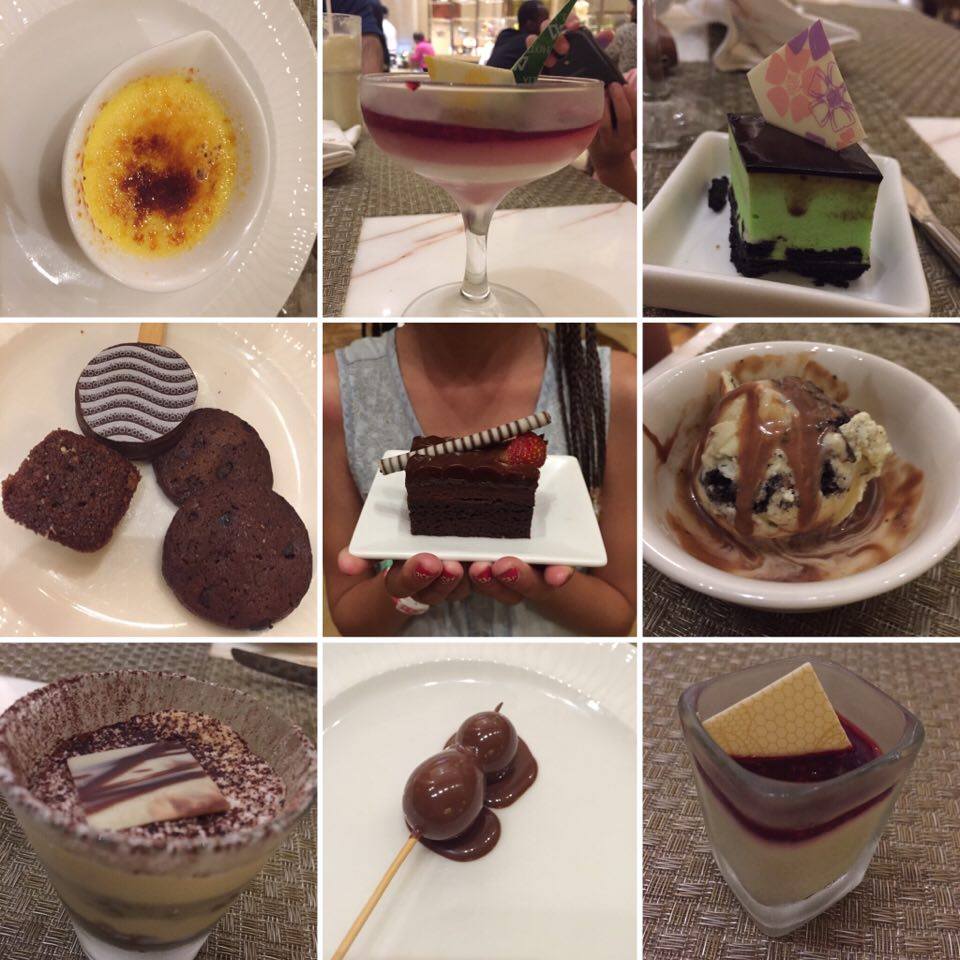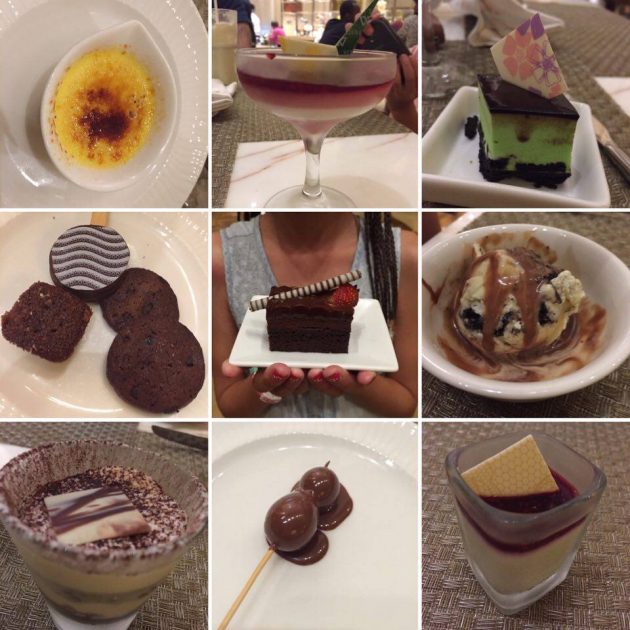 Eating Out in Bali  |  for Families
One of the best things about holidays is the food, and also not having to cook! Just being able to enjoy family meals together every day is special as many families are busy and may not get to sit down and eat together at every meal at home. This is one of the things that make family holidays special. During our 10 day trip to Bali we got to try out many restaurants. Some were recommendations from friends, while others we kind of stumbled upon. Here are some of our eating highlights:
NUSA DUA
The Cafe at The Mulia Resort | International Buffet | Nusa Dua
For the most lavish buffet experience, you can't go past The Cafe at The Mulia Resort. It's quite spectacular with many culinary delights from around the world but the highlight would have to be the two dedicated dessert rooms. That's right – two whole rooms of amazing desserts (see pics above and below). See our full Review of The Mulia here for all the details.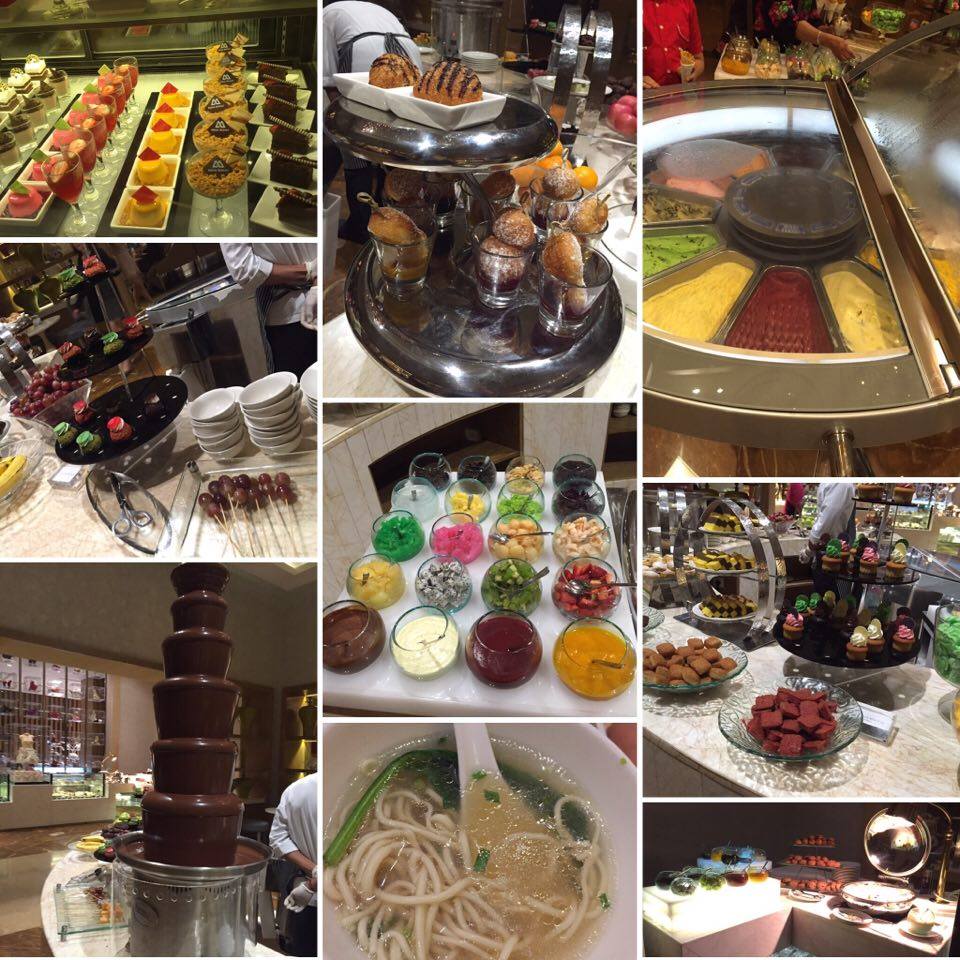 Sofitel Bali Nusa Dua Beach Resort | Nusa Dua
The buffet dinner here has plenty of variety with a huge range of Asian cuisine at different stations spread out around the dining room. Our favourite station here was the noodle station, where a dedicated chef cooks up your noodles for you as you wait. You select the type of noodles you like and other ingredients, put them all into a bowl, and the chef expertly tosses them in the wok in a yummy sauce. Miss 11 had 3 serves (she went back for a serve after having dessert because she loved the noodles so much).
The desserts at the Sofitel were pretty amazing too. As you can see below, there were many petit desserts to choose from, local delicacies, waffles and while we were there they happened to be making a fresh batch of macarons.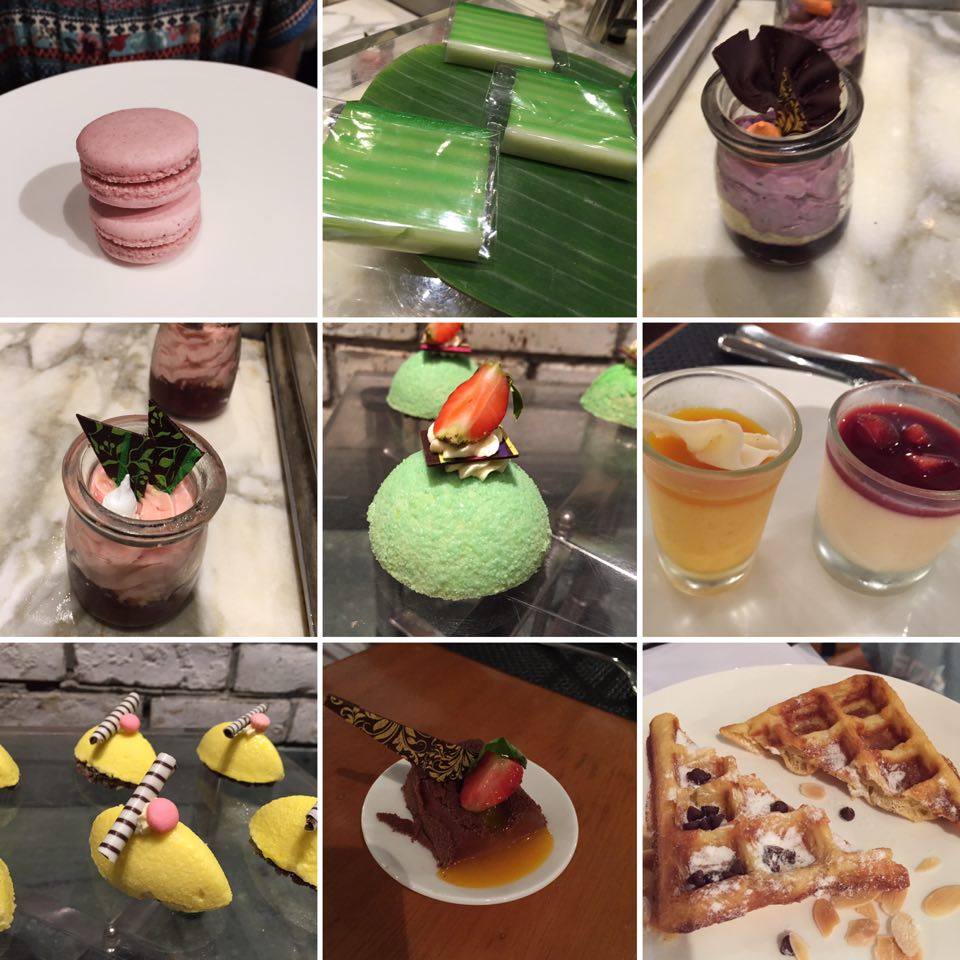 The Sofitel has an impressive foyer (pic below) with an amazing wooden beam high dome ceiling and intricate woodwork leading up to it. It's worth having a little walk around to check it out. The buffet dinner was around $40 AUD per adult, children 8 to 12 yrs get 50% discount and under 8 yrs are free (as of April 2016). They do a popular Sunday brunch where they have the buffet available and I'm told the spread is even more lavish. Here are their contact details page for bookings (which is recommended as their Sunday Brunch can get booked out).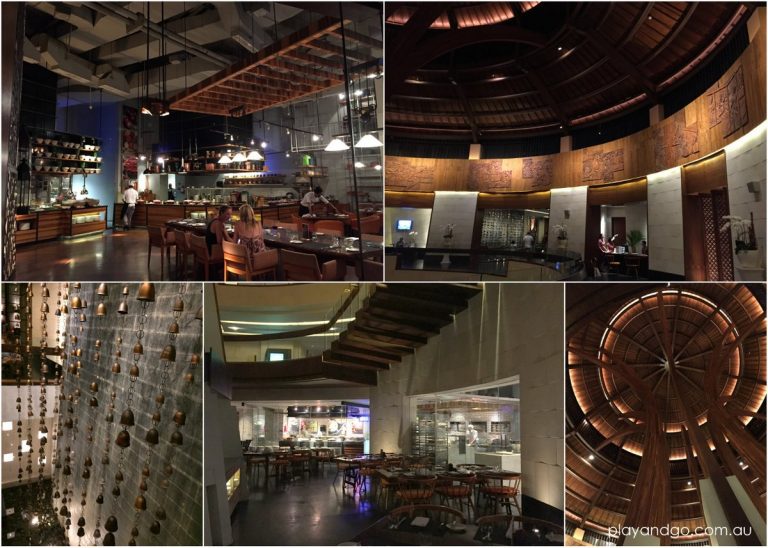 Indonesian Buffet & Cultural Show | Grand Hyatt Nusa Dua Bali
At the Grand Hyatt Bali Nusa Dua they have an outdoor dining area where they host an all-you-can-eat Indonesian buffet and cultural show most evenings. One of the hightlights of the buffet are the Satays, and like most places that serve Satays in Bali, the sticks of meat are grilled over hot coals, the traditional way. Totally delicious! As part of our Luxury Escape package this family meal was included in our stay. The cultural show is performed while you eat and provides great entertainment.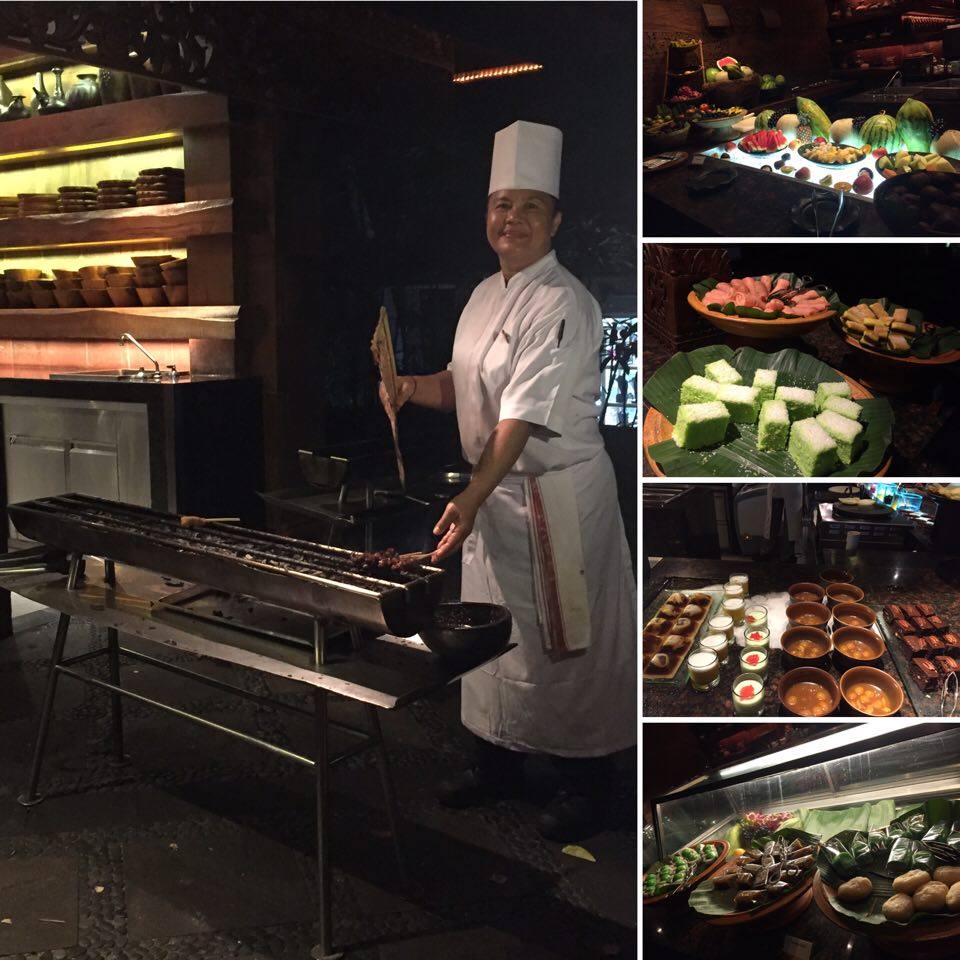 Nampu Japanese Restaurant | Grand Hyatt Nusa Dua Bali
Another highlight at the Grand Hyatt is the Nampu Japanese Restaurant, where we had great Teppanyaki dinners – with Chefs cooking the food right in front of you on the grill. We had a dinner included in our package but Mr 7 enjoyed it so much he requested we go back, so we ate there again on our last night. The kids enjoyed watching the chefs cook up the food – one of them did a few fun tricks with his cooking. We had the set menu where you have all different meat (chicken, fish, beef), veggies and fried rice cooked for you, one at a time, along with salad and a delicious dessert. The second time I tried the seafood set menu which included yummy crayfish – was fabulous. There is so much food though so you can consider having the kids share your adult set meals. The chef can divide the food for you and serve each person a portion. If you do order something for the kids they get 50% off any main meal.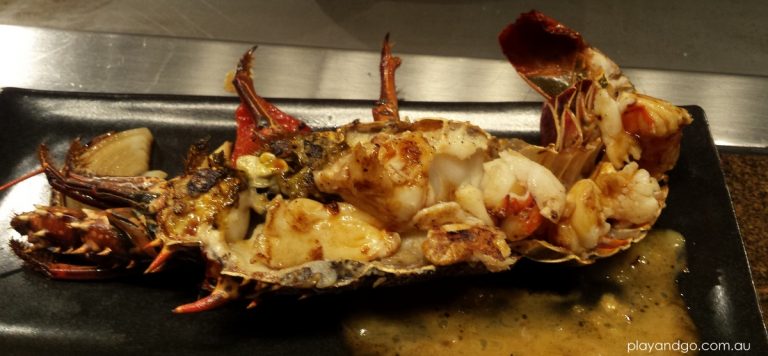 Pirates Bay Bali | Nusa Dua
Pirates Bay Bali is an outdoor café restaurant overlooking the Nusa Dua beach with a pirate theme. Amongst tall trees it is complete with a huge replica wooden ship and amazing tall tree houses you can dine in. There's a nature's playground for children to play in, with equipment made of timber and ropes, plus they do a treasure hunt for kids. Read our full Review of Pirates Bay Bali here.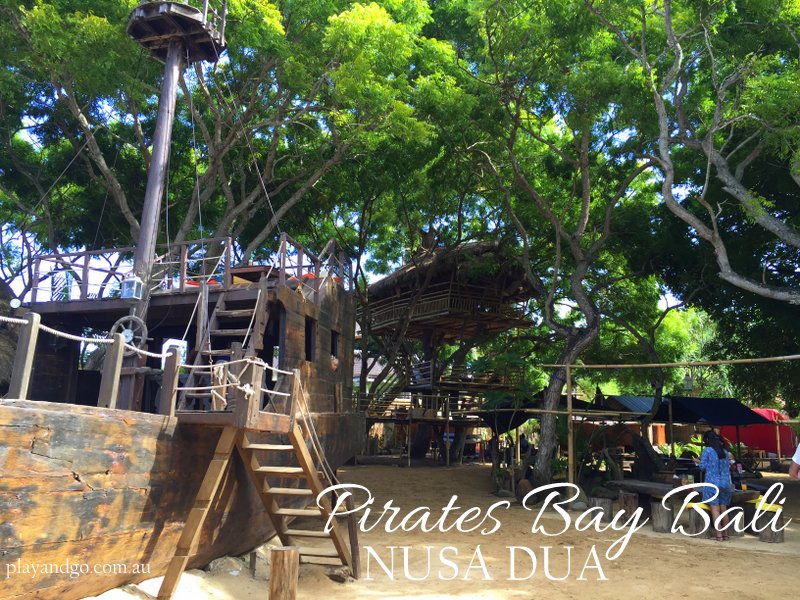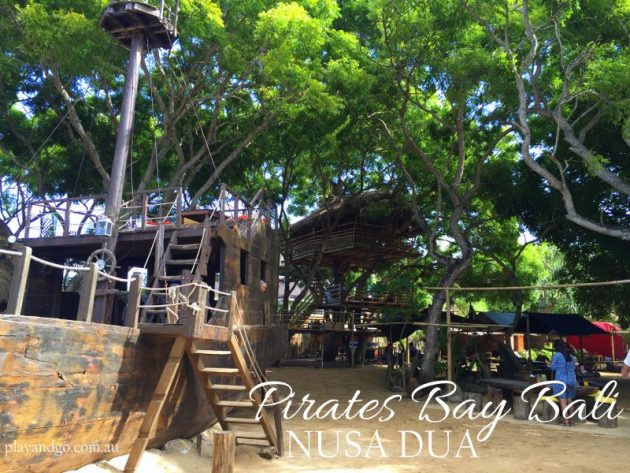 Tropical Restaurant | Bali Collection Shopping Centre, Nusa Dua
There are many restaurants at the Bali Collection open air shopping centre in Nusa Dua. We ate at Tropical, just across from the Padi Art Market stall. As with many of the restaurants here, they have fresh seafood displayed on ice at the front of the restaurant which you can choose and pay per kg for them to cook for dinner. Many also have live entertainment, often a duet playing covers of old favourite songs. Yes, they are a bit corny "but I..can't…help…falling in love with you…" but I don't mind a bit of easy listening and it adds to a nice atmosphere in the balmy evenings, surrounded by pretty lights in the trees.
To give you an idea, I had a small half crayfish grilled for about AUD $19. Children's meals are very good value – the fried rice below was about AUD $4. Fish & chips and chicken nuggets & chips, pasta are all generally around AUD$5 or under. This pricing for children's meals was pretty standard at most of these restaurants. Our whole family ate for around AUD$50 (with soft drinks, not alcohol).
KUTA
Beachwalk Mall Shopping Centre | Kitchenette
We spent an afternoon at the Beachwalk Mall Shopping Centre in Kuta; my husband and kids saw a movie in the cinema while I checked out the shops. We were not sure where to eat here. We didn't love the look of the food court on the top floor and it was a bit crowded so we wandered along the front of the mall overlooking the beach. Here we discovered Kitchenette which had quite an eclectic menu so there was something for everyone. They do breakfast, sandwiches, burgers, build your own salads, Spanish tapas, pastas, fish & chips, asian dishes, savoury galettes, sweet crepes, desserts, coffee, ice cream, shakes, frappes and all sorts of drinks. I'm always hesitant to eat salads when overseas and when in doubt usually stick to something fried like fish & chips to be on the safe side, but I must say that with everything looking so fresh and clean I got over that; the salad on top looked great and was delicious. I'm getting far more adventurous and not as afraid of Bali belly. None of us got sick at all during our 10 day holiday. In fact I generally hear less and less of people getting Bali belly.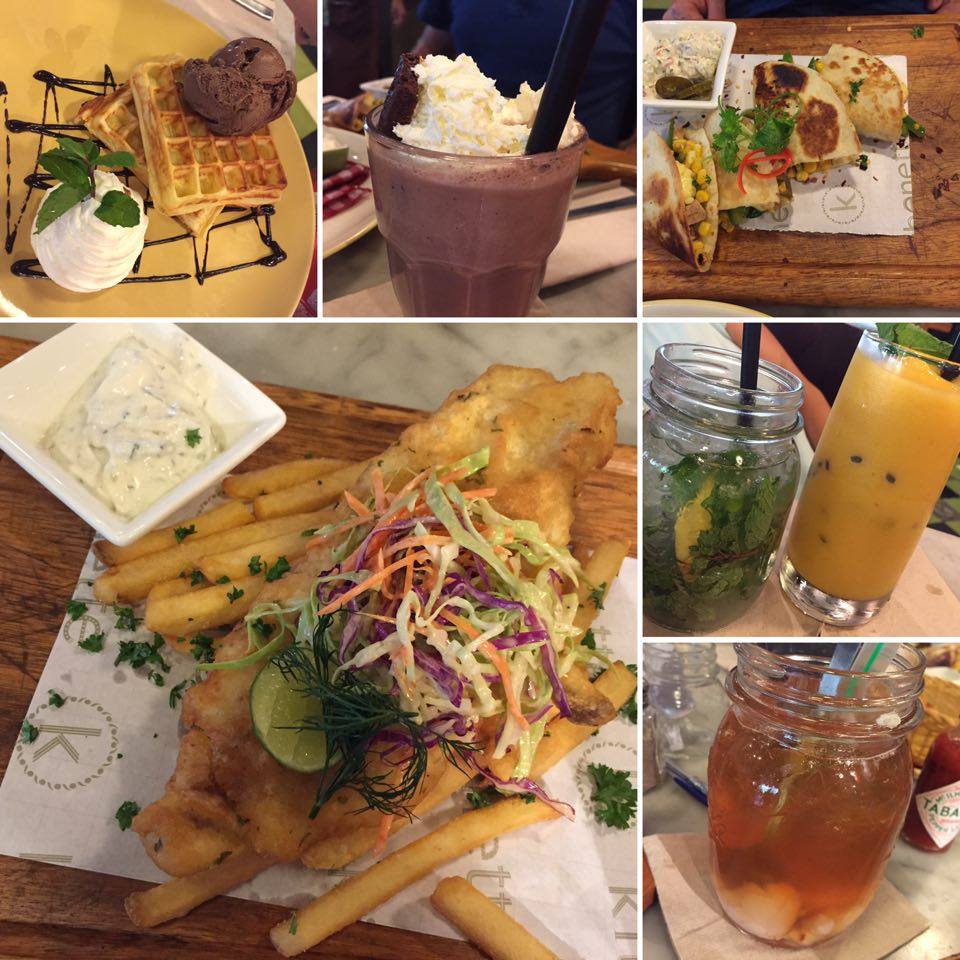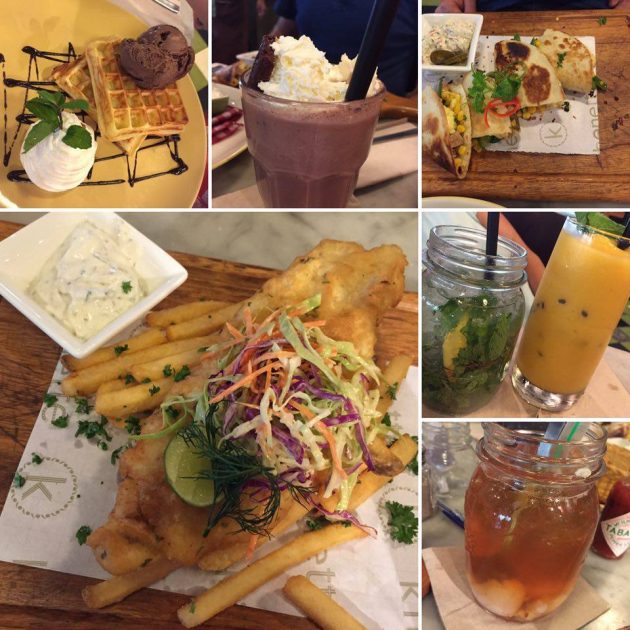 SEMINYAK
Sate Bali | Seminyak
For a great authentic Indonesian dining experience Sate Bali in Seminyak was terrific. We kind of stumbled across it as we were visiting the Seminyak Flea Market Oberoi. The market is quite a relaxed setting – there was barely anyone there when we visited around lunch time – the vendors are not pushy but things were probably a bit more expensive than other places and we didn't find much there that we wanted to buy. You know that you're terrible at bartering and have totally overpaid when you buy 8 dream catcher key ring things and he gives you a free one at the end because he pities you!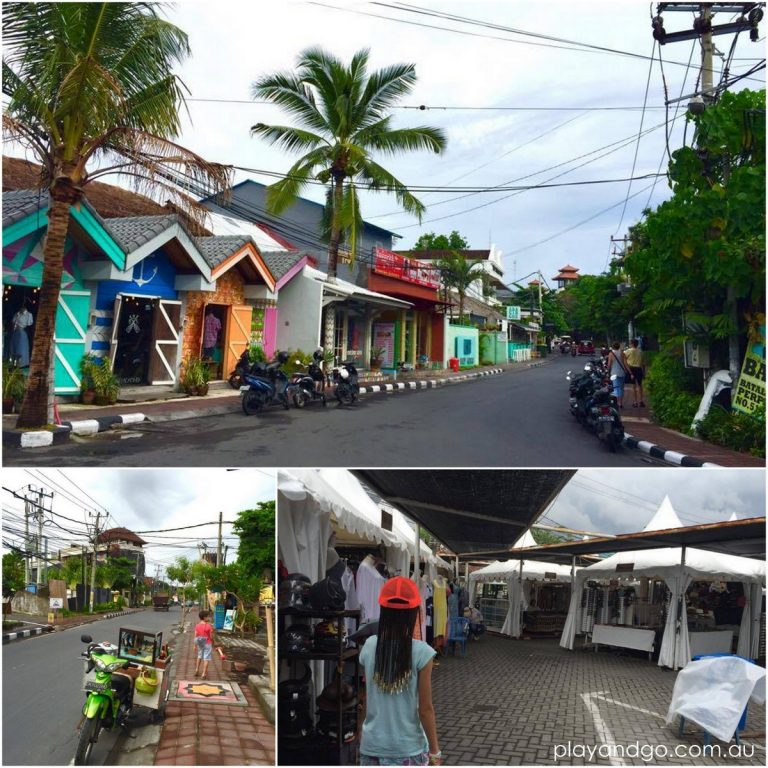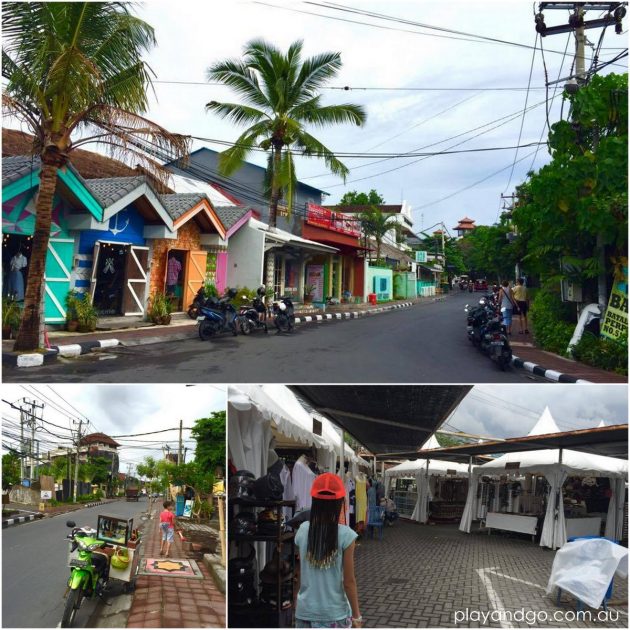 It started raining heavily just as we were leaving the markets (the only time it rained during our holiday) and this little area of eateries right next door to the markets is where we found shelter. I had read recommendations for Sate Bali so it was quite fortunate that we found it.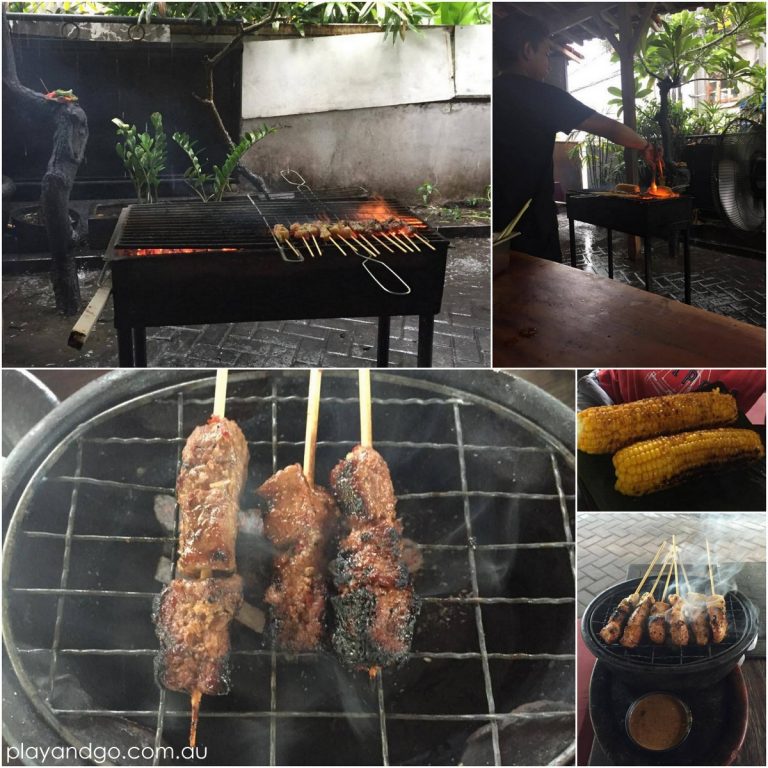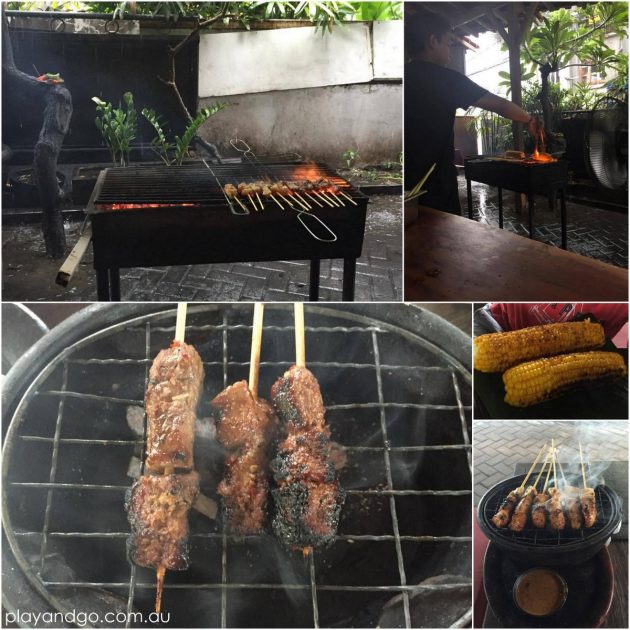 Here the satays are cooked traditionally on a grill over hot coals and they are even served on a special hot plate with a some coals underneath to keep your satays warm. The grilled corn on the cob was delicious too.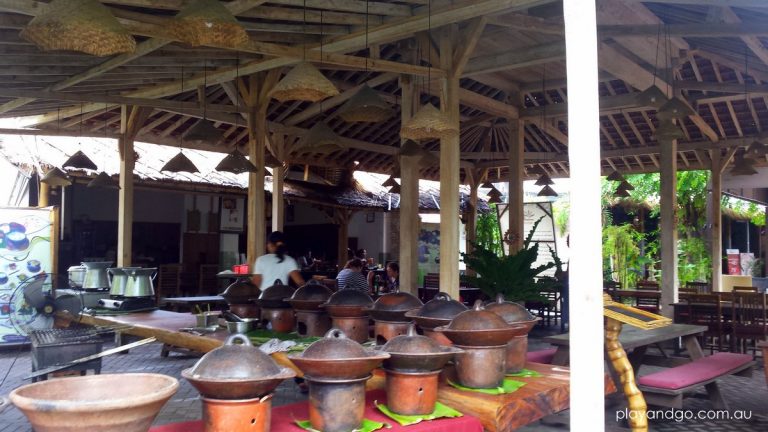 Ku De Ta |  Seminyak
Ku De Ta is a well known beach bar and dining destination in Seminyak. Whilst many of the patrons are the cool 'no kids crowd', it has great sunset views over the beach and comfy lounge seats that families can enjoy too during the day and early evening. We got there around 5pm so we could have a pre-dinner drink.
I can totally recommend the Papillon cocktail with Vodka, raspberry, watermelon and lychee liqueur.
We'd heard good things about the food here and it certainly delivered. It's fine dining – gourmet with diverse international flavours and a bit of a Mediterranean touch. Think amazing service, and food that is cooked and presented beautifully, but in a relaxed atmosphere. It's the sort of place where your water glass and wine glass are automatically filled for you without you asking. They are so attentive, at one time Mr 7 accidentally dropped a little toy off the table – a staff member came from nowhere and had it swooped up and handed back to him quicker than you can blink. The kids menu has a great range of items from nori rolls, chicken noodle soup, fish & chips, pasta, burger, pan roasted barrumundi fillet with potato puree and roast veggies, as well as satays – all for between $5 to $10 AUD, prepared and presented in style.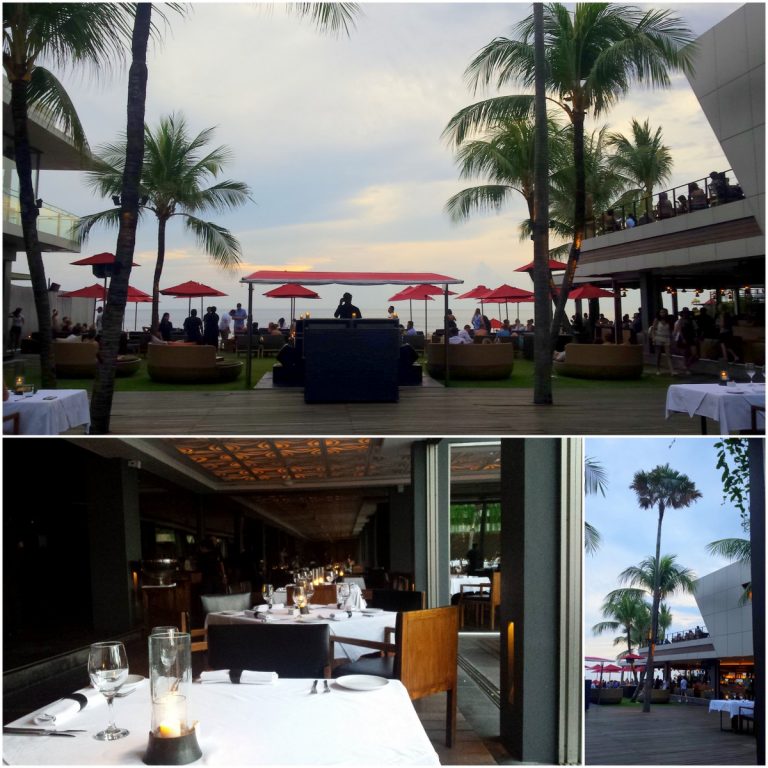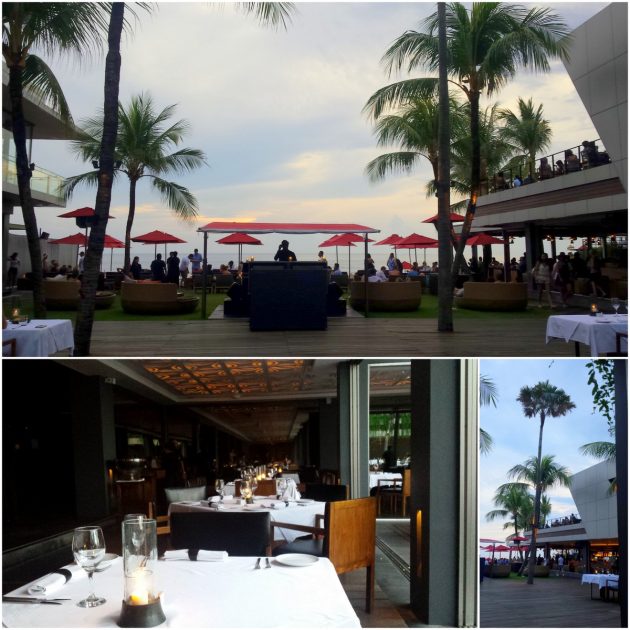 Once the sun sets, the dining area is quite dark with very soft overhead lighting and candles on tables – a lovely ambience as you watch the sun set – but not conducive to photo taking, so sadly I don't have pics to share. In fact when the dessert menu was brought to us I wondered how we would be able to read it in the dark, but they have that covered too – a mini reading light gets attached to your menu so you can see. Talking about dessert – it was definitely worth saving a little bit of space for it. Fresh sorbets and home made ice cream, chocolate tart, crème brulee – there are all the things you love with a few twists.
Ku De Ta is a beach club so there is also a pool, but it's not that big and the cool crowd probably wouldn't want some kids splashing around in their faces – I also worry about the water condition in a pool with adults drinking a lot of alcohol. I've heard that Sunday is family day though, where they have fun activities for kids for brunch or a long lunch. I imagine that the pool would be fine for kids then.
See the Ku De Ta website here  |  Jalan Kayu Aya No. 9 Seminyak Bali
---
Click here for all our other posts about places to visit, and things to do in Bali.
At Play & Go Adelaide we make every effort to provide accurate information to the best of our knowledge at the time of publication. We recommend confirming times, dates and details directly before making any plans as details may be subject to change.
As per all our Play & Go reviews, this is not a sponsored post and our review is done completely independently. All photos are by Play & Go.
Want to get all the latest events and activities straight to your inbox?



Subscribe to our weekly email newsletter below to keep up to date with our latest posts and find out all the best events & activities for Adelaide families. Newsletters are only sent once a week, and you may sometimes get a special offer exclusively for our subscribers only!
Save
Save
Save
Save
Save
Save
Save
Save
Save
Save
Save