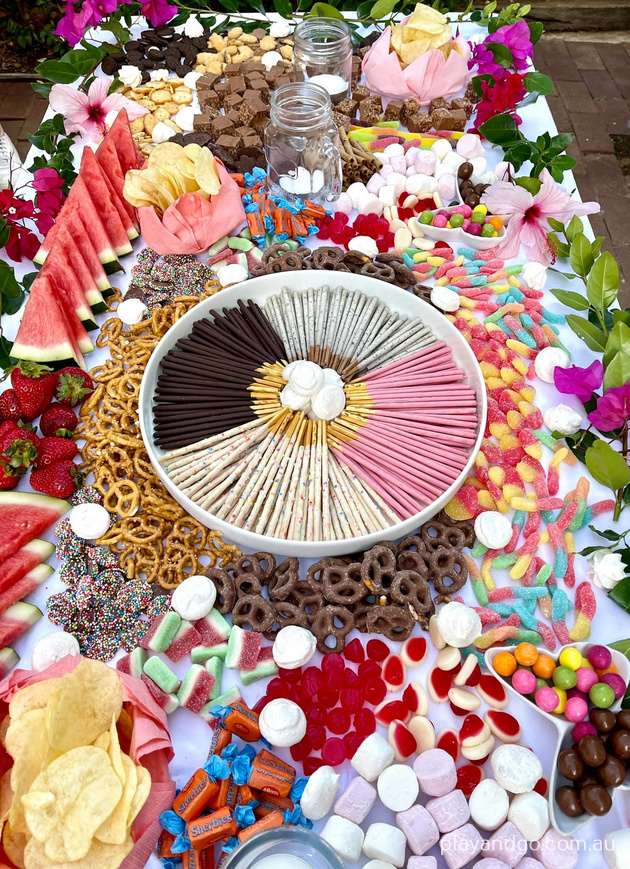 How to Make a Kids Party Sweets Grazing Table
In between lockdowns and restrictions over the past year, we were lucky enough to host a couple of kids' parties. One was in February 2020 just before restrictions began, and then earlier in 2021 when there was a period we could have a party at home. These parties were for teens mainly 14-16 years old. I've been feeding many of these same kids sweets at parties since they were little, and it turns out nothing has changed. They still like the same old sweets now as much as they did when they were younger. For those who hadn't had the pleasure of Mars Bar Slice before, it was an instant hit. And it seems you can never have enough of it.
Tasked with feeding a whole bunch of teens I re-imagined the sweets table as a grazing table. As well as making it easier for everyone to reach the food with it all spread out over the table, (instead of hovering over a couple of platters), it was also a great meeting point and excuse to mingle around.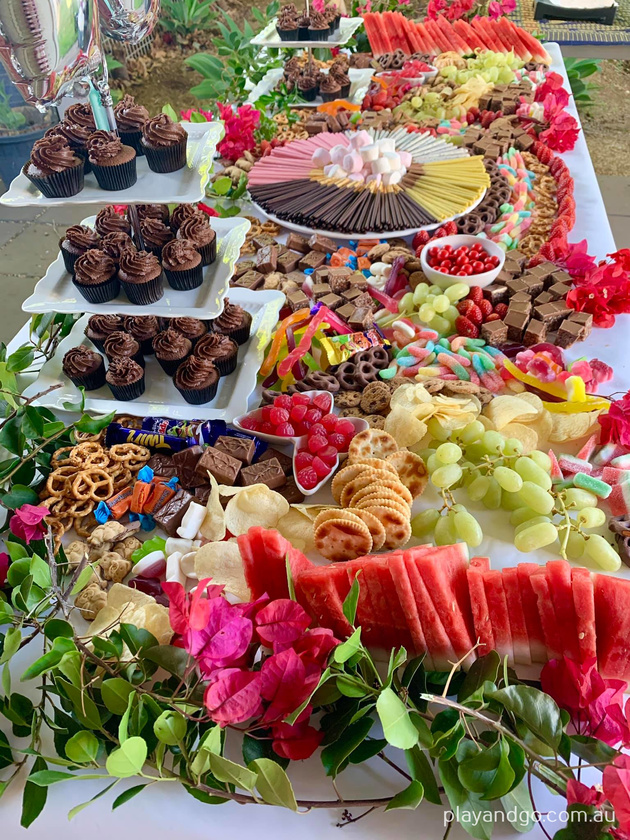 Where do you start when putting together a sweets grazing table like this?
Start at the centre. We made a Pocky stick centrepiece which is literally placing different flavoured Pocky sticks on a round platter with marshmallows or meringues in the centre. You can't see it in the photos properly but the home made meringues were dusted in glittery gold dust for some shimmer.
Here are some tips for making the grazing table:
♥ Work out from the centre.
♥ Once you have your centrepiece place items in front of the platter and on the sides.
♥ Then work out to the sides. Whatever you do on one side, do the same on the other side in a mirror image.
♥ If you have little bowls (we've had these butterfly ones from Bed Bath n Table for many years) use them to put small lollies to add interest.
♥ For one party I also made paper napkin flower bowls to place chips in.
♥ You can use anything you like on the table – the easiest thing is to include all your kids' favourites.
♥ To make the table look pretty, I added greenery and flowers all along the perimeter of the table top – these were just cut from our garden, and our neighbour's garden and was just what was in bloom at the time. It helps to finish off the table and prevents food from falling off the sides as well.
Below are the items we used for our grazing tables.
Mars Bar Slice (recipe here)
Peach sour hearts
Rainbow sour worms
Watermelon sours
Chocolate Freckles
Chocolate Pretzels
Pretzels
Marshmallows
Raspberries
Strawberry Creams
Fruchocs
Tiny Teddies
Violet Crumble squares
TV Snacks
Mini chocolate rolls
Sherbies
Garlic crisps
Mini Oreos
Kool Fruits
Watermelon
Strawberries
Meringues (home made recipe here)
Chips (thin – plain flavour will suit more people)
Large tealights in glass jars for decoration and added lighting in the evening
For the centrepiece:
Pocky Sticks – chocolate, strawberry, cookies and cream, surprise multi colour, previous year there was banana and matcha
3 packets each flavour
This Pocky centrepiece was inspired by @sonny_loves _charlie on Instagram who does the most amazing platters.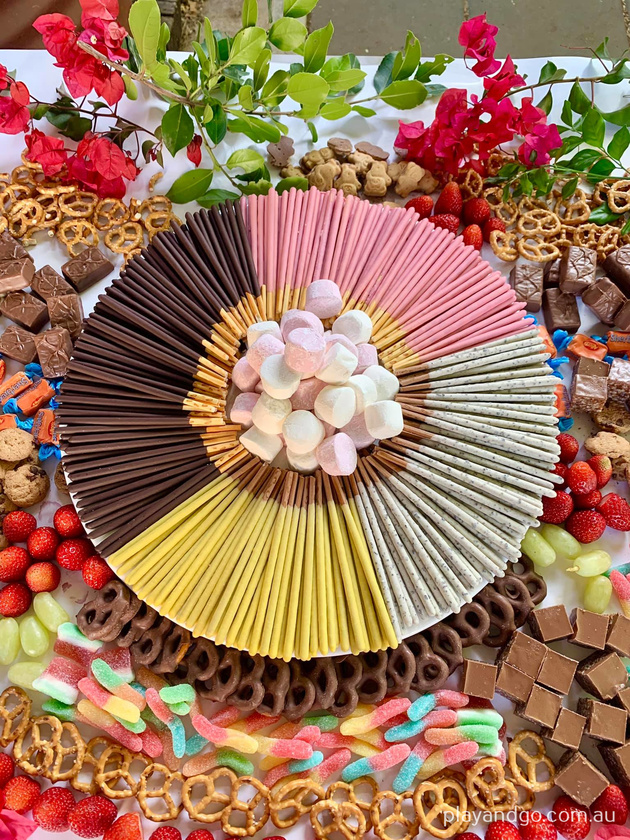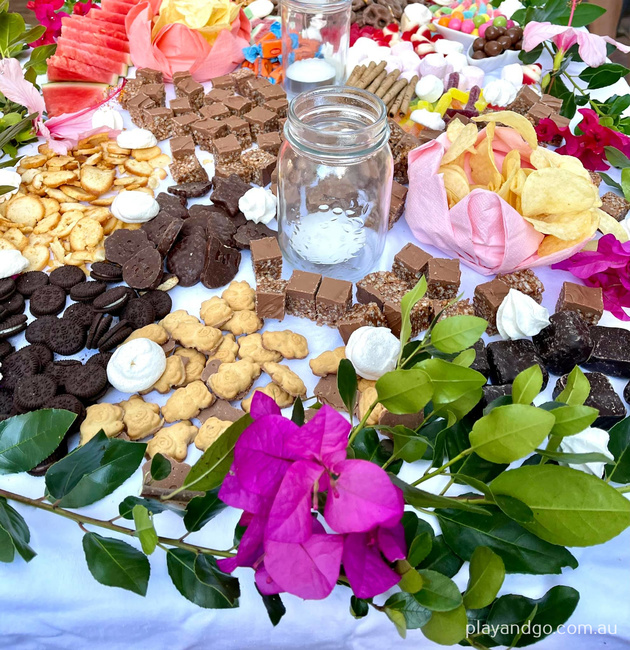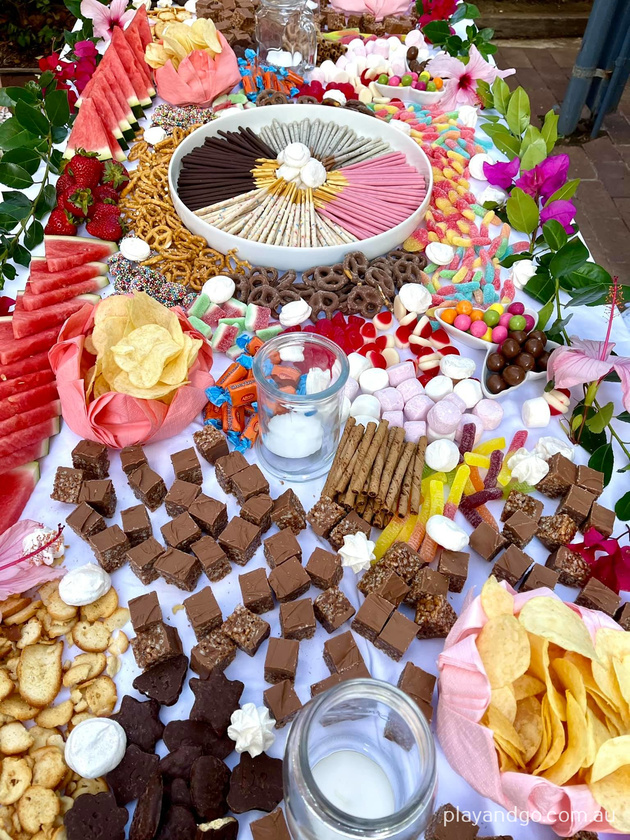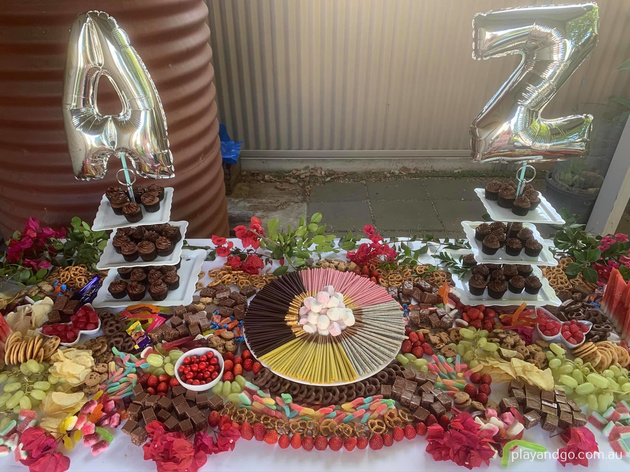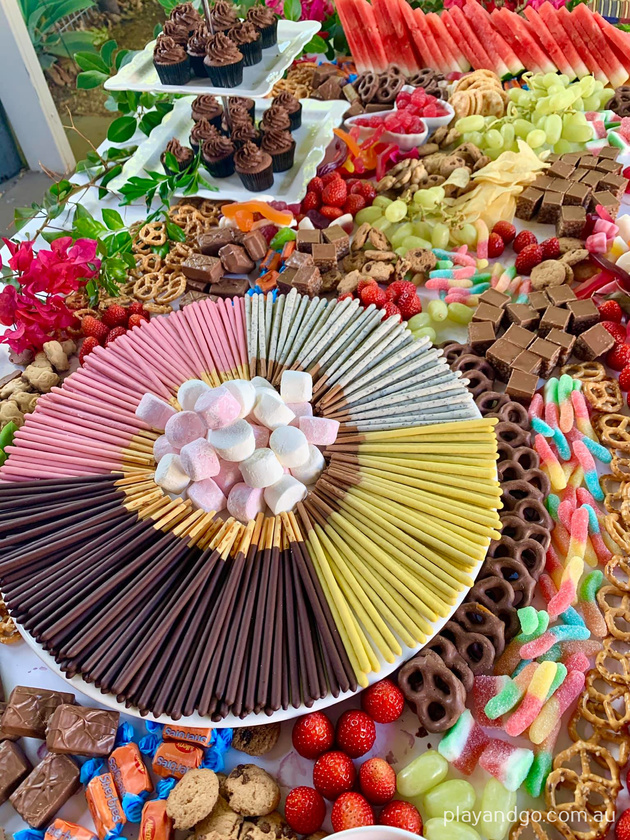 SUBSCRIBE
Want to get all the latest events and activities straight to your inbox?
Subscribe to our weekly email newsletter below to keep up to date with our latest posts and find out all the best events & activities for Adelaide families. Newsletters are only sent once a week, and you may sometimes get a special offer exclusively for our subscribers only!