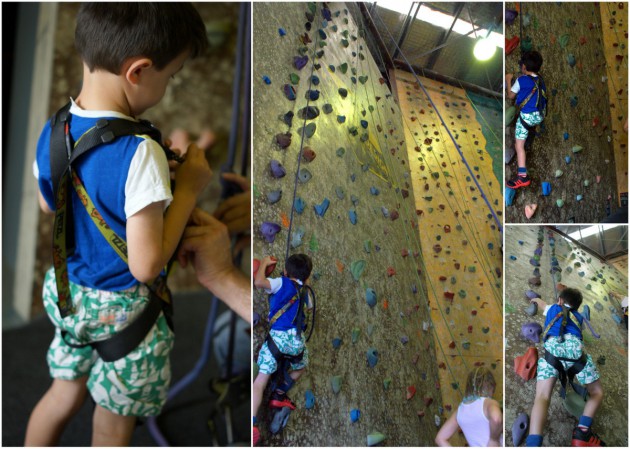 Indoor Rock Climbing at Vertical Reality Climbing Wall
It's a cool, rainy summer day during school holidays. What to do? Well, my kids who are little monkeys and will climb anything, have been keen to try out Indoor Rock Climbing, so that's where we headed.
Vertical Reality Climbing (VRC) have facilities that are suitable for novices and experienced climbers alike, groups or individuals.
There is around 800 square metres of climbing walls and climbs graded from 3 to 29.  They are set up to cater for all ages with special harnesses for little ones (like my four year old).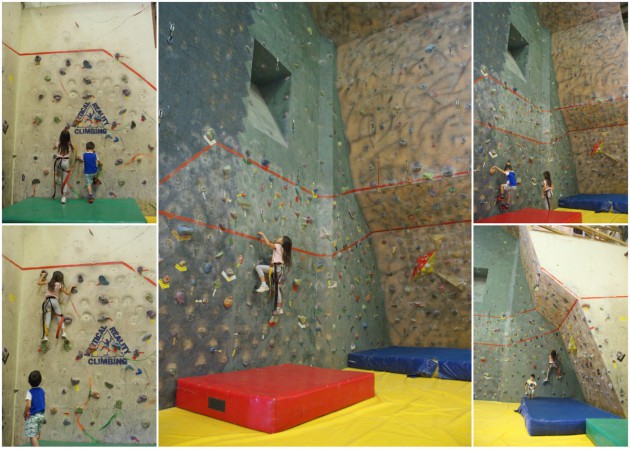 Climbing Wall Safety Induction
It is compulsory for all new visitors to take part in a once-only safety induction on your first visit to learn the technique of belaying and ensuring harnesses are all worn safely. Belaying is staying on the ground, holding and managing the rope for the person who is climbing. A belay assessment must be completed to enable you to belay at VRC.
On the Sunday that we visited they were conducting these inductions on the hour, every hour, subject to demand.
It is best to ring and book beforehand.
Don't worry, it was not difficult to grasp and the induction did not take very long.
Children aged under 13 must be accompanied by a parent/guardian to belay for them. Climbers or belayers aged under 18 must have a membership agreement signed for them by a parent or guardian.
Once you've done the safety talk you are then able to tackle the walls for as long as you like, or as long as your arms and legs can handle it.
The friendly and experienced instructors are on hand to check that all the safety equipment is correctly used and are happy to help out as much as you need.
There is only one set of rocks though which is the easiest grade for either very little kids or older kids who are trying out for the first time,  so there is a bit of waiting involved if there are a few of them unable to do any other climb. This easy grade is the only one with the rocks closely spaced so little arms and legs can reach.
My 4 year old got a few metres up a couple of times but found it a little scary and difficult climbing, but enjoyed hanging around in the air and being belayed down. He then spent a while eating an ice-cream while watching his sister climb.
There is an area which is well padded which doesn't require belaying. As it was not being used much, he enjoyed climbing a little bit and jumping around here (see the second picture from the top).
My 7 year old was in her element. Having spent the past few years of her life working the monkey bars; climbing our back fence and any suitable tree, she couldn't wait to climb some walls! After trying the easiest set of rocks she was then able to scale many of the other climbs around the walls.
There are plenty which are graded a certain difficulty if you stick to just say the red rocks or just the green rocks. However, for beginners you can take advantage of all the rocks along the way at first, until you build up the ability to just use the one colour all the way up.
There is great personal satisfaction in reaching the top and building up your ability to do harder climbs. We spent around 2 hours in total there. My little monkey girl loved it and can't wait to do it again!
Check out the Vertical Reality Climbing website here for pricing and other information.
What:  Indoor Rock Climbing
When:  Monday to Sunday – see website here for opening hours
Where:   Vertical Reality Climbing  |  12/560 North East Rd, Holden Hill |  Map
Who:  Climbing Fans