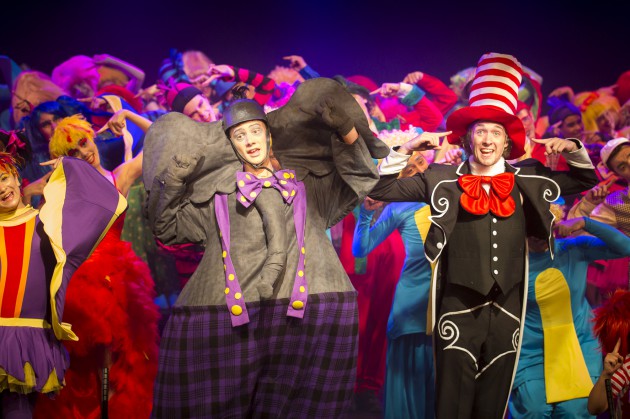 You would be hard pressed to find a family without a few Dr Seuss books on their bookshelves at home, with some passed down from one generation to the next they have been around for so long!  This adaption of the Broadway musical Seussical is performed by the Childrens Performing Company of Australia, who are based in Melbourne.  This is 'Musical Theatre FOR kids, performed BY kids', but I, as no doubt most parents in the theatre, thoroughly enjoyed this production just as much as the dozens of children in the audience.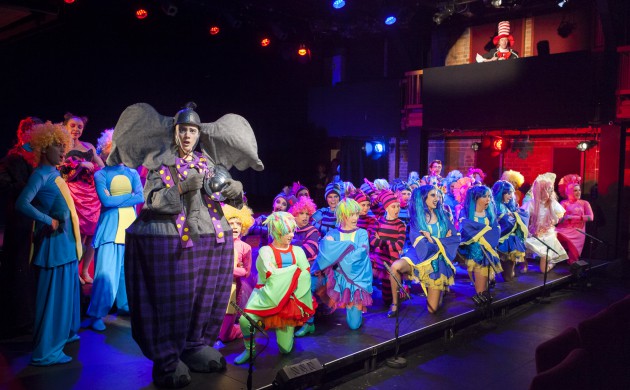 The Seussical musical script has been taken from two classic Dr Seuss books, both starring the lovable Horton the Elephant.  The storyline acts out the ventures of Horton based on 'Horton Hears a Who!' and 'Horton Hatches the Egg", combining both stories seamlessly from one scene to the next.  Firstly, Horton hears a small speck of dust call out, only to discover that the speck of dust is actually home to a microscopic community of 'Whos' living in Whoville!  Horton is asked to protect the Whos from harm, which he happily agrees to do despite none of the other animals believing him, well apart from his neighbour Gertrude.   The story also involves Mayzie, the beautiful but irresponsible bird who asks Horton to mind her egg while she takes a little break, but her 'little break' ends up being a permanent relocation to Palm Beach, leaving Horton with the egg to care for too.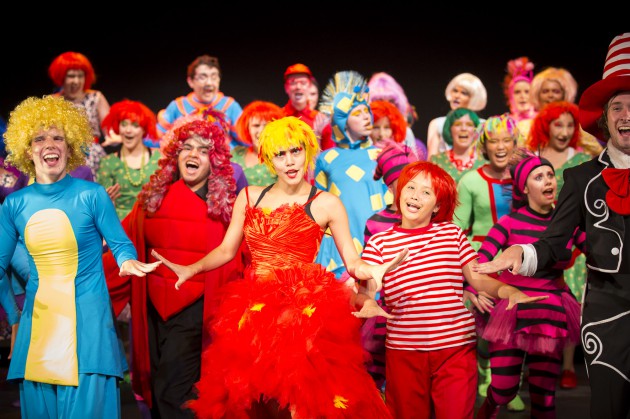 The main characters, including The Cat in The Hat, Horton the Elephant, Jo Jo, The Sour Kangaroo and birds Mayzie and Gertrude lead a super talented group of young performers who all play their parts to perfection.  This production is full of energy, colour, humour and some incredible voices.  The music is wonderful throughout with many memorable solo performances as well as some outstanding Broadway-style numbers performed by the entire cast (over 60 performers).   The costume department have done a spectacular job in designing for each character – the colours bring the stage to life against the black backdrop that houses no more than a 'Seuss Box', with smoke, bubbles and some rain for special effects.  Nothing else is needed with such colourful characters giving such a captivating performance.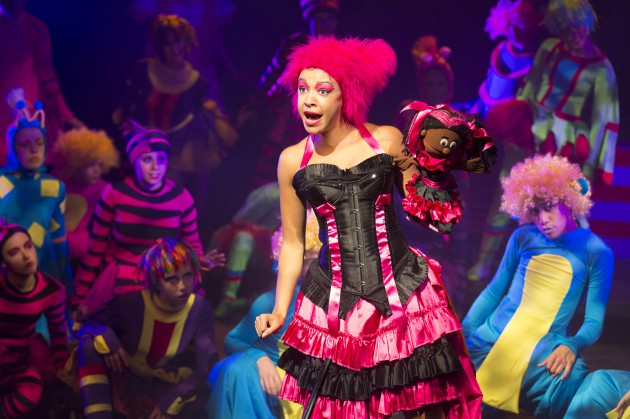 The highlight of course is the unique words and rhymes of Dr Seuss, with rhymes put to music and linked to tell a magical story.  There are still tickets remaining for Friday, March 15th at 1.30pm and 8.15pm (Saturday 16th sold out)  I highly recommend attending for 70 minutes of pure joy!
"From there to here, From here to there, Funny things are everywhere"  Dr Seuss
What:   Seussical – Theatre for Young Audiences Version
When:   Adelaide Fringe  |  12 – 16 March 2013
Where:   Odeon Theatre  |  57a Queen Street, Norwood
Who:   Ages 5+ years
Click here for ticket details via FringeTix.  Photographs by Kit Haselden courtesy of the Childrens Performing Company of Australia.