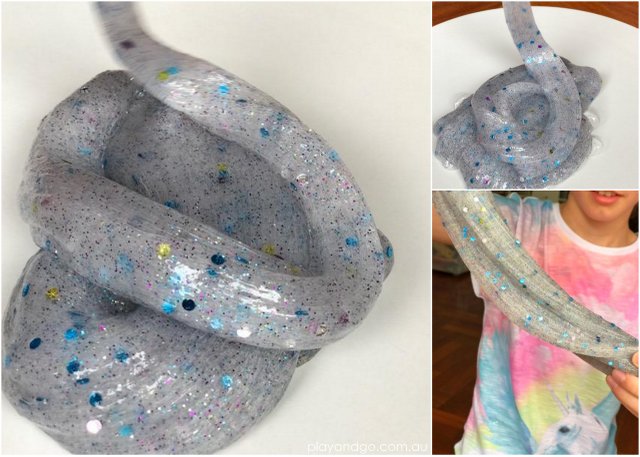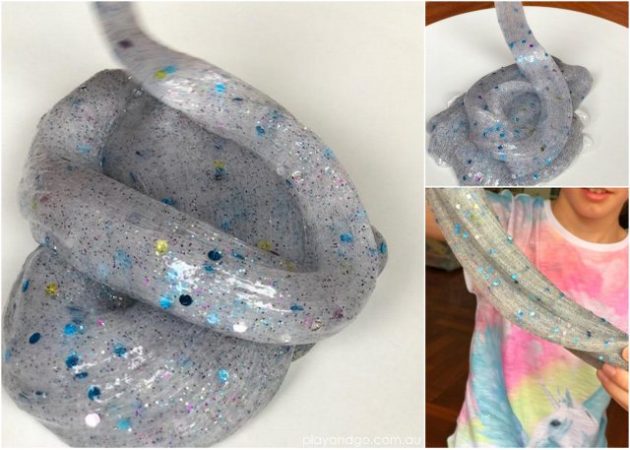 Slime Making Tips | What do all the ingredients do?
Borax Solution: to make this, mix 1 teaspoon of Borax with 1 cup of hot water and stir to combine. We put this liquid solution in a sauce bottle for easy dispensing and storing. Borax can be found in the laundry section of supermarkets. We like to store it in a sauce bottle pictured below. It makes it easy to pour onto a spoon or into your slime and you can keep unused solution in this for next time you need it. We can't stress enough how important it is to not add too much borax solution – too much of the stuff will make your slime rubbery and break when you pull it, instead of being nice and stretchy.
We've tried seventy five thousand and eight recipes using other ingredients but they just didn't work properly unless they included borax. Ok, that's a slight exaggeration but let's just say it's been MANY fails over the years and a LOT of goopy messes thrown out.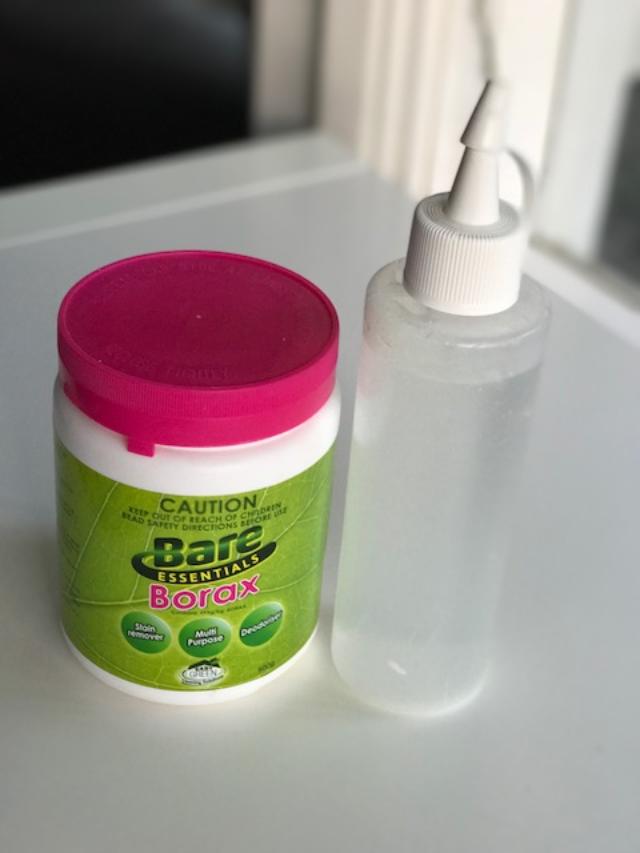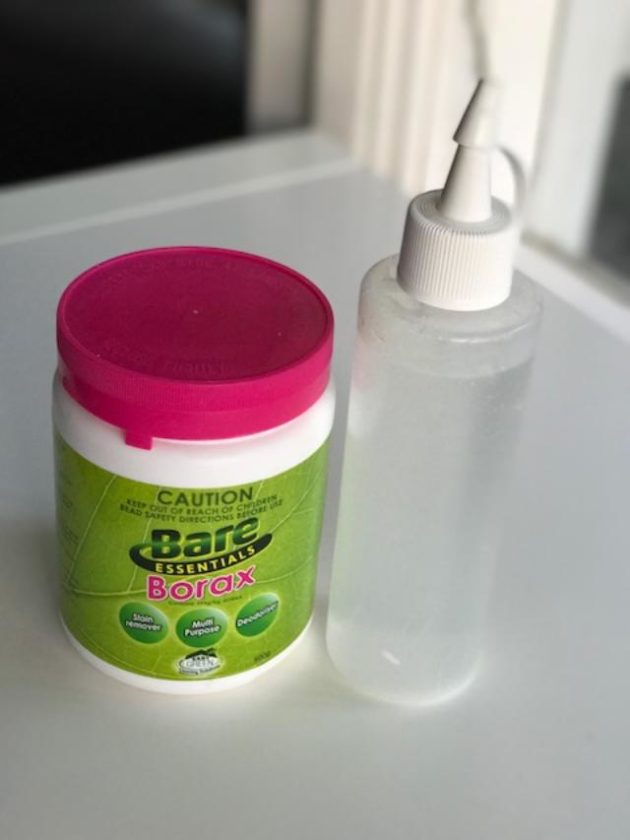 Tips when making white pva glue based slime:
We always buy the cheapest shaving foam, foaming hand soap and body lotion we can find. Whatever is on sale is fine.
Shaving foam makes the slime fluffy. Add more for fluffier slime, but not too much or your slime won't be stretchy.
Body lotion makes the slime stretchy. Add more for extra stretch.
Baby oil makes the slime less sticky so it doesn't stick to your hands as easily.
Cornflour makes the slime hold its shape.
For colour we use washable kid's paint instead of food colouring. We got ours below from Kmart. Unlike food colouring it doesn't stain your hands or surfaces. If you don't have this you can use food colouring but be aware it does stain hands and surfaces.
Don't put glitter into any slime made with the white pva glue. The glitter doesn't look glittery in this type of slime – it just looks like little dots and dirty. Save the glitter for your clear slimes.
Use vinegar, baking soda or toothpaste to remove any stains.
Use vinegar to remove slime from your hands if it's stuck to your fingers, or to dissolve from clothing and cleaning surfaces.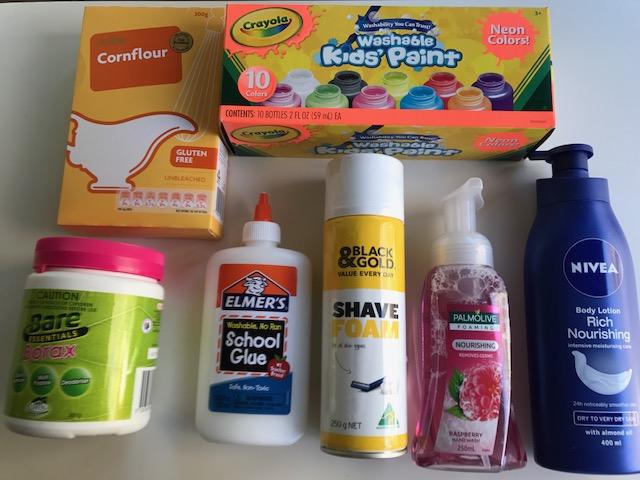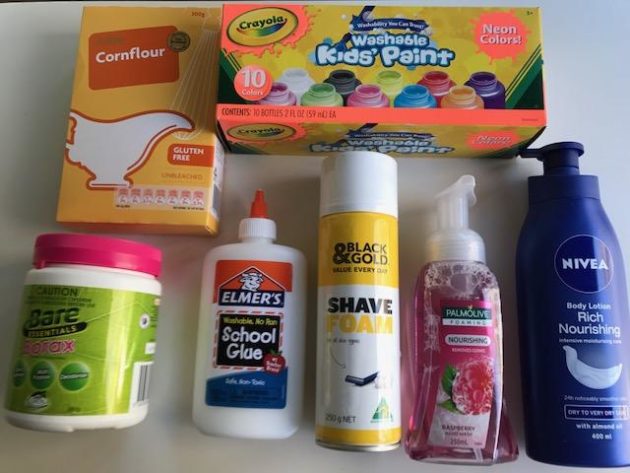 What to do if your slime is hard and rubbery?
If your slime has turned hard and rubbery and breaks off when you pull it rather than being stretchy, it means you have put too much Borax Solution. You may be able to save this by soaking it in a bowl of hot tap water. It depends on how rubbery it is how long you soak it for. After a few minutes, when the water has cooled down, try working the slime in the water to make it supple again. Sometimes you may have to repeat this a few times with warm water until it goes stretchy again. Some slime is beyond saving but we've had success with saving most of our slimes. Also by adding more lotion it will help it become stretchy again. Take the slime out of the water and add some lotion and work it into the slime.
What to do if your slime is too sticky?
Sometimes after your slime has been stored for a while you may find it goes sticky. Just pour a little bit of your Borax solution and work it in with your fingers to get it back to a nice consistency. Remember only to put a little bit at a time (1/4 to 1/2 a teaspoon at a time) – don't put too much or it will go hard and rubbery.
What to do if your clear slime doesn't look clear?
Often when you first make clear slime, it doesn't look very clear – tiny bubbles form and make it look murky. If you put it in an airtight container for 1 to 3 days it should become clear.
Will the Glitter stick to everything?
Glitter sticks to the slime and you will find that it doesn't make a mess everywhere. Once it's in the slime the glitter (mostly) doesn't actually stick to your hands or surfaces.
Storing Slime
We use plastic containers (like the round clear takeaway food ones), glass jars or zip lock bags to store slime. If you keep it air-tight it can last for ages – we have ours for weeks and weeks.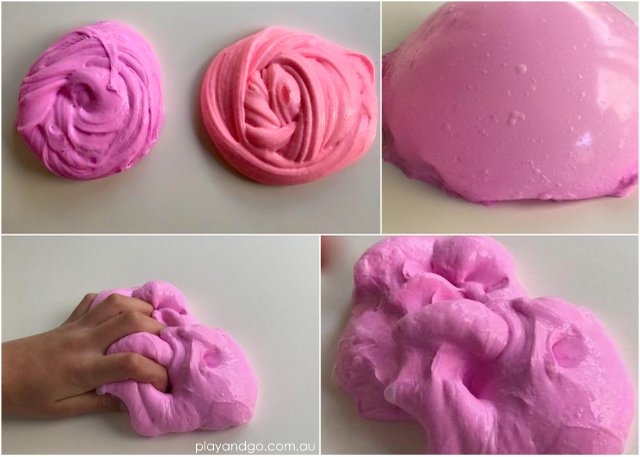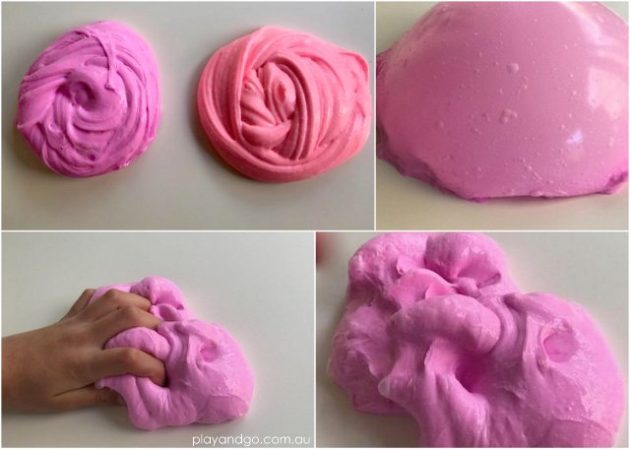 Where to get glue
Elmer's Glue is finally being stocked in several stores in Australia again. Pictured below is the range at Spotlight. We have also found Elmer's Glue at Coles and Woolworths too (during October & November 2017). However at all the stores it gets snapped up quickly and they often don't restock straight away.
Other glues we've had success with is J Burrows from Officeworks, Kmart's PVA glue and the one from The Reject Shop.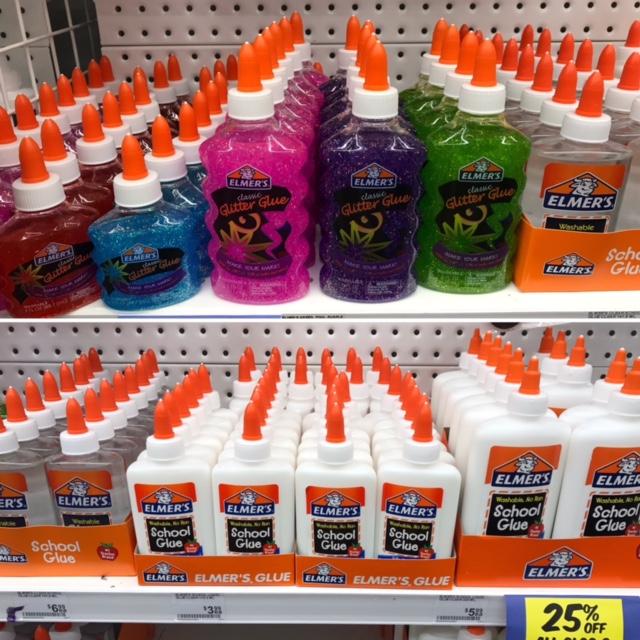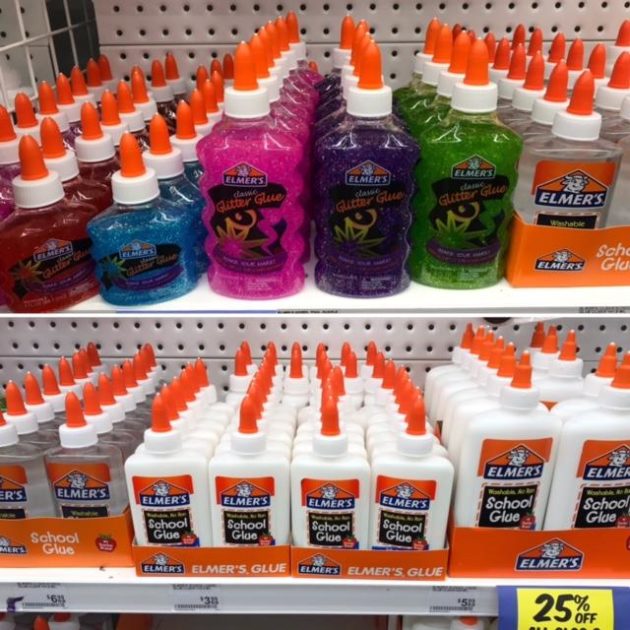 Important Notes About the Slime Ingredients
Borax can be found in the laundry aisle at supermarkets. Borax is a cleaning product and while the amount used is very small it must always be used with Adult supervision and caution.
This is something that you will have to decide for yourself if you are happy for your child to handle and play with slime using borax as an ingredient. Many of the slime shops recommend slime playing for ages 8 and up.
Always ensure hands are washed carefully after making or playing with slime. Also wash hands before playing with slime to keep the slime clean. Make sure children do not put it in their mouths. It is not to be ingested.
Borax is not classified to be carcinogenic and is known to not penetrate skin that well. It's classified as a 'mild skin irritant' though so please beware if you or your child is known to have skin reactions. The very small amount of borax used to make slime generally isn't enough to be toxic.
The science behind slime:
PVA glue has an ingredient called polyvinyl acetate, which is a liquid polymer. The borax links the polyvinyl acetate molecules to each other, which creates one large, flexible polymer, aka slime! Elmer's Glue seems to have the right amount of polymer that not all pva glues have.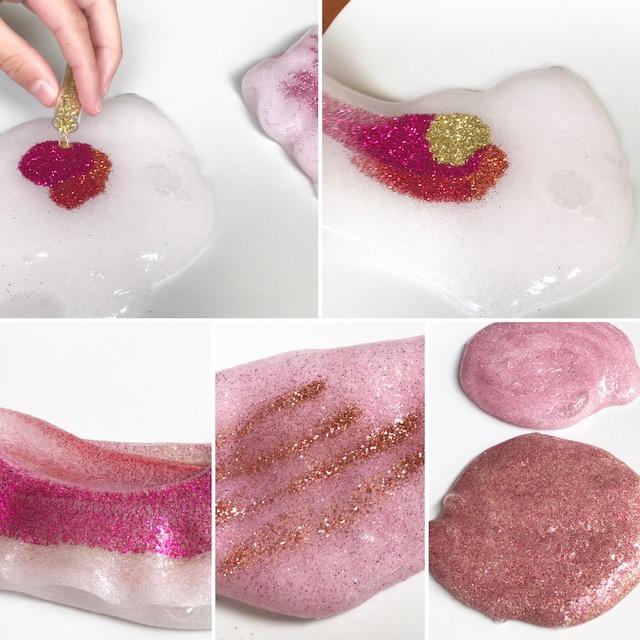 ---
At Play & Go Adelaide we make every effort to provide accurate information to the best of our knowledge at the time of publication.
Image Source: All photos by Play & Go Adelaide
SUBSCRIBE
Want to get all the latest events and activities straight to your inbox?
Subscribe to our weekly email newsletter below to keep up to date with our latest posts and find out all the best events & activities for Adelaide families. Newsletters are only sent once a week, and you may sometimes get a special offer exclusively for our subscribers only!