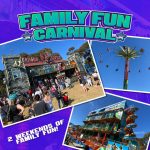 [ October 28, 2021 to October 31, 2021. November 4, 2021 to November 7, 2021. ]
Family Fun Carnival in Elizabeth
Over two weekends the Family Fun Carnival will be at Ridley Reserve in Elizabeth.
On the last weekend in October and first weekend in November (Thursday to Sunday) the Family Fun Carnival will have rides for the entire family, sideshow games and a variety of show food available. Entry is free.
Rides will include […]