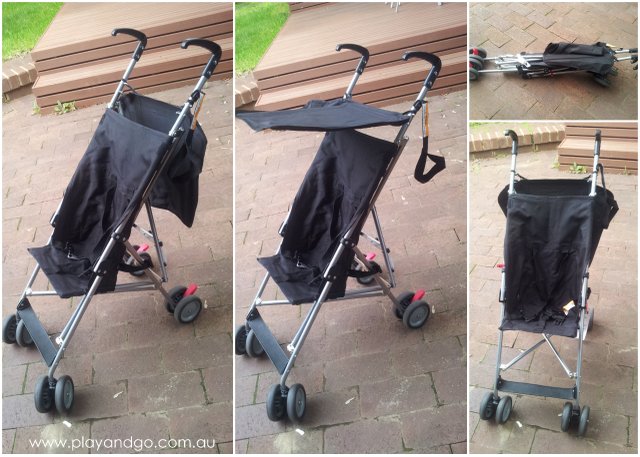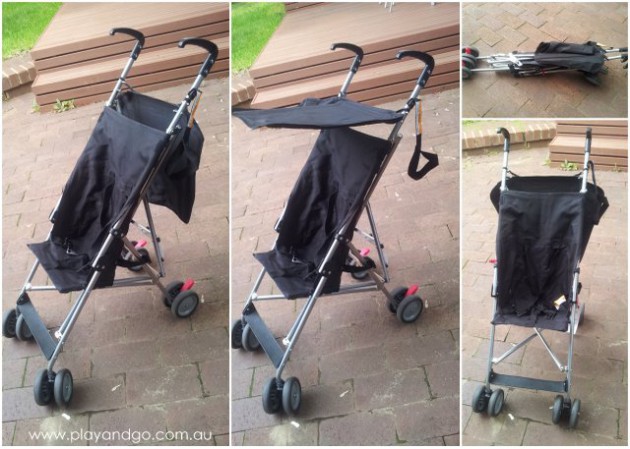 On a recent holiday, I discovered the best thing we took with us, is this simple stroller. A bargain at $19 from Kmart it was just perfect for travelling. It's light and compact when folded. We could take it right up to the boarding gate, just before we boarded the plane. They put it into either the oversize baggage or the normal baggage pick up area (it's too big for carry on).
It's simple but has everything you need – easy to use brakes, a safety strap, a sun shade and hook handles which you can hang bags on. Perfect for sightseeing where you can hang a bag of drink bottles and snacks (they get heavy carrying them all day); a camera bag; and any shopping you might do. It's quite sturdy for a light stroller but of course, if you put too many heavy things it will tip so be careful of this.
It doesn't recline though so perhaps not great for little ones who need to nap a lot still. Perfect for kids who can generally walk quite a bit but may get tired if there is a lot of walking involved. On days when we were out from breakfast til late after dinner seeing tourist attractions, it was so handy when little legs got tired. It saved a few piggy backs – or at least only one child needed a piggy back. At times we even had our 9 year old and 5 year old both sitting in it, the little one sitting on the other's lap (note: my kids are on the small side  but I'm sure it's not designed for this and I don't actually recommend it for safety reasons).
It's light enough that if you come to stairs it's easy to just lift it, and it actually looks pretty good too. The only major negative is that the handles for pushing the stroller are not that high so tall people may not find it so comfortable to push. Apart from that it's the best $19 spent on the holiday! And if it does get damaged or lost, it's not heartbreaking at that price. We saw several other families with the same stroller – Snap! Would be perfect for school pick up too.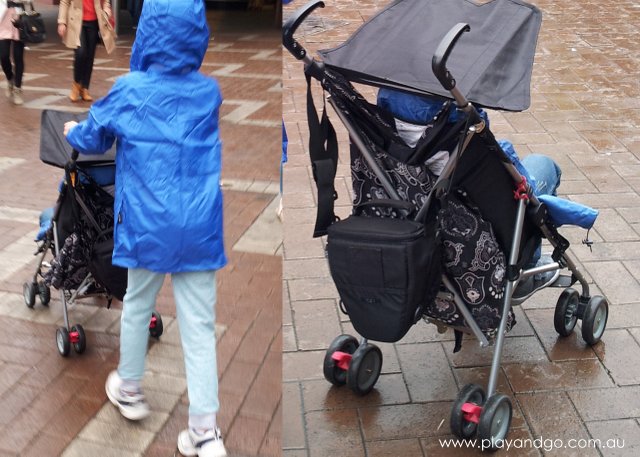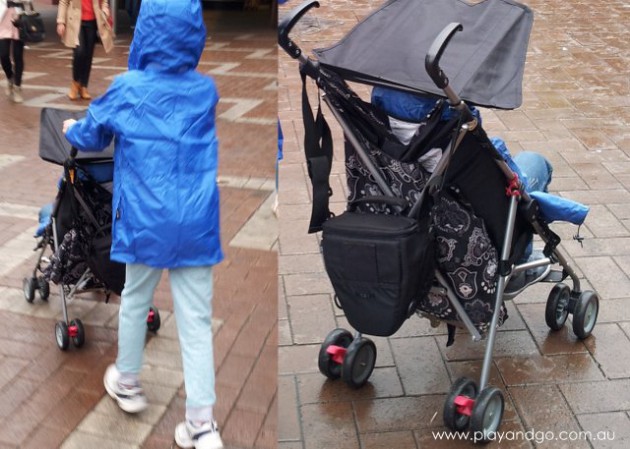 Please note: This is not a sponsored post, we don't own shares in Kmart and they are not an advertiser on Play & Go. I am simply sharing this little find because I loved it so much and thought it might be handy for other families when travelling.