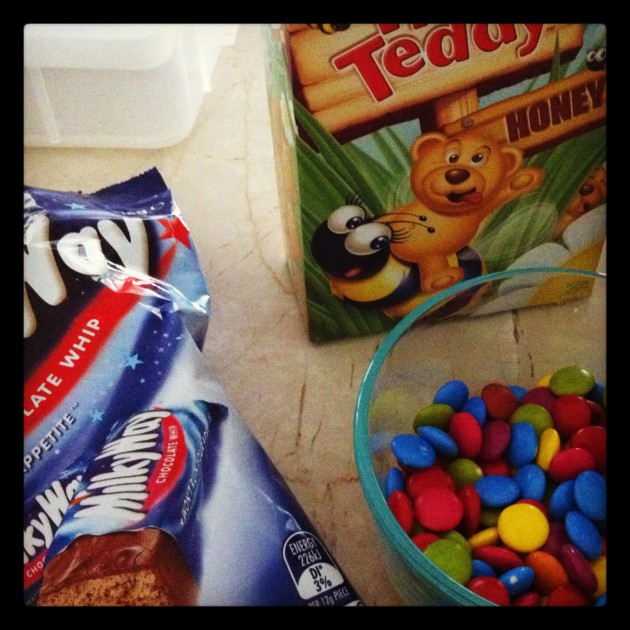 These little cars are always such a hit at parties.  They are super easy to make, use minimal ingredients and are perfect for both boys and girls.
What you will need:
Fun Size Milky Way Pack (Large 336gm has 28 bars)
Chocolate (to melt)
100gm Tiny Teddy Biscuits (Honey flavour pictured, or any flavour you like)
Smarties (Family Size Bag 340gm)
Preparation:
To make 24 little cars –
Sort smarties into colour groups of 4 or 5* of each colour (*steering wheel colours can either match or contrast with wheel colours).
Cut 12 Smarties in half with a sharp knife (to use for steering wheels). They also look fine without steering wheels if you prefer.
Cut 24 Tiny Teddies in half at the belly button using a sharp knife.
Remove wrappers from Milky Ways.
What to do:
Melt chocolate and place in a snap lock bag; snip off a very small corner.
Squeeze a small amount of chocolate onto each Smartie and adhere to sides of each Milky Way to represent the car wheels.
Squeeze enough melted chocolate on to the top (in the middle) of each Milky Way and stick down the Teddy Bear 'driver'.
Squeeze a small amount of chocolate in front of each 'driver' to keep the steering wheel in place.
Teddy Bear Cars can be displayed numerous ways – lined up on a serving tray, placed one behind the other around a cake stand 'track', decorate the top of a large cake or as cupcake toppers.
Variations – you can use snack size Mars Bars instead of Milky Way bars, or M&M's instead of Smarties. You can select the colour of your Smarties to match your party colour theme too.
You can also just push the Tiny Teddies into the Milky Way bars without cutting them in half, but the Milky Way does break up and doesn't look quite as neat.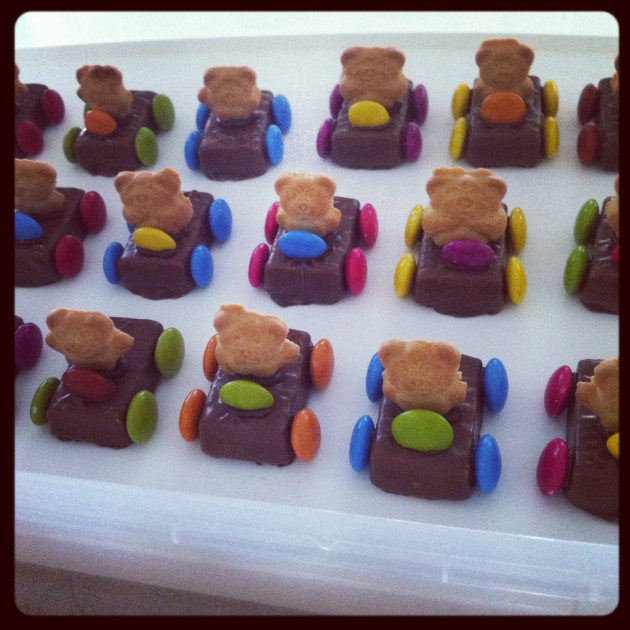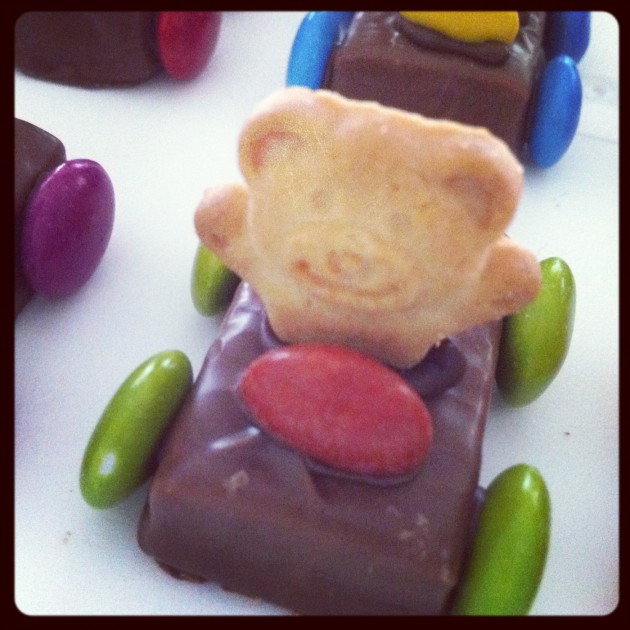 Below are ones made by sticking the Tiny Teddy into the car whole, without cutting the legs off and without steering wheels, which is a quicker version.