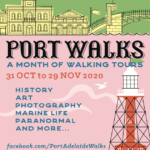 [ October 31, 2020 to November 29, 2020. ]
Port Walks – A Month of Walking Tours
Port Adelaide Guide is happy to present a festival of walking tours, Port Walks. They have a fantastic program of guided walks lined up highlighting Port Adelaide's rich history, unique environment, diverse culture, and ongoing tradition of folklore and storytelling.
There are a variety of different tours to choose […]