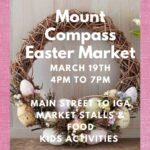 [ March 19, 2021; ]
Mount Compass Easter Twilight Markets
Mount Compass Community Markets are held during Christmas time and Easter.
This year the Easter market will be held on Friday 19 March 2021 (two weeks before Easter). The market will feature local stores and produce and there will also be a BBQ and kids activities.
The market is held on the main […]