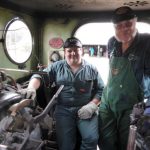 [ May 15, 2021 to May 16, 2021. ]
National Railway Museum History Festival
Celebrate the annual SA History Festival – Behind Closed Doors.
There will be drivers experiences on steam locomotive Peronne and Bluebird railcar Kestrel, various carriages (not usually open) ready for tours. Plus, the 1940s Cafe car will be open, as well as Dave's catering van.
Various carriages and areas, not usually accessible to […]