Adelaide Zoo's A to Zoo Program – Review
Adelaide Zoo's A to Zoo program is designed for children aged 2 -4 years and their parents/caregivers. It aims to deliver a high quality preschool programme which fosters a love of learning and an appreciation for the natural world. Each week children learn about a different zoo animal through craft, stories and songs, and a focused animal exhibit visit.
What is A to Zoo?
A to Zoo consists of one 45 minute session per week, for eight weeks
There are sessions available Monday through to Friday at 9.40am, 10.35am and 11.30am
All sessions are suitable for 2 to 4 year olds, although older participants are encouraged to attend the 11.30am session
There is a different animal to discover each week and a new theme each Term
The $80 A to Zoo program fee includes all of the sessions for the full 8 weeks, however does not include Zoo entry. Zoos SA Members and children under the age of 4 enter the Zoo for free.
The A to Zoo session
Our guide Naomi met our group outside the zoo entrance to welcome us all and to give us a quick briefing about how the session would be run and to give us some basic ground rules.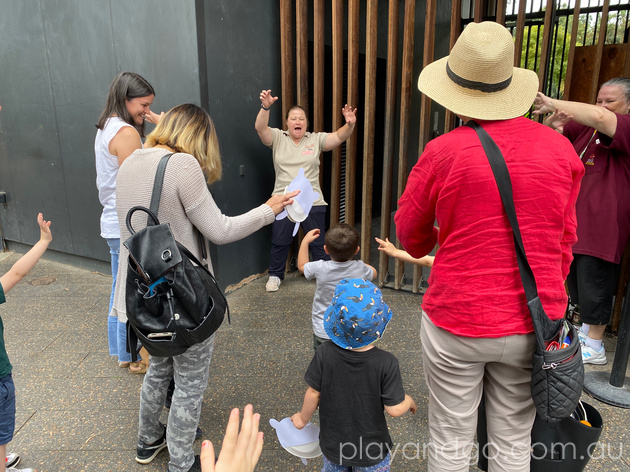 Naomi clearly enjoyed interacting with the children and making sure they were having fun. She was warm and engaging, and had a good repertoire of animal noises. She was even able to open the gate to the zoo with some magic skills!
We then followed Naomi, through to the education room where we would spend most of the session. Children were invited to put on name tags and then sit on the green carpet (there's also seating for parents/caregivers around the edge of the carpet) and find out what this week's animal was going to be.
Me, to my little person:

"What are your favourite animals to visit at Adelaide Zoo?"

My little person:

"I like lions. I like monkeys. I also like tigers. I like hippopotamases a lot'.
So imagine her delight when we discovered that the animal of the week was the hippopotamus.

Adelaide Zoo's Got Talent
Naomi started the session by asking the children what they thought was so special about a hippo. She then gave us some fun facts about hippos:
Did you know that a hippo weighs the same as your car?
Brutus the Nile hippo is the heaviest animal in Adelaide Zoo
There's also another hippo at the zoo which is a pygmy hippopotamus called Obi
Pygmy means small
What do hippos eat?
The children were asked what they thought hippos might like to eat – to which they replied "hay and grass" – and Naomi added that Brutus once was also presented with a watermelon, rock melon and dew melon cake which he ate with gusto.
Do hippopotamuses have teeth? asked Naomi.
She then showed the children a great big long sharp canine tooth, which got a good reaction from the crowd, and resulted in lots of little hands reaching out to touch the hippo's tooth.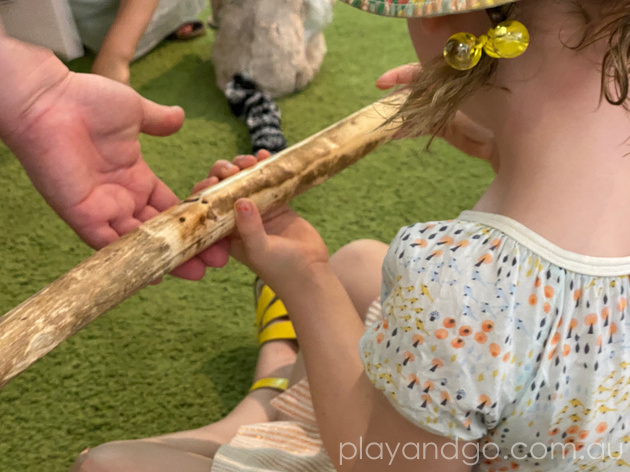 Naomi asked the children why if Brutus the hippo is a vegetarian would he need a tooth like this to eat his food. [Lots of puzzled faces.]
I had not given this much thought myself and was interested to find out why.
Naomi: What does a lion do when they're grumpy?
[Lots of enthusiastic lion roars from the audience.]
Naomi: I wonder what a hippo would do when they're grumpy?
Naomi: Did you know a hippo yawns when they're grumpy?
[Lots of wide open yawning faces and also still some lion roars.]
Naomi: They show their big teeth to warn all the other animals to stay away
Naomi: "that's a really special talent don't you think? "
Naomi: Did you know that their eyes their nose and their ears are all on top of their head? This keeps them protected as most of their body is under water, and it also means that when sun shines bright a lot of their skin is covered by water.
Medal ceremony
Each week the children take turns to choose a medal and present it to the animal of the week.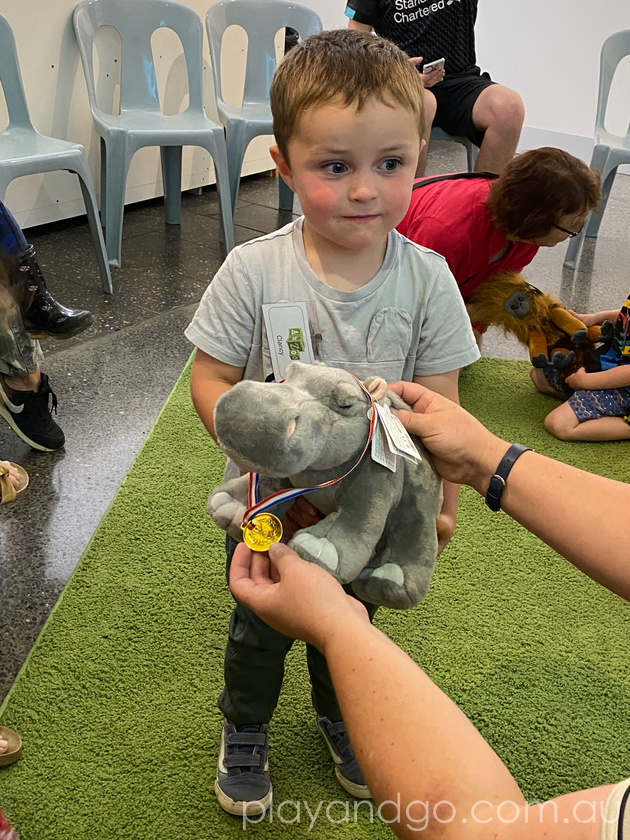 Song time
Next it was time for a song "Mud, mud glorious mud" and the children were invited to put mud on themselves as if they were putting on sunblock – which they all seemed to enjoy.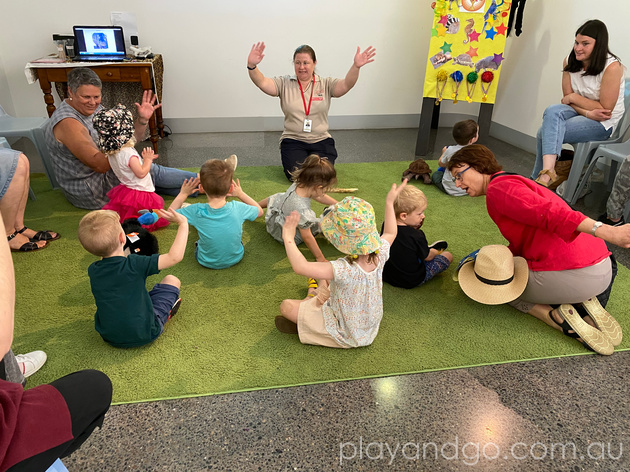 Story time
This week's hippo-related story was "There's a hippopotamus on our roof eating cake" by Hazel Edwards. It's one of our favourites and it was a hit with the children. (It's also ranked at 36 on the 2019 Dymock's Top 51 Books for Kids) (for more great book ideas you might like to check out Play & Go's list of top books for kids of all ages)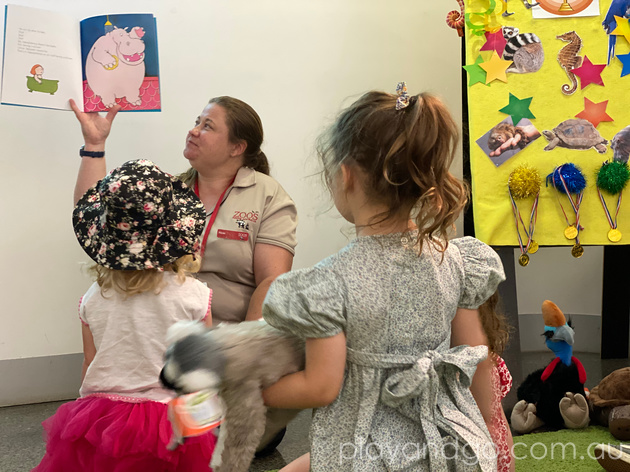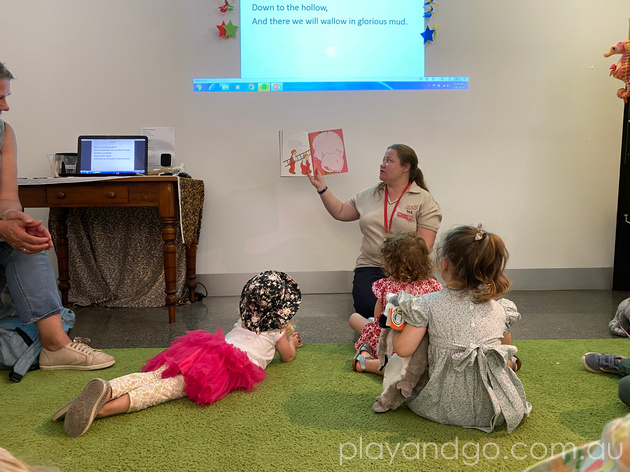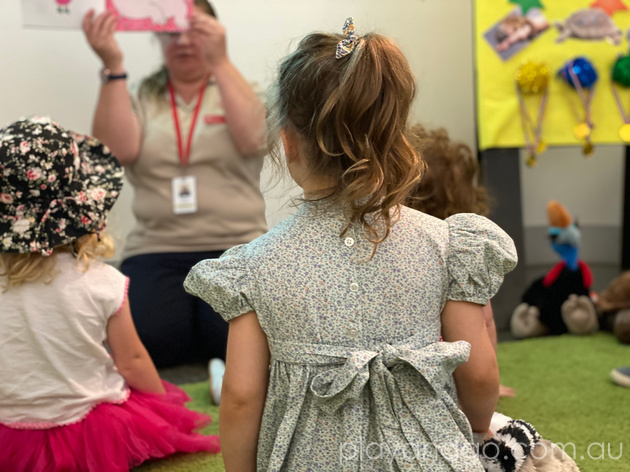 Craft time
Each week at A to Zoo the children get to engage in a craft activity related to the animal of the week. These craft projects are "mostly done" ahead of time by a group of willing volunteers who make about 2000 each term.
All that the children need to do is to add the finishing touches. Quick and easy!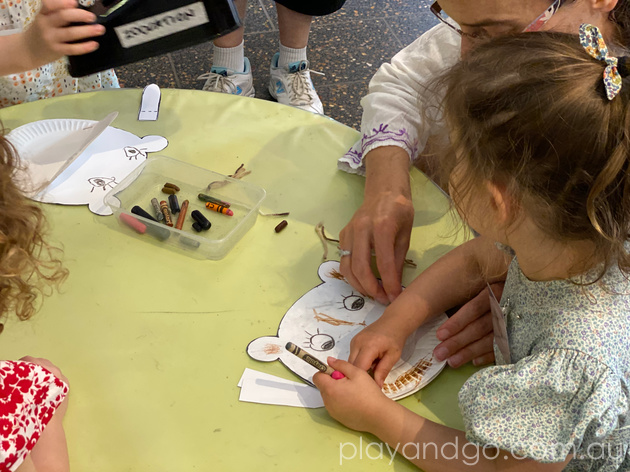 The children were given crayons and sticky tape which they used to finish making a hippo's face from paper plates. All they needed to do was draw the eyes, colour in the mouth, stick on some whiskers and teeth and they were done. Instant hippo!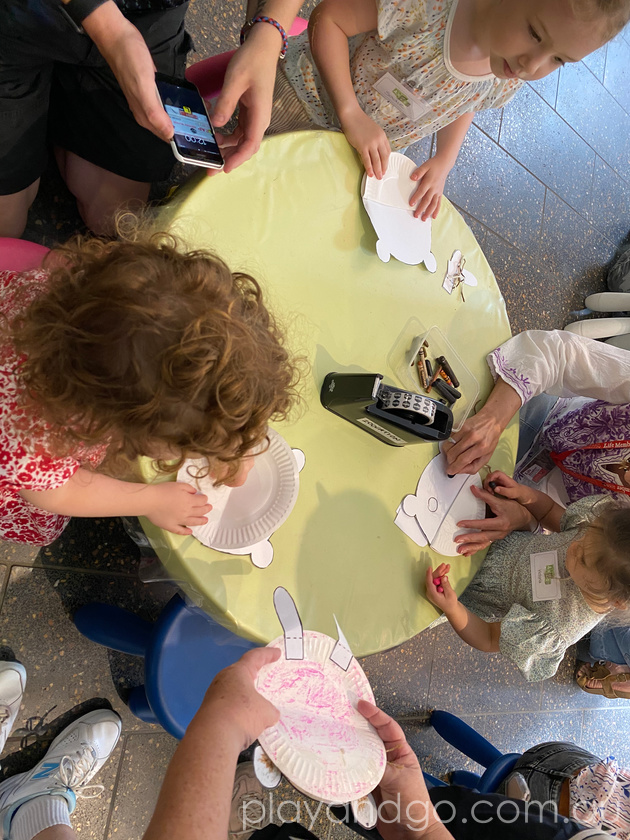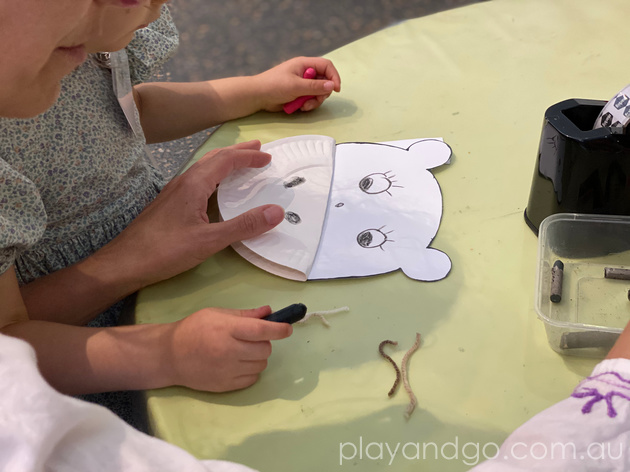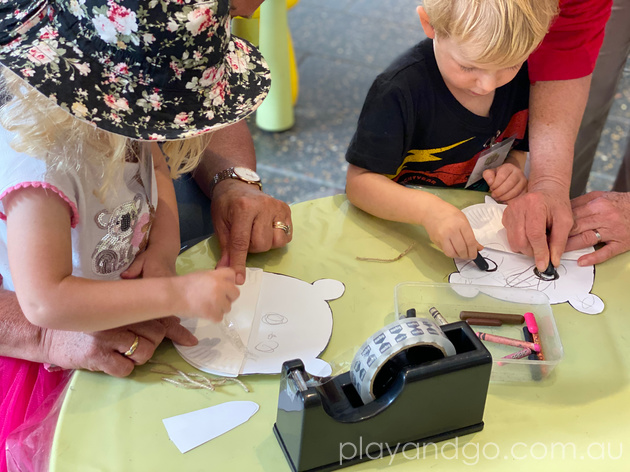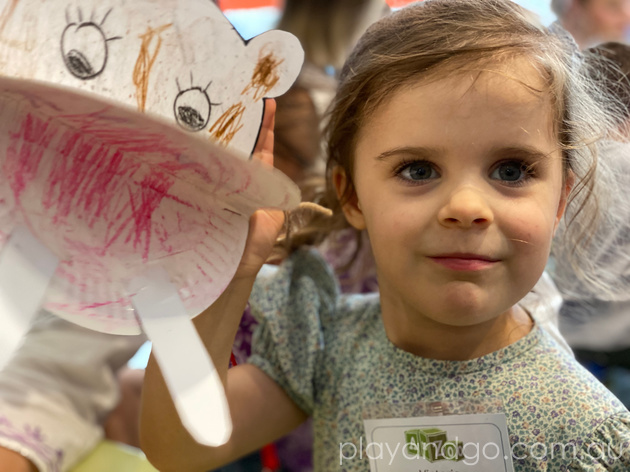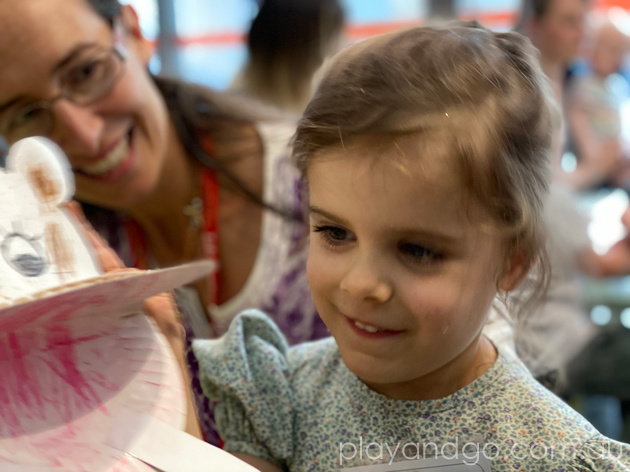 Visiting the hippos
Craft time over, we made our way to visit the hippos.
It was very cute seeing the children comparing their own hippo face creations to the actual real live hippos in the enclosures. We visited Brutus the Nile hippo and then the pygmy hippo, Obi.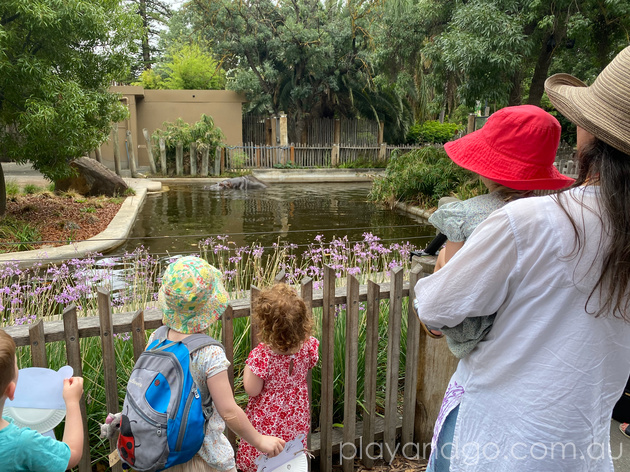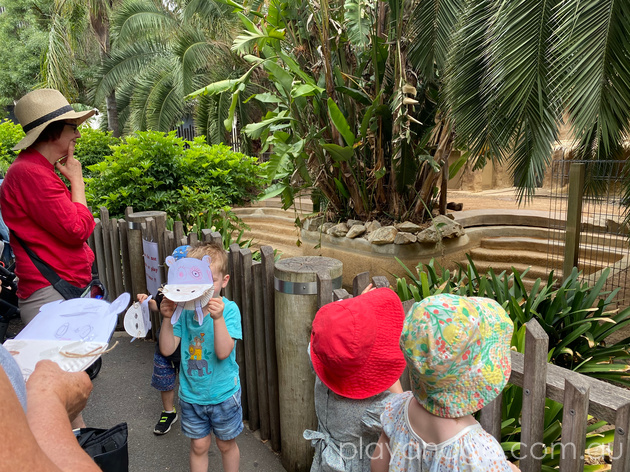 Our guide asked the children if they could see some of the things that we'd talked about in the classroom eg the eyes and nostrils on top of the hippo's heads.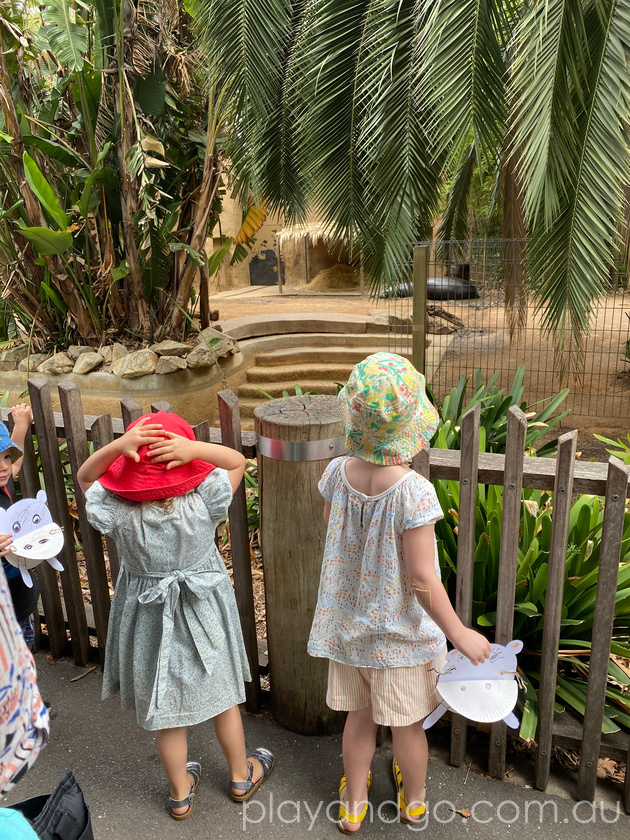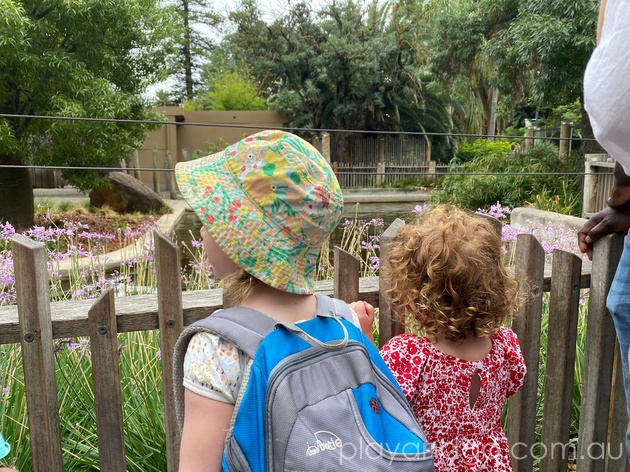 She also explained some more about the hippo's behaviour eg that Brutus swims in his own poo to deter other animals. From my experience most preschoolers think poo is really gross/funny so I suspect this will be one fact that they all remember.
Then it was time to say goodbye until next week.
A to Zoo session: things to know
There's no tea or coffee allowed inside the education room – get your caffeine fix before the session starts
Children are not allowed to eat while sitting on the carpet – we had a quick snack at the zoo entrance when we first arrived and a pit-stop after the session finished
There are toilet and baby change facilities just outside of the education room
On our way to visit the hippos we were asked to keep children close at hand and not let them run ahead. It was a quick and easy walk to the hippo enclosures, but I'm guessing that sometimes there might be a longer walk and that smaller children might enjoy the comfort of a pram-ride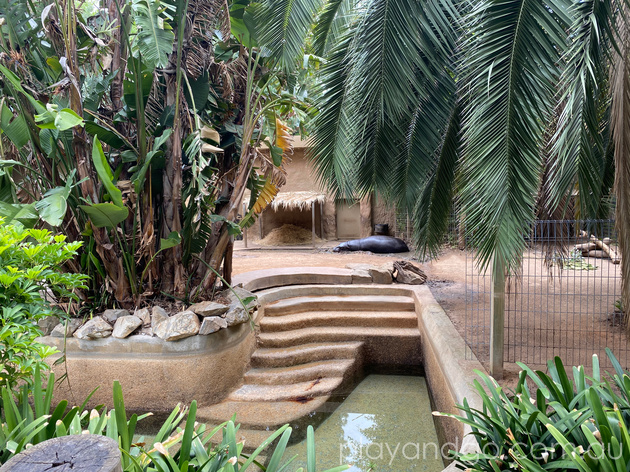 What my little person thought about our A to Zoo session
She had a fun morning and was full of chat on the way home about the hippos. It was interesting to see how much information she took away from the A to Zoo session about the special adaptations of the hippo that enable it to thrive in its habitat. For instance:
Pygmy means small not a baby hippo. The pygmy hippo has a beautiful garden.

Hippos eat grass and hippos have long teeth.

Their eyes and their ears and their nostrils are on the top of their head because keeping their bodies under the water keeps them cool.

The male hippos are all by themselves and the lady hippos they're in a group to keep the females safe.

He poos in his water to say this is my water and don't go in it or you'll get poo on you

I liked high fiving after the craft activity and the mud song where we put mud on ourselves like sunblock and when they put the medal on the hippo

It was like going to kindy because we did craft and we read a story.
I could see how the A to Zoo sessions could help spark children's interest in conservation. Our guide said that she hoped the sessions would create beautiful memories that kids will remember for the rest of their lives, and hopefully they will. One of the mums we spoke to said that her child was given the A to Zoo sessions as a present by a family member – we think this is a lovely idea.
The next block of A to Zoo sessions starts 24 May 2020 (as at time of writing).
After the session, it's always fun to go for a play in the Nature's Playground.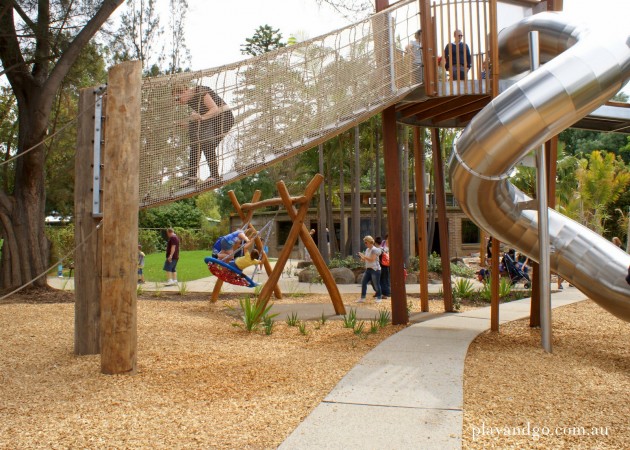 This review was written and photographed by Susannah Marks. Originally from New Zealand, she now calls Adelaide home and loves getting out and about and exploring all the fabulous things for families to do in Adelaide. See her blog

Seesaws & Cellar Doors

for more of her work.
---
For more information and all enquiries please visit Adelaide Zoo website.
What: A to Zoo Program – Review
When: Each school term
Where: Adelaide Zoo | Frome Road, Adelaide
Who: Children aged 2-4 years and their caregivers
At Play & Go Adelaide we make every effort to provide accurate information to the best of our knowledge at the time of publication. We recommend confirming times, dates and details directly before making any plans as details may be subject to change.
As per all our Play & Go reviews, this is not a sponsored post and our review is done completely independently. All photos are by Susannah Marks for Play & Go. See her blog Seesaws & Cellar Doors for more of her photographs.

Want to get all the latest events and activities straight to your inbox?



Subscribe to our weekly email newsletter below to keep up to date with our latest posts and find out what's on, where to go and what to do with the kids in and around Adelaide. Newsletters are only sent once a week, and you may even get the odd 'special offer' exclusively sent to our newsletter subscribers only!