The

National Pharmacies Christmas Pageant will

once again bring the magic, wonder and excitement of Christmas to Adelaide's city streets on 4 November 2023 in a spectacular parade. Favourite floats like Stardust Castle, Nipper and Nimble and Father Christmas along with dancers, bands and roving entertainers will delight families in this free community event.
South Australia will celebrate the 91st year of the National Pharmacies Christmas Pageant on Saturday 4 November 2023, one week earlier than the traditional time-slot of the second Saturday in November to allow for Remembrance Day to be observed.
After attracting more than 240,000 people to the streets of Adelaide in 2022, Minister for Tourism Zoe Bettison said children and families across the state can now mark their calendars and get excited about this wonderful festive tradition.
"The National Pharmacies Christmas Pageant is a fabulous celebration for so many South Australians and a great event on the state's calendar," said Minister Bettison.

"Not only is the Pageant the Southern Hemisphere's largest public parade and the official start of the festive season in South Australia, it brings tens of thousands of people into the city, encouraging them to spend the day sightseeing, eating at a local café or doing some Christmas shopping."
Pageant Director, Brian Gilbertson can't wait to spread Christmas cheer to the people of South Australia this November.
"This is the fourth time in history that the National Pharmacies Christmas Pageant has moved to a different date – it is important that we can all pay our respects on Remembrance Day," said Mr Gilbertson.

"After the success of the 2022 National Pharmacies Christmas Pageant and its return to the streets of Adelaide for the first time since the pandemic, I am pleased to announce this year's date and work toward delivering the biggest Pageant yet. The team at Stardust Castle have already started working on some exciting surprises – I can't wait to share what we have in store."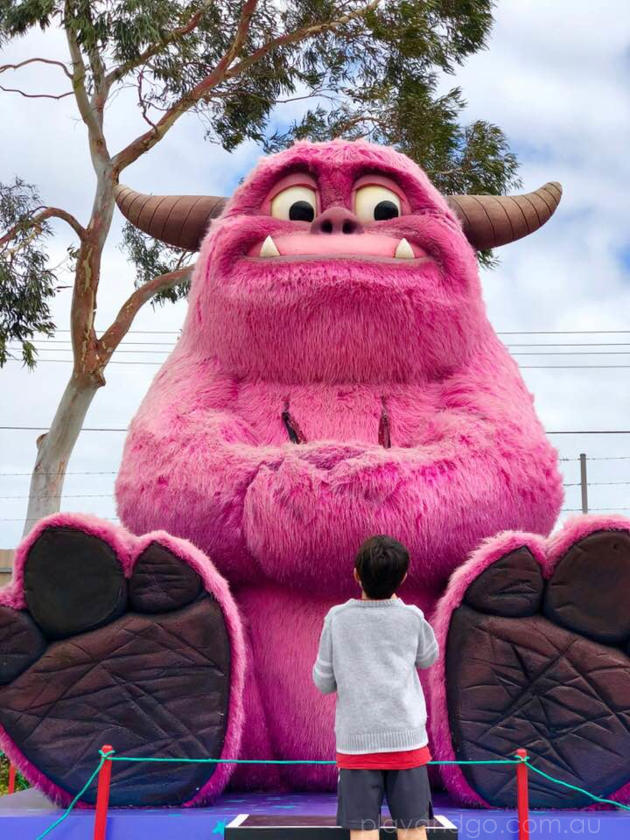 2023 FLOATS
In total, 170 moving theatrical sets, more than 20 dance groups and over 300 clowns and elves will make for a joyful return of the National Pharmacies Christmas Pageant, along with over 80 colourful, magical and wonderful floats to delight all ages. You can read a description of each float here, including the year each float made its debut, or view the full list of floats in numerical order via the link below.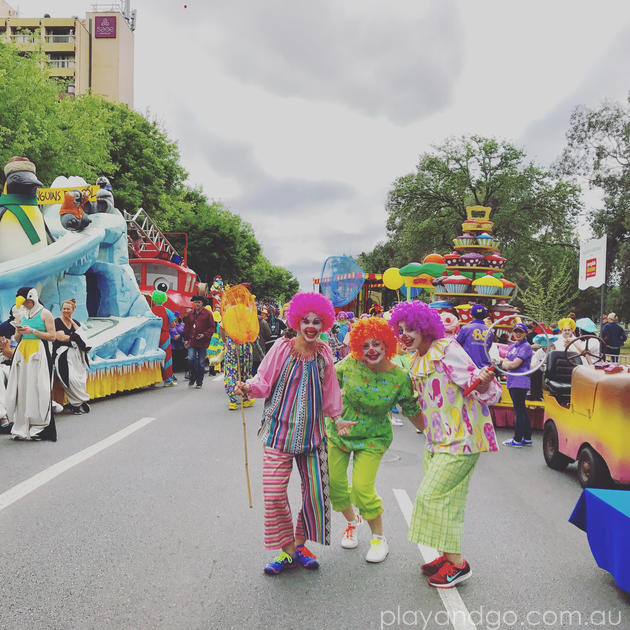 Getting to the Pageant:
South Australians will enjoy free travel on all Adelaide Metro bus, train and tram services to and from this year's National Pharmacies Christmas Pageant, as the iconic event celebrates its 91st birthday.
2023 ROUTE MAP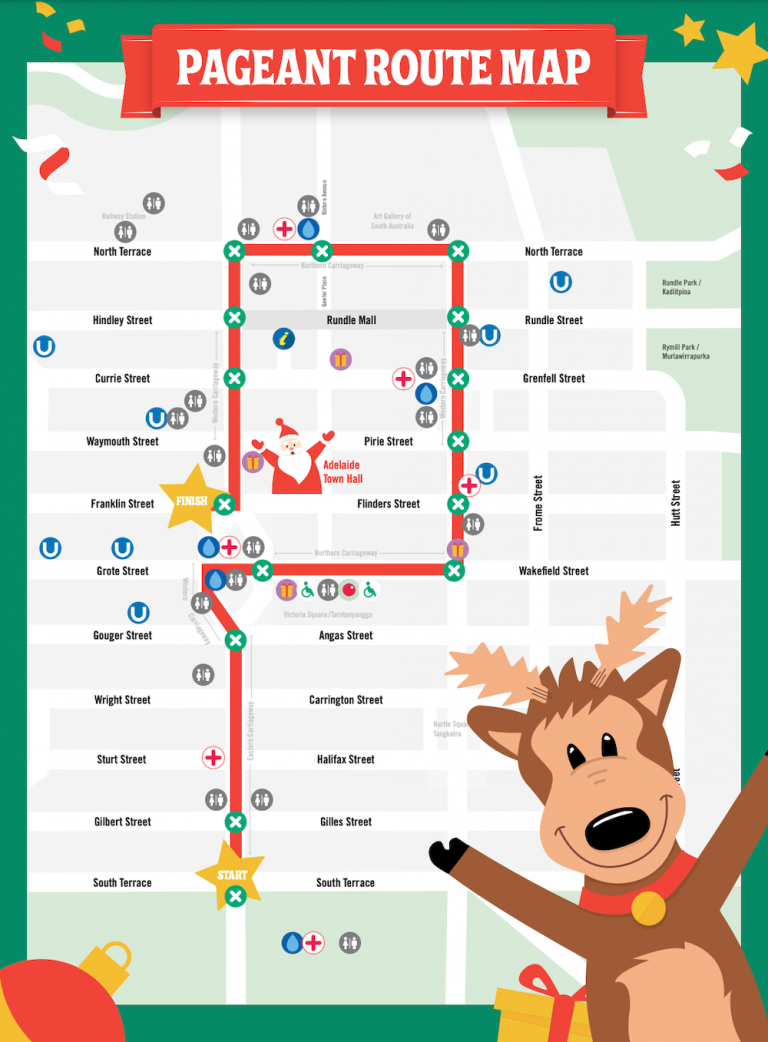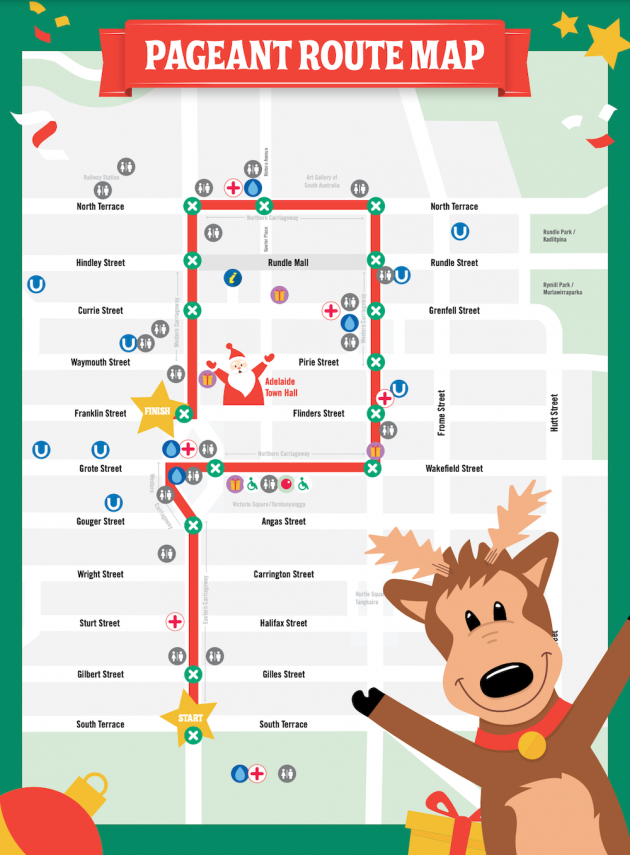 ---
Play & Go's Pageant Tips!
ARRIVE EARLY
For a good spot along the pageant route, be sure someone from your family or friend group arrives EXTRA early to set up – lay out a blanket and low chairs etc. Pick a spot in the shade if it looks like being a hot morning. Whoever volunteers for this job can bring the paper and a coffee to relax while they wait as the crowd steadily grows. There are cafes nearby all selling coffee and breakfast. How early you ask? Well…often by 6am the 'front row' along the blue line is already reserved. Having volunteers go early means you can take the kids in a bit later so there is less waiting time for them. If you are in the front row, try to only have rugs there and not chairs, so people behind get to see as well.
CHALK
Take along lots of sidewalk chalk to keep the kids occupied while they wait for the pageant to start. – the large, chunky sticks are best!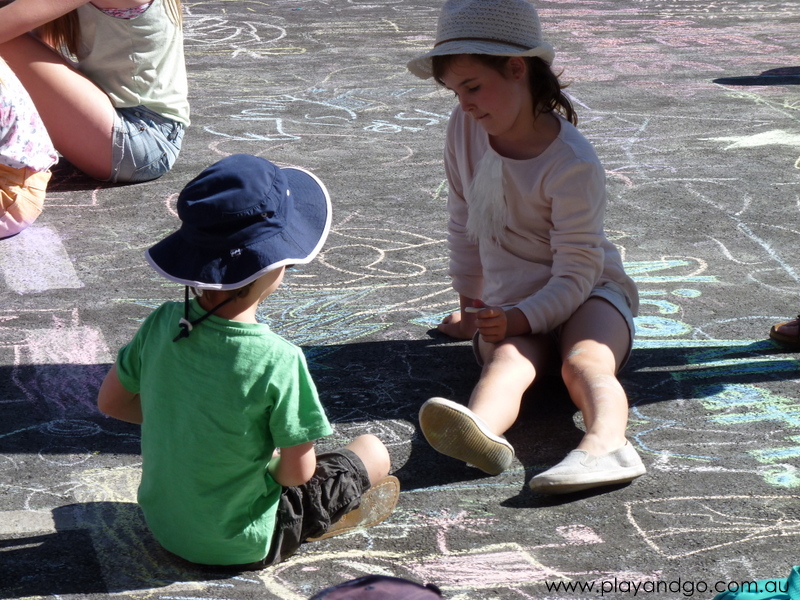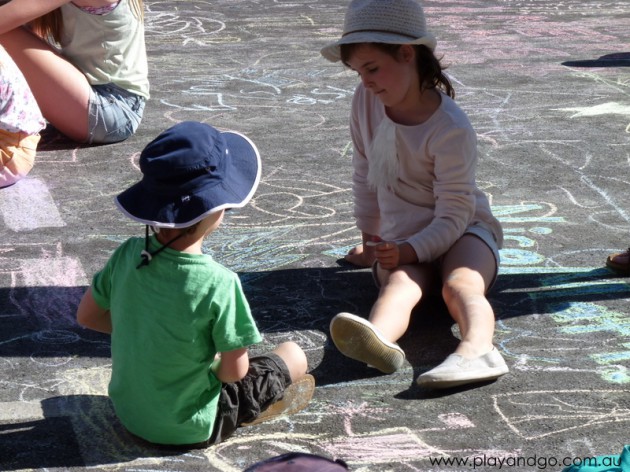 Drinks and Snacks
Pack a mini-hamper as there's nothing worse than hungry or thirsty children in a large crowd with the closest shop too far (and too hard) to walk to! Take along refillable water bottles – there are SA Water stations where you can re-fill your bottles for free.
Mobile Phone Number
Write your mobile number on your child's wrist or arm in case they get lost and take a photo of them in the morning before you leave home.
Hats and Sunscreen
If the sun is shining on pageant morning don't forget these items, along with sunglasses!
Wet Weather Gear
If it looks like there might be rain, bring umbrellas, but only use them until the Pageant starts. When the Pageant is on, try not to use umbrellas so that people behind you can see. This is where hooded rain jackets are the best – just the cheap $2 ones do the trick. Most kids don't mind getting a bit wet. Bring spare clothes for the kids to change into afterwards if necessary.
Catch Public Transport
Our kids love to catch the bus into town for the pageant – it adds to the excitement and can be easier than taking ages to get out of a car park and fighting traffic after. PLUS IT IS FREE! If you do want to drive, some of the U-Park car parks and others near the Pageant have a special flat rate offer on the day.
Stay for Lunch in the City
If your kids aren't too tired and don't need naps anymore, consider staying in town for lunch until the crowds dissipate and the traffic gets back to normal. You can enjoy a packed lunch in the Hindmarsh Square interactive play space or go to one of the food courts in Rundle Mall (City Cross, David Jones, Myer or Rundle Place). They all have a good food selection and it's often not as busy as you think because most people rush out of the city straight after the Pageant finishes. You could also share a pizza at one of the great cafes along Rundle Street too.
You could also get in early and see Father Christmas after the Pageant at Myer.
What NOT to bring
You should NOT bring deck chairs, umbrellas or ladders.
Find more pageant day tips here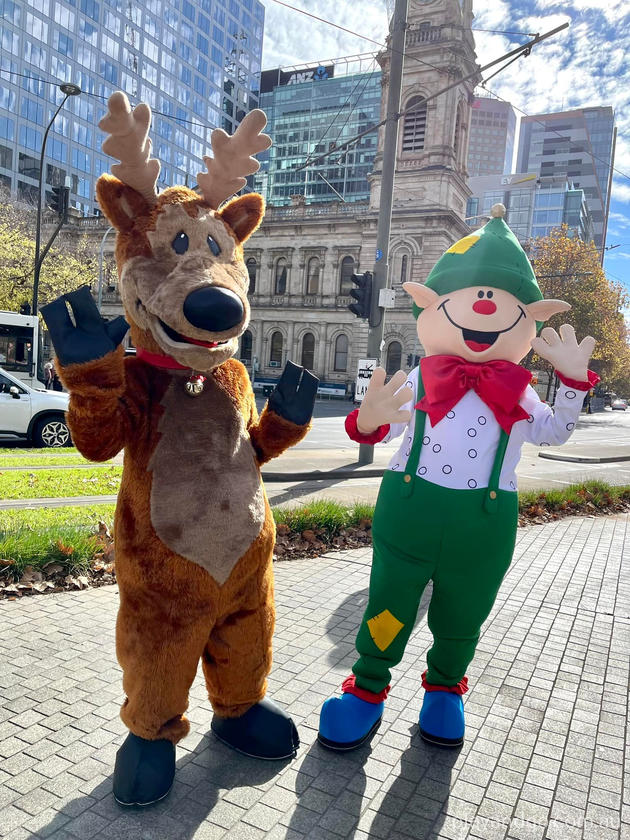 ---
Fun Pageant Facts!
From humble beginnings in 1933, the National Pharmacies Christmas Pageant has been shared by generations of Australians for 87 years.
On average, the Christmas Pageant features:
170 moving sets
260 clowns
66 floats
21 dance groups
15 bands
Five walking sets
Three choirs
One DJ
The first Pageant was held in 1933.
More than 120 talented makeup artists are set to apply make-up to more than 1000 characters between 6.30am and 9am on Pageant day.
It takes 15 trucks to transport costumes, shapes, heads, bikes and props to Pulteney Grammar School, the starting point, the day before the Pageant.
It takes more than 240 boxes of tissues and 70 jars of make-up remover to remove all character make up.
From the week after the Pageant until Christmas Eve, well over 3,000 costume pieces are washed, ironed and placed in plastic bags for storage ready for the next year.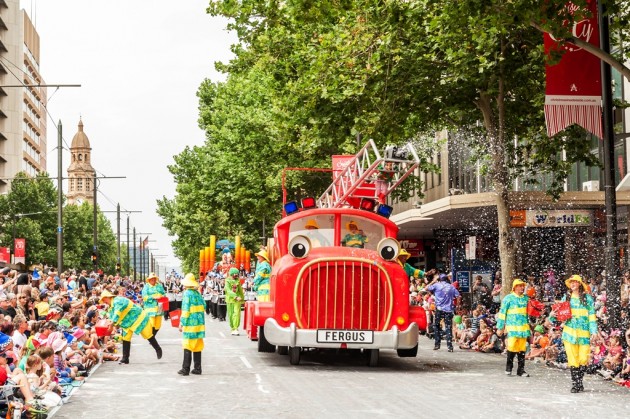 History
In 1896, Mr Edward Waterfield Hayward – then owner of the John Martin & Company Limited, established the 'Magic Cave'. It was a Christmas fantasy world, to support children's cultural heritage and provide a joyful community Christmas experience.
The Christmas Pageant escorted Father Christmas to the Magic Cave. Created by Sir Edward Hayward (Mr Bill), who was the grandson of Mr E. W. Hayward; the Pageant featured approximately eight floats, four bands and ran for around 40 minutes. 200,000 spectators came to watch the Pageant.
The Pageant encouraged the development of artists, with a team of artists, carpenters, wardrobe designers and mechanics all involved in the Pageant.
Father Christmas
Father Christmas continues his special relationship with South Australia since appearing in the first Pageant in 1933. Father Christmas loves the way South Australian children are so well behaved. He loves to see the smiles on their faces and returns every year. This is one event he would not miss for the world.
Father Christmas stands on a sleigh atop his float in his shiny red suit waving to the crowd, accompanied by his eight majestic reindeer standing at the ready on a specially made ice landing glacier. As the float passes by you can feel the cold. Father Christmas feels very much at home even though the day may be hot. It is always awe inspiring to see Father Christmas escorted in grand style by the Pageant Queen.
Follow the National Pharmacies Christmas Pageant on Facebook and Instagram for updates.


---
What: National Pharmacies Christmas Pageant
When: Saturday 4 November 2023 | 9.30am
Where: Starts South Terrace, Adelaide to Adelaide Town Hall
Who: Everyone
At Play & Go Adelaide we make every effort to provide accurate information to the best of our knowledge at the time of publication. We recommend confirming times, dates and details directly before making any plans as details may be subject to change.
Image Source: Top photo from the Christmas Pageant; all other pics by Play & Go
SUBSCRIBE
Want to get all the latest events and activities straight to your inbox?
Subscribe to our weekly email newsletter below to keep up to date with our latest posts and find out all the best events & activities for Adelaide families. Newsletters are only sent once a week, and you may sometimes get a special offer exclusively for our subscribers only!