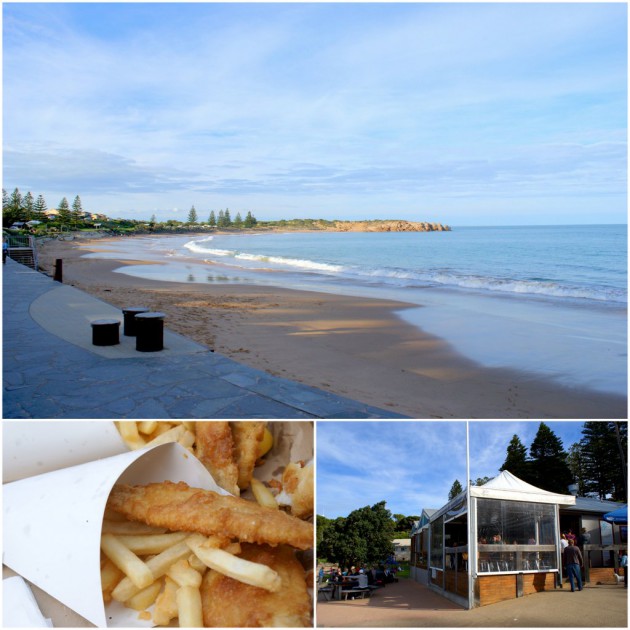 Port Elliot on the Fleurieu Peninsula
Big rocks, beach, cliff walk, trees to climb, whales, glorious views, all from Horseshoe Bay
Port Elliot is a quiet township about 80km south of Adelaide, at Horseshoe Bay on the beautiful Fleurieu Peninsula. It's a popular holiday destination but is also close enough for a day trip. I hope the photos below give you a bit of an idea why we love this part of South Australia so much.
On the beachfront near the jetty you will find the iconic Flying Fish Cafe. It has a restaurant, cafe area and take-away section so you can fine dine; grab coffee, ice-cream or snacks; or of course try their famous take-away fish & chips served in a paper cone.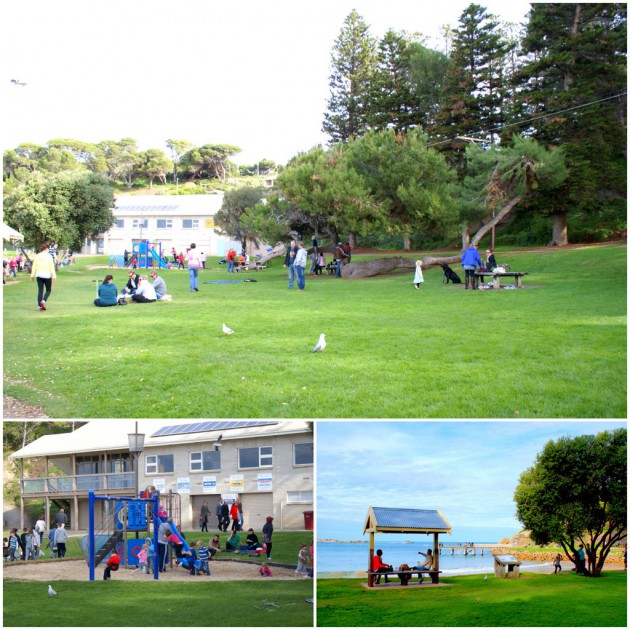 The park adjacent to the cafe is a great grassy area with a small playground, perfect for picnics and when you aren't on the beach. The highlight for my monkey kids are the couple of main trees in the park which are perfect for climbing. On the day we visited there were plenty of kids loving the adventure of exploring the trees.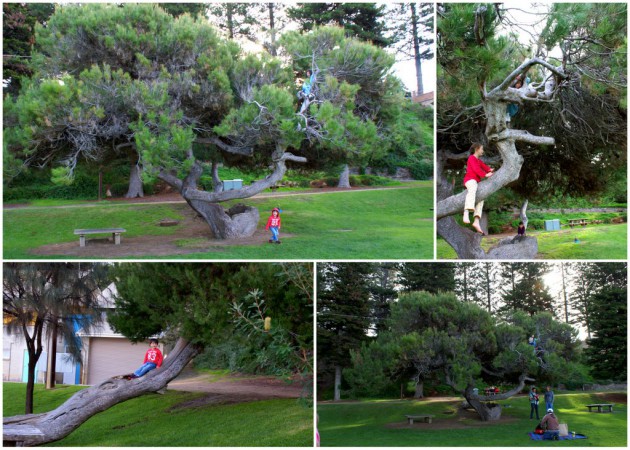 For more adventure, follow the path beside the Surf Club, up the hill. It is so worth taking this short walk up to reach the Cliff Walk, because you'll be treated to amazing views.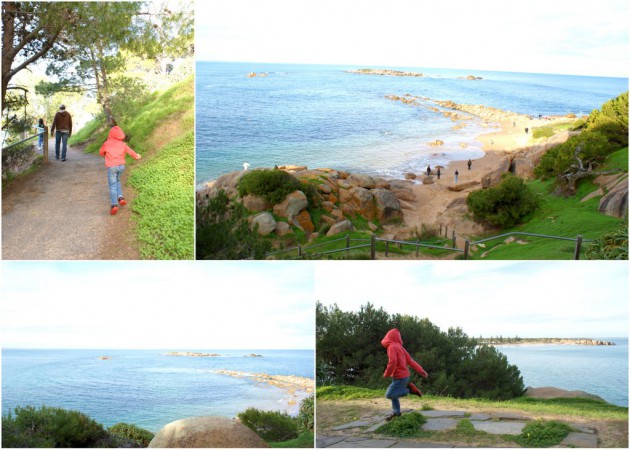 If your kids love steps and stairs they will be delighted with this walk. Around every corner there is are new set of steps leading upwards or stairs leading down to the beach or rocks.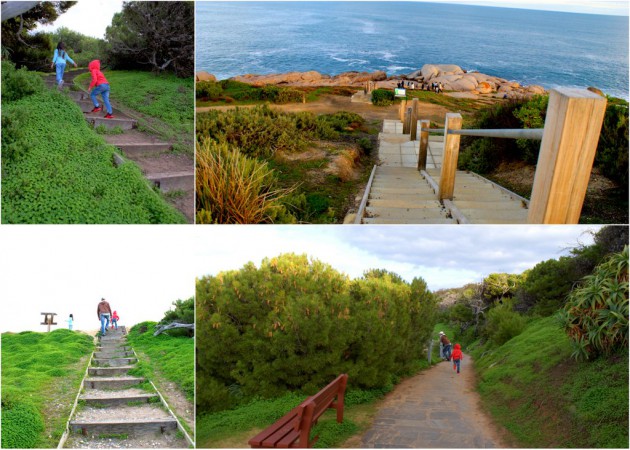 Dotted along the way are many park benches where you can take a rest or just sit to admire the views.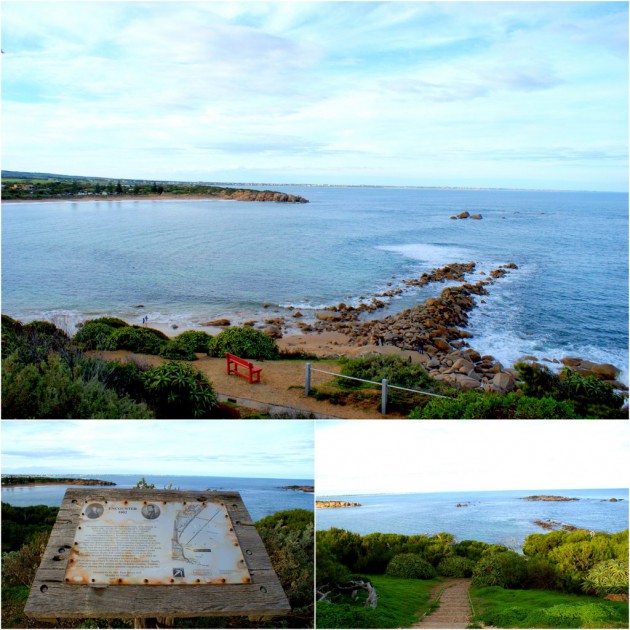 Stop and read a little bit about the history of Encounter Bay. Use the free telescope to gaze out for a better look.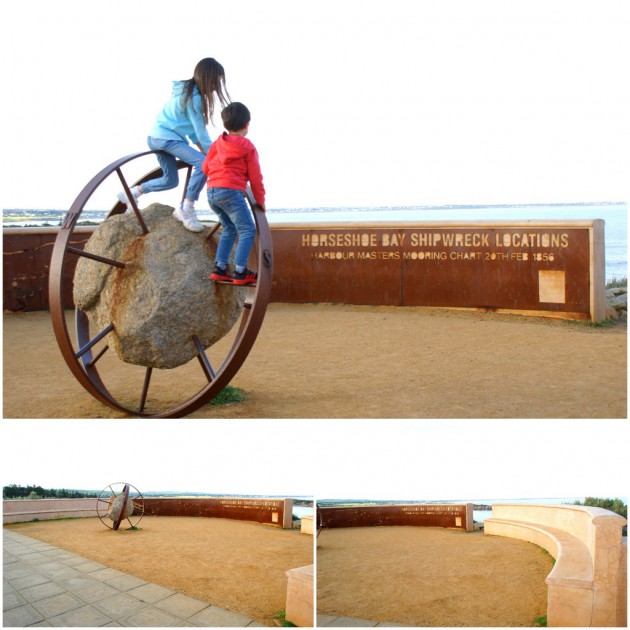 Climb and explore the big rocks below, on Freeman Nob, where you get this amazing view over the ocean.
There are some gaps between the rocks that small children could fall through so obviously little ones need to be closely supervised.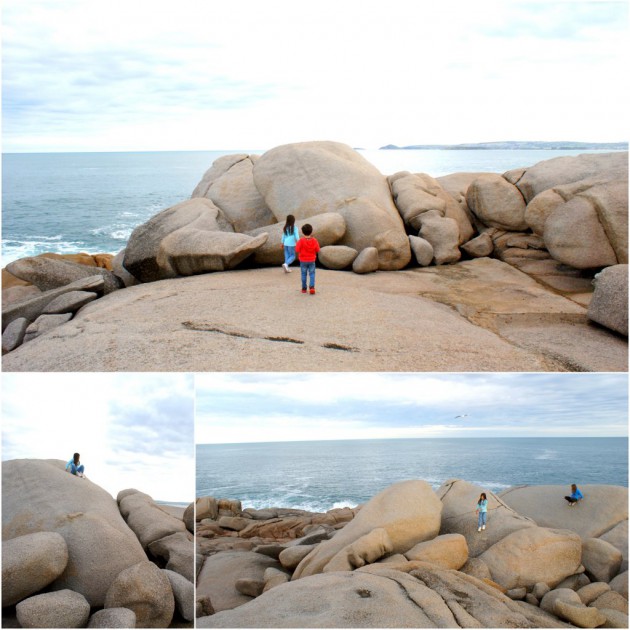 From here you can see the beautiful coastline between Port Elliot and Victor Harbor, where you can follow the Encounter Bikeway, which is a shared walking/cycling trail, which is about 30 km and continues through to Goolwa.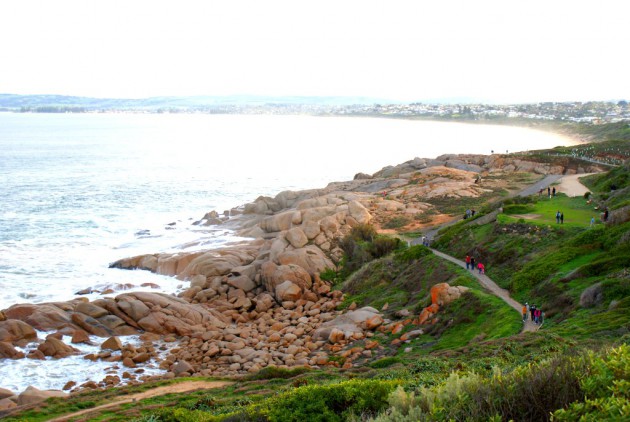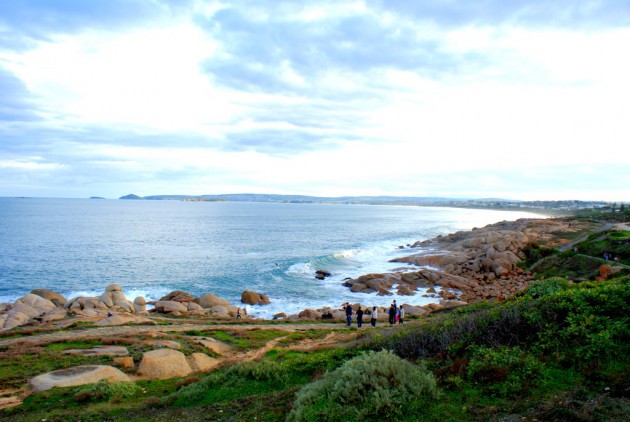 How magnificent is this view?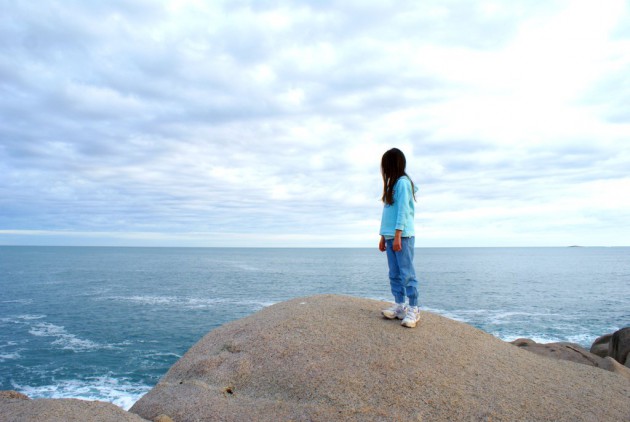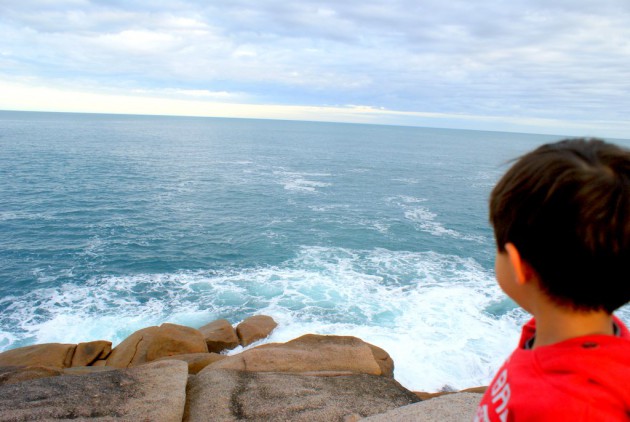 While you are up there, be sure to keep a look out for whales during the whale watching season (approximately from mid-May and over the winter months).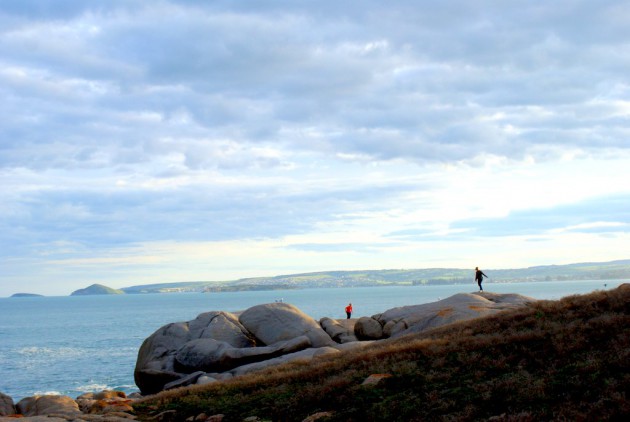 We were lucky to be treated to a sighting of a Southern Right whale on our walk (but unfortunately didn't get a photo).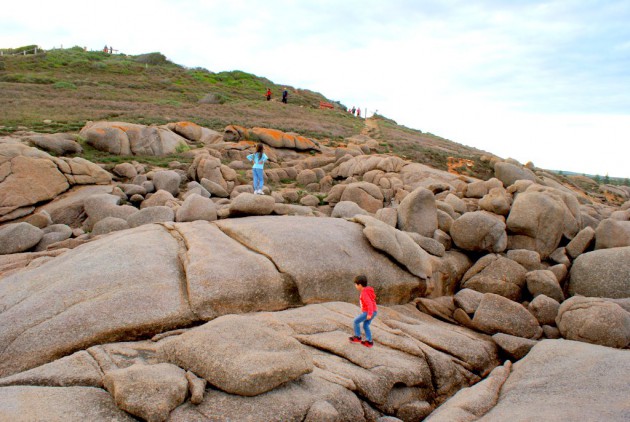 Steps lead down to Lady Bay where there is a little secluded beach area which is popular for fishing.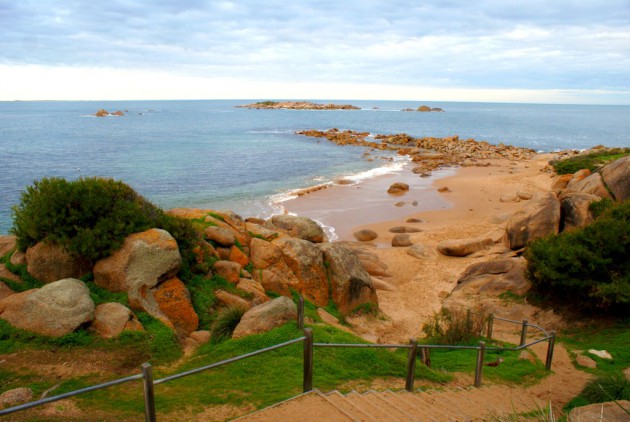 Here there are more rocks for climbing (and for some, leaping on).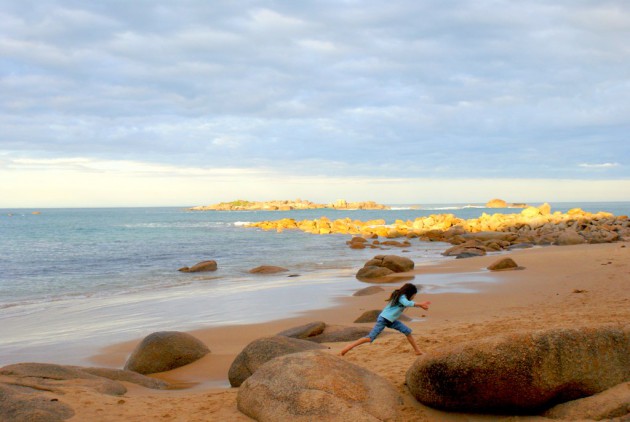 Look out along the way for interesting trees too.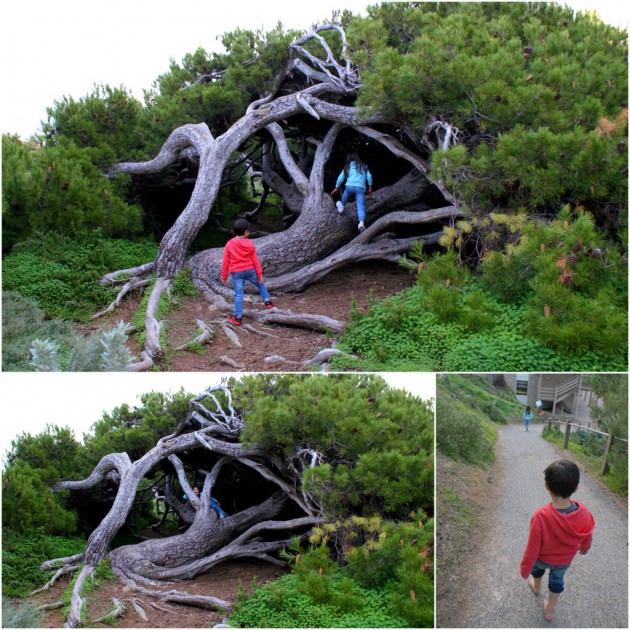 Port Elliot is fabulous of course during summer but these photos were taken on the June long weekend when we were treated with the most perfect clear and warm winter's day. Perfect conditions to do this walk.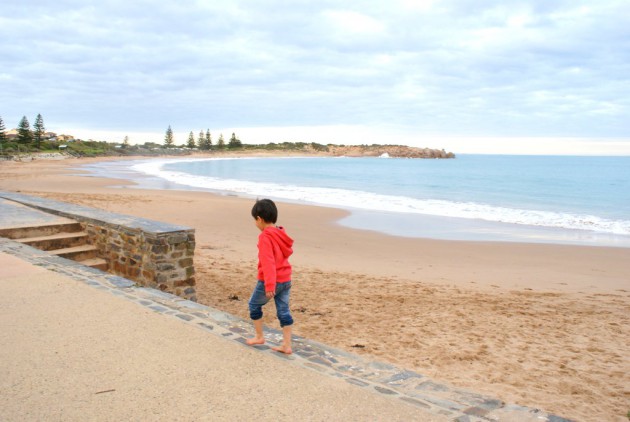 We've usually only visited Horseshoe Bay during summer and spent the time swimming and playing on the beach, but as you can see it's well worth visiting during the cooler months too to explore everything else and to maybe spot a whale.
If you are thinking of accommodation, the Port Elliot Holiday Park overlooks the beach and there are also many holiday houses in Port Elliot and neighboring towns such as Victor Harbor (less than 10 minutes away), Goolwa and Middleton which can be rented.
Another iconic place to visit is the Port Elliot Bakery where on the weekends you will always see a constant stream of people spilling out onto the footpath, enjoying their savoury and sweet pastries. Read our review of the Port Elliot Bakery HERE.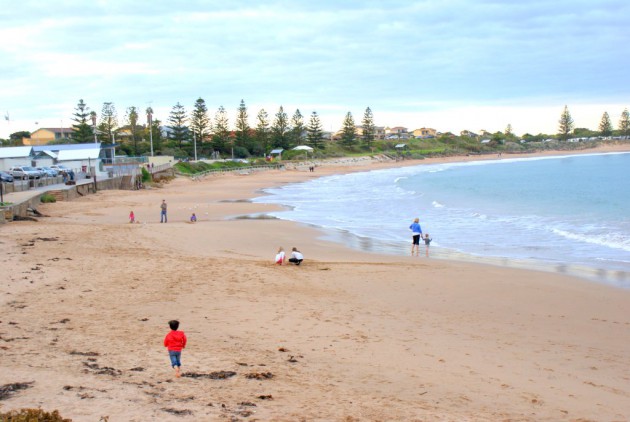 We make no secret of the fact that we love the Fleurieu Pensinsula. Normanville is one of our favourite places to be and we have written about it here. Victor Harbor is less than 10 minutes drive from here, home of the Granite Island Recreation and Nature Park.
Port Elliot is another little gem and you can see why it's a must to visit. There is so much fun to be had exploring this beautiful spot and you are sure to be wowed by the glorious views.
What: Horseshoe Bay, Port Elliot
When: Anytime
Where: Approx. 80km from Adelaide | Map
Who: Everyone