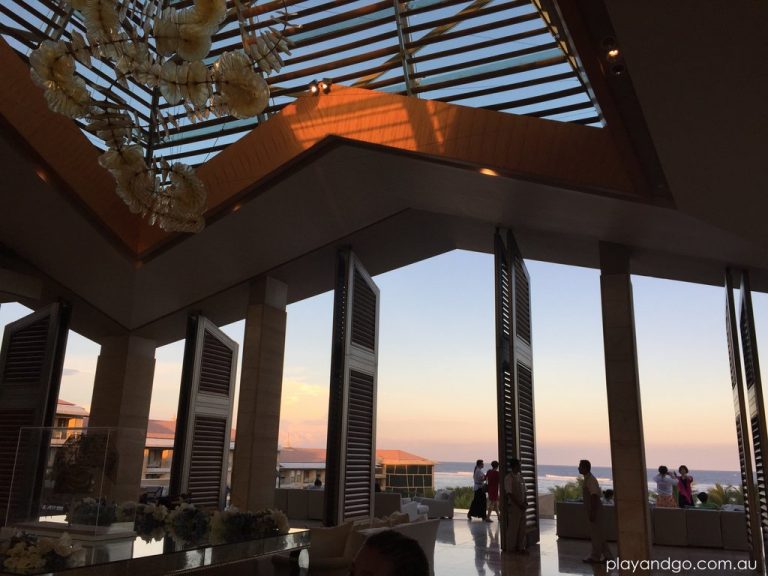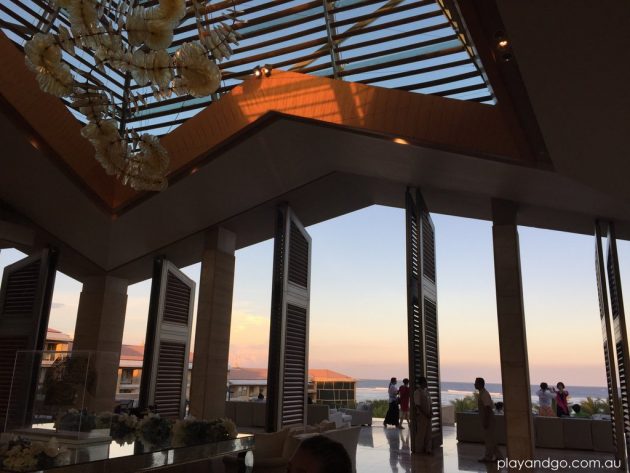 The Cafe – The Mulia Resort Bali | The Buffet with Two Dessert Rooms
The restaurant at The Mulia Resort in Nusa Dua, Bali is one we will not forget. Every thing about this five star resort has been done on a grand scale. The lofty atrium ceiling in the entrance lobby and huge staircase bring you to this view below, looking over the resort grounds, towards the sea. It's not surprising that the buffet dinner at The Cafe – just one of the dining options at The Mulia, is also a lavish affair.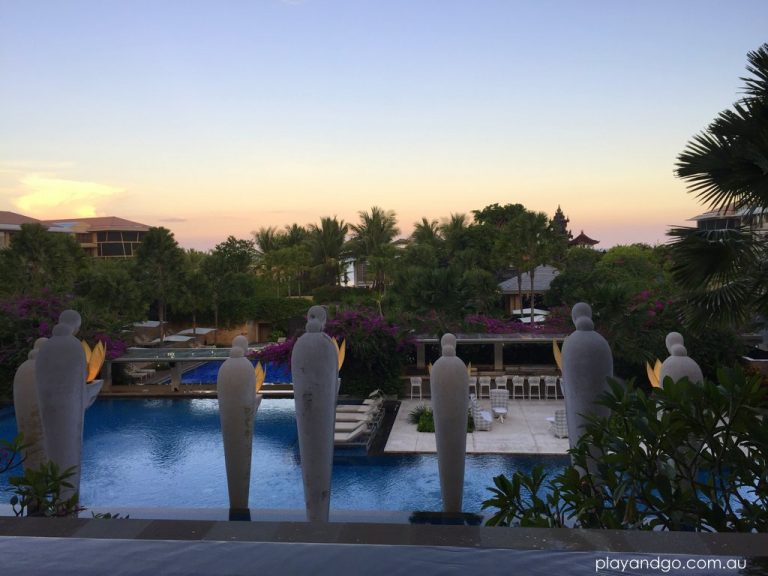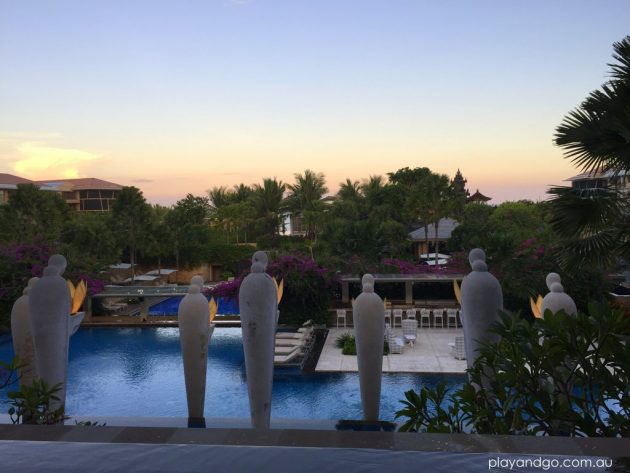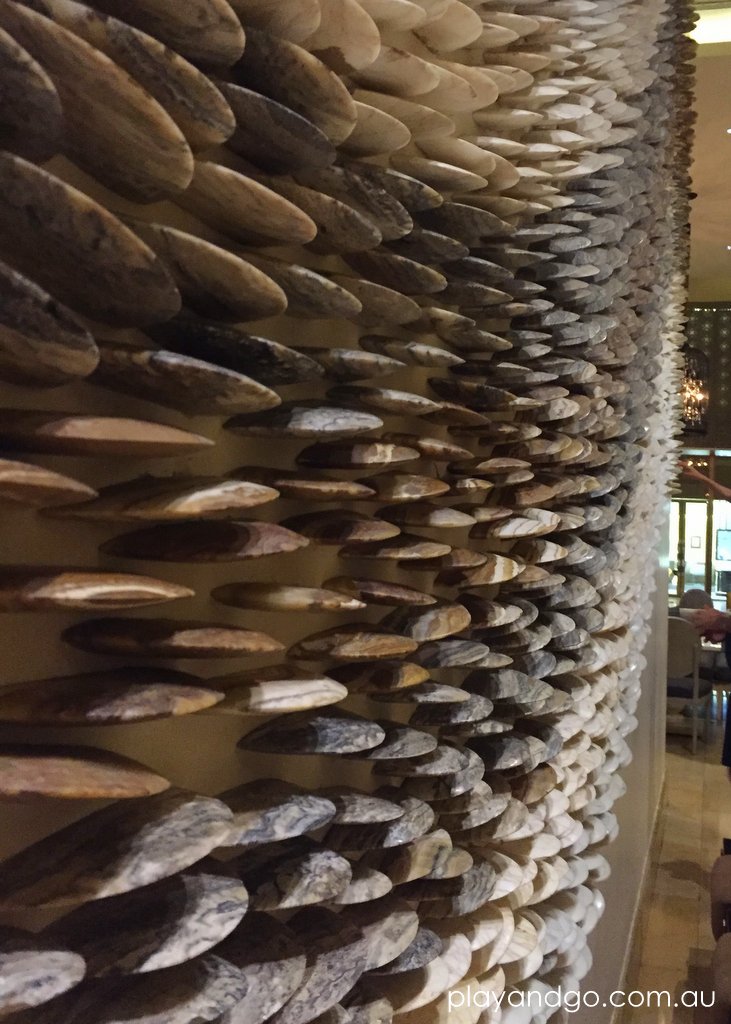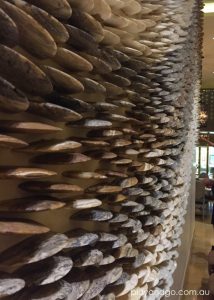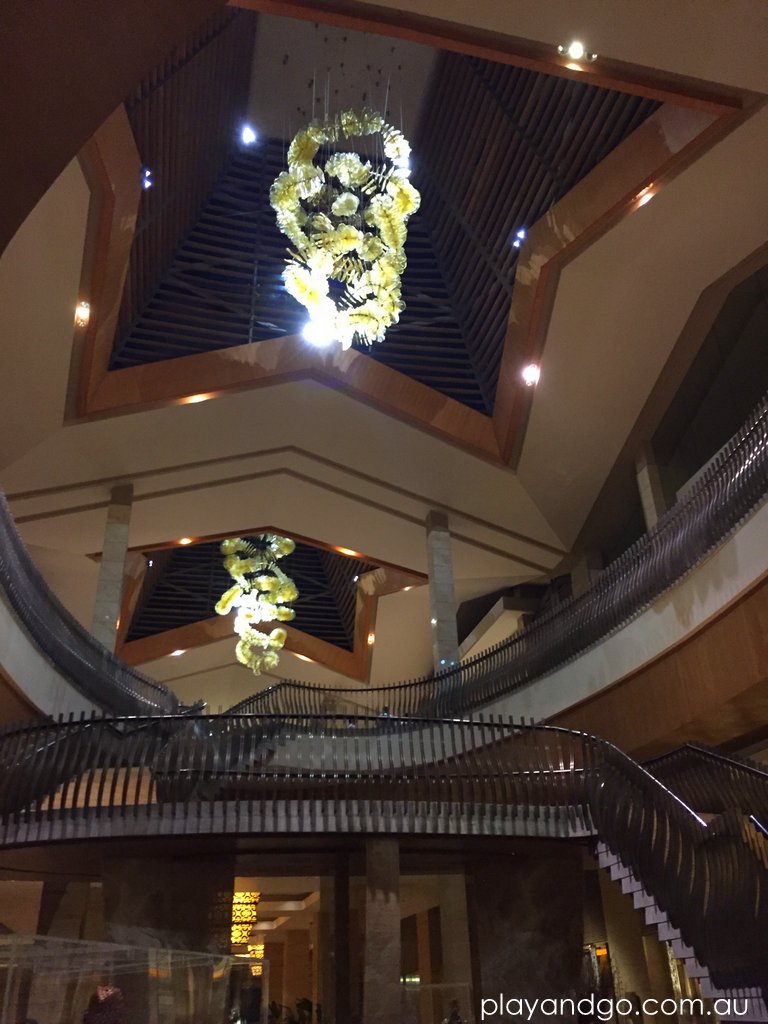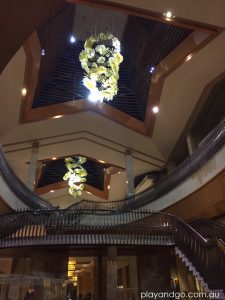 This is no ordinary International buffet and you would be wise to ensure you go on an empty stomach and have time to pace yourself. There's a lot to get through, with seven cooking stations of food from around the world.
The seafood station even had Coffin Bay oysters from South Australia (that were fresh, huge and delicious) along with crayfish and prawns.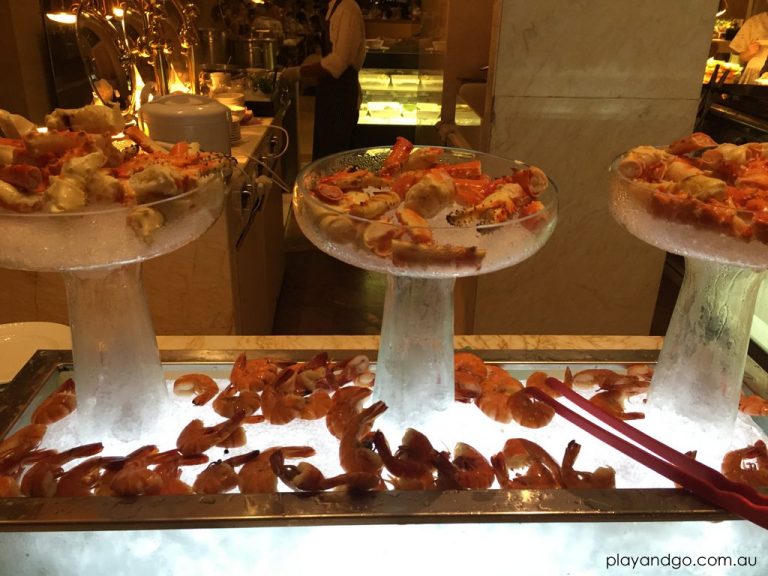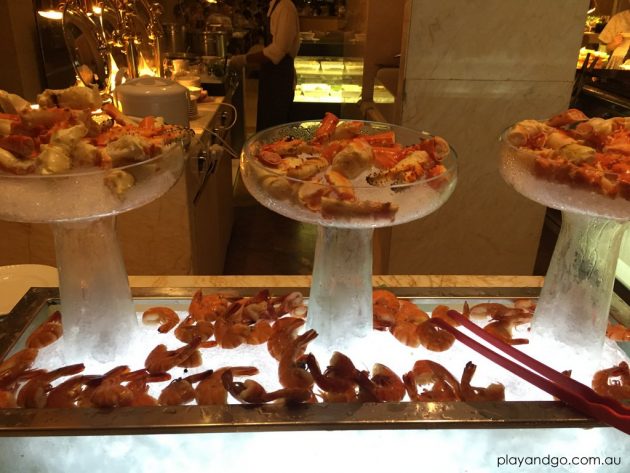 Chefs prepare Japanese, Korean, Thai, Chinese, Indian, Italian and modern Western cuisine.
Below is the Japanese station full of fresh sashimi and sushi.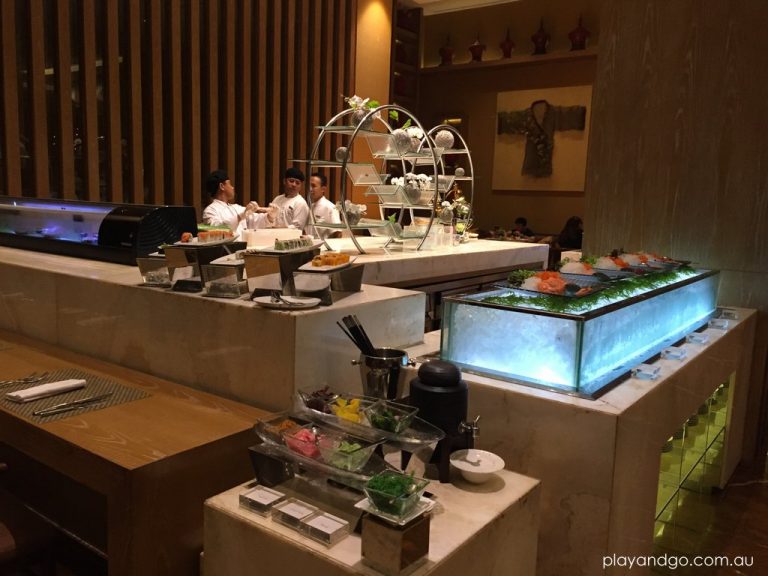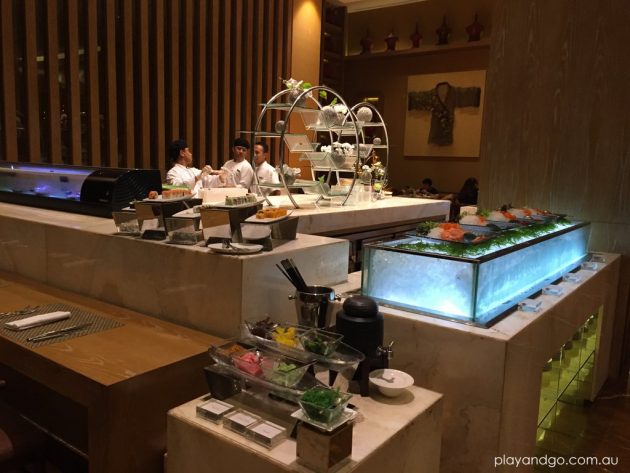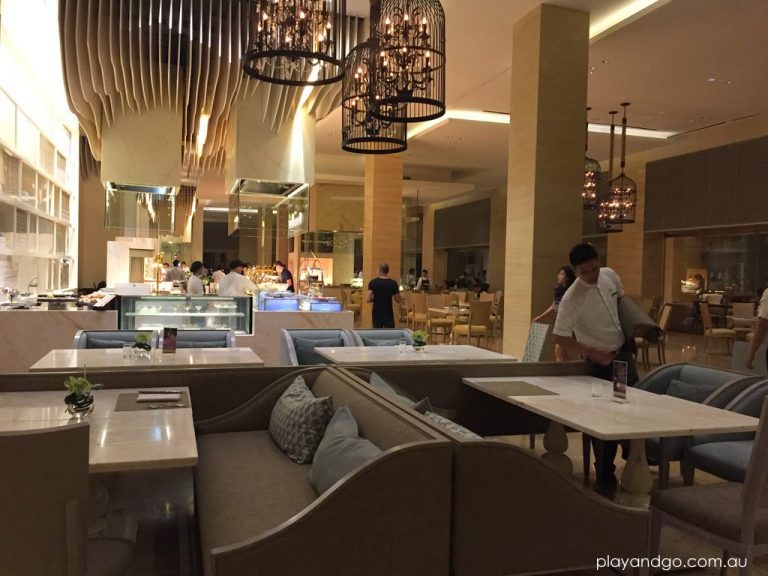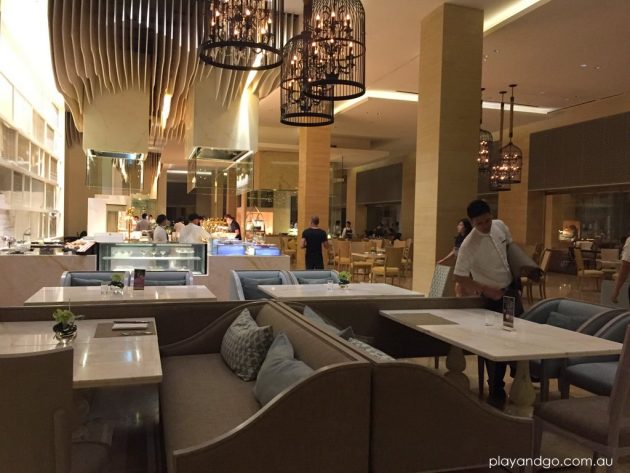 The drinks menu is huge with a long list of cocktails, mocktails, fresh juices, wine, shakes, coffee, hot chocolate – it's all covered.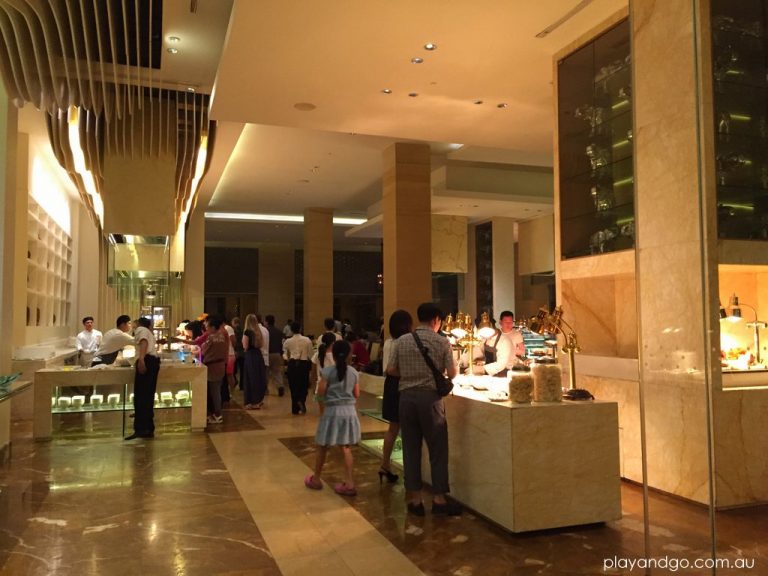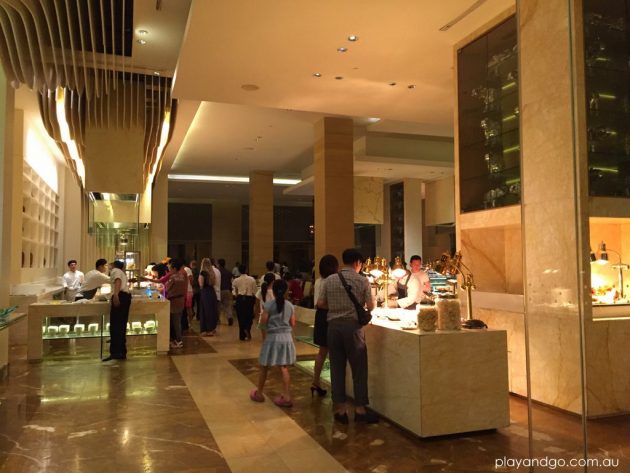 The Korean station below is where the chefs will cook up your chosen meats on the grill.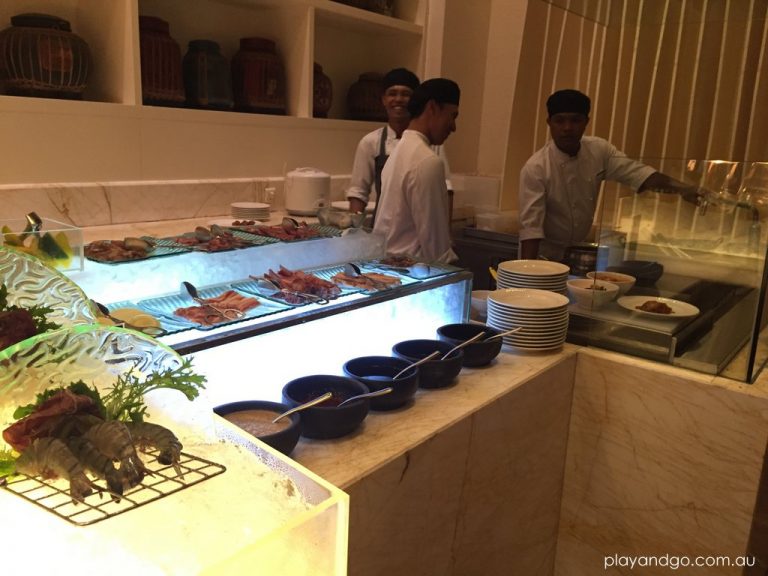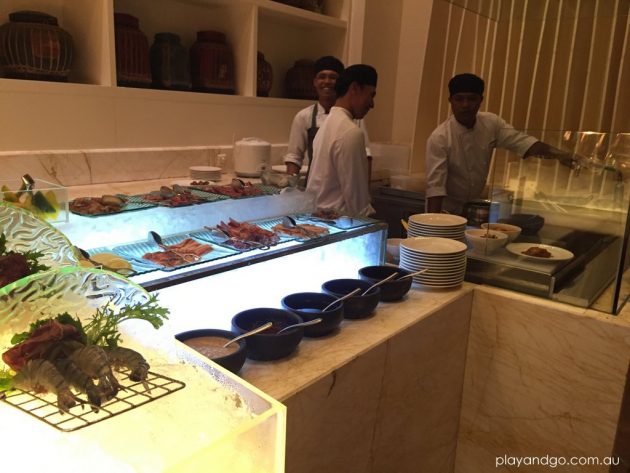 The Indian station below had so many different curries and accompaniments with naan bread being cooked in a huge tandoor oven. It's delicious but make sure you don't fill up on bread at a buffet though!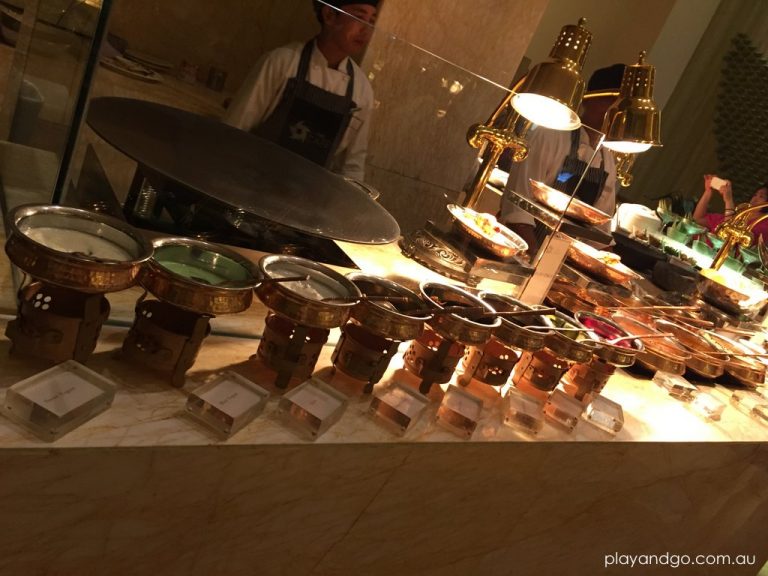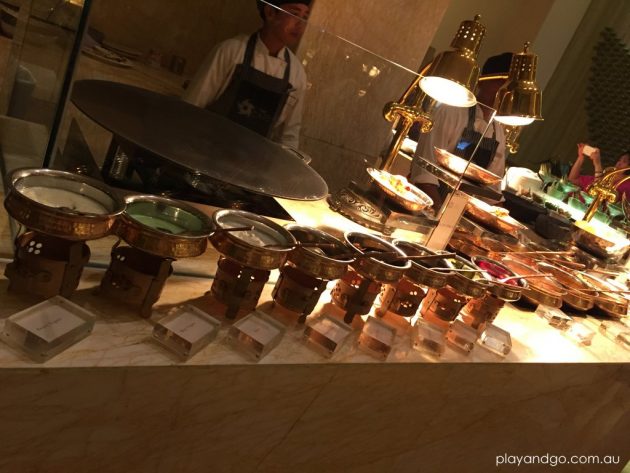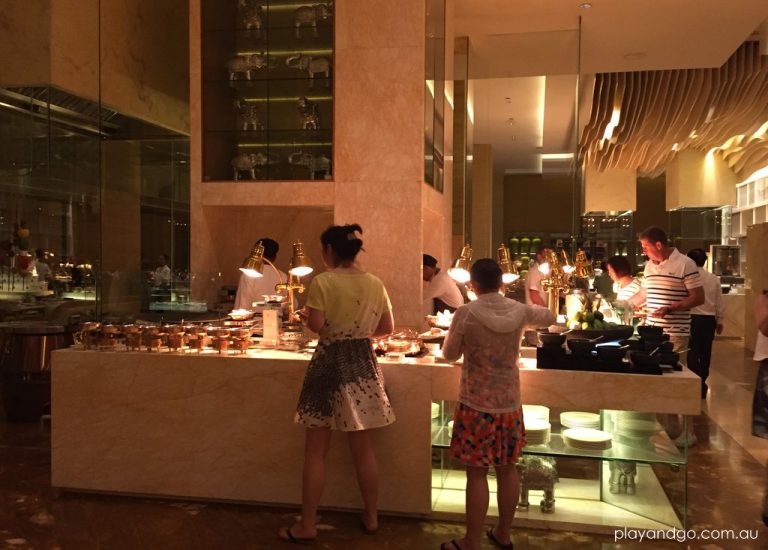 One of our favourite dishes was the fresh noodles made right on the spot for you by the chef. Check out the video below to see how it's done. The first time I saw Chinese noodles being made by hand like this was over 20 years ago on a trip to China – it amazed me then, and it still does now. The kids think it's quite magical. The noodles seem to appear from nowhere. Fill your bowl with the ingredients you like and the chef will heat it all up with the noodles in either a clear chicken broth or a laksa soup. The noodles are melt in your mouth delicious.
Now this is an important tip – make sure that your dessert stomach (you know that other one that you keep just for dessert?) is still empty. Desserts are on a world of their own here. Literally.
Walk into this dessert room below and you will find a huge round freezer full of ice cream with a huge selection of toppings. There's pastries, cakes, plus fruit to dip in the huge chocolate fondue.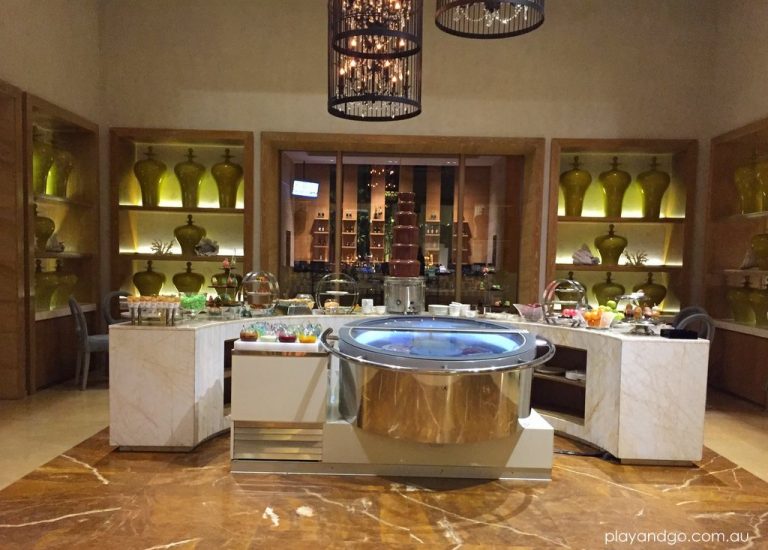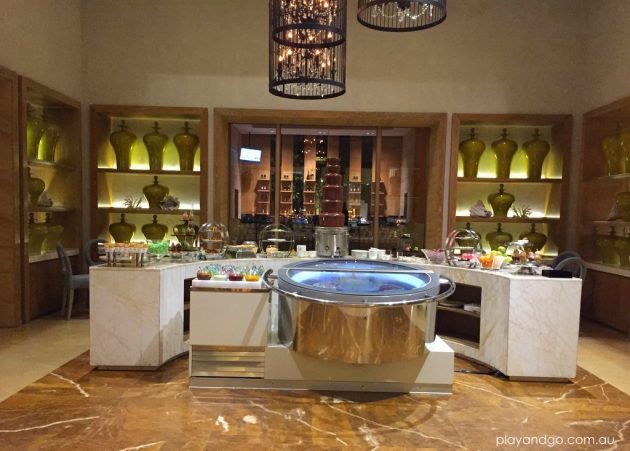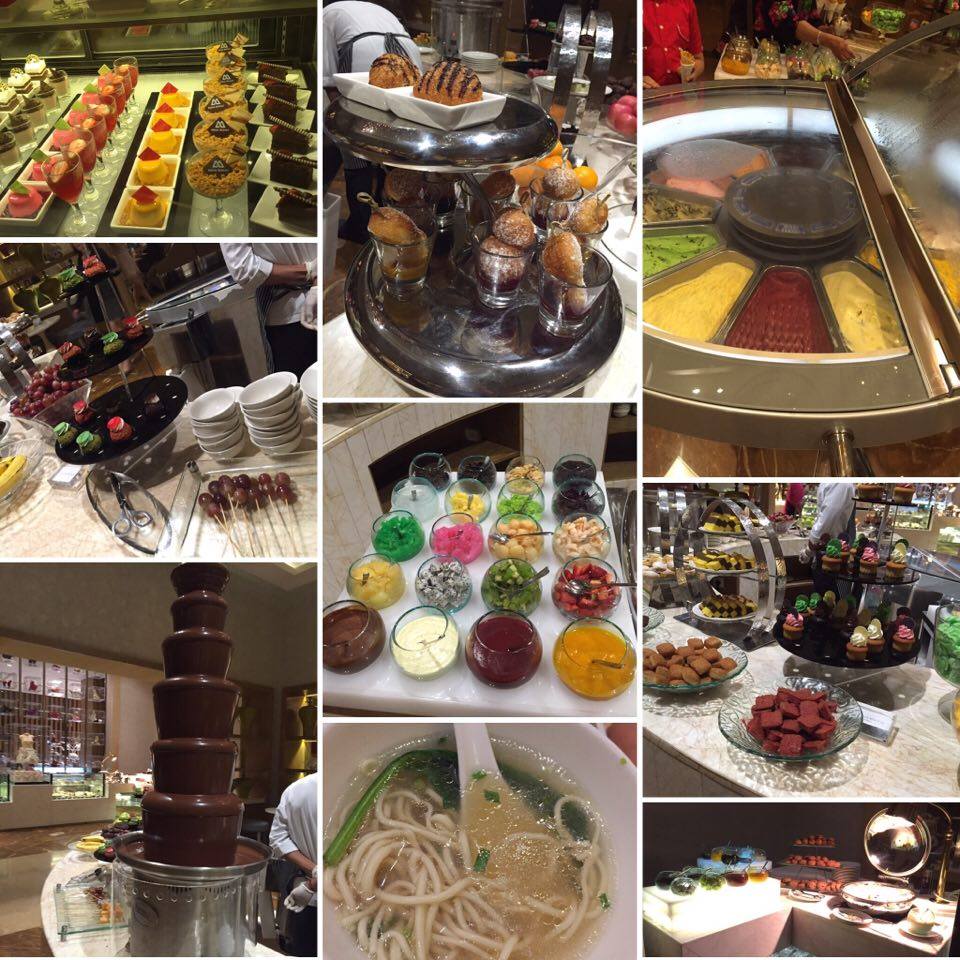 As if this wasn't enough, adjacent to this room, is another one, also just for dessert! My kids eyes nearly fell out of their heads and the excitement was pretty high. We've never been anywhere that dedicates two whole rooms for dessert. If you have a sweet tooth, you will seriously feel like you're in heaven.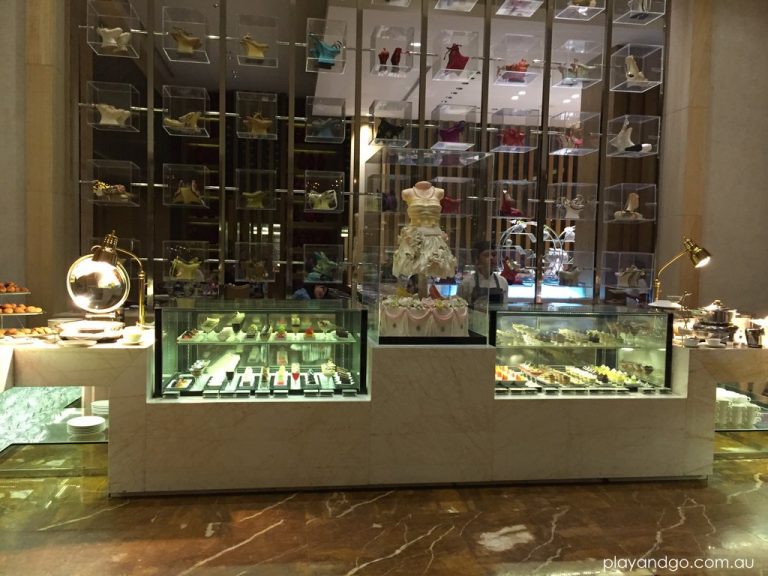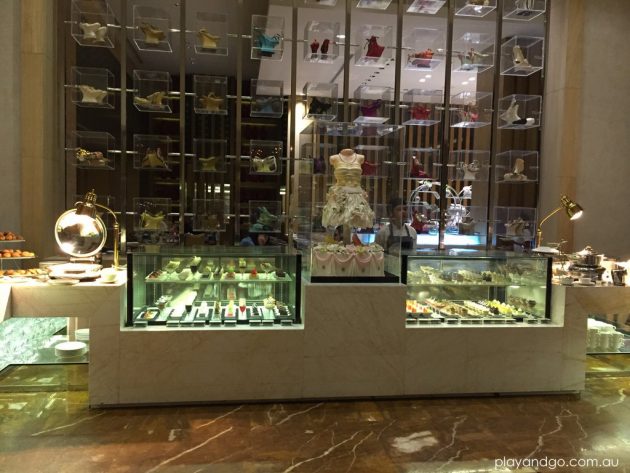 Here you'll find the glass cabinet filled with rows and rows of delectable petite desserts.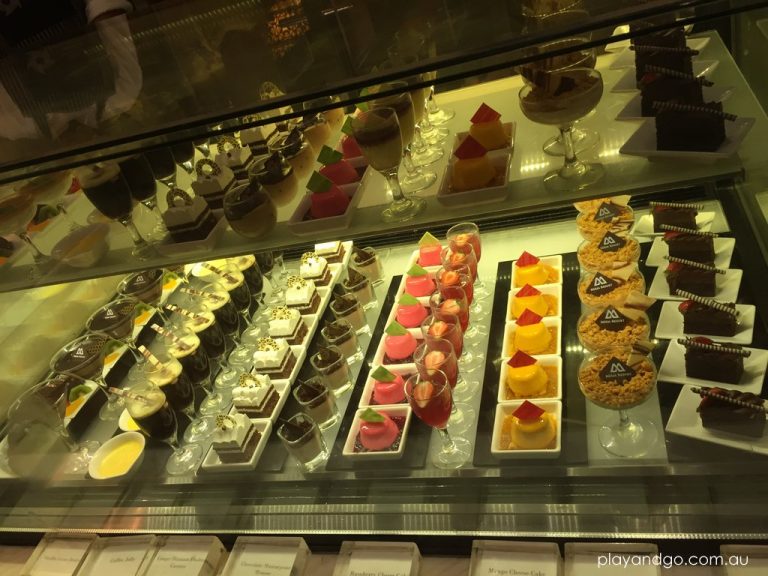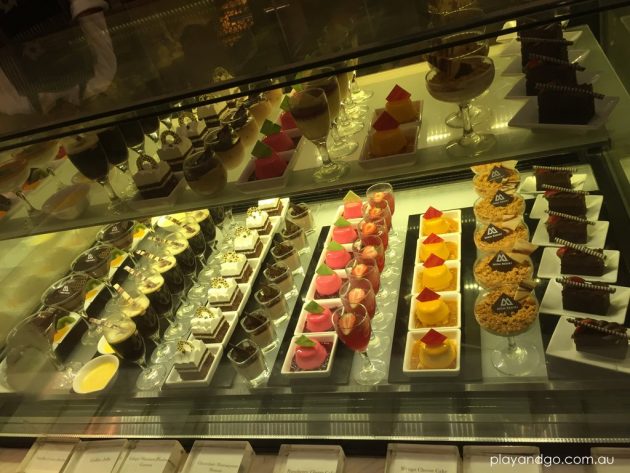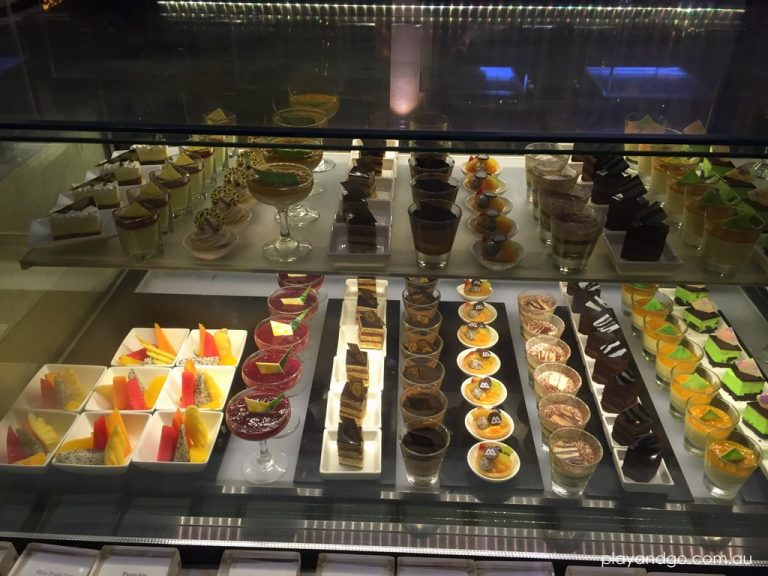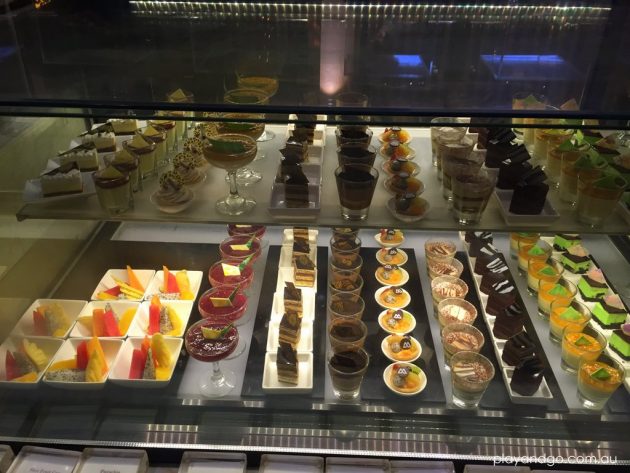 As you can see we did our best to try out just a few of them… Well, someone had to do it… these desserts weren't going to eat themselves! At a buffet like this there are no rules that say you can't have dessert first if you're worried about not having enough room in your tummy.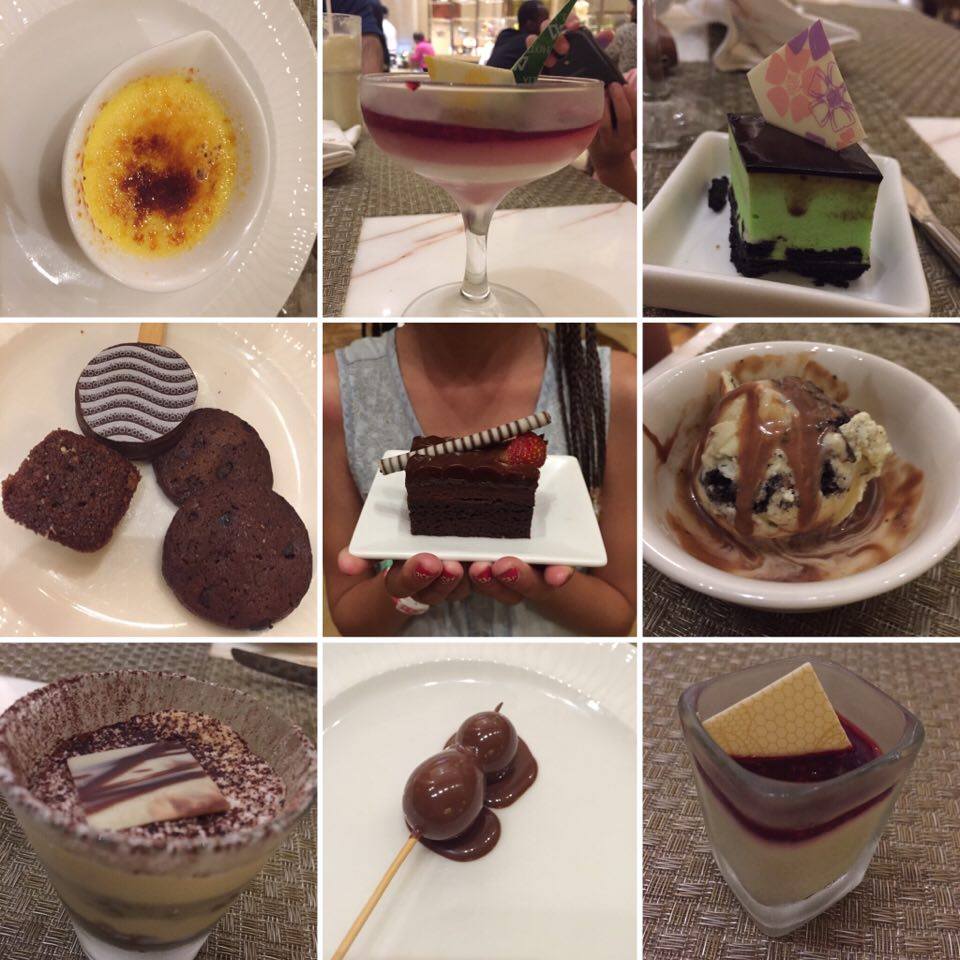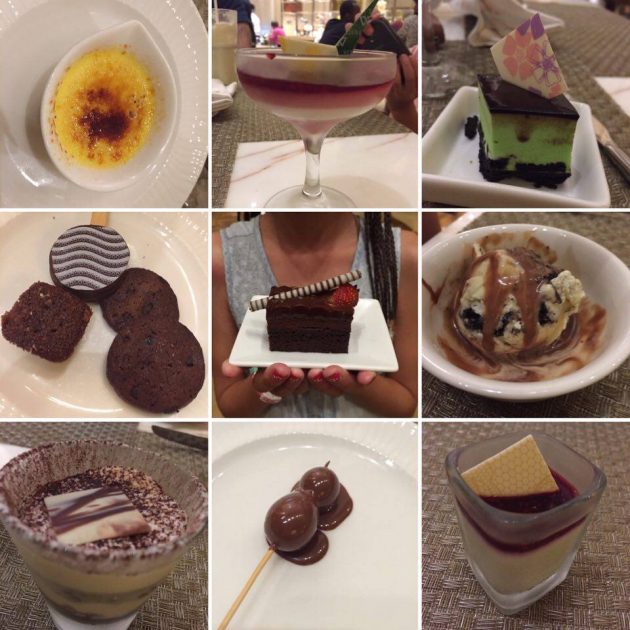 The other thing you must try when you're at The Mulia is the toilets. Yes, you read right. Some friends gave me the heads up about this so I made sure I checked it out. The toilets have special functions – you might notice straight away that the seats are heated. On the wall you'll find control buttons for 'rear cleansing' and 'front cleansing' and you get to control the amount of spray; the direction; the kind of spray and the pressure, with 'oscillating' and 'pulsating' options as well as a 'dryer'. It's absolutely hilarious and I couldn't help giggling. The ladies waiting in the line who hadn't experienced the toilet yet were most probably thinking I was crazy. Unfortunately there are only 2 toilets and with a line-up waiting, sadly I had to move on.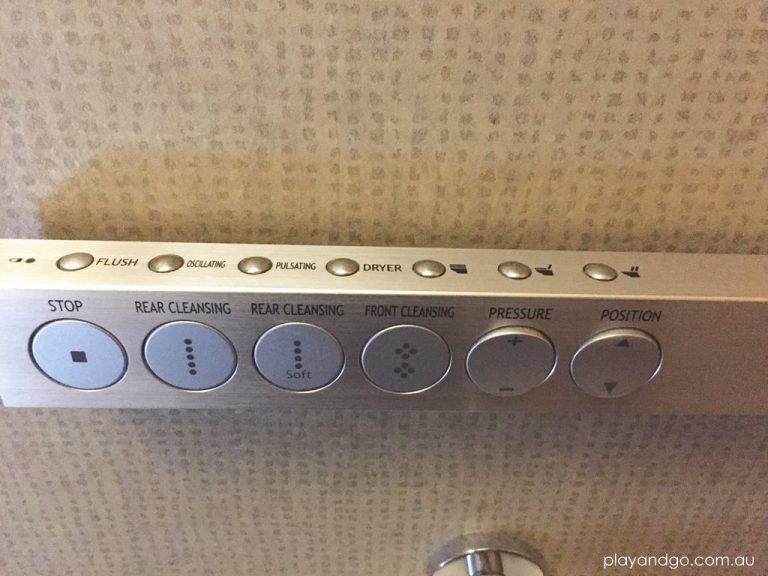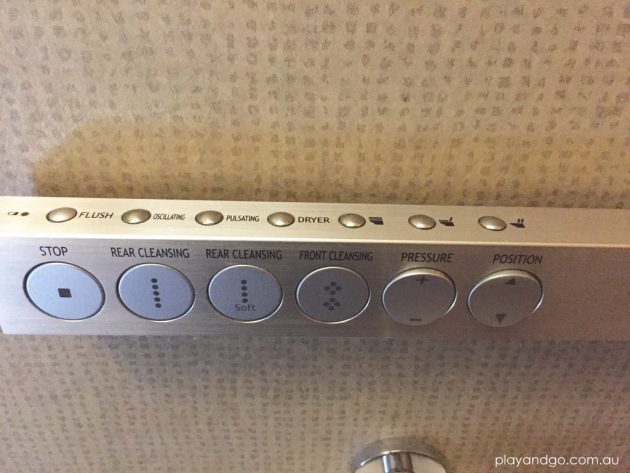 If you're not staying at The Mulia, it's worth getting there a bit earlier before dinner to have a little look around.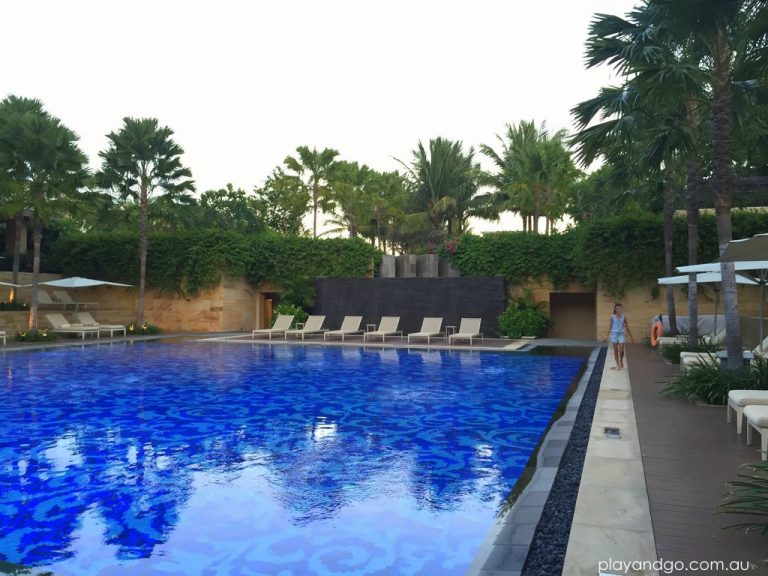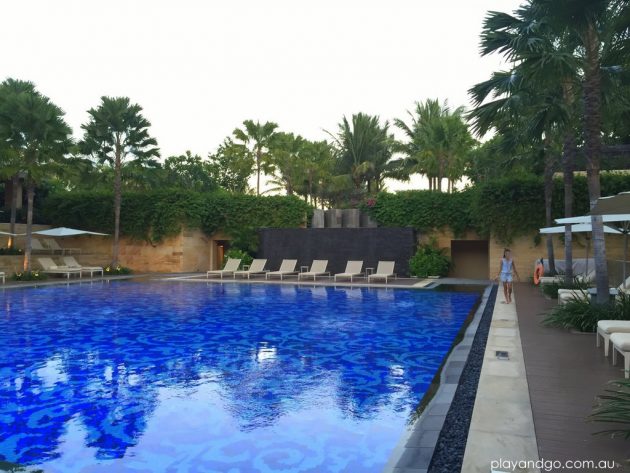 As with most large resorts in Bali, there are many pools on the palatial grounds.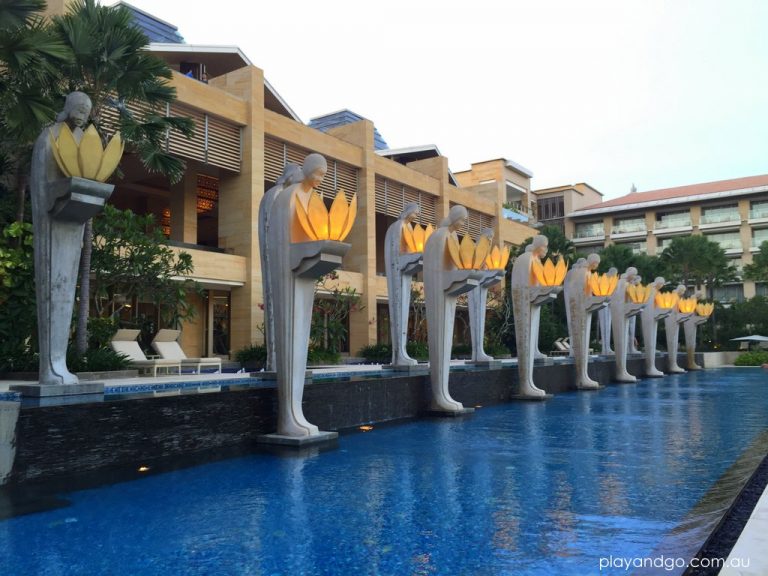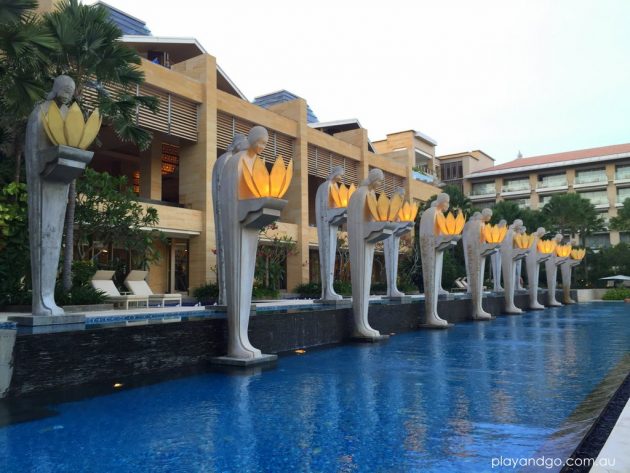 The Mulia had a running theme of these tall Greek-like statue fountains gracing the pools.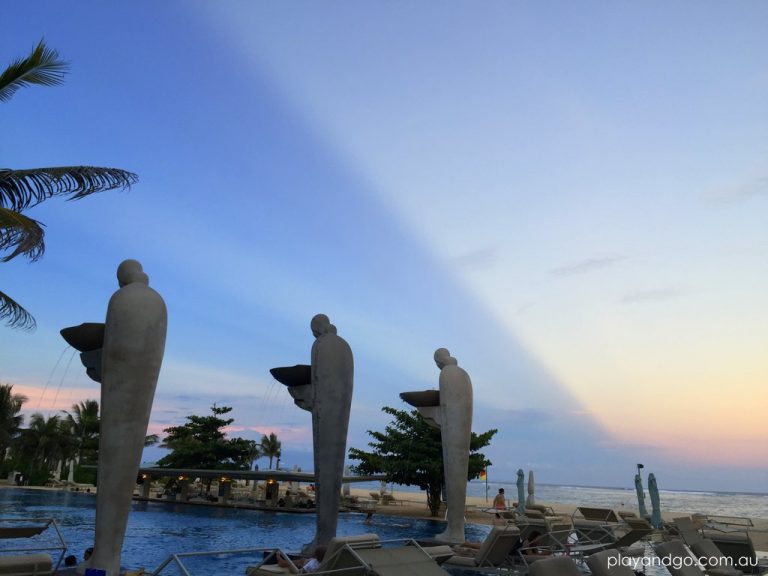 We were lucky to catch a sensational sunset over the beach that evening.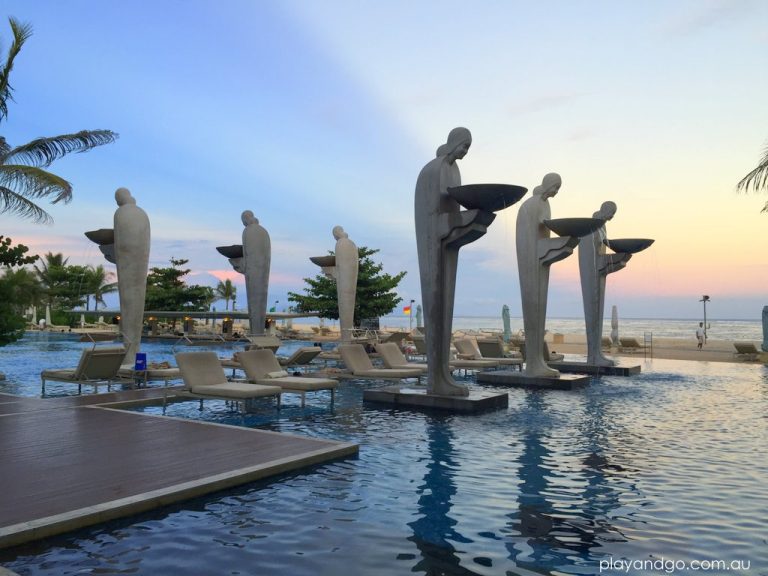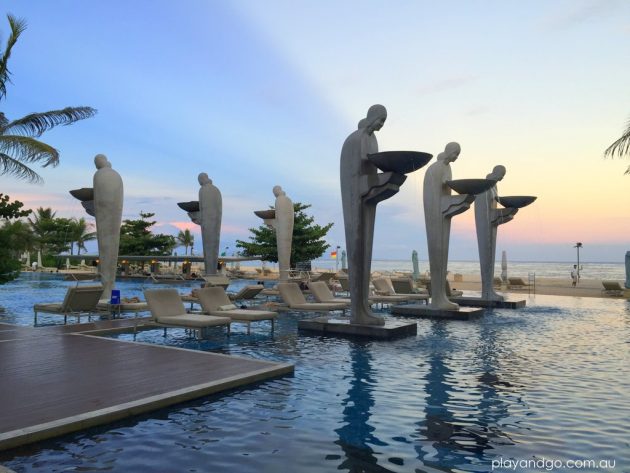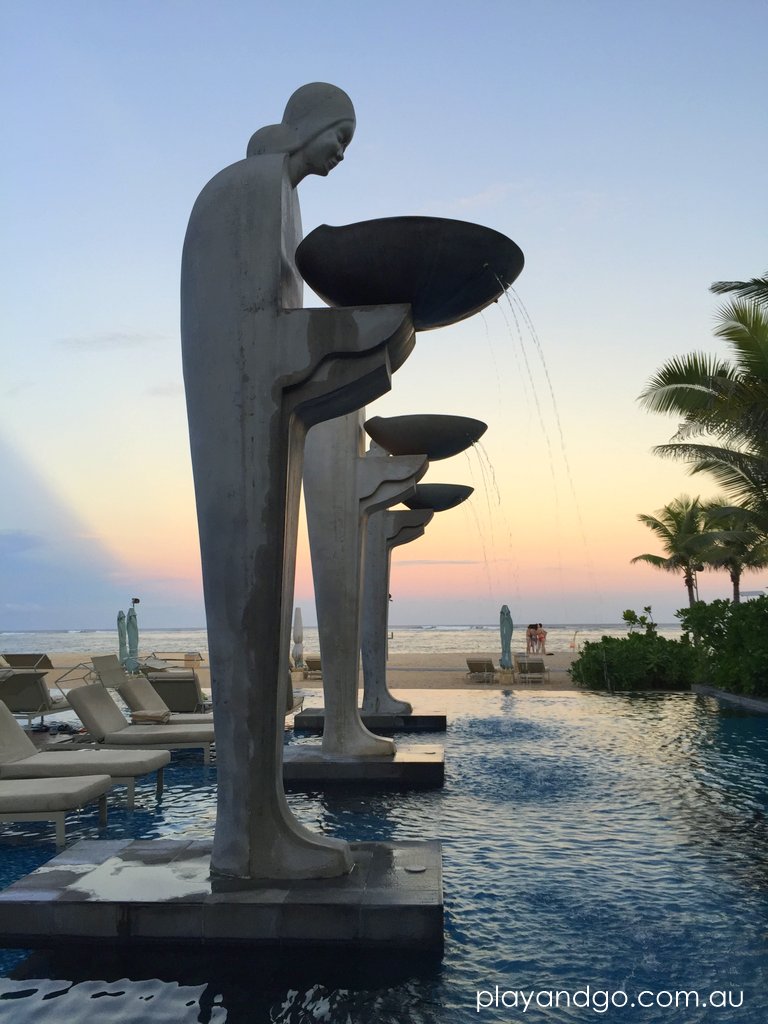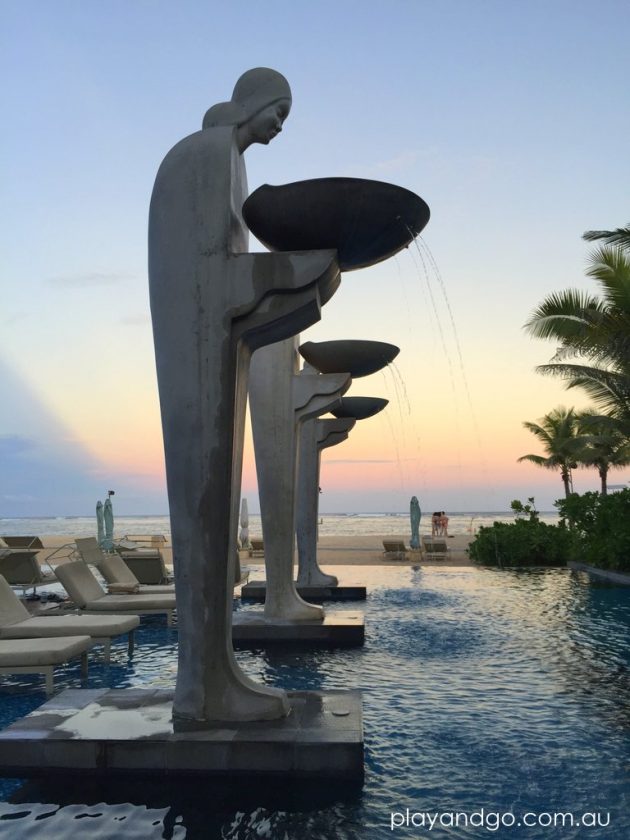 For an extravagant buffet experience like no other, The Cafe at The Mulia is a must do dinner. It's a great way to get the kids to try out different foods too. When it's presented in such an amazing way and they can just taste a little bit, it's interesting and so much more fun than chicken nuggets and chips. The kids were wowed by the look of the resort too, and the amazing dining room, "It's like a palace!" they said.
Don't forget to wear your all-you-can-eat stretchy pants or mu mu dress for this meal!
You can also do the buffet as a brunch/lunch on the weekends – it's cheaper, and they often have deals where kids eat free. I have read that the good seafood options are only included in the buffet on the weekends too. The brunch is done in a different dining room to The Cafe on the weekends. I found this blog by Travel Drink Dine which is all about the brunch.
It's worth checking their website or giving them a call directly for details. It's also best to book a table so you don't miss out as it's very popular. It's not cheap – our bill for 2 adults and 2 children for dinner was AUD $236 for food and drinks. However the service was excellent and it really was an amazing food experience (and I think we got our money's worth just on the seafood and the vast amount of dessert we managed to get through)!!
---
For more information and all enquiries please visit The Cafe at Mulia Resort Bali's website here.

The Mulia Resort & Villas | Jl. Raya Nusa Dua Selatan, Kawasan Sawangan, Nusa Dua 80363 Bali | Phone: (62-361) 302 7777
Click here for all our other posts about places to visit, and things to do in Bali.
At Play & Go Adelaide we make every effort to provide accurate information to the best of our knowledge at the time of publication. We recommend confirming times, dates and details directly before making any plans as details may be subject to change.
As per all our Play & Go reviews, this is not a sponsored post and our review is done completely independently. All photos are by Play & Go.
Want to get all the latest events and activities straight to your inbox?



Subscribe to our weekly email newsletter below to keep up to date with our latest posts and find out what's on, where to go and what to do with the kids in and around Adelaide. Newsletters are only sent once a week, and there are special offers or giveaways exclusively sent to our newsletter subscribers only!
Save
Save
Save
Save
Save
Save