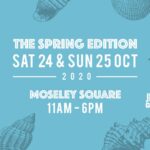 [ October 24, 2020 to October 25, 2020. ]
Glenelg Sunset Markets – The Spring Edition
The Glenelg Sunset Markets aim to deliver the ultimate outdoor market to the beach.
Stroll around over 60 markets stalls, whilst enjoying live music and taking in the glorious Glenelg sunsets in the open spring/summer air. The event will boast summer vibes, live music and local artisans pedalling their wares.
The […]