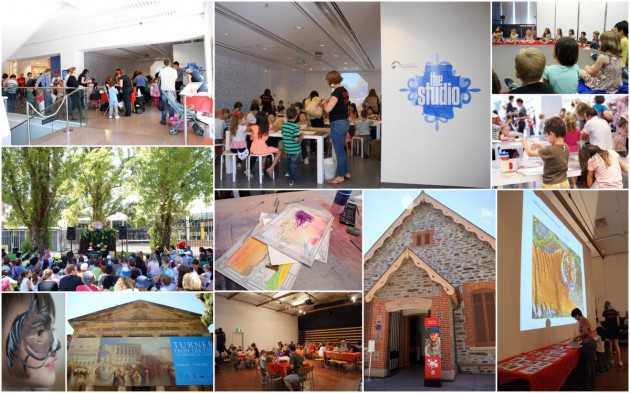 START at the Gallery has a new START Art Club for children.
Over 350 children have already signed up to the Art Gallery of South Australia's new START Art Club. Launched last month, the START Art Club is an extension of the Art Gallery's hugely popular START at the Gallery program and has been designed to enrich the START experience for families while in the Art Gallery, and at home.
"By launching the START Art Club we want to extend the festival atmosphere, that exists at START at the Gallery each month, into the lives and homes of young art lovers," said Lisa Slade, Project Curator, Art Gallery of South Australia. "We want to convey the message loud and clear that we take young artists seriously. We wish to support the next generation and engender a philosophy that art is not a luxury… it is essential for a healthy community."
Through the START Art Club, kids receive their own START Art Club Card, which they scan on each START day.  On joining, they receive a START Art Club visual diary, to track their arts journey and give them space to record their art experiences… to sketch, scribble and just be creative. Kids will also enjoy quality art material giveaways every third visit so they can experiment and discover their potential in a range of mediums.
It's FREE to join and there are heaps of benefits to enhance your gallery visits.
START at the Gallery is recommended for children aged 5-10 years.
For more information and to join the START Art Club see the Art Gallery website here.
Read more about the START Program in our post here. Read about the Studio at the Art Gallery here.
START at the Gallery and START Art Club are presented free thanks to the Balnaves Foundation.
What:  Start Art Club
When: During START at the Gallery
Where: Art Gallery of SA | North Terrace, Adelaide
Who: 5 to 10 years old
Images are by Play & Go, of START at the Gallery session February 2013.