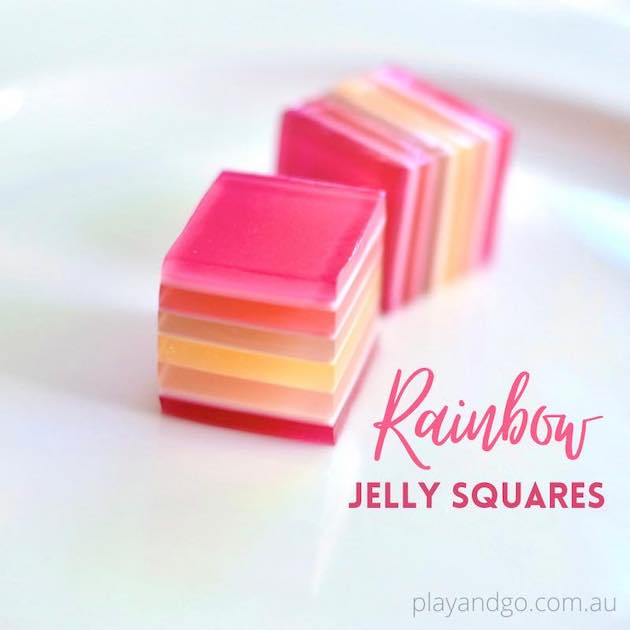 How to make Rainbow Layered Jelly Squares
Rainbow Jelly Squares are little bundles of colour and joy (oh, and sugar)! So as you can imagine, they are always a hit at parties. You can pop them in your mouth or peel each layer at a time.
Yes, there are 11 layers (!!) but it's not as hard to make as you think. Also you don't have to do the whole 11 layers, you can do less and you can choose whatever colours you like, to go with your theme. The trick to this recipe is adding extra gelatine to the jelly to help it set quicker and faster PLUS using your freezer for quick setting. There's no waiting for hours for each layer of jelly to set!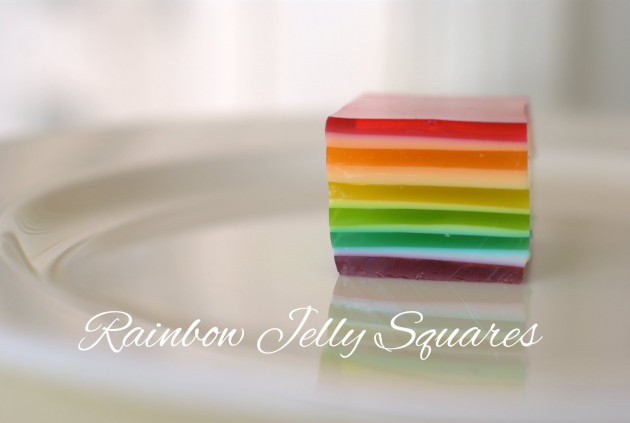 What You Need:
6 Packets Jelly – any colours/flavours you like
1 Can of Condensed Milk
3 Cups of Hot Water
8 1/2 Packets/Envelopes (or the equivalent approx 8 1/2 Tablespoons of Gelatine). I think the Davis brand Gelatine in individual Packets/Envelopes is slightly easier to dissolve than the Wards brand.
Plus Hot Water & Cold Water as per Jelly packet instructions.
2 x Pyrex/glass/ceramic dishes either 2 of 9 x 13 (22.5 x 33cm) size lasagne dish or 1 of 9 x 13 and 1 of 10 x 10 (which is what I happened to have).
Make enough space in your freezer to fit both dishes.
***Spray your dishes with a light layer of oil (we use a can of Canola oil)*** – this will help the jelly to not stick to the dish.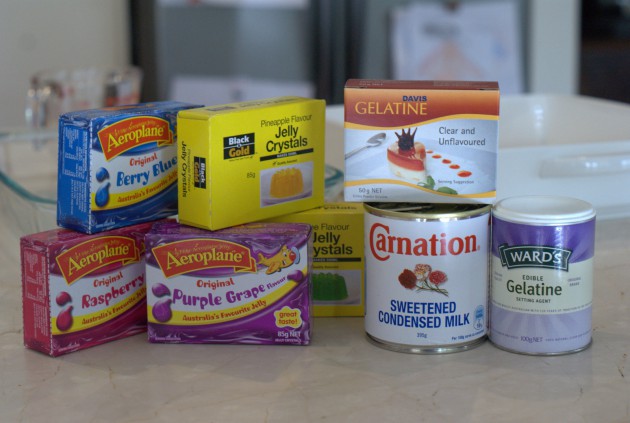 White Condensed Milk Layer
In a jug, mix 2 1/2 packets of Gelatine with 1 1/2 Cups of Hot Water until dissolved.
Add the can of Condensed Milk plus another 1 1/2 Cups of Hot Water (or enough hot water to make it up to 1 litre milk mixture in total). Mix to combine together, then set aside.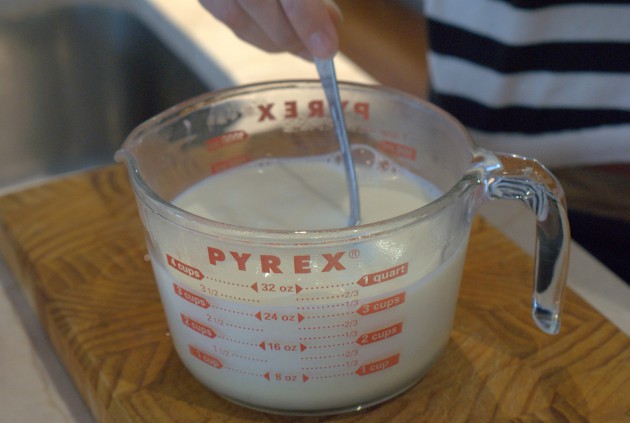 Colour Jelly
Put your first Colour Jelly Crystals into a jug, and sprinkle 1 envelope/packet of Gelatine over this. Add hot water according to jelly packet instructions. Mix together with a fork or spoon to dissolve the Jelly Crystals and Gelatine. Add cold water according to jelly packet instructions.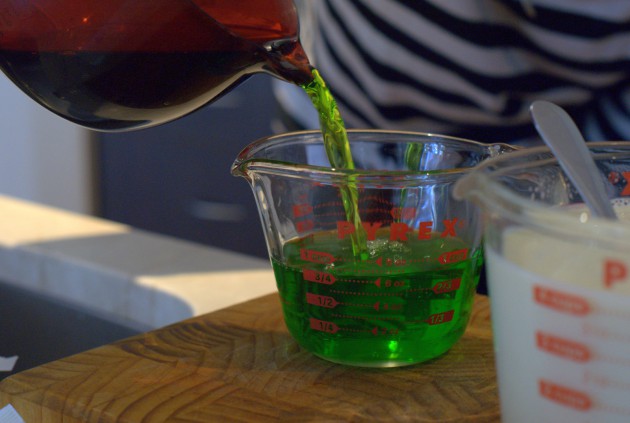 Pour half the jelly mixture into each dish (250ml per dish).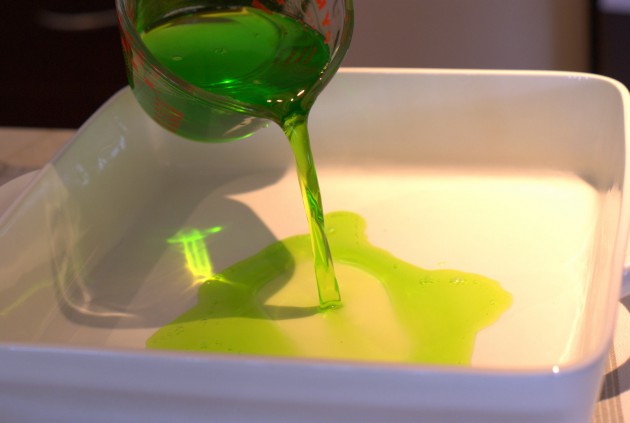 Use a spoon to break up any bubbles. Place into the freezer for 15 minutes or until firm.
Make your 2nd Colour Jelly now so it has time to cool before you need it. Make it in exactly the same way as above, remembering to add the Gelatine.
After about 15 minutes, once your first layer of jelly has set in the freezer, take out the dishes.
Measure out and pour 100ml of the White Condensed Milk mixture over each jelly layer. From experience we found that pouring onto the jelly like the picture below can cause dents to the jelly layer. Instead we found that pouring carefully along the side edges of the dish, rather than in the middle, prevents dents to the jelly layer.
Pick up the dish and tip it from side to side to spread the mixture evenly. Place into the freezer to set. This can take from about 7 minutes to 15 minutes depending on your freezer. However we found that as you progress through layers, the dishes get colder from being in the freezer so the layers do start to set faster. After a couple of layers they should generally only take about 8 to 10 minutes for each layer to set. Tip: don't leave too long that it freezes or sets completely or your layers won't stick together.
Once milk layer is set pour the 2nd Colour Jelly over the top (250ml per dish).
Make your 3rd Colour Jelly.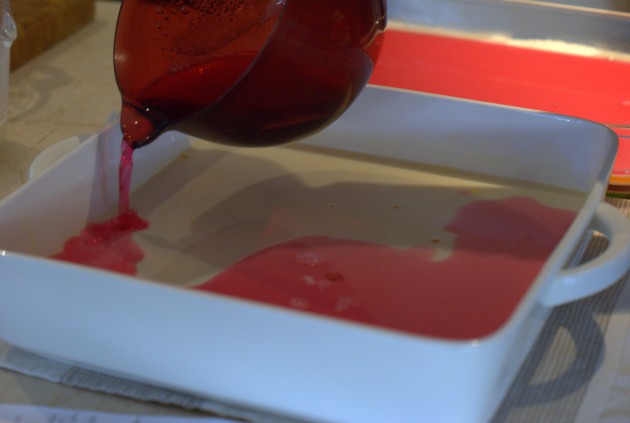 Continue to make the next Colour Jelly after you've poured the last Colour layer. Pour the Milk Mixture (100ml each dish) in between your colours and continue this process until you finish with your last Colour Jelly layer on top.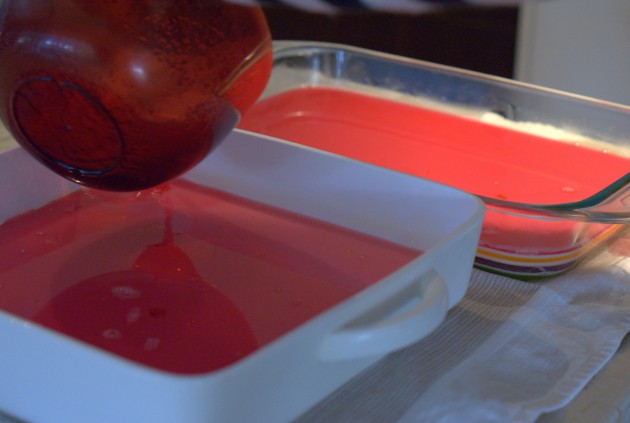 If the Milk Mixture in the jug starts to get a bit gluggy, put it into the microwave for about 10 seconds to liquify it again.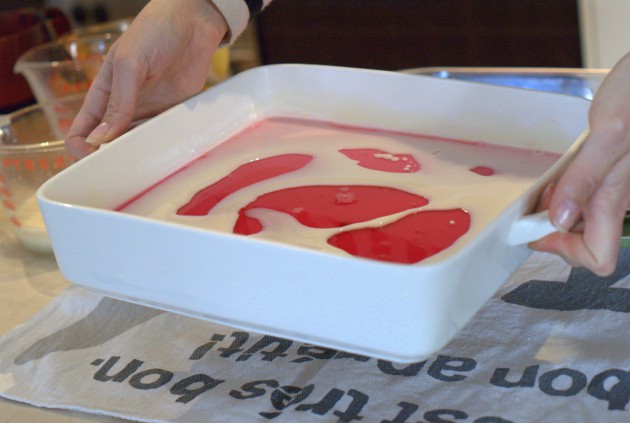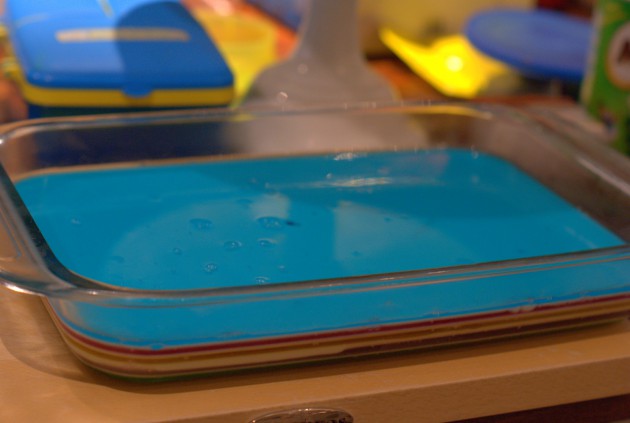 Once you pour your last layer on top, you can put into the fridge until you are ready for cutting.
Cut into squares to serve. You can use your fingers to pull from the edges and also use a small flat spatula (eg a cake icing spatula/knife works well).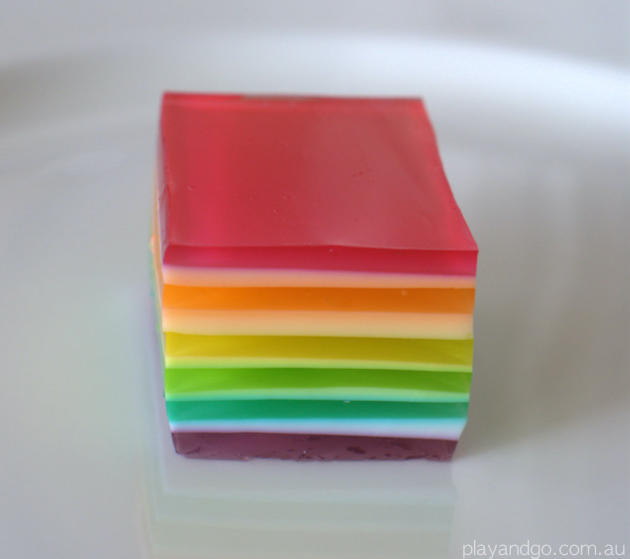 Below I have served in cupcake wrappers with a mini meringue on top.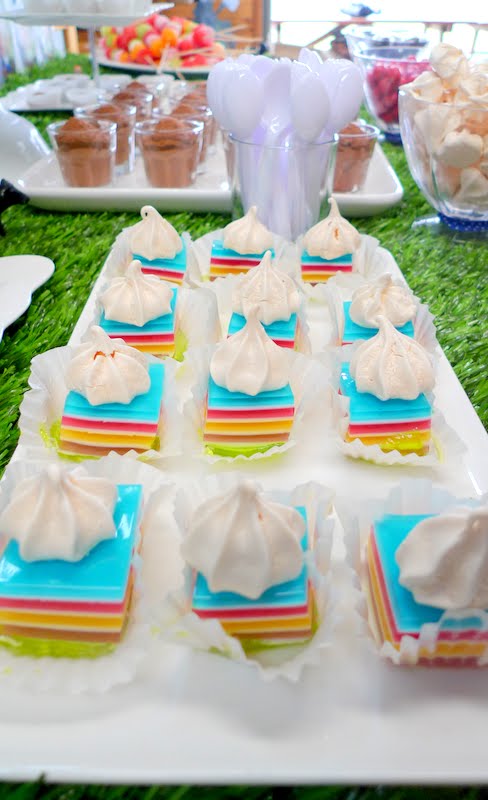 Or straight onto a plate works fine too.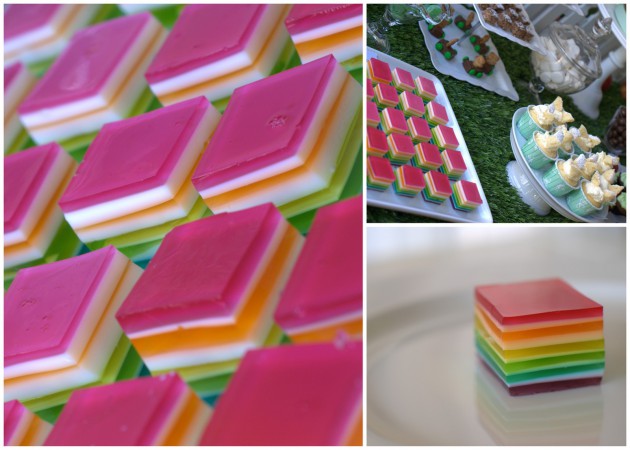 Please note that in the photos above we are making the Jelly Squares with the blue top. The photos of the Jelly Squares with the pink top was a batch made previously.
We cheated with the blue top Jelly Squares and only did 5 colours (as we had to race off for school pick-up) – in fact you can do however many layers you like and with whatever colour combination. With the pink top Jelly Squares you may notice that the white layers were not even – this is because I did not measure out the quantity. If you stick to 100ml per dish per white layer you will get an even layer which is not too thick so that your colours stand out.
The best thing about these Jelly Squares is that they can be out of the fridge for a long time. You can serve them up and leave them out for hours and the jelly won't melt (because of the added gelatine). You can also make them a couple of days before an event. They are a bit fiddly to plate up though so leave yourself enough time to do this – plating up just before the party starts can be a bit stressful… I have found from experience!!
The recipe is based on this Crafty Corner blog post. She has great photos and tips too.
Pink themed jelly squares were used to make a sweet 16th Birthday cake.
It's a great easy option for a party where guests can just take a piece and go – there's no need to spend time cutting up and plating all the pieces of a cake and distributing to everyone during the party. We've found them to be popular for all ages – we've served them at parties since my kids were little and revived it for my daughter's sixteenth birthday. Teens still love it – and so do the adults!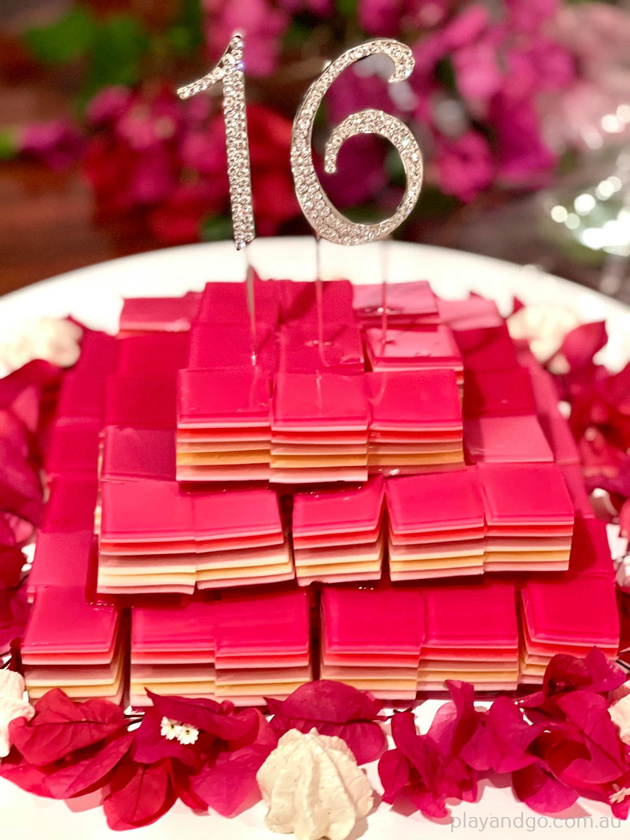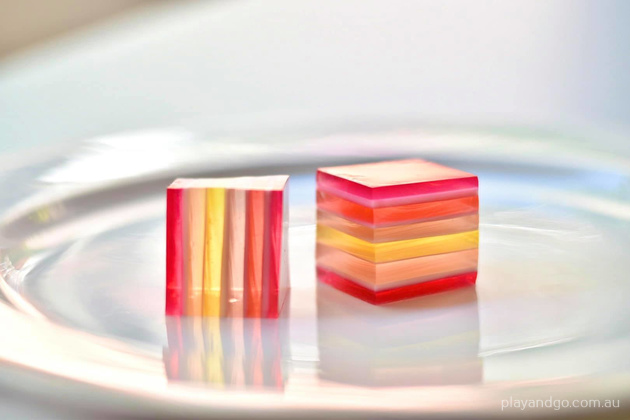 Save
Save
Save