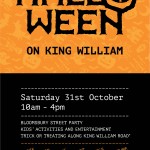 [ October 31, 2015; 10:00 am to 4:00 pm. 10:00 am to 4:00 pm. ]
Halloween is coming to King William Road!
Dress up your kids in their spookiest (or cutest) outfit and take to King William Road to trick or treat among the 30 participating districts shops, restaurants and cafes (they will have a trick or treaters welcome sign in the window if they are involved).
You can also enjoy the […]