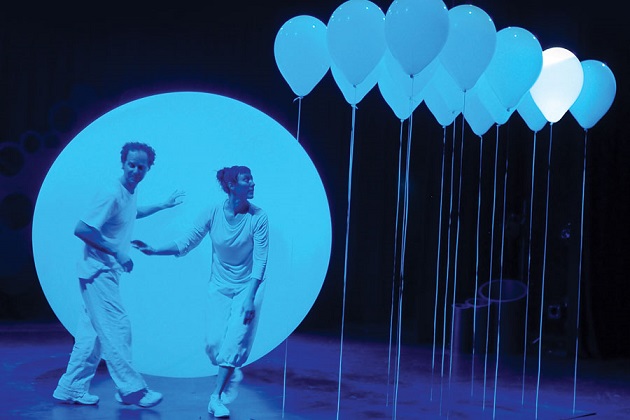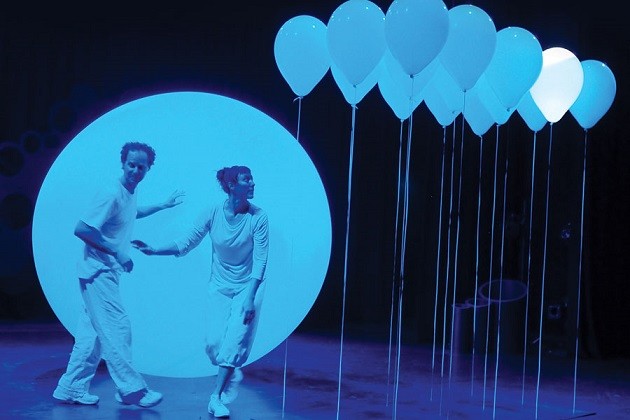 The Moon's a Balloon by Patch Theatre  | Something on Saturday
Review by Cath Leo
The Moon's A Balloon is a truly unique theatre experience aimed at 3 to 8 year olds, created by Patch Theatre and being shown at the Adelaide Festival Centre. No words, only music, and two performers interacting with balloons in a variety of sizes, including a giant, adult-sized one representing the moon.
At times quiet and slow, with balloons moving only with the force of the performer's breath… other times comical and circus-like with playful games of chasey, peek-a-boo and catch! You could hear the crowd of children ooh-ing and aah-ing as the characters (played by Katrina Lazaroff and Robert Griffin) kept us intrigued with many creative ways of using this everyday item.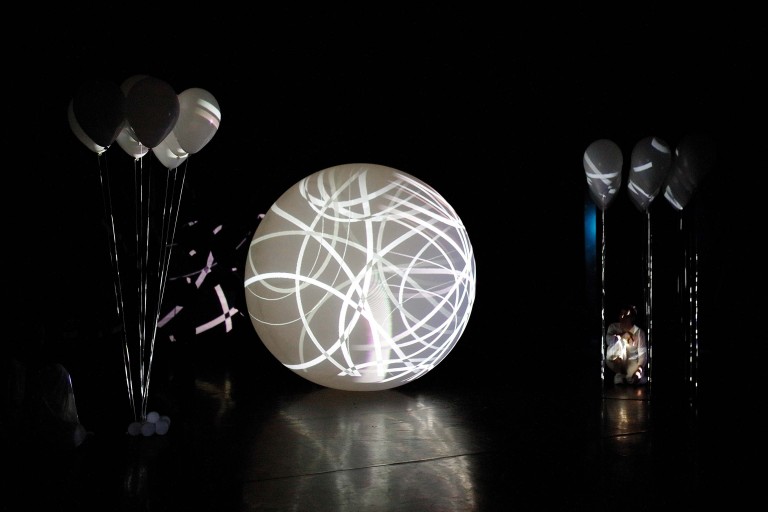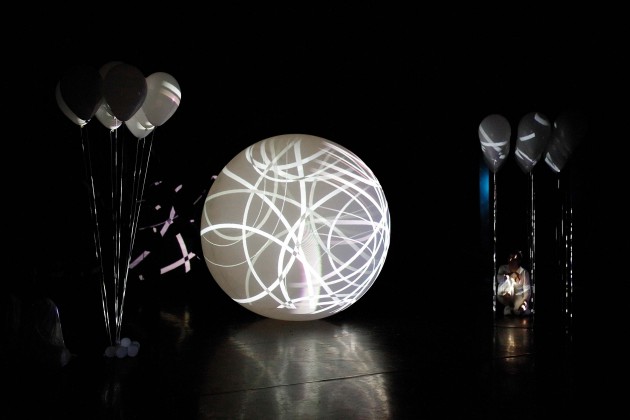 The giant balloon was an amazing piece and was able to be grabbed by each performer and bounced on the stage, or off each other as they lay on the floor. The audience loved this.
Lighting played an incredible role in making us believe in the magic of the balloons and the power of touch. Illuminations jumped from one to another and at one stage a cluster of balloons also acted as an instrument with the performers discovering they could make music together.
I was amazed at the patterns created by 15 long stringed balloons attached to a rectangle mat, which was then tilted up and down, or bent into like a bridge shape. I was probably most amazed with these effects and I was tempted to run straight afterwards to Peter Van the Party Man and buy some helium to replicate it at home! Other props like rods were also used to great effect. (See below)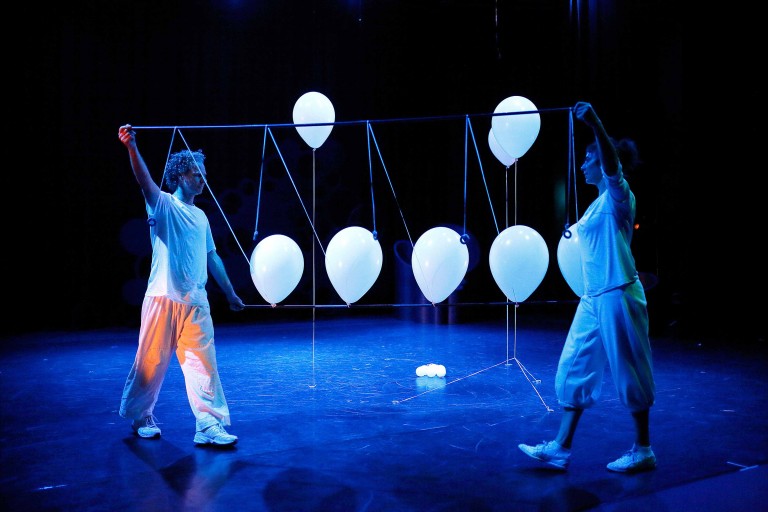 This was really a new theatre experience for myself, and my children (ranging from 4 to 10, but knowing it was aimed at the younger kids). My 4 year old was engaged for the entire time and there was a real sense of wonder from the crowd, as well as giggles quite often.
I think when compared to more literal, speaking-type theatre experiences that many might be used to, this one needs an approach of just allowing it to happen before you and enjoy the simplicity and highly-effective choreography. I really did have many moments of amazement and appreciation for the talent and production values.
Congratulations to Patch Theatre for a wonderful show. It's on this week until Saturday 23 April 2016.
For more information and ticket bookings please visit the Adelaide Festival Centre website here.
While you are there, check out the free craft activities at the Foundation Kids Corner (only on Saturday 23 April):
POP UP BOOKS!
Create pop up moons and balloons in a book with workshop leaders Jim and Liz.
Space Theatre Foyer
Saturday 23 April, 10:30am – 1pm
Festival Theatre Foyer
Please note that children must be supervised at all times.
For information about other Something on Saturday 2016 shows click here.
---
What:  The Moon's a Balloon | Review
When:  Tuesday 19 April to Saturday 23 April 2016
Where: Adelaide Festival Centre | King William Street, Adelaide
Who: Suitable for ages
At Play & Go Adelaide we make every effort to provide accurate information to the best of our knowledge at the time of publication. We recommend confirming times, dates and details directly before making any plans as details may be subject to change.