The Wiggles Celebration Concert has been a final tour with the original members together before Greg, Jeff & Murray hang up their skivvies for the last time at the end of this year.
After 21 years of non-stop wiggling for Jeff & Murray (Greg had a few years break due to illness) they are finally retiring. And what a huge effort – sticking to the same job for that many years is quite amazing.
The first time I went to a Wiggles concert it was about 13 years ago when I took a friend's little girl, and it was held at a community hall with most of the audience sitting on the floor. Since then I have taken my kids to the last 8 concerts and I have to admit, each time I thought it might be the last time I'd see them perform together, but each year they were back again.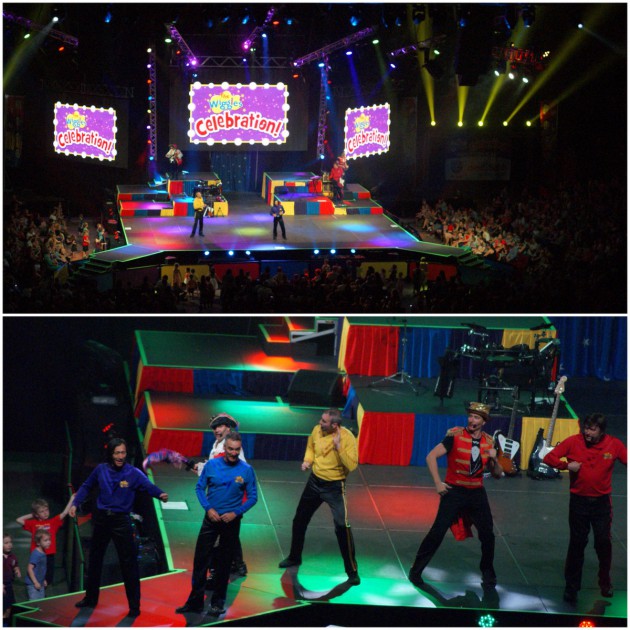 This final concert together was much of the same format they have stuck to for the past few shows. They've been doing this for years and they know what their young audience (as well as the parents) want to see – all the favourite songs and not too much banter. In previous concerts they did have troupes of dancers, acrobatics and interesting sets but things have been pared down the past few concerts where they have kept things simple. It's been pretty much all about The Wiggles and their friends singing and dancing together – Captain Feathersword, Wags the Dog, Dorothy the Dinosaur, Henry the Octopus – and the Ringmaster has been touring with them for many years too.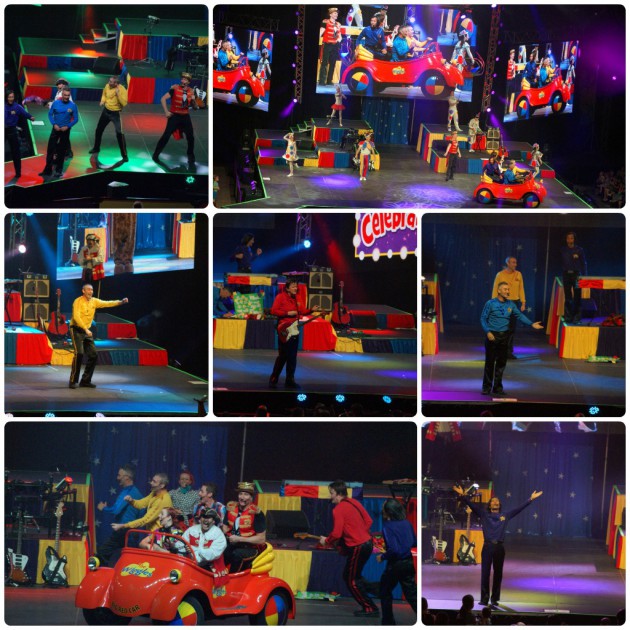 As usual The Wiggles arrived on the stage driving and singing 'Toot Toot Chugga Chugga Big Red Car' and then got the audience warmed up with old favourite 'Rock a Bye Your Bear'. We heard all the old favourites such as 'Here Comes a Bear' and 'Fruit Salad'  and as usual, they incorporated a few nursery rhymes that they know the little ones will know and can sing along to, like 'Johnny Works with 5 Hammers' and the crowd pleaser, 'Twinkle Twinkle Little Star', where they turn all the lights down and ask parents to use their mobile phones to create a 'twinkling' atmosphere during the song.
As with all their December concerts in Adelaide, Santa took some time out of his busy schedule to have a dance with The Wiggles and walk down the aisles to wave Hello to fans.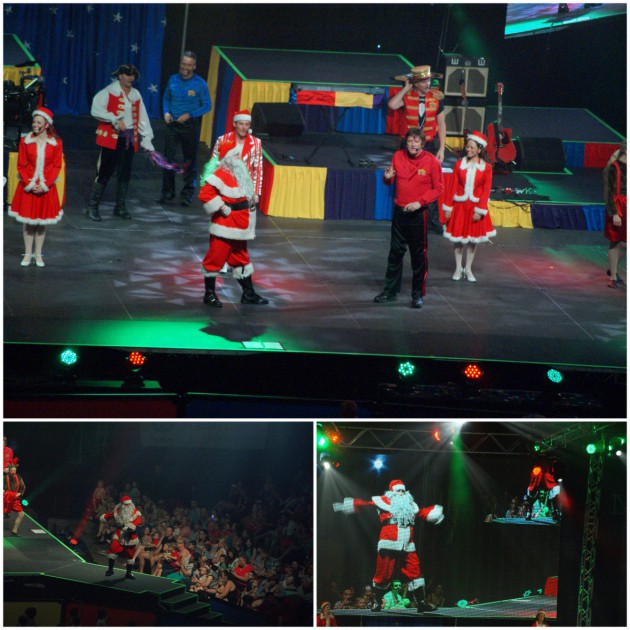 There are usually some funny slapstick antics with Captain Feathersword to make the little ones laugh.
At this concert we were introduced to the new Wiggles who will be taking over from Greg, Jeff & Murray – probably a bit over their heads for the young ones in the audience. It did bring home the fact that next time The Wiggles come to town, it will be a very different show with these new personalities joining Anthony on stage.
One of the most popular parts of the concert is when The Wiggles and friends do their walkabout through the audience to collect roses for Dorothy and bones for Wags. It's a chance for everyone to meet one of them up close. Our Play & Go boys got to give their roses to Jeff. They can't really stop to pose for photos with everyone or they would be there all day but the good thing about Wiggles concerts is that they are happy for you to take as many photos as you like during the show.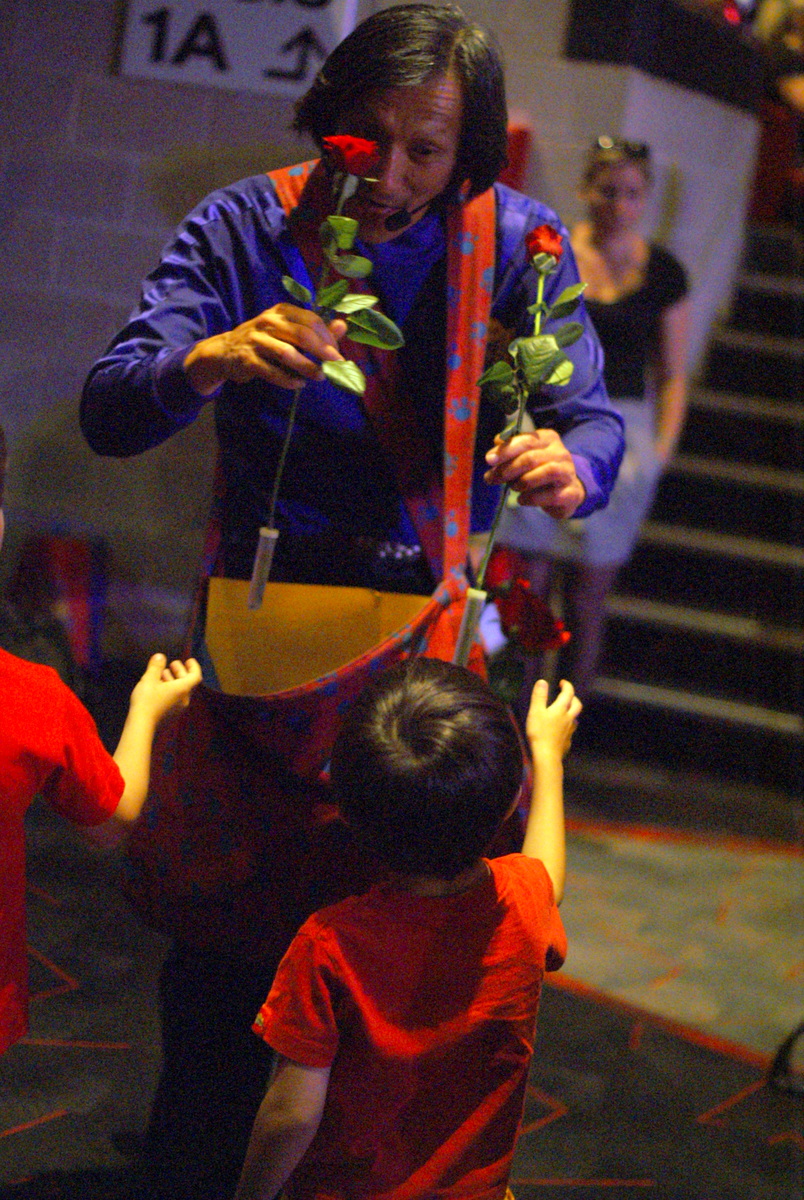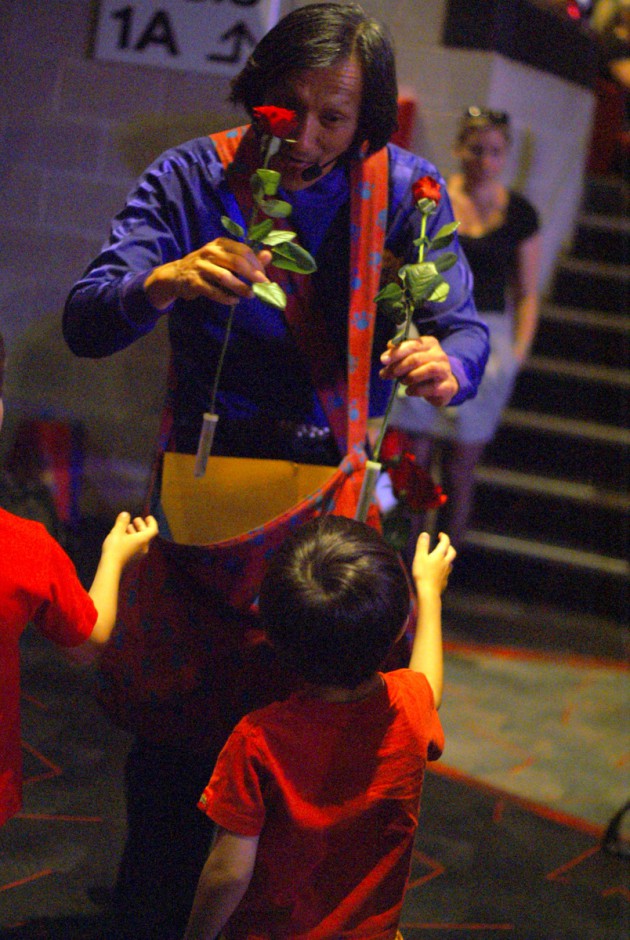 It was everyone up on their feet for the finale as we sang and danced together for the last time. There was definitely some sadness in the air as we bid farewell to these old friends who have been entertaining us on the stage and on our tv screens for so many years. It certainly is the end of an era.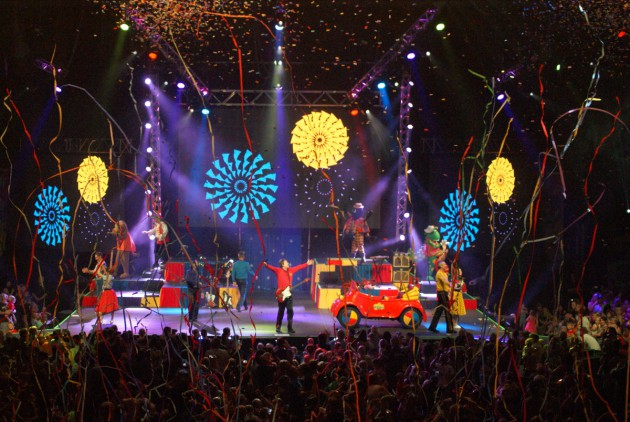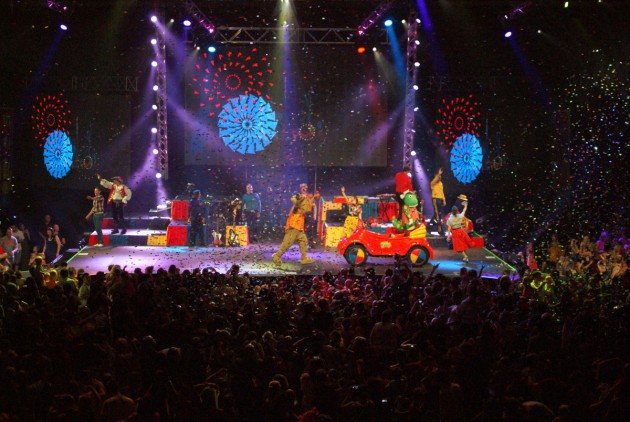 This little Wiggles t-shirt of ours, which by the way is a Size 1 (!) will also be retiring now. It was first worn by my daughter at her first Wiggles concert in 2006 and she still squeezed into it for her last concert in 2010. It has then been worn by my son for the past few concerts. It has been a favourite t-shirt for both of them at different times and has had much love with many wears including trips to the beach and other outings. Many years from now I know it will bring back fond memories of our 'Wiggles time'.
  The Play & Go team attended this Wiggles concert as guests of Martini Media.