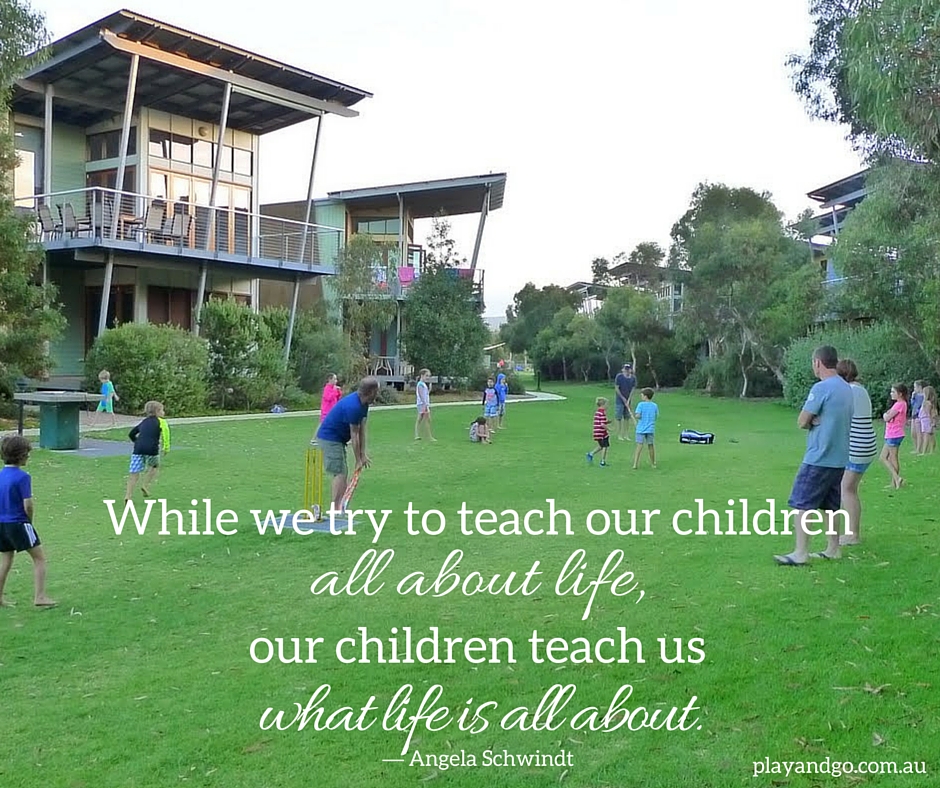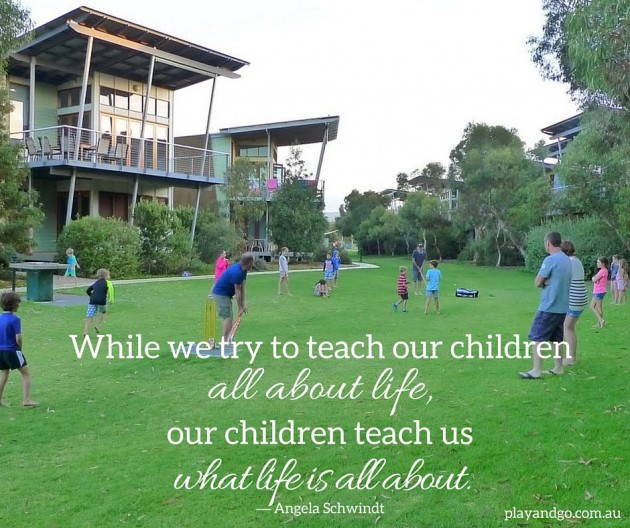 When going on holidays we always make sure there is plenty for the kids to do. On our recent trip away, there was a pool, the beach, balls, board games, X-Box, cricket set, scooters, bikes and a bike track to ride on, grass to play on, and other kids to play with. Adults look forward to some relaxation time, as it often takes a mammoth effort just to get there! There's a week's worth of work to get done at the office before you leave; a mountain of washing to do, before you can even start to pack; and then the never ending packing that takes 2 days and high level jigsaw puzzle skills to fit the above-mentioned items in and on the car. It's totally understandable why us parents just want to sit and do nothing but eat, chat and drink slowly once we get there.
What we heard is "When can we go to the pool?", "Come and look at this Mum!", "Let's play cricket Dad", "Can we pleeeease go to the beach now?"
What the kids heard is, "In a minute, once I've finished this coffee", "We're still eating, just wait", "After this", "In a little while…"
We thought by providing the children with plenty of things to do on their own, and having other friends to play with, they would have a lovely time and we could relax. Well, that's not quite how it goes…
One night we had a bbq – the kids ate first then ran off to play before the adults sat down to eat in peace. They started a game of cricket but kept asking for the adults to join in. Every 10 to 15 minutes one of the kids would come and see if we had finished eating and if we were ready. "Not yet," we repeated. They were persistent. It was starting to get late and it seemed they would not let us off, so the adults, a bit reluctantly, put down our wine and coffees and went into the now chilly air to play cricket.
Well, walking onto that cricket field, you'd easily mistake us for celebrity sports stars; there was much excitement and cheering that the mums and dads had finally arrived! It was kids vs adults and the adults were batting first. Surprisingly, the mums (who have barely ever played cricket before), were putting plenty of runs on the board and our children loved bowling to us…and getting us out.
When it was time for the kids to bat, the more serious cricketers amongst them looked a bit worried. Many of their team were little and hadn't proved their batting skills yet, but boy, there were so many of them – 8 adults vs 15 kids (there were some extra kids that joined the party). Their 10 year old captain cleverly put his 'best' players first and their inexperienced players at the end of the batting line. This meant that the 6 to 8 year old girls were batting last. To their dismay, it turns out that the mums who they didn't expect could play cricket, managed to help get the older boys out, one after the other, barely making any runs, some even on their first or second ball. How mean huh?
The light was fading and phones were used for lighting the pitch so the young batters could see the ball. Even in the dark and not being able to see a thing, still our mums had some clear wins, one catching the ball, another smashing the wicket. The anticipation was building – could they beat 41 runs with only the young inexperienced girls left to bat? Every run was important, things were close, so everyone cheered on the girls. Well, as it turns out, it was the little ones who helped to get them there. A sweet victory for the kids! There was much rejoicing in the dark!
What did I learn from this experience?
♥ It doesn't matter how much entertainment and friends you provide for the kids, what they really want is to share the experience with their mums and dads.
♥ You don't need to know how to play cricket (or any other game) to join in, and you may even fluke some catches and discover that you're a pretty good bowler too. Don't we always ask our kids to try new things and just have a go?
♥ Don't ever underestimate the underdogs in a game of cricket.
♥ Mums getting out and doing active things, instead of 'just doing mum things', is a great way to encourage and empower young girls to give things a try. It's important to show the kids that mums can do all sorts of different things – we may not do them as often these days, but we can do them.
♥ It was so much fun and turned out to be one of the highlights of our holiday. A simple kids vs adults cricket game. That's a great memory right there, for young and old.
♥ In the past year I know of three mums in our community who have lost their lives too early. I am reminded that sharing these moments with my children is a privilege. It's a privilege that not everyone gets to enjoy, and needs to be cherished if you are one of the fortunate ones.
♥ Also, with my eldest turning eleven soon, I am conscious that these golden years, when the kids are still begging us to join in with activities, may not last for very much longer. I'm going to make the most of it while I can.
So next time, we might just put our coffee or wine down a little sooner, so we don't have to play cricket in the dark.
"While we try to teach our children all about life, our children teach us what life is all about."

― Angela Schwindt