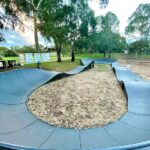 [ February 29, 2020 to March 8, 2021. ]
New #rideburnside Free Pump Track
The City of Burnside has a new 'all wheels – all ages' pump track which opens Saturday 29 February 2020.
The pump track has arrived on site at the Burnside Civic Centre and will remain there until 15 June 2020, before moving on to the next location.
The pump track is a […]