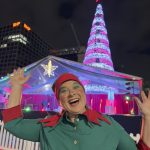 [ November 6, 2023 to December 31, 2023. ]
Experience Adelaide's Christmas Festival in the City of Adelaide!
The City of Adelaide is thrilled to invite you to celebrate Christmas in the city featuring a wide range of city-wide events, lively markets, enchanting Christmas decorations, and captivating live performances that will fill your heart with Christmas spirit.
Adelaide's Christmas Tree Lighting – Saturday 18 November in […]