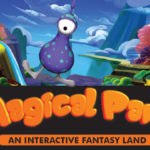 [ April 13, 2019 to September 1, 2019. ]
Magical Park
Magical Park is a sneaky way to get the children off the couch and be physically active in the outdoors.
Take the kids along to the park, download the FREE app, and watch their amazement and delight as the park turns into a digital fantasy land to explore.
Through the 'magic' of geospatial Augmented Reality, children […]