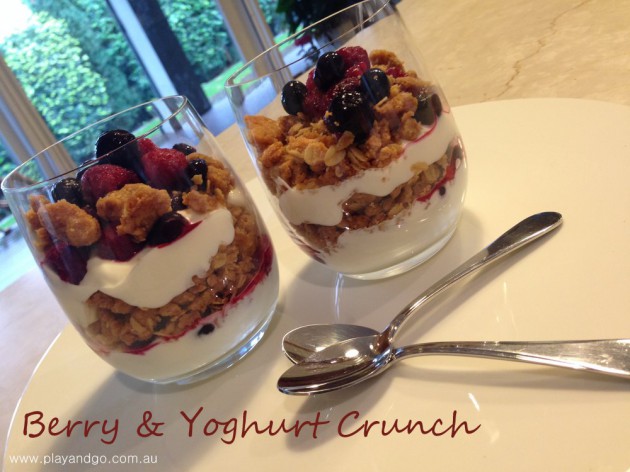 This delicious recipe is inspired by Donna Hay's Berry & Yoghurt Crumble and is super easy to make.  Perfect for a weekend breakfast, these every day ingredients can be altered to suit different tastes and you could even add in dried fruit, nuts or sultanas.
You can choose any type of yoghurt (low fat, full fat, flavoured, plain) and all varieties of berries work well, including strawberries and blackberries.  The berries can be fresh or frozen, but if using frozen ones just allow enough time for them to thaw.  To serve you simply need glass tumblers, glass jars or for little ones perhaps serve in a small bowl.
These directions are easy enough for children to follow with an adult really only needed for taking the crumble in and out of the oven.  Our recipe makes 4 serves.
Ingredients
2 cups vanilla yoghurt (or similar – we love Greek yoghurt!)
1 cup raspberries
1 cup blueberries
For the Crunch
½ cup plain flour
¼ cup caster sugar
½ teaspoon ground cinnamon
⅓ cup rolled oats
75g unsalted butter
What To Do…
Preheat your oven to 160ºC and line a baking tray with non-stick baking paper.
Melt the butter and combine in a bowl with the flour, sugar, cinnamon and oats.  Once combined, spread evenly over the baking tray and bake for approx 20-25 minutes.  Set aside for a few minutes to cool and then transfer the mixture into a bowl and using a spoon break apart until you have crumbly pieces.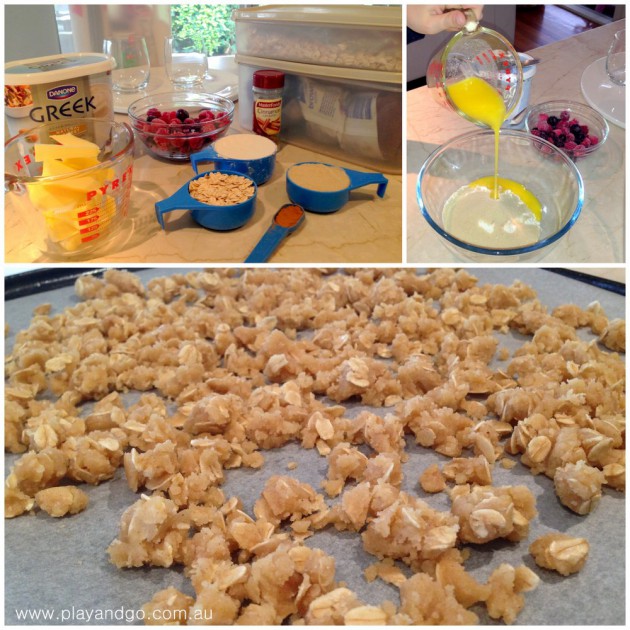 How to Serve…
Spoon ¼ cup of yoghurt into each glass then top with some fruit and crumble mixture.  Then add another ¼ cup of yoghurt and top again with some fruit and crumble.  Serve and enjoy!
Note:
You can vary the proportions of each ingredient to suit the individual (more or less yoghurt, more or less berries etc.).