Rymill Park Playground
We have already written about the beautiful Rymill Park here with the Boat Shed and Kiosk. We just had to let you know though that the playground has just recently been revamped and is definitely worth a visit if you haven't been lately.
The range of new play equipment is suitable for children of all ages. There are things for the little ones to navigate as well as some interesting equipment to keep older kids entertained. All amongst the most beautiful park setting by the lake.
There are spiderweb ropes to climb, rings to swing on, a climbing wall and slide.
There are brightly coloured balls, steps to climb, a bridge to cross and another slide here:
Basket Swing
This basket swing below is great for sharing the fun and there are 6 other swings there too.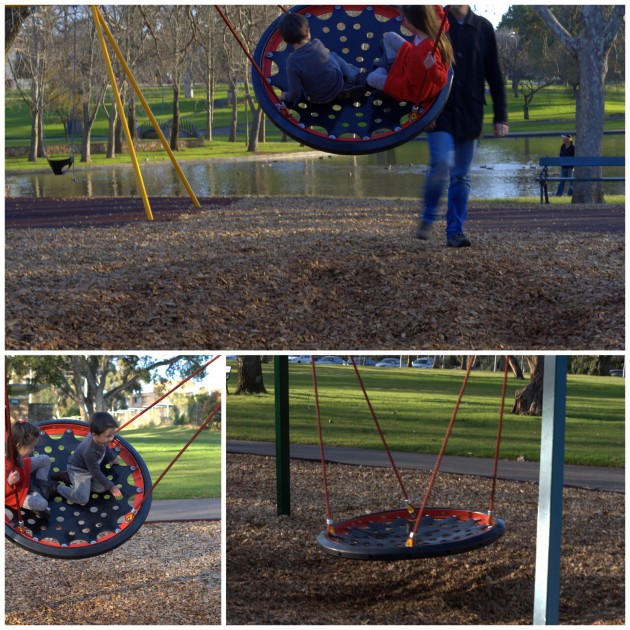 Rymill Park Playground 'Whizzing Net'
One of the most popular things would have to be this 'Whizzing Net' (I have no idea what the technical name of this equipment might be).
You basically climb on, hold on tight and have someone whizz you around. Kids love it! We made sure of regularly changing the direction of the 'whizzing' to help with dizziness.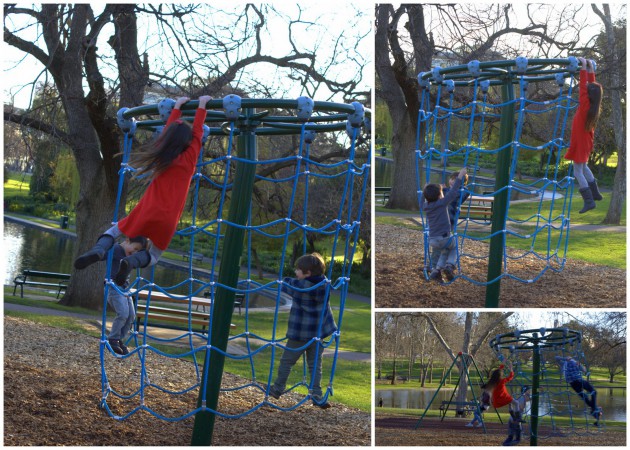 Rymill Park Playground Facilities
There are great facilities surrounding this open playground. You will find shady trees, some tables and benches, electric bbqs, toilets nearby, ducks to feed, bridges to cross and lots of paths for children to explore on foot or on wheels, as well as the boat rides on the lake.
With the Kiosk nearby for coffee, this is really a perfect playing ground for all the family to enjoy!
Please be aware though that the playground is not fenced and being adjacent to the lake, toddlers and little ones need to be supervised carefully.
Read our review on the Rymill Park Boat Shed and Kiosk here.
What:  Rymill Park Playground
When:  Anytime
Where:  Rymill Park | East and Dequetteville Terraces & Rundle and Bartels Roads, East Parklands (see map)
Who:  Everyone