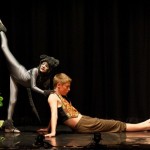 [ February 27, 2016 to February 28, 2016. ]
The South Australian Children's Ballet Company will be performing "Aladdin and the Genie of Unlimited Wishes" for the 2016 Adelaide Fringe Festival.
In an exciting adaption of the classic story, Aladdin comes to life with the magic of the Genie, his faithful cat, and the kind hearted Princess Jasmine.
Aladdin and his furry friend, Kira, are traveling […]