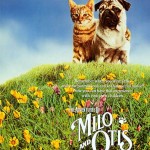 [ February 6, 2016; 4:00 pm; ]
Open Air Cinema at Market To Market showing the favorite family movie Milo & Otis!
FREE ENTRY | Market doors open from 4pm to 9pm  | Shop from over 100 market stalls, handmade, homemade & new.
There will be over 100 market stalls to shop from, babies, kids, ladies, mens, home wares, clothing, accessories, gifts, food & much more.
FREE Open Air Cinema, showing […]